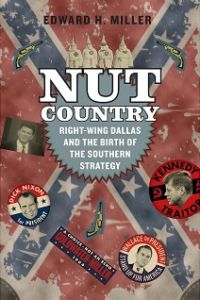 1,995 words
Edward H. Miller
Nut Country: Right-Wing Dallas and the Birth of the Southern Strategy
Chicago, Illinois: University of Chicago Press, 2015
Edward H. Miller's book Nut Country, about the rising Republican Party in Dallas in the late 1950s and early 1960s, is another academic book pointing to a certain place and point in time where the American far Right and mainstream Right first launched. Other books point to the Right's rise in Saint Louis or Detroit at roughly the same time.
Miller writes:
In 1950, no Republican from Texas had served in the US Senate since 1877. No Republican from Dallas County had served in the US House of Representatives since Reconstruction. No Republican had served in a Texas statewide office since Governor Edmund J. Davis in 1874. Republicans always lost in Dallas. (p. 19)
Dallas Republicans
What changed was the growth of Dallas in terms of both population and economic expansion. In the 1940s, the US government required aircraft manufacturers to relocate to central locations that were easier to secure from a potential enemy bombardment. One such place was Dallas. Additionally, Texas experienced a boom in oil production. The resulting jobs brought in a skilled workforce from the Midwest. Many of these newcomers from Illinois and Ohio were Republicans. They were deeply influenced by the Republican small-government ideology that was part of the region's ethos.
These newcomers started to build the scaffolding of the Republican Party's Dallas branch. These activists were often women. One of them, Joan Gaido, came from a northern Illinois family who believed God would strike them dead if they voted Democrat. Others were like Anne Goode, who got involved in local politics while doing mundane precinct work in 1956 and worked to become the President of the Hillside Republican Women's Club. Goode came from a family of Republicans in western Pennsylvania.
In addition to long-standing Midwestern Republican transplants, the Dallas Republican Party was influenced by a series of metapolitcal works. The two most important were Ayn Rand's novels which, very simply put, encouraged a laissez-faire economic policy; and Friedrich A. Hayek's work The Road to Serfdom. Hayek's book argued that government intervention in the economy, which was common during the Roosevelt and Truman administrations, would lead to Americans becoming serfs of the government.
These works pointed out problems in 1940s America which Republicans in Dallas were experiencing. The first was taxes; those in Dallas at the time were only a generation removed from those who had lived in houses without indoor plumbing. The oil and manufacturing boom was putting money in their bank accounts, but that money it was vacuumed up by the Depression-era tax policies that were left in place even after the Depression ended.
There were other problems that are not mentioned by Miller, however. The Truman administration was beset with scandals. Truman himself was not personally corrupt, but his supporters and enablers were. Tom Pendergast, a Kansas City boss in the Democratic Party, was one such example. Pendergast was notorious for generating ballots that got his candidate elected. Thus, there was good reason for Dallas Republicans to be frustrated by how their tax money was being used.
Communism was also a potent threat. The Soviets blockaded West Berlin in 1948, China went Communist in 1949, and a large-scale war broke out in Korea in 1950 in which millions of Americans were deployed; over 54,000 died there.
Ultraconservatives
Those Republicans who were more focused on economics were aligned with what Miller calls the ultraconservatives. Unlike the mainline Republicans who were Midwestern Yankee transplants, the ultraconservatives had Southern backgrounds. They also tended to be more religious. Many were members of fundamentalist Protestant sects. These sects' theologies were influenced by premillennial dispensationalism. This doctrine, famously popularized by Cyrus Schofield, argued that the events described in the Book of Revelation were unfolding in the present day. One such event was the establishment of Israel in 1948. Cold War tensions and threat of nuclear war also contributed to a sense that the end was near.
The ultraconservatives also believed in conspiracies. Miller writes:
Ultraconservatives stockpiled "evidence" of treason through a process of examining decisions made by American policymakers and presupposing that errors in judgment were conscious, intentional, and sinister. They combined this preoccupation with heaping up facts with a predilection for leaping to dubious conclusions. For instance, The Politician, by John Birch Society founder Robert Welch, backed up its claim that President Eisenhower was a Communist with more than a hundred pages of footnotes. (p. 81)
The most famous of these conspiracy theories — famous for having been lampooned in the movie Dr. Strangelove (1964) — was that fluoridation of drinking water was a Communist plot to impair Americans' health.
The more serious and (likely) true conspiracy theories endorsed by the ultraconservatives claimed that there were Communist plots to subvert the education system and warp the minds of children and young adults so that they would support socialism and other Leftist causes. There was also concern about Communist infiltration in the US government.
As Miller's would have it, the ultraconservatives were somewhat hysterical, but they were not alone. By the late 1960s, mainline establishment liberals from solid backgrounds and respectable careers would go to their graves believing that John F. Kennedy and his brother Robert were slain due to wide-ranging conspiracies.
Miller also points out that despite their hysteria, the conspiracy theorists did make some valid points:
. . . as historian Kathryn Olmstead has argued, a belief in conspiracy theories became more prevalent in twentieth-century America, particularly in the post-World War II era, because actual government conspiracies were on the rise: "as the government grew, it gained the power to conspire against its citizens, and it soon began exercising that power." After all, during the Cold War, government officials had spied for the Soviet Union, had worked with mobsters to kill a foreign head of state, had provided weapons to terrorists in exchange for hostages, and had, without informed consent, conducted LSD experiments on Americans in bars. (pp. 81-82)
The ultraconservatives were able to punch above their weight because two extremely wealthy and talented Southerners, Haroldson Lafayette Hunt Jr. and Robert W. Welch, Jr., both donated money to them. Welch went further than Hunt in creating the anti-Communist John Birch Society. The John Birch Society became a bugaboo for anti-anti-Communists in JFK's political base. The Society distributed a great deal of literature and was quite persuasive.
The John Birch Society frightened the Kennedy administration. They became alarmed when Major General Edwin Walker distributed Society literature through the pro-Blue, anti-Communist information program. JFK in fact feared a military coup. Ultimately, his fears were proved unfounded, but they were not entirely wrong. Kennedy was killed by an antifa gunman acting alone, but the Pentagon has led several unconstitutional mutinies, such as most recently by lying to President Trump about how many American troops were fighting in their pointless war in Syria. They also failed to suppress the BLM/antifa Riots of 2020.
The South starts to shift
In 1960, the Republican Party was unelectable in the South. It was too deeply associated with the Yankees during the Civil War to win many devoted followers, but by 1964, the Republicans won in several states in the Deep South. What had changed was "civil rights."
In the 1960s, both parties were remarkably alike. To put it simply, since 1940 the two parties' presidential candidates tended to advocate for the same basic policies; the only question was who could carry out those policies better. Republicans represented an echo of, not an alternative to, the Democratic Party's policy innovations.
This worked well for the Democrats until the "civil rights" movement began, and it was in Dallas where resistance to "civil rights" started to change allegiances across the South. Bruce Alger was the first Republican elected in Dallas since Reconstruction (as a Congressman), and he won by mixing the conservative economic ideas of the mainline Republicans with a classy and urbane way of pushing back against the proposed integration of a high school in Dallas in 1956.
Congressman Alger also took a look at the ultraconservatives and carefully defined himself against them and in favor of mainstream Republicans. Miller presents a great deal of information about how individuals in Dallas moved from being Democrats, to mainline Republicans, and then to ultraconservatives. Some people never changed their basic worldview and nailed their colors to the mast of whichever position most closely matched their own worldview. Others had radical, Road to Damascus-style conversions. It was not entirely unusual for those who supported Lyndon Johnson in 1964 to become racially-aware white advocates by the end of the decade.
The "far Right," both mainstream Republicans and ultraconservatives, were well-organized and active in Dallas by 1960. At the Adolphus Hotel that year, LBJ and Lady Bird Johnson were met with a passionate crowd, to say the least. Democrats claim that the crowd spit upon and attacked the Johnsons, while Republicans who were there say that Lady Bird was gracious, friendly, and too far away from the Republicans to have been threatened. Miller, to his credit, says that accounts of the incident are so filled with partisan embellishments that he is uncertain of the exact truth. Later, the US Ambassador to the United Nations, Adlai Stephenson, was hit with a placard held by a Dallas housewife protesting the United Nations.
In the moments before JFK was killed in Dallas, a man was seen on the parade route holding an umbrella on what was a sunny day with clear skies. By the 1970s, this seemed so unusual that conspiracy theorists believed this had been some sort of signal for the assassins. In 1963, however, the symbolism of the umbrella was well-known:
Umbrella protests first began in England after Chamberlain arrived home from the conference carrying his trademark accessory. Wherever Chamberlain traveled, the opposition party protested his appeasement at Munich by displaying umbrellas. Throughout the 1950s and 1960s, Americans on the far right adopted the practice, employing umbrellas to criticize leaders they believed were appeasing the enemies of the United States. (p. 141)
In other words, the resurgent American Right in Dallas was reorganizing American politics and was highly organized, extremely active, and well-known. After JFK's assassination, the far Right in Dallas was swept away in the 1964 elections. "Far Right" presidential candidate Barry Goldwater was also crushed in a landslide. Miller argues that the shock and grief following Kennedy's death, and the fact that many voters were not ready to consider appeals to "law and order" and concerns over the "civil rights" movement, helped the Democrats win a big victory. They would go on to pass the 1964 Civil Rights Act, which is an illicit second constitution, as well as the 1965 Immigration Act, which created the conditions for the genocidal Great Replacement.
The religious shift
In 1970, a book entitled Jonathan Livingston Seagull was published and became a bestseller. Historians have pointed to this moment as indicating when a new spiritual awakening had arrived on the American social scene. Much of this religious ferment was influenced by the Dallas-style mainstream Right and the ultraconservatives, although its spiritual focus cut down on racial appeals. The Religious Right became a proxy for the advancement of white interests.
Haroldson Lafayette Hunt funded white advocates and segregationists in the early 1960s, and his son Nelson Bunker Hunt bankrolled a film adaptation of evangelical theologian Francis Schaefer's book How Should We Then Live? Other religious leaders also began engaging in political activism. By 1980, they backed Ronald Reagan.
From the perspective of genuine white advocacy, much of the Religious Right was a distraction, but they were fighting for their race through proxies. It remains uncertain how this will turn out. Regardless, it is clear that the 1960s far Right in Dallas was wildly successful. The combination of grassroots organizing — often led by women, funded by wealthy supporters, and backed by metapolitcal content creation — can change the minds of many.
The Dallas far Right of 1945-1965 created a completely new social order and helped trim some of the problems of the "civil rights" movement. It is up to us to build upon their efforts.
*  *  *
Counter-Currents has extended special privileges to those who donate $120 or more per year.
First, donor comments will appear immediately instead of waiting in a moderation queue. (People who abuse this privilege will lose it.)
Second, donors will have immediate access to all Counter-Currents posts. Non-donors will find that one post a day, five posts a week will be behind a "paywall" and will be available to the general public after 30 days.
To get full access to all content behind the paywall, sign up here:
Paywall Gift Subscriptions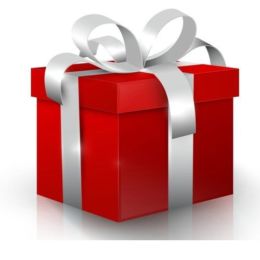 If you are already behind the paywall and want to share the benefits, Counter-Currents also offers paywall gift subscriptions. We need just five things from you:
your payment
the recipient's name
the recipient's email address
your name
your email address
To register, just fill out this form and we will walk you through the payment and registration process. There are a number of different payment options.
Enjoyed this article?
Be the first to leave a tip in the jar!