Death of a Ladies' Man: The Rise & Fall of Boris Johnson
Mark Gullick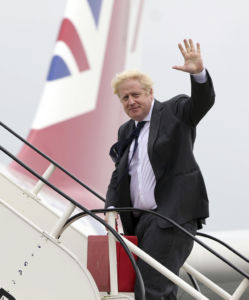 1,950 words
So the great affair is over but whoever would have guessed
It would leave us all so vacant and so deeply unimpressed.
— Leonard Cohen, "Death of a Ladies' Man"
Alexander Boris de Pfeffel Johnson could have walked straight out of a novel by Evelyn Waugh. His Englishness is close to caricature. Educated at Eton and Balliol College, Oxford, Johnson followed a classic rite of passage for the British ruling class. Former prime ministers William Gladstone, Pitt the Elder, Anthony Eden, Harold Macmillan, and David Cameron had the same academic pedigree. It is a lineage steeped in privilege, and the hubris that so often comes with it.
Johnson resigned as the Prime Minister of the United Kingdom last Thursday for the most pathetic of reasons, having promoted a man called Chris Pincher who no one outside of political journalism had previously heard of (I hadn't) to high office, but whose sexual proclivities qualify him as that most modern of terms: a sex pest. Johnson's colleagues resigned in droves when it was found that he had misled both Parliament and the country, and there was no way back for Britain's 76th Prime Minister.
Prior to this, Johnson had been embroiled in what became known as "Partygate" (since Watergate, adding "gate" as a scandal suffix is standard form for unimaginative journalists; I would very much like Bill Gates to get himself in hot water, then we could have Gatesgate), after it came out that a boozy birthday party had been held for Johnson while the rest of the country was under draconian Covid lockdown. The public were not amused.
Johnson is, and was, a dabbler, and being Prime Minister of one of the G7 countries — possibly the most influential nation in modern world history (prove me wrong) — eventually bored him, I think. A lack of seriousness is not an appealing trait in a leading politician; just look at Biden. Johnson's goofball persona, his crazy hair, and his oddball, eccentric act only got him so far before both his party — at the grassroots level as well as his Parliamentary colleagues — became fatigued with the silliness and clowning.
Johnson is not a stupid man; far from it. He is highly educated, and he can quote at length from the Iliad, in ancient Greek — but politics was never his milieu, I feel. As editor of Britain's oldest political magazine, The Spectator, for six years, he was so obviously having a good time, and I think publishing suited him a lot better than politics did. What many politicians don't seem to grasp is that when you set foot in the corridors of power, you leave your freedom of speech at the door. It makes me laugh when people complain about the death of free speech, when the politicians who are supposed to be the stewards of this freedom have absolutely none, as they are constantly in the crosshairs of a spiteful and vituperative media class. They have no free speech. Why should they care about yours?
On his way to the premiership, Johnson was also Mayor of London, my home town. The current incumbent is a rather unpleasant little Muslim man named Sadiq Khan, and I make no apologies for saying that I preferred a white kufr in charge. No Scientologist is allowed to hold high office in Germany and, in my view, the same should hold for Muslims across Europe. There is a reasonable chance that the next British Prime Minister will be of a dusky hue, and I can't say I approve.
So, who's next at Number 10 Downing Street, the British equivalent of 1600 Pennsylvania Avenue (albeit a lot smaller)? I believe that the smarter contenders realize that the job is a poisoned chalice just at the moment. Inflation is just starting to bite in the United Kingdom, and will probably follow America's current path. My brother tells me that petrol (which is what we Brits call gasoline) is going up on a weekly basis. He looks after Information Tech for a major haulage company, and they are feeling the pinch. I told my mother a couple of days ago that she should not be surprised if she is paying £5 (around $6 at the moment) for a loaf of bread come Christmas. Anyone who thinks that Britain — and the West in general — is somehow immune to the fate of Zimbabwe, Venezuela, and yes, the Weimar Republic needs to rethink their economic outlook. I live in Latin America, and the next dominoes to fall here look like Peru, Chile, and Argentina. Money is a force like the tropical storms we experience here are a force. You can't stop it once it slips loose of the leash.
Personally, I would like to see Steve Baker as Prime Minister. A young man and a genuine Conservative, a leader of his caliber could restore some of Britain's former grandeur, which is precisely why he will never get anywhere near power. Britain's deep state knows fine well that what is needed is a premier who can manage decline and, like Joe Biden or his people, attempt to make it look like progress.
Three women stand out as potential prime ministers and I have to say that — absent Baker, who threw his hat in the ring and then promptly removed it — they would all get my vote, were I back in the old country. Foreign Secretary Liz Truss is running on a tax-cutting ticket, traditional Tory territory and bound to go down well with the public, as well as companies such as my brother's. International Trade Minister Penny Mordaunt wants to reform the Conservative Party from root to branch — what my late father would have called a bloody good idea — and Attorney General Suella Braverman is not a bad outside punt if you are a betting man or woman. They are all smart ladies, and the Conservative Party remains the only one of the big two to have had women prime ministers: the uninspiring Theresa May and the world-famous Margaret Thatcher.
There is a huge sense of unease in the Conservative Party after Johnson's departure. Some Tories are essentially the same as American RINOS: happy to be in power but unsure what to do with it, and some are almost begging Johnson to come back as premier, claiming he has been "got at by the Westminster blob and the BBC." Well, as the young people say, duh! The BBC will attack any Conservative leader because they are viscerally trained to do so. They despise Britain — which essentially means England — and see it as Conservative-run. This, of course, is nonsense on stilts. Britain is now a country run by socialists, and Johnson lacked the fiber to go up against that. From the sassy, cocky man who walked seemingly unimpeded into the highest office in Britain, he seemed to falter when actually in power. He didn't really know where his convictions lay when it came to "woke," and his absurd flirtation with green policies did him no favors. More importantly, if you seek his hubris, it may be his fatal attraction to the fairer sex.
I believe you can tell a lot about a man by the women he chooses and his general attitude towards romance, and Johnson has certainly not been starved of female company. Married three times, and with at least seven children to his name, his current wife, Carrie Johnson (née Symonds), was muttered about in Westminster as the driving force behind Johnson's mania for zero carbon and other green follies. An uxorious man is never a good bet for a position of power.
The selection process for the next PM is irritatingly Freemasonic, involving secret ballots until there are two contenders left. They are then subject to a vote by the party members. This means that around 200,000 people will get to choose the next British Prime Minister. Then it is a question of guts. A new PM with onions would call an immediate general election in order to get a mandate which would always be in doubt otherwise. This was the fate of Gordon Brown, who famously took over from Tony Blair but lacked the courage to go to the country, leading to a dozen years of Tory rule, and counting.
I believe a new British Prime Minister could be one of the most famous and successful in history if they have the gumption to grasp the nettle and return to basic Conservative values. Taxes must be cut. Individuals are far better at tending to their own money than governments are, as the latter tend to be profligate and waste tax revenue on eye-catching but ultimately wasteful ventures. If you are British and you can bear to look, the never-ending saga of the railway link HS2 will make you weep, and is a perfect example of why government should not look after our money.
Immigration has to be curtailed. If there is another Manchester Arena Bombing, for example, the British public will begin to tire of the whole multi-culti experiment. The Muslim man who killed 25 children in that atrocity and injured many more was rescued in Tripoli by the Royal Navy and brought to England. Talk about inviting the vampire over the threshold.
And British values need to return. I may sound like some dusty old brigadier ranting in his gentleman's club, but there was such a thing as British decency at one time. I don't wish to offend American readers, but vulgarity was an import my country could have done without. I know it is a little crass to say that you got Shakespeare and we got McDonald's, but I can't shake that feeling.
This is a momentous time for the United Kingdom. With the appalling Scottish Premier Nicola Sturgeon pushing for a second independence vote (Please! Bugger off, you Scotch gits — we pay you to dislike us), Northern Ireland unsure of whether it wants the European Union or Britain as its future host, and the Welsh as bad-tempered and anti-English as ever, the next PM has to be either placatory or aggressive. It will be interesting to see who steps up and has what we English call bottle.
Her Majesty's Opposition, the Labour Party, led as they are by my schoolmate Sir Keir Starmer (who I don't think will be around much longer, either), are clueless and lacking in any beliefs or principles. I sometimes think it might not be a bad idea to put them in power for a while. That way, they can absolutely destroy what is left of the economy, and we can really build back better. Again, anyone English reading this needs to have a little think about Labour in power, and the possibility of Diane Abbott being Home Secretary.
Also — and here we return to the notion of British values and decency — the Labour Party deserted the white working class, a sin for which they should never be forgiven. With their current obsessions with woke culture, drag queen story hour, transgenderism, and the rest of the absurd, Nero-like carnival the West is going through, they could run the country about as well as I could skipper the England football team. Keir Starmer famously couldn't define what a woman is, and that will never be forgotten.
So, whoever replaces Johnson will either be a case of meet the new boss, same as the old boss, or could really make a name for himself by reviving the soul of conservatism. Roger Scruton, where are you when your country needs you? Passed away, sadly. Scruton once said that true conservatism was less a set of theories and more of a gut feeling. Guts. Who has them on the British political Right? Whoever you are, make yourself known.
* * *
Like all journals of dissident ideas, Counter-Currents depends on the support of readers like you. Help us compete with the censors of the Left and the violent accelerationists of the Right with a donation today. (The easiest way to help is with an e-check donation. All you need is your checkbook.)
For other ways to donate, click here.