1,579 words
Author's Note: In a recent livestream, our longtime reader Sutton asked, "How important is economics in terms of ultimately understanding history and politics?" Hyacinth Bouquet transcribed my answer, and I edited it a bit. I want to thank Sutton for the question and Hyacinth for the transcript.
This is essentially a philosophical question. If you look at somebody like Marx, Marx is a historical materialist. Marx understands that there are other factors in history besides material ones. But he thinks that ultimately, in the last analysis, the driving force of history—what trumps the other factors—is economics and technology: reasoning about means and ends, profits and loss.
I don't believe that for a minute. I don't think that what ultimately drives history, what ultimately trumps other historical factors, is economics: economic rationality, economic necessity, material necessity. I think just the opposite is true. Ultimately, spiritual matters, value matters, moral matters, matters of prestige, trump considerations of economics.
The most beautiful image of this is the Potlatch. The Potlatch is a ceremony practiced by the Pacific Northwest Indians. When white settlers came upon the scene, they were amazed to find that prominent men within a tribe would vie for honor by taking their accumulated wealth and giving it away. They would get very competitive about expending wealth to change it into honor.
If just giving away wealth wasn't sufficient proof of their transcendence of the material, they would go so far as to destroy wealth. They would light bonfires and throw their wealth into them, rejoicing as the fires transmuted material goods into honor, into prestige, into status. They had a society that engaged in the competitive destruction of material goods to attain status.
That sounds absolutely aberrant and bizarre, but actually, it's the logic of all human history. I love talking about Hegel. What does Hegel say the beginning of human history is? It's the struggle to the death over honor. The man who is willing to sacrifice his life for honor is the free man. The man who is willing to extend his life by going without honor is the natural slave.
The duel to the death over honor is how men discover what kind of men they really are. The highest type of man is willing to risk death, which means obliterating the entire realm of material necessity, for an idea.
That's what brings man out of prehistory into history. That's the driving force of history in all kinds of sublimated ways. We're constantly trying to take material goods, material necessity, and transcend it, transmute it into something spiritual.
The first sort of spirituality or idealism is the struggle over honor, the struggle for recognition. But it becomes more and more refined. If you ever visit a European palace, evaluate it from the point of view of comfort. These places are absolutely splendid, but from the point of view of comfort, they weren't all that comfortable. High ceilings, drafty, no privacy. The kings were constantly surrounded by courtiers. There were people who were literally with them every minute of the day. Even when they were making love to their wives and mistresses, there would be people around — always!
From the point of view of comfort, privacy, and security, these places were not all that great. Modern bourgeois man is far more comfortable than any king throughout history. But kings weren't concerned with that. They were concerned with beauty. They were concerned with fine things. All that rococo gilt decoration was not there for comfort. Such luxury is the symbolic transcendence of material necessity. It is a symbol of honor. It is the Potlatch all over again.
In its deepest meaning, "luxury" is not the same thing as "comfort." Comfort is connected to the realm of physical necessity. Luxury is all about the non-necessary. Luxury was basically a rejection of comfort, security, and physical concerns.
This actually relates to a point I made earlier about the Biden administration and the hive mind. There might be nobody in charge. There is just the liberal hive mind that floats around on various social media platforms and in the press. The hive mind is a mob. Mobs have ideas, but they lack higher cognitive functions like foresight, planning, and self-control, including economic and technical calculation. They don't think in terms of profit and loss or means and ends. They are psychologically equivalent to children and primitives. Mobs are susceptible to sudden waves of enthusiasm that will set them off on a crusade.
It is extremely naïve to think that all behavior is rooted in economic motives. The conspiratorial Right's first question is always "cui bono"? Who profits? They assume that every social phenomenon is understandable in terms of means-ends reasoning to produce material profits and avoid material loss. In this, there's no essential difference been the conspiratorial Right and Marxism.
But ultimately, material considerations are trumped by spiritual and idealistic ones, especially in primitive societies or advanced societies where the ruling elites have regressed to a primitive level of functioning: children (BLM, antifa), senile old people (Biden, Pelosi), and mobs (Twitter). If mankind were ruled by basic material necessity, we would never have created civilization and history. We'd still be living in grass huts.
For instance, I think that a lot of the reaction to Covid had nothing to do with material necessity and means-ends rationality. Even when science was appealed to, it was essentially an article of faith and a symbol of tribal identity. The ultimate motive in any epidemic is fear of death. But there are rational and irrational ways of dealing with that. Much of what I saw in the Covid epidemic was the behavior of elites who were detached from economic necessity — the richer you are, the easier it is to be idealistic — and constantly looking for ways of one-upping one another in terms of their devotion to things that are not physically necessary.
Wearing masks became a symbol of public-spiritedness, regardless of utility. Not wearing masks became a symbol of freedom, regardless of utility. Entire realms of the economy were devastated in a Potlatch of moral signaling.
It was profoundly destructive. But when rational people would step back and ask, "Isn't this going a little too far? Isn't this a bit destructive? Is this really effective? Is this really worth it?" the inevitable response was moral shrieking: "You're a monster for saying this!" "You're a monster for thinking it!" "You're a mere materialist." "If it saves one life, it is worth it!" Then they continued heaping up the material and setting it ablaze.
Now Ukraine has come along. As sympathetic as I am to the Ukrainian side in this war, libs on Twitter are out of their minds about it. Now libs on Twitter are saying, "Why should we be concerned about Russia's nuclear deterrent if there's a matter of principle at stake?" This is Potlatch behavior. They're on a moral jag; they're on a moral tear; they're on a moral crusade. They're heaping up a funeral pyre and might just set civilization ablaze in a thermonuclear fire because they're having a moral fit. And they'll feel superior about it when it happens.
These are not the kind of rational people you want in decision-making positions, but there is something deeply human about their behavior. There's something, if you will, spiritual about it. They're straining towards some kind of transcendence. And they are far closer to the truth about mankind, history, and culture than Marxist or bourgeois materialist wet blankets.
But there are better and worse — rational and irrational, primitive and civilized — ways to transcend the material. Our current elites are functioning as primitives, without foresight and brakes. Thus they need to be reined in. We simply cannot have kooks like this in positions of power. We need better elites.
Earlier I talked about how Joe Biden was shut down by the White House Easter Bunny. We need somebody stronger than the Easter Bunny to intervene. We need an iron Easter Bunny to get these people out of the White House, out of the media, out of the boardrooms, out of academia — to lead them away and put sane people in positions of responsibility.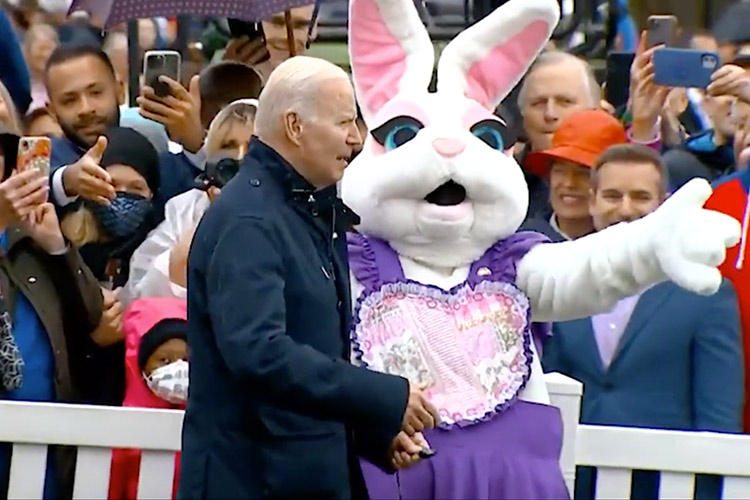 But if spiritual and ideological matters ultimately trump economics, why do so many people think that economics ultimately determines history? And why does this idea have so much explanatory power? After all, in liberal democracies, public policy is pretty much determined by business interests. There sure are a lot of people who act like pure economic materialists.
Ultimately, though, the explanation for this is ideological. Classical political philosophy holds that a legitimate government pursues the common good of society, and it is corrupt for the rulers to pursue their own interests at the expense of the common good. Modern liberalism, however, denies that there is a common good, or that the common good can be known, or that the common good — if it is knowable — can be pursued by disinterested statesmen. Therefore, the best we can hope for is that the common good emerges as a side-effect of people pursuing their own selfish interests. If you really accept that viewpoint, then selling policy to the highest bidder isn't even corruption, strictly speaking, because in their worldview there's really no better alternative.
In short, people behave as if economic materialism is true because they have accepted the idea of economic materialism. So, ultimately, ideas are still the driving force of history.
*  *  *
Counter-Currents has extended special privileges to those who donate $120 or more per year.
First, donor comments will appear immediately instead of waiting in a moderation queue. (People who abuse this privilege will lose it.)
Second, donors will have immediate access to all Counter-Currents posts. Non-donors will find that one post a day, five posts a week will be behind a "paywall" and will be available to the general public after 30 days.
To get full access to all content behind the paywall, sign up here:
Paywall Gift Subscriptions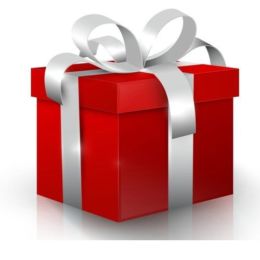 If you are already behind the paywall and want to share the benefits, Counter-Currents also offers paywall gift subscriptions. We need just five things from you:
your payment
the recipient's name
the recipient's email address
your name
your email address
To register, just fill out this form and we will walk you through the payment and registration process. There are a number of different payment options.