2,399 words
Part 1 of 2 (Part 2 here)
An edgelord is born . . .
It seems like Sarah Silverman has been around forever, and in a way, she has, but she has only been a household name for about 15 years. In other words, she's been famous for about as long as Rihanna.
Silverman is a Gen X-er and it shows. And she's not exactly a late one, either. Born in 1970, she spent most of the '90s bumbling around the outskirts of the comedy industry, landing only a few bit parts on TV and a failed trial run on Saturday Night Live. She also spent much of that time trying to sleep her way to the top, from all the biggest standups in the New York scene, to Dave Attell, who had his own series on Comedy Central for a time, and eventually to Jimmy Kimmel, one of the late-night talk show hosts on the major broadcast networks.
By the time her breakthrough 2005 standup comedy film Jesus Was Magic was released, she was 34. She soon had her own Comedy Central program as well, when she was pushing 40. Silverman had her breakthrough just before the bell, while she still had a bit of youth left in her. Any longer and she would have been too old to be marketable.
Despite her late arrival, Silverman's impact on culture was immediate and considerable. She has influenced just about every female comedian who came after her.
Early on, Silverman was like the female Andrew Dice Clay. There had been blue humor before, but the "Dice Man" took profanity to levels never before seen in mainstream comedy. Similarly, Silverman raised the bar of what it took to be an edgelord comedian by an order of magnitude. She would piss all over any and all sacred cows. She made fun of Christians, she would trample on liberal pieties as well. She would use racial slurs and make light of AIDS. Nothing was off the table.
I Love You More – Sarah Silverman
Her style was very Gen X. Gen X prided itself on being the generation that wasn't offended by anything. Our parents grew up on the Beatles and Leave It to Beaver, while we grew up on Mötley Crüe and slasher movies. We saw the rise of gangsta rap. We saw Ozzy Osbourne bite the head off a bat. Nothing could shock us, because we'd seen it all. Silverman's whole shtick in the 2000s was the essence of Gen X cool.
During the Bush years, when the President was saying that God told him to invade Iraq and the Christian Right was calling for a crusade against Muslims in the name of Jesus Christ (and Israel), her kind of "nothing is sacred" and "it's all just a big laugh" nihilism seemed rebellious and transgressive. It was fairly apolitical for its time. Silverman was implicitly liberal, but there was no obvious agenda. In the era of post-9/11 hysteria, Silverman's comedy was refreshingly escapist.
Sarah Silverman was funny in the same the way that men are funny. By that I mean that her sense of humor was dark and twisted in a way that you ordinarily associate with men. Naturally, women who want to be funny like men started imitating Sarah Silverman — and it's a truism of comedy that women generally aren't funny. There has long been speculation that much of her material was written by her comedian boyfriends like Dave Attell or Jimmy Kimmel, so it's possible that she had a masculine sense of humor simply because her jokes were written by men.
Many women try to sleep their way to the top of the comedy. They'll start dating a guy who can get them to the next level and then dump him for someone who can get them to the level after that. Others will take a less mercenary route and date a talented comic for a long time so they can have a free comedy coach on hand 24/7. Others still will date a comic and just have them write all their material. Guys will go along with it on the idea that if their girlfriends become famous, they'll be able to ride her coattails like Tom Arnold. But it often doesn't work out like that, and she dumps him when she gets to the next level.
Amy Schumer is a case in point. Schumer dated comedians on her rise to the top, including Anthony Jeselnik, one of the most talented comedy writers in the business. When Schumer made it to the big time, she switched to dating celebrities. Then she started being accused of stealing jokes. Once she stopped dating comedians, she magically forgot how to write jokes and started stealing. That is strong circumstantial evidence that her boyfriends were writing her material.
Be that as it may, I would still consider Silverman a talented comedic performer, far more so than Amy Schumer. Good comedic performers are not always good comedic writers, and vice versa. Lucille Ball was allegedly not funny at all off-camera, but she performed well. Silverman developed a funny persona of a dumb girl who says and does politically incorrect things because she doesn't know that you aren't supposed to, for example.
Silverman's primary innovation is that she stumbled upon a comedy hack: namely, that women can get away with doing "dark" and "edgy" humor more than men can. A lot of Silverman's early dark material would have come off as too "mean" if it had been done by a man. It would have been seen as punching down, and the audience would wonder if it was a joke or serious. But if the same material is done by a cute girl, it's more obvious that she's just being silly and the audience feels more comfortable laughing at it. This hack served as the blueprint for a million "cute girl tells edgy/dark jokes" comediennes who came after.
Turning to the Dark Side
Heading into the Obama era, Gen X was moving into middle age and the youth culture began focusing increasingly on millennials like Amy Schumer, who is basically Sarah Silverman but a decade younger, blonde, and more gentile-presenting.
The Obama years also saw the rise of woke culture, and Silverman's brand of comedic nihilism became deeply unfashionable. It was no longer cool not to care. Suddenly, all the cool kids were caring about stuff. Silverman's no-holds-barred "offend everyone" free-for-all was grossly out of step in this new age of safe spaces and trigger warnings.
While The Sarah Silverman Program got good ratings and rave reviews for three seasons, Comedy Central canceled it in 2010, citing budgetary concerns. Three years later, Inside Amy Schumer premiered on the same network. Only five years after the release of her breakthrough Jesus Is Magic, Silverman was already being eclipsed by her own imitators.

Schumer spent the early part of her career as a Silverman knockoff. She was a frequent guest on FOX News' Red Eye, where she cultivated an image as a kind of guy's gal, your friend's cool kid sister — the kind of girl you could hang out with as if she were one the guys. She's not one of those who freak out over every little thing.
This is why, as distasteful as Sarah Silverman is, she is not nearly as repellent as Amy Schumer. Silverman betrayed her fans by going woke for reasons I will explain later, but unlike her, Schumer actually pandered to the Right on her way to the top. If you are a struggling comedian, then getting on FOX News, even at midnight, is a huge break. She took that break and ran with it. Even when she was performing in Nowheresville, Iowa, people came out to see her because they had seen her on FOX News. This makes Schumer's betrayal that much worse.
After rebranding as an SJW feminist, Schumer explained in a 2015 interview that in her earlier career she had merely playing the character of a conservative:
I used to play a character onstage — really irreverent, kind of a racist. I played this very privileged, white Republican chick. And that's not who I am. I did not grow up with money. I'm a Democrat.
She literally retconned the first half of her career.
Silverman was always a one-trick pony as a comedian, but now found herself in a cultural landscape where that one trick had essentially been outlawed. With that avenue closed, she aimed for respectability.
Silverman disavowed her earlier work, claiming that she had "learned more" since her early and edgy days — but apparently has no intention of donating any of the money she made from that to charity.
Worse yet, Silverman sided with SJWs against her fellow comedians. In 2015, Jerry Seinfeld made news when he announced that he would no longer be performing at colleges, as political correctness had made college students humorless and offended by everything. Silverman chipped in on the controversy and started singing the praises of political correctness:
Sarah Silverman Says Comedians Can Learn from P.C. College Kids
To a degree, everyone's going to be offended by something, so you can't just decide on your material based on not offending anyone. But, I do think it's important, as a comedian, as a human, to change with the times. To change with new information. I don't think there's anything wrong with changing with the times. I think it's a sign of being old when you are put off by that.
Silverman claims that she resisted giving up the word "gay" as a pejorative until she thought, "What am I fighting? I have become the guy from 50 years ago who says, 'I say colored, I have colored friends!'"
And as for those college kids, Silverman said, "You have to listen to the college-aged because they lead the revolution. They're pretty much always on the right side of history."
That was Silverman's "Et tu, Brute?" moment. She made her reputation by violating every social piety and respecting no boundaries. Her comedy was about challenging the audience. She more than any other comedian should have been on the forefront of defending free expression. Instead, she told people to bow to the mob. She made it to the top, and is now lifting up the ladder.
Her play for respectability nevertheless worked. Silverman was a presenter at the Democratic National Convention in 2016, where she memorably scolded the Bernie supporters for not backing Hillary:
Sarah Silverman calls out "Bernie or bust" supporters at DNC
In December 2017, Silverman's comedy program I Love You, America with Sarah Silverman debuted on Hulu. After several failed attempts at becoming a serious dramatic actress, this was supposed to represent a return to Silverman's earlier style, reviving her dumb girl persona, but this time the show was pure propaganda, totally woke, and explicitly anti-white:
The Wage Gap and White Feminism | I Love You, America on Hulu
The "my fellow whites" were flying hot and heavy in the above clip.
Going full Jew, she did a monologue on nationalism where she said, without the slightest trace of irony, that the sight of the American flag frightens her and that she had to be schooled by her sister — who lives in Israel — as to why nationalism is bad for Jews:
Sarah's Monologue on Nationalism | I Love You, America on Hulu
The new series was aired in the months after Charlottesville, and it shows. Christian Picciolini was one of the program's first guests:
Sarah Interviews Christian Picciolini | I Love You, America on Hulu
At the same time that she was doing this, Silverman became the center of a viral news story. David Weissman was supposedly a Trump-supporting US Army combat vet. One day, Weissman started trolling Sarah Silverman on Twitter, but instead of reacting with hostility, Silverman responded with compassion and concern. After exchanging tweets on Twitter, Weissman realized that he had been wrong about everything all along and became a liberal.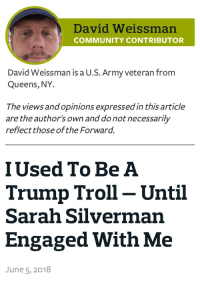 The story went viral, and Weissman used the sudden attention to launch a new career as an e-celeb. With his gimmick of being the ex-Trump supporter who was shown the light through the love and compassion of a liberal, Weissman racked up 350,000 followers on Twitter. The story got picked up by all the liberal outlets, and Weissman even wrote half-a-dozen articles for the Jewish Daily Forward.
It's hard to hear the Weissman story and not immediately assume that it was a staged publicity stunt. It made Silverman look like she has God-like powers of de-radicalization, besides which it is too perfect to be real. It's too Hollywood. You've got the hateful Right-winger who is really only hateful because he hasn't been shown enough love in his life. No one ever cared about him before, but once a liberal actually made an effort to reach out to him, all his hatred melted away and he instantly became a liberal. It's a perfect little liberal fairy tale of love conquering hate that we've seen a million times in Hollywood movies.
Then it came out that Weissman lived in Israel, and it was clear to everyone on our side that it was an op. But he is actually a US Army vet, and he had a conservative social media history going back three years before his encounter with Silverman, so if it was an op, it was a long one in the making.
If we dig deeper, however, we learn that he was a liberal before that. And even his conservative posts present the most basic-bitch borderline strawman conservative arguments, such as "There's no such thing as 'free health care' because someone has to pay for it." He was more of a caricature of a conservative. If there was a liberal with no contact with Right-wing ideas aside from their Limbaugh-listening uncle at Thanksgiving dinner who tried to go undercover online as a conservative, he would end up sounding a lot like David Weissman.
Weissman also claimed to be deeply involved with high-level figures in the Democratic Party. Skeptical liberal journalists asked around and found that no one actually knew him. It also turned out that while Weissman was indeed in the Army, he was a desk jockey and never saw combat. It has also been alleged that he took out a huge loan in his wife's name and then fled Israel.
He's also not very good at taking criticism. Whenever someone confronts Weissman about his lies and inconsistencies, he merely accuses them of "attacking veterans." He recently deleted his Twitter altogether.
Recent reporting has led me to believe that it is possible that Weissman is in fact just a lucky sociopath who won the internet lottery rather than an agent, however. It may be that he simply saw how much attention he could get by switching sides and becoming the hero of every liberal's fairy tale.
*  *  *
Counter-Currents has extended special privileges to those who donate $120 or more per year.
First, donor comments will appear immediately instead of waiting in a moderation queue. (People who abuse this privilege will lose it.)
Second, donors will have immediate access to all Counter-Currents posts. Non-donors will find that one post a day, five posts a week will be behind a "paywall" and will be available to the general public after 30 days.
To get full access to all content behind the paywall, sign up here:
Paywall Gift Subscriptions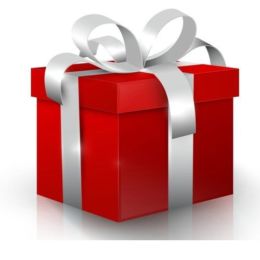 If you are already behind the paywall and want to share the benefits, Counter-Currents also offers paywall gift subscriptions. We need just five things from you:
your payment
the recipient's name
the recipient's email address
your name
your email address
To register, just fill out this form and we will walk you through the payment and registration process. There are a number of different payment options.