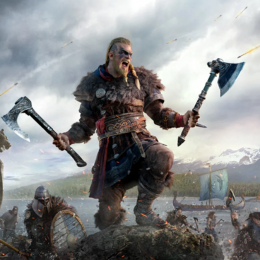 1.801 ord
English original here
"ODIN IS WITH US!" skriger det blonde bæst af en hovedperson i traileren for det computerspil 'Assassin's Creed: Valhalla'. Traileren fremstiller vikingerne som ædle helte, der kæmper imod de skurkagtige saksere, der lyver om deres ugerninger. Traileren fortælles af en vred Alfred d. Store, der fordømmer de nordiske plyndringsmænd for deres blodtørst, gudløshed og grusomhed.
Sammen med denne fortælling, ser vi vikinger, der leger med deres familier, kæmper tappert og ellers skåner kvinder og børn, mens de plyndrer en landsby. Vikingernes hedenskab er utvetydigt fremstillet, med et stort gudebillede af Odin i deres landsby og en hovedperson, der ser Vandringsmanden forvandle sig til en ravn på slagmarken.
Traileren blev gennemgående hånet på Højrefløjstwitter. Der var nogle, der lo af den måde fantasivikingerne, der i virkeligheden tjente godt på slavehandel, respekterede udenlandske kvinder og børn. Hedninge var irriterede over, hvorledes nordboernes tøj og udstyr syntes at komme direkte fra en billig hollywoodfilm. Kristne nationalister var vrede over at Ubisoft (spillets udvikler) lod de kristne være de onde og hedningene de gode. 'Assassin's Creed'-serien har en lang tradition for antikristen indhold, der er eksempelvis et spil, hvor man myrder paven. 
De kristne har en pointe. Der er en tendens til at fremstille nordisk hedenskab fordelagtigt i sammenligning med kristendommen i serier og film, der foregår i middelalderen. Nogle gange er hedenskabet af en sådan art, at Counter-Currents-læsere ville synes godt om det, andre gange minder det om en hippiefestival. Kristendommen er altid fremstillet på samme måde: autoritært, fanatisk, puritansk og hyklerisk.
Det er en besynderlig udvikling. På den ene side glorificerer disse medieprodukter en indfødt europæisk tro. På den anden side angriber de kristendommen for at være "Europas tro". Uden kristendommen ville europæerne være mere tolerante, give sig hen til free love og bare go with the flow, i hvert fald ifølge disse fremstillinger. De her fremstillinger minder om hyldestsange til indianere, der hold fast i deres mere naturlige religion imod den onde hvide mands tro. Den eneste forskel er at heltene i vikingehistorierne har lys hud, blond hår og blå øjne.
Selvom film og spil af denne type er tænkt til at formidle et småsocialliberalt budskab, så er de ikke meget forskellige fra völkische værker fra det Nittende og det Tyvende Århundrede. I flere völkische værker fremstilles kristne missionærer som sortsmuskede indtrængere, der undertrykker Tysklandsk indfødte traditioner. Rom var den store fjende for mange af disse nationalistiske forfattere. Det var hovedtemaet i Wulf Sörensens 'Forfædrenes Stemmer'. I begyndelsen af Hermann Löns 'Der Wehrwolf' begrædes det, hvorledes hovedpersonens landsby er blevet omvendt til kristendommen fra hedenskabet. Mange tyske entonationalister så Widukind, saksernes sidste hedenske konge, som en helt, der modsatte sig de fremmede overgreb begået af den kristne Karl d. Store. Stedet for Blodbadet i Verden, hvorunder Karl d. Store beordrede henrettelsen af 4.500 hedenske saksere, blev et mål for pilgrimsrejser i Det Tredje Rige.
Det samme tema videreføres, formodentlig utilsigtet, i moderne fremstillinger af vikinger. Det er ikke ligefrem nyt. Den islandske film 'Den Hvide Viking' fra 1991, er næsten komisk antikristen. Filmen omhandler Olav Tryggvasons brutale kristning af Norge og Island. De kristne omvender gennem trusler, tortur og bestialske henrettelser. Olavs biskop er et ondskabsfuldt misfoster, der ønsker at myrde filmens hovedpersoner og bemægtige sig deres rigdom. Kristne ritualer males som undertrykkende og fremmede for de frihedselskende hedninge, og de kristne selv er overtroiske slaver, der på et tidspunkt tager helten for den genopstandne Kristus. Hedenskab, derimod, fremstilles som en godartet frugtbarhedskult.
Den film kunne aldrig være blevet offentliggjortt i 1991s Amerika — Den Religiøse Højrefløj ville have fået et kollektivt raserianfald over dens blasfemiske indhold. Den gik an til TV på det sekulære Island.
Nu kan man se lignende fremstillinger i populære TV-serier. Det mest populære eksempel er History Channel-serien 'Vikings'. Jeg deler Jef Costello's opfattelse af serien:
[ind]Der er meget tydeligt et stærkt antikristent element i 'Vikings', og ærlig talt så finder jeg det anstødeligt. Misforstå mig ikke: Jeg er hedning og stærkt antikristen. Men jeg er intelligent antikristen. Seriens forfatteres perspektiv er ikke en hednings (selvfølgelig), men en socialliberals. Kristne fremstilles som forvirrede, hykleriske, brutale, og frem for alt, snerpede. Det er for så vidt sandt — men det socialliberale perspektiv er, at det er det eneste, der er ved kristendommen. Altså bliver, som en kontrast, bliver vikingerne fremstillede som vilde, sorgløse og seksuelt frigjorte. Ja, det er præcis så dumt og uelegant. Som min tidligere nævnte hedenske ven sagde det; de hader de kristne, fordi de havde normer, og elsker hedningene, fordi de tror at de ikke havde nogle. Med andre ord; de kristne er hadet for den ene gode ting, der ved dem.
De hedenske vikinger imiterer nutidige swingere i deres vaner og sikrer sig altid samtykke, før de giver sig hen til deres begær. Hedenskabet synes at have mere magt i 'Vikings'-verdenen end kristendommen. Mens visse karakterer oplever stigmata og ser syner af Jesus og dæmoner, så gør vikingernes tro mere. Deres seere kan se fremtiden, Odin går iblandt dem og uddeler velsignelser, og deres skikke slår altid kristendommens påbud.
Men det er ikke den völkische tro, som tyske nationalister forestillede sig. Det er langt mere counter-culture, end det er Kulturkampf. Serien fremstiller også vikingerne som tolerante, multikulturelle og uovertrufne kvinderespektører. Faktisk er næsten halvdelen af vikingekrigerne kvinder! Sakserne er sexistiske og snæversynede kristne. Det er faktisk deres kristendom, der får dem til at undertrykke kvinder.
Seriens hedenskab er stadig overvejende en krigerkult, der stilles overfor kristendommens kvindagtighed. Det det ene højrefløjsaspekt af det. Overordnet set er 'Vikings' for fjollet og dum til at være en seværdig serie. Det er en mindre underholdende, mere usammenhængende udgave af 'Sons of Anarchy', der foregår i tidlig middelalder.
En langt bedre vikingeserie er Netflix-serien 'The Last Kingdom'. Denne serie er heldigvis fri for hære af skjoldmøer og har et langt bedre karaktergalleri, manuskript og produktion.
Den har også en mindre tåbelig behandling af konflikten mellem kristendom og hedenskab. Hovedpersonen, Uhtred af Bebbanburg, er en sakser som blev fanget og opdraget af danskere. Han antog hedenskabet og modstod forsøg på at (gen)omvende ham til kristendommen. Hans modvilje mod at omvende sig forårsager mangfoldige problemer med hans hovedvelynder, den saksiske konge Alfred d. Store. Uhtred er splittet mellem to indbyrdes fjendtlige verdener; den saksiske og den danske, men til syvende og sidst ender han med at kæmpe for de kristne imod de hedenske indtrængere i hver konflikt. I modsætning til 'Assassin's Creed'-spillet og 'Vikings', så er nordboerne skurkene — om end de er respektindgydende skurke.
På trods af at han kæmper for sakserne, så opfører Uhtred sig mere som en dansker. Det viser sig i særdeleshed med hans faste troskab overfor hedenskabet. Hans hedenskab er ikke en swingerkult, men en krigertro. Hans religion kræver, at man hævder sin ære og søger retfærdighed mod dem, der gør ondt. Uhtred hader kristendommen for at fortælle ham at han skal vende den anden kind til og ydmyge sig selv over for uværdige herrer. Kristendommen er fortrinsvist en religion for kvinder og korrupte præster.
Et illustrativt eksempel på dynamikken mellem kristendom og hedenskab, er da Uhtred konfronterer en af sine tjenere i første sæson af serien. Hans første hustru (han når igennem mange) skaffer ham jord i Wessex, men hans forvalter er et fedladen tyv, der konstant lyver for sin herre. Hans hustru, der er en from kristen, beder Uhtred tilgive sin tjener og se igennem fingre med hans forseelser. Efter at have været udsat for endnu en ydmygelse ved hoffet, opdager Uhtred at hans tjener endnu en gang har stjålet fra ham. Han dræber tjeneren og råber "THAT'S MY JUSTICE!" til sin forfærdede hustru.
Seerne vil naturligvis mene at Uhtred har ret, og at hans hustru tager fejl. Denne hustru ender med at gå i kloster.
I 'The Last Kingdom' er hedenskabet en dennesidig religion, der lægger vægt på ære, eder, slægtskab og en mandig fornemmelse for retfærdighed. Kristendommen insisterer på regler, der ikke har meget at gøre med verden, og tvinger mennesker til at forråde slægt og retfærdighed for at tilfredsstille dens dogmer. I modsætning til i 'Vikings' fordømmes de kristne i 'The Last Kingdom' ikke for at have normer, men for at have de forkerte normer.
Hedenskabet har også mere reel magt i serien. Dets seere kan forudse fremtiden og hekse kan helbrede de syge. Kristendommen viser sig uden magt over virkelige begivenheder.
Det er en smule pudsigt, at TV- og computerspilsproducenter er så ivrige efter at fremhæve nordisk hedenskabs dyder. Har de ikke hørt om de racistiske elementer i moderne Asatro? Skulle det ikke være forkert at gå op i ære og dine egnes velvære på bekostning af universelle værdier og andre mennesker? Er Hollywood pludselig blevet tryllebundet af Stephen McNallens arbejde?
Det enkle svar er, at de fleste af disse forfattere og producere er sekulære socialliberale, der foragter kristendommen og vil hylde enhver religion, der ikke betragter Jesus Kristus som frelseren. De behandler indianske religion på den samme måde og ligeså islam. Den mest intolerante, den mest illiberale religion i verden kan altid forvente en positiv fremstilling i film og Tv-serier, især hvis muslimerne kæmper imod korsriddere. Muslimer er viise og tolerante, i modsætning til de snæversynede kristne, der invaderer deres land. Disse sekulære socialliberale ville være forfærdede af sharia, men de ved, at de ikke lever under den. De lever under kristendommen i stedet; islam er bare en eksotisk minoritetstro for dem.
Det er ikke så meget, at de beundrer nordisk hedenskab — det er det, at det tjener som et brugbart værktøj til at angribe kristendommen. De bekymrer sig ikke om de völkische konnotationer. Det er noget, der kan ses igennem fingre med. Det kan være, at det utilsigtet får hedenskabet til at fremstå attraktivt for nogle letpåvirkelige unge mænd, men hovedformålet er at nedgøre den dominerende vestlige religion.
Det er for tidligt at sige om odinismen i 'Assassin's Creed' vil vise sig at være based eller tåkrummende, skønt jeg gætter på tåkrummende. Det ser i det mindste ud til, at der hverken vil være sorte eller brune vikinger, hvilket vel burde udløse en smule ros til spillet. Venstrefløjsakademikere ville foretrække en raceblandet besætning på et langskib fremfor en hvid én.
Vor politisk korrekte kultur kan ikke få nok af nordboerne. Vore kulturproducenter kan gøre deres bedste for at forvandle vikingerne til proto-socialliberale, men det vil ikke lykkes for dem. Vikingerne vil altid fremstå som arketypiske blonde bæster. Det er det, der gør dem populære, og ingen opdigtet insektmandstro kan skjule den kendsgerning.
If you want to support Counter-Currents, please send us a donation by going to our Entropy page and selecting "send paid chat." Entropy allows you to donate any amount from $3 and up. All comments will be read and discussed in the next episode of Counter-Currents Radio, which airs every weekend on DLive.

Don't forget to sign up for the twice-monthly email Counter-Currents Newsletter for exclusive content, offers, and news.
Enjoyed this article?
Be the first to leave a tip in the jar!