Singing in Secret: William Byrd's Catholic Music
Alex Graham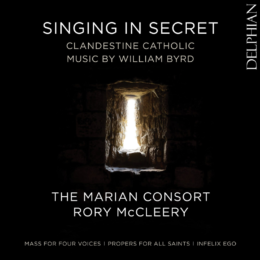 1,256 words
Earlier this year, the Marian Consort, a vocal ensemble known for performing Renaissance music, released an album of Catholic sacred music by English composer William Byrd. The album, entitled Singing in Secret: The Clandestine Catholic Music of William Byrd, is one of the finest sacred music releases in recent memory. It is also a testament to Byrd's creativity and courage in the face of religious persecution.
Byrd was the leading composer of the English Renaissance and one of the great masters of Renaissance music in general. His prolific and diverse output includes keyboard works, consort music, masses, motets, and madrigals. He made significant contributions to virtually every genre of his day. The Marian Consort's founder notes that one 16th-century music collector described him as "a glory to our race, and a nightingale to our people."
Byrd's devout Catholicism put him at odds with the Elizabethan government. He was forced to pay heavy fines for recusancy. As a result of his association with Lord Thomas Paget, who was involved in the Throckmorton Plot of 1583 (a plot to depose Queen Elizabeth I and replace her with Mary, Queen of Scots), Byrd was put under house arrest and his membership of the Chapel Royal was temporarily suspended.
Elizabeth I was more concerned with orthopraxy as opposed to orthodoxy; Catholics and Nonconformists were punished insofar as they refused to outwardly conform and acknowledge the authority of the crown. But Catholics had to worship in secret if they wanted to keep their heads. Dozens of Catholics, mostly priests, were executed for treason during Elizabeth I's reign. Byrd's strategic maneuvering (and Elizabeth I's fondness for music) enabled him to evade severe punishment and continue writing Catholic music in private — he was essentially a "secret agent."
Byrd's Catholic music was first performed in at clandestine private gatherings such as those held by his Catholic patron, Sir John Petre. These meetings were sometimes infiltrated by paid informers working for Elizabeth I. The houses of noble Catholic families often contained priest holes, or secret chambers where priests would hide from spies.
The pieces in this album come from Byrd's Cantiones sacrae, Mass for Four Voices, and Gradualia: ac cantiones sacrae, liber primus. The Gradualia and the Mass for Four Voices were first heard at Petre's home, Ingatestone Hall.
Byrd's two sets of Cantiones sacrae were published in 1589 and 1591. The motets therein are somber in tone and contain many references to the persecution of Catholics, which intensified in the 1580s. The graphic text of Deus venerunt gentes, for example, alludes to the execution of Jesuit St. Edmund Campion in 1581. The three motets from the Cantiones sacrae included here are "Laetentur coeli," "Miserere mei," and "Infelix ego." Some of the inner phrases in "Miserere mei" are a bit muddled, unfortunately, but the performance of "Infelix ego," one of Byrd's most emotionally powerful works, is outstanding. The text of "Infelix ego," inspired by the Miserere, was written by 15th-century Dominican friar Girolamo Savonarola in despair after he recanted his beliefs under torture; two weeks later, he was executed for heresy.
The Mass for Four Voices, which forms the centerpiece of the album, is one of three settings of the Mass Ordinary (in three, four, and five parts) Byrd composed between 1592 and 1595. Byrd's decision to publish them was bold, given that the Latin Mass was banned in England. To make them harder to trace, they were printed without dedicatory pages.
The Mass for Four Voices is thought to have been influenced by John Taverner's Mean Mass. Compared to pre-Elizabethan masses, though, it is clearer and less florid and melismatic. It also has a Kyrie, which is uncharacteristic of the Sarum Rite. Perhaps Byrd included the Kyrie as a prayer on behalf of English Catholics ("Lord, have mercy"). The exquisite climax at the end of the "Agnus Dei," in which the words dona nobis pacem ("grant us peace") are set to anguished overlapping suspensions, can be interpreted as such a prayer. Overall, this performance of the mass (the Gloria and Credo in particular) is excellent.
The Gradualia ac cantiones sacrae is a two-volume collection of 109 motets published in 1605 and 1607, coinciding with the anti-Catholic persecution that followed the Gunpowder Plot of 1605. He dedicated it to his patron, Sir John Petre, and Henry Howard, 1st Earl of Northampton. Intended to supplement his three masses, the Gradualia contains settings of the proper of the mass for every feast in the Roman Rite. It is designed so that verses can be combined in various ways to form complete masses. Its meticulous construction alone is an achievement. Six motets from the Gradualia are included here: "Gaudeamus omnes," "Timete Dominum," "Justorum animae," "Beate mundo corde" (these comprise the Propers for All Saints), "Ave Maria," and "Deo gratias". The most notable performances are "Timete Dominum" and "Gaudeamus omnes," both spirited, intricate pieces that are difficult to pull off well.
The singing on this album is superb, combining warmth and vibrancy with poise and stoic dignity. The balance is even and clear, and each singer projects well.
One need not be Catholic, or even Christian, to appreciate the beauty of these works. Above all, Byrd's choral music represents the pinnacle of a distinctly European art form. Anyone who admires the sublime beauty of Europe's great cathedrals will also appreciate late Renaissance polyphony.
The overwhelming whiteness of English sacred music has not gone unnoticed by diversity mongers. On July 22, Sheffield Cathedral in South Yorkshire announced that its cathedral choir, which contained 40 members, would be disbanded in order to make room for a group of singers representative of Sheffield's "mixed urban community." The cathedral's statement added that closing the choir was "in the best interests of [its] long-term mission."
The notion that sacking its choir and bringing in people who have no connection whatsoever to England or the Anglican Church is somehow in Sheffield Cathedral's best interest is absurd. Will the new choristers genuinely value England's choral tradition and be committed to keeping it alive? Certainly not. The only way in which the cathedral's decision makes any sense is if its "long-term mission" is the erosion of England's cultural heritage. Given the aggressively anti-white stance of the leadership of the Anglican Church, this is not far-fetched.
The tragic irony of this whole affair is that Sheffield Cathedral was the target of an arson attack in May. The perpetrator also spat at two police officers. It is safe to assume that she is not white, because neither her name nor her photograph were included in news reports. The reality is that the non-white community of Sheffield would rather see Sheffield Cathedral go up in flames than partake in its traditions.
Byrd's Catholic music has an added significance for defenders of England's cultural heritage today, and those on the Dissident Right more generally. We find ourselves in the same position that Byrd occupied four centuries ago. His life can perhaps provide inspiration to dissident artists. At the very least, his music is a welcome respite from the ugliness of the modern world, and a reminder of why we fight.
If you want to support Counter-Currents, please send us a donation by going to our Entropy page and selecting "send paid chat." Entropy allows you to donate any amount from $3 and up. All comments will be read and discussed in the next episode of Counter-Currents Radio, which airs every Friday.
Don't forget to sign up for the twice-monthly email Counter-Currents Newsletter for exclusive content, offers, and news.
Enjoyed this article?
Be the first to leave a tip in the jar!