He's Our Bannon, Only Better:
From Meme Magick to Evolian Populism
Peter D. Bredon
2,462 words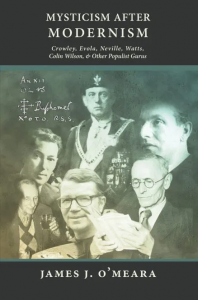 James J. O'Meara
Mysticism After Modernism: Crowley, Evola, Neville, Watts, Colin Wilson & Other Populist Gurus
Melbourne, Australia: Manticore Press, 2020
"For me real and imagined, by the way, is just the same. Because the world is our imagination." — Aleksandr Dugin [1]
"The whole vast world is nothing more than the confused imaginations of men and women." — Neville [2]
A new book from James O'Meara is always a treat, but until that long-awaited collection of film reviews arrives, this will serve to assuage the hungry public. Astute readers here at Counter-Currents will immediately perceive that this is a new, slightly but cunningly revised edition of Magick for Housewives: Essays on Alt-Gurus (Manticore, 2018). Although the title was intended as an homage to Crowley titles like Yoga for Yahoos and Yoga for Yellowbellies, I am told that the publishers found that too many potential buyers were unable to look past the thumbnail online and took it to be a work of "kitchen magic," which is a new one on me but apparently is a real thing.
I myself miss the perky housewife of the original cover, an icon of American postwar ascendancy who not only alluded to the "ladies who lunch" that filled Neville's audiences, [3] but also connected it to the author's End of An Era: Mad Men and the Ordeal of Civility (Counter-Currents, 2017). Arguably the new cover, a moody, misty collage of the subjects, is more appropriate to the contents as a whole.
The subtitle also frees the book from any links to the late, mostly unlamented "alt-right." Strange as it may seem to our grandchildren — or children — there was a time when anything "hip" was linked to the "alt" phenomenon; sort of like those funny haircuts in old pictures. Potential readers were left asking, along with Steve Bannon:
"But why does a guy who is that sophisticated get hooked up with Richard Spencer? [He's] a goofball, and you can't get in business with goofballs like that." [4]
For the new edition, the contents have been carefully revised, occasional misprints silently corrected, and an index of gurus added for the reader's convenience.
Since all but the title essay — a synoptic look at the Hermetic tradition from Plotinus to Evola to Neville, demonstrating the author's easy mastery of the field, which first appeared in Aristokratia IV — appeared in some form here on Counter-Currents, the high level of scholarship and presentation can be taken for granted. But what is the principle of selection for this motley crew, ranging from the infamous Crowley and the underground magic of Evola, to the misunderstood "popularizer" Alan Watts, then to modern chaos magic and Colin Wilson's Outsider, finally back to the barely remembered midcentury phenomenon who called himself Neville?  As O'Meara explains it,
In the wake of the populist revolt against globalist tyranny, and its controversial tribunes like Trump, it's time for a look at what can now be discerned as an equally new development, on the fringes of Western civilization, among what came to be known as "popular culture," during the so-called pre- and post-war eras: a new kind of spiritual teacher or "guru," one more interested in methods, techniques and results than in dogmas, institutions, or — especially — followers.
In the wake of even more recent developments, what O'Meara previously styled "alt-gurus" he now calls "populist gurus." An equally good term, if we extend our temporal limits back into the 19th century, and acknowledge how geographically American this phenomenon is, [5] might be what Arthur Versluis has dubbed "American gurus," who espouse what he calls "immediatism."
[Immediatism is] the assertion of immediate spiritual illumination without much if any preparatory practice within a particular religious tradition. Some call this "instant enlightenment." [Its] origins precede American Transcendentalism, [6] and whose exemplars include a whole array of historical figures, right up to contemporary New Age exponents. In this line, a figure like Timothy Leary, and other erstwhile psychedelic evangelists, play a significant role because what could be more immediate than the result of taking a pill? [7]
Immediatism is based, in turn, on "an underlying metaphysics" which Versluis calls "primordialism": "We as human beings have access to blissful awareness that is not subject to temporal or spatial restriction [and] is always present to us." [8] Since it is always present, it pops up from time to time in history, only to be occulted again by mainstream dogmatism, until rediscovered once more; it endures in time not by institutions but by texts and gurus, [9] and above all by techniques: from Crowley's convoluted and obscurantist rituals and doctrines to Wilson's "pencil trick" and, perhaps most archetypally, Neville's "simple method to change the future"; as Neville says repeatedly, "Go home and try it tonight — prove me wrong!"
So it's no surprise that immediatism should be so prevalent today, and especially in the United States: in the Kali Yuga, where institutions are in decay, or, as in America, they never really existed.
Immediatism is sort of the Dark Twin of Traditionalism; or rather, seeing it from our Yankee perspective, it's the Bright Twin. To Traditionalism's innate pessimism — "You must submit to an orthodox tradition to have even a glimmer of a change, after arduous labor, to achieve enlightenment or even a fully human life; oops, looks there aren't any around these days, too bad, better luck in the next kalpa" — Emerson, the original American Guru, asks bluntly:
The foregoing generations beheld God and nature face to face; we, through their eyes. Why should not we also enjoy an original relation to the universe? Why should not we have a poetry and philosophy of insight and not of tradition, and a religion by revelation to us, and not the history of theirs? [10] Embosomed for a season in nature, whose floods of life stream around and through us, and invite us by the powers they supply, to action proportioned to nature, why should we grope among the dry bones of the past, or put the living generation into masquerade out of its faded wardrobe? The sun shines to-day also. [11]
This may all seem too airy-fairy, but if you want a practical application, consider, as O'Meara does here, the role played by "meme magick" in the Trump phenomenon; it can also provide the key to understanding Steve Bannon's surprising and complex relationship with Traditionalism.
Benjamin Teitelbaum, in his War for Eternity: Inside Bannon's Far-Right Circle of Global Power Brokers, devotes considerable attention to Bannon's idiosyncratic reading of Guénon and Evola. He never discusses Bannon's American intellectual heritage, which is a pity, since it would help explain what he calls Bannon's "horizontal Traditionalism": rather than bemoaning the confusion of the castes in the modern world, and futilely wishing for a "return of kings" (with oneself, of course, as a king, or at least on the general staff), Bannon tips the hierarchy on its side, and puts his faith in the ordinary working-class Joe Schmoe (Bannon calls them "serfs") as a perennial source of traditional values to counterbalance the elite's secular globalism. It's basically Jeffersonian "natural aristocracy" and a political application of Emerson's primordialism. [12]
But how does Evola fit in here, with all these mystical Yankee peddlers, these Melvillian confidence men, and lightning-rod salesmen? Was Evola not the proponent of capital-T Tradition with its hierarchies and fatalism?
Indeed; but before he became the darling of alt-rightists seeking "our Marcuse, only better," before reading a word of Guénon, he was a magician; that is, neither a dogmatic theologian or a materialistic scientist, but an esotericist. That Evola is quoted as the epigraph of the work under review:
One can expect that one day religion, as well as theology itself, will become an experimental science, certainly an upheaval, not lacking interest, that leads us back to a proper view of mystical and traditional esotericism. [13]
This was the "good" Evola. The "bad" Evola arose from what Pierlo Fenili, in an eye-opening article in Politica Romana — "The Errors of Evola" — calls the "wrong choice of traditions;" as Jocelyn Godwin explicates: [14]
Fenili points out that of the four protagonists who were left at the end of the Western Empire in 476, only the Roman Senate and the Eastern Empire had authentic Roman roots. The other two players were the Church, whose origin was in the Near East, and the Germanic peoples of the north, and it was with these enemies of Romanity that Evola chose to align himself.
From this followed another error, "alienation from the ancestral tradition." [15] The true Western Tradition was
[Carried] onward by such figures, ignored by Evola [and loathed by Guénon], as. . . Boethius. . . who worked under a Gothic emperor to preserve all he could of Greco-Latin learning; Michael Psellus. . . the Byzantine Platonist; the early Humanists from Petrarch onwards, whom Evola dismisses as merely safeguarding the "decadent forms" of Antiquity; Ficino, who continued Boethius's project by translating the works of Hermes, Plato, and the Neoplatonists; Pico della Mirandola with his defense of the dignity of man [which Evola] censured for its "rhetorical exaltation of individuality." 
The choice is not between secular science and "Tradition" in the form of dogmatic religion. [16] The true "Roman" tradition is the one that gave birth to the Renaissance, the Reformation, and the Enlightenment, the bug-bears of both Traditionalists and Neo-Reactionaries. Needless to say, this is the Platonic tradition — pro-science but anti-scientism, pro-spirituality but anti-"churchianity" — to which Emerson and the "American Gurus" belong.
And this is why Evola belongs here; Fenili insists that "the most important part of Evola's creative oeuvre consist[s] of the works of esoteric, orientalist and philosophic character," which include The Doctrine of Awakening, The Hermetic Tradition, and The Yoga of Power, which, together with Magic: Rituals and Practical Techniques for the Magus, are the works constantly cited by O'Meara to explicate and justify what he calls "America's homegrown Hermeticism, native Neoplatonism, and two-fisted Traditionalism" — a more authentic Tradition than anything dreamed up in Guénon's cork-lined bedroom.
Bringing these figures together illuminates a uniquely American and Modernist phenomenon, excavates a third stream — esotericism — between science and religion, and de-occultates the hidden passage from Evola's magic to post-Trump populism.
There is another thread of continuity in the studies presented here. Starting from reminiscences of teenage years listening to early Sunday morning radio broadcasts of Alan Watts, through the dense accumulation of names and references, surfacing in the clear, easy mastery of his presentation of Neville as the greatest voice of hermetic tradition in the 20th century, we have here, intended or not, an intellectual biography, a more modest version of Evola's Path of Cinnabar.
And so we can say, as Teitelbaum says of the Brazilian Traditionalist and populist Olavo de Carvalho:
Thinking in these terms. . . made his ostensible journey seem like no journey at all: his activities since discovering Traditionalism in the 1970s would instead appear variations on a theme rather than a dilettantish succession of gimmicks and reinventions. [17]
Whitman, one of the great voices of American immediatism, comes to mind. "This is no book, cammerade [sic]. Who touches this touches a man. . ."
If you want to support our work, please send us a donation by going to our Entropy page and selecting "send paid chat." Entropy allows you to donate any amount from $3 and up. All comments will be read and discussed in the next episode of Counter-Currents Radio, which airs every Friday.
Notes
[1] Quoted in Benjamin Teitelbaum, War for Eternity: Inside Bannon's Far-Right Circle of Global Power Brokers (New York: HarperCollins, 2020), p. 153
[2] "Neville's Purpose Revealed," in Let Us Go Into the Silence: The Lectures of Neville Goddard, compiled by David Allen (Kindle, 2016)
[3] Described in the title essay, "Magick for Housewives: The (Not So) New (and Really Rather Traditional) Thought of Neville Goddard."  Neville, by his own admission, was known as "The Mad Mystic of 48th Street." The haute bourgeois ladies Tom Wolfe later called "Social X-Rays," looking for a new thrill, would say to each other: "Oh, do come along and hear him, it's free and he's terribly funny!"
[4] Teitelbaum, op. cit., p.267.
[5] Watts were British, but Watts emigrated to the US and gained fame there, while Wilson always felt like an "outsider" in British culture and openly preferred Americans. Neville was from Barbados, emigrated to New York at seventeen, and was given citizenship after being drafted in World War Two. The outlier is Crowley, but he would be an outlier anywhere, and at least spent some time in the US.
[6] Versluis traces it back to Plato, via Emerson: see American Gurus, Chapter 2, "Revivalism, Romanticism, and the Protestant Principle." Camille Paglia also delineates a "North American Literary Tradition" that originates in the collision of American Puritanism with European Romanticism; see my review "The Native American Nietzsche: Camille Paglia, Frontier Philosopher."
[8] American Gurus: From Transcendentalism to New Age Religion (Oxford, 2014), p 248.
[9] Like Zen, a "special transmission outside the scriptures" – Heinrich Dumoulin, Zen Buddhism: A History. Volume 1: India and China, World (Wisdom Books, 2005), pp. 85-94.
[10] Neville: "Religious progress is a gradual transition from a god of tradition to a God of experience." ("Control Your Inner Conversations," 4-26-1971.
[11] "Nature" (1844).
[12] "When I was drafted, called, and sent, it was with the command, 'Down with the bluebloods.' In other words, down with all church protocol, with anything that would interfere with the individual's direct access to God. There is only one foundation upon which to build. That foundation is I AM, and there is no other." Neville, "No Other Foundation," 11-04-1968.
[13] Julius Evola, "The New Spirit Movement"; originally published in Bilychnis, June, 1928.
[14] See Jocelyn Godwin, "Politica Romana Pro and Contra Evola," in Arthur Versluis, Lee Irwin, and Melinda Phillips (eds.), Esotericism, Religion, and Politics (Minneapolis, MI: New Cultures Press 2012). I don't read Italian and haven't read the article itself, so I am relying on Godwin's presentation.
[15] Guénon, for his part, never even pretended to be "Roman" and in fact despised the Classical world, no doubt a reaction to a typical French education; after years of trying to interest the Catholic Church in his ideas, he eventually converted to Islam. Why rightists think he has anything to contribute to their struggle is a mystery.
[16] Commenting on 1 Corinthians, Robert Price notes that in the "Catholic anti-wisdom section" of Chapter 3 we find "once again, the opposite of [worldly] wisdom is not esotericism but simplicity. The pious attitude is that which regrets the sampling of the knowledge tree in Eden, the erection of the Babel tower. Such a one is happy to mortgage his faith to the Grand Inquisitor." The Amazing Colossal Apostle: The Search for the Historical Paul (Salt Lake City: Signature Books, 2012); compare Evola's The Hermetic Tradition: Symbols and Teachings of the Royal Art (Rochester, Vt.: Inner Traditions, 1995), especially the "Introduction to Part One: The Tree, the Serpent, and the Titans."
[17] Teitelbaum, op. cit., p.260.
Enjoyed this article?
Be the first to leave a tip in the jar!