211 words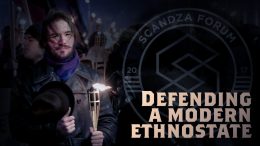 Fróði Midjord sits down with Ruuben Kaalep, a member of the Estonian Parliament (Riigikogu) for EKRE, the Conservative People's Party of Estonia (Eesti Konservatiivne Rahvaerakond) for an interview inside of the chambers of Estonia's Parliament building in Tallinn. Kaalep is also the founder of EKRE's metapolitical wing, known as Sinine Ӓratus, or Blue Awakening. Blue Awakening organizes the annual Etnofutur Conference held the night before this interview, where both Kaalep and Midjord had delivered talks related to the conference's themes of nationalism and identity.
If you liked this interview, be sure to subscribe to the official Scandza Forum YouTube channel where more speeches, interviews, and news will be uploaded from the Scandza Forum and events just like it across Europe.
If you want to support the work that the Forum does, then consider donating to the Scandza Forum via cryptocurrency. Their wallet addresses are:
Bitcoin: 1DKQ4NR88y4DK7khE4xFmvBxQFUyw6ZLC3
Ethereum: 0x3a6D6A69260cF733c32AB51E1C83B8f39c48dc4A
Note: Due to their history of deplatforming, we advise against using Coinbase for cryptocurrency donations.
For more information about what the Forum does or how you can help, feel free to get in touch via email at [email protected]. Don't forget to also follow the Forum on Twitter if you've not already for further updates and coverage of the events that matter most!
Defending A Modern Ethnostate | Interview With A Member Of Parliament