680 words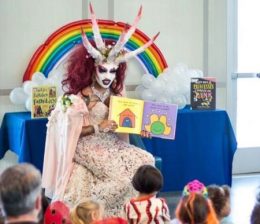 As an avid reader, I have always enjoyed the excellent libraries in my home town. I have also been aware of the presence of the American Library Association (ALA), whose reading lists and promotional displays always seemed helpful and well-conceived. Recently, however, it has been pointed out that the ALA is not a neutral professional organization, as one might assume, but is yet another hard-Left NGO/Non-Profit, funded and run by cultural Marxists to push progressive agendas.
The fun began in the 1930s when "younger activists" within the ALA began pressuring their older leaders to address social issues including "peace, segregation, library unions, and intellectual freedom." [1]
In 1951, responding to the controversy around the novel The Grapes of Wrath, the ALA declared themselves "against the labeling of materials as subversive." They also came up with the concept — to be applied to librarians — of "socially responsible professionalism," meaning that ideological guidance will now be part of your library experience.
Then came the 1970s. At a national convention of the ALA in Dallas in 1971, Barbara Gittings ran a "kissing booth" underneath the banner 'Hug a Homosexual. The booths were split between a men-only and a women-only side. When nobody wanted to "hug a homosexual," Gittings kissed her colleague and it made the news. [2] Gittings soon became the coordinator of the GLBT Round Table within the ALA, which increasingly contained many such round tables, sub-organizations and "Toolkits".
Here's what a recent toolkit looks like: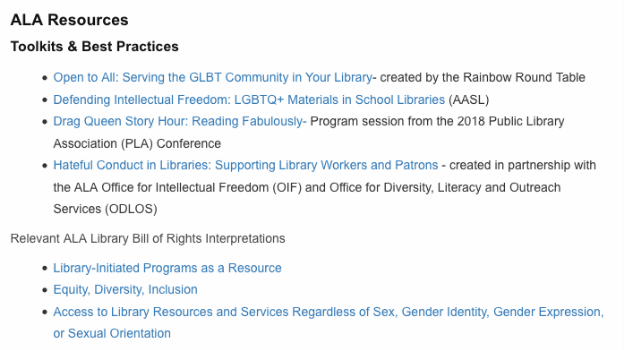 In 1982, "Banned Books Week" was introduced by the ALA, ostensibly "to teach the importance of our First Amendment rights." What it actually did was promote books advocating progressive ideologies. I saw this myself several years ago, at an ALA panel for Banned Books I happened upon. The panelists were criticizing libraries in rural communities for not purchasing enough pro-diversity books; i.e. these communities were "banning them". One dissenting member of the audience suggested that these small-town libraries might have a right to decide for themselves which books to purchase for their library collections. That person was booed.
The latest attempt by the ALA to provoke their patrons has been the extraordinarily inappropriate library event "Drag Queen Story Hour". This is an ALA sponsored program in which drag queens (men dressed as female prostitutes) read stories to small children in a public library setting.
Last summer such an event was put on in St. John's, Oregon.  At the time, a spokesman for the library explained that the purpose of the story hour was to "explore ideas of difference, diversity, and inclusion through stories, music, and costume." This event was such an optics disaster — five-year-olds and strange men photographed frolicking together on the floor — that the offending library quickly scrubbed it off all social media.

The ALA — unperturbed by the understandable pushback to their drag queens — remained defiant, releasing this statement:
The ALA, through its actions and those of its members, is instrumental in creating a more equitable, diverse, and inclusive society. This includes a commitment to combating marginalization and underrepresentation within the communities served by libraries through increased understanding of the effects of historical exclusion. [3]
Compromised and deceptively labeled institutions like the American Library Association need to be identified and resisted at every opportunity.
In January 2020 at a "Drag Queen Story Hour" in Australia, Wilson Gavin, a young conservative leader, and gay man, led a small group of friends in a protest. As the "story hour" commenced they briefly chanted "Drag Queens aren't for Kids" at the gathering and then politely left once they'd made their point.  Gavin, who had previously expressed opposition to the legalization of gay marriage, was brutalized in social media that night and the following morning was found dead. The media reported it as a suicide. [4]
Notes
[1] Samek, Toni, Intellectual Freedom and Social Responsibility in American Librarianship 1967-1974 (Jefferson: McFarland and Company, 2001), 7.
[2] Warner, David, "Interview with Barbara Gittings," Citypaper.net, archived 16 May 2008. [https://web.archive.org/web/20080516124313/http://www.citypaper.net/articles/042299/feat.20q.shtml]
[3] American Library Association, "Libraries Respond: Drag Queen Story Hour," archived 6 December 2019. [http://archive.is/FChme] [http://www.ala.org/advocacy/libraries-respond-drag-queen-story-hour]
[4] Taylor, Josh, "Grief over death of Young Liberal Wilson Gavin after drag queen protest," The Guardian, archived 18 February 2020. [http://archive.is/LH9Zo] [https://www.theguardian.com/australia-news/2020/jan/14/grief-over-death-of-young-liberal-wilson-gavin-after-drag-queen-protest]
Enjoyed this article?
Be the first to leave a tip in the jar!
Related