Rozhovor s Yannem Vallériem, předsedou Jeune Bretagne, část 1
Patrick Le Brun
1,287 words
English original here
Mé setkání s Yannem Vallériem, šéfem identitární organizace Jeune Bretagne (Mladá Bretaň, bretonsky Breizh Yaouank), proběhlo u vodního mlýna Moulin du Chaos (více fotografií zde) v obci Huelgoat. Během našeho rozhovoru, kdy jsme procházeli okolo obrovských balvanů, jsem měl opakovaný pocit, že chýše čaroděje Merlina musí být hned za dalším rohem. Během poznávání přirozené krásy tohoto kraje se stávalo stále více zřejmým, proč jedno z nejaktivnějších hnutí původních bílých obyvatel, má tak velkou, artušovsky hrdinskou povahu a vychází z identity tak hluboko zakořeněné a starší, než ancien régime nebo ultramontanismus.
Můj prvotní dojem byl ten, že Yann vypadal spíše jako boxer velterové váhy, než politický organizátor. Má klidné a sebejisté vystupování, jež ukrývá velkou energičnost a vášeň, které vkládá do své práce. Nemá teatrální způsob vystupování, které lze nalézt na jihu Francie, nebo okázalost Pařížana. Yann je definitivně člověkem svého kraje.
Yann Vallerie kandidoval jako bretonský autonom za politickou stranu, spojenou s Jeune Bretagne, v kantonálních volbách, avšak jeho těžiště práce spočívá v komunitní činnosti.
Tento rozhovor se odehrál před akcí proti mešitě v Poitiers, ke které došlo 20. října 2012. Yann se sice této akce neúčastnil, avšak nedávno došlo k tvrdým zásahům ze strany státu proti identitárním skupinám po celé Francii, což zpozdilo dokončení rozhovoru.
Patrick Le Brun: Yanne, díky za to, že jsi si udělal čas promluvit o tvé organizace Jeune Bretagne a přinést o ní bližší informace našim americkým kamarádům. Můžeš nám tedy ve zkratce představit Jeune Bretagne?
Yann Vallérie: Jeune Bretagne je skupina bretonských patriotů, jejímž cílem je získání autonomie pro náš region a zachování naší kultury. Není to striktně "politické" sdružení. Zaměřujeme se na metapolitickou činnost, naše činnost probíhá v širším kulturním rámci a není zaměřena primárně na volby a s nimi spojenou politickou činnost.
PL: Jak jsi se zapojil do hnutí a odkud pocházíš?
YV: Můžu říct, že jsem se narodil jako bretonský nacionalista. Můj otec i děda byli hrdými Bretonci, kteří bojovali za záchranu naší kultury a následně za sebeurčení našeho lidu. Mnoho našich předků pravděpodobně cítilo stejně, ale tito dva lidé mě přímo ovlivnili a vychovali.
Oba byli levicově oriantovaní bretonští nacionalisté. Když se rozhlédnete okolo, tak podle letáků ve výlohách obchodů poznáte, že tohle je socialistická a komunistická země. Já sám jsem byl zapojen v krajně levicovém hnutí od svých čtrnácti do sedmnácti let. Bretonci, obzvláště ti, kteří nemají potřebu cestovat do velkých měst, jsou velmi izolováni od toho, co se děje v Evropě. Poté, co jsem objevil a uviděl následky přistěhovalecké invaze, jsem zjistil, že levice není schopna vykonávat politiku, kterou Bretaň potřebuje k tomu, aby přežila. Je to skutečně jedno z největších nebezpečí, kterému v naší historii čelíme.
PL: Souhlasím, že je pochopitelnější odejít od krajní levice (v homogenní komunitě) a stát se krajně pravicovým nacionalistou, než konvertovat k nějaké ideologii, založené na tržní ekonomice. Chápou to tak i ostatní zde, že tvoje hodnoty zůstaly konzistentní?
YV: Mládež to chápe, ale je zde jen pár starších, zkušených aktivistů, kteří prošli touto změnou. Nedávám to starší generaci za vinu, že zůstávají socialisty a komunisty, protože vyrůstali v jiných časech. To, proti čemu já bojuji, je úplně jiné a komplikovanější, než to, proti čemu bojovali oni. Častokrát, když cestuji naší zemí a navštěvuji vesnice, mluvím se staršími lidmi o islamizaci, vytváření tzv. no-go zón
(čtvrtí, nad kterými stát ztratil kontrolu a není schopen prosazovat vládu zákona) v ghettech a zločinnosti a oni s námi souhlasí. Ve skutečnosti říkají věci, které já bych nikdy neřekl. Problémem však je, že když vidí zprávy z Paříže nebo Brestu, je to pro ně jako kdyby dostávali zprávy z jiné planety. Necítí, že to na ně má vliv. Tito lidé vůbec netuší, jak velkým problém to je, poněvadž je trestné, shromažďovat demografická data založená na rasové příslušnosti a média o tom mlčí. Když má tedy dojít na uvedení jejich slov do praxe, tito lidé nikdy neopustí socialistické a komunistické strany. Jediné, co může pomoci, je počkat až zemřou. Nemyslím to nijak urážlivě, ale není zde žádný způsob, jak s nimi pohnout. Jedině když přestanou volit, tak se věci dají do pohybu a uvidíme počátek velké změny.
Ale jak jsem již řekl dříve, větší část mladých lidí toto chápe.
PL: Jeden z problémů, kterou ve Státech řešíme, je neschopnost  učinit hnutí atraktivnějším pro ženy. Jaký je tvůj názor?
YV: Politický aktivismus odjakživa přitahoval více muže, než ženy. Bez ohledu na politickou orientaci, tudíž nemůžeme očekávat paritu. Ženy si však uvědomují, co je čeká pod vládou šaríi. Proto máme mnoho aktivistek a ještě více žen, které podporují muže, kteří jsou aktivní v hnutí.
První aktivitou, který jsem vyvinul poté, co jsem se stal předsedou Jeune Bretagne bylo lepení nálepek po lampách veřejného osvětlení na vesnicích. Týkaly se zastavení islamizace Francie a bylo na nich uvedeno moje telefonní číslo. První telefonát byl od ženy. Jak to říci.. Naší dceři byly nedávno dva roky, tudíž já nejsem zrovna typ člověka, který by měl mluvit o tom, jak naše hnutí odcizuje ženy.
PL: To je skvělý příběh, vůbec jsem o tom nevěděl… Gratuluji! Zní to tedy tak, že problém islámu a střetu civilizací je skutečně účinný při probouzení lidí.
YV: Evropské ženy vidí, jak je zacházeno s arabskými a africkými ženami v ghettech a to také nakonec ovlivňuje jejich životy. Nechtějí se stát majetkem pro ostatní muže a nechtějí být nuceny nosit na sobě pytle na odpadky, pokaždé když jdou ven. Ale jak víte, je zde i hrstka žen, které konvertovaly k islámu.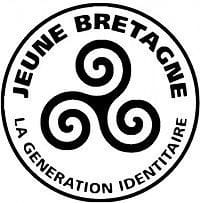 PL: Slyšel jsem, že k tomu dochází v ghettech. Co si o tom myslíš?
YV: Jsou zde dvě věci, které dnes přitahují francouzské ženy k islámu. První je, že fracouzské ženy v ghettech Brestu a Rennes konvertují k islámu, aby zastavili muslimy, kteří je obtěžují na ulicích a dokonce po nich hrabou. Tito grázlové tak nejednají se ženami, které chodí zahalené a proto se Evropanky začinají zahalovat také. Druhým důvodem je, že konzumní kultura jim nemá co nabídnout. Tato kultura klade důraz pouze na jejich povrchnost a materialismus. Islám je jedinou věcí, kterou znají a o které ví, že se zabývá hlubšími problémy jejich životů.
Jiné ženy vidí, jak k tomuto dochází a ví, že pokud nebude přistěhovalectví zastaveno, tak že to přijde i do jejich sousedství, kdy to začne nejprve zachvacovat tz nejchudší.
PL: Je zde ale i cena, která se platí za aktivismus. Myslím, že to je hlavním důvodem, proč americké ženy neuvažují o možnosti scházet se s mužem, který má politicky nekorektní názory, nemluvě o tom, že by byl přímo aktivistou.
YV: Já jsem definitivně zaplatil cenu za můj aktivismus. Nedávno jsem byl přijat místní univerzitou do jejího IT oddělení. Jakmile zjistili, že kandiduji ve volbách za identitární organizaci, tak mě vyhodili ještě předtím, než jsem stačil nastoupit. Je ironií, že rovněž přijali člověka, který byl ve stejných volbách kandidátem číslo 1 za Levicovou frontu (Front de Gauche). Dali jsme to k soudu, protože na této úrovni boje je třeba dbát na naše základní občanská práva.
Byli mezi námi někteří aktivisté, kteří nás opustili kvůli tomu, že se jejich ženy nebo přítelkyně obávaly, že bude ohroženo jejich živobytí. Měli být stateční a zachovat se jako muži, protože tohle je příliš důležitý boj. Opustit nás kvůli takovým přízemním obavám je ubohé. Dnes by zde nebyli žádní Bretonci, pokud by se takto zachovali naši předkové.
Možná je součástí problému, který popisujete v Americe, i to, že ženy nechtějí poslouchat muže, kteří si neustále stěžují. Obzvláště pak tehdy, když nejsou slova podložena činy. Ať již je sám, nebo členem nějaké skupiny, známým aktivistou nebo jen skrytým podporovatelem, vždy je zde něco, co musí být vykonáno. Ale pokud jen naříkáte nebo jen tlacháte kontroverzní řeči u piva v hospodě, nikdo s tím nebude spokojený, a je jedno, jestli to je muž nebo žena.
Source: http://deliandiver.org/2013/02/rozhovor-s-yannem-valleriem-predsedou-jeune-bretagne-cast-1.html
Enjoyed this article?
Be the first to leave a tip in the jar!