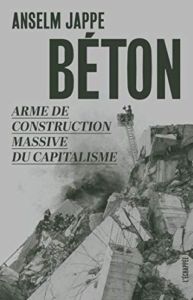 4,509 words
Part 1 of 2 (Part 2 here)
Anselm Jappe
Béton: Arme de construction massive du capitalisme
Paris: Éditions L'échappée, 2020
Ask any thinking people what they consider to be the most dramatic and long-lasting changes in the world over the last hundred years, and a wide variety of responses may be expected, ranging from demographic shifts to the atomic bomb, from urban growth and the decline of rural life to the two world wars, to the development of air travel, to the exploration of outer space, to globalism, to the many advances in medicine and science, to the internet and social media, to changes in mores and social attitudes, and much more. But it is unlikely that the worldwide use of reinforced concrete would be on many people's list of game changers. This book argues that it should be.
Béton is an important book. By "important book" I mean one possessing the rare quality of being able to shift a reader's perception of the world. Jappe's fascinating book can do that.
To this reviewer's knowledge, Anselm Jappe, who has published several books, is not a well-known writer even in his native France. Béton first appeared in French, published by a small publishing house, and was subsequently published in German, but is not (yet) available in English.
Béton is the French word for concrete. The title of the book is as bare and unsophisticated as its subject matter, studying the role of concrete, especially reinforced concrete, in driving economic, social, and even political change in the twentieth and twenty-first century. The subtitle of the book is Capitalism's Weapon of Mass Construction. This sounds polemical, and it is evident from his approach to the subject that Jappe is committed to a socialist, or at least anarchist, tradition. But it would be a grave mistake to dismiss Béton for reasons of superficial political hostility. The arguments presented are by no means a mere collection of political tropes.
Jappe differentiates between plain concrete, which has been known and used since Neolithic times, and reinforced concrete, which is a modern invention.
Concrete has relatively low ductility and tensile strength, which in layman's terms means it has a poor ability to withstand heavy pressure. Reinforced concrete has much higher tensile strength, and Béton is focused on this kind of concrete. Reinforced concrete is basically concrete reinforced with metal girders, usually but not necessarily made of steel, that are inserted into the concrete before it has set. Reinforced concrete was little known and less used before the twentieth century, but within a hundred years it has become ubiquitous and apparently indispensable.
Béton is firstly a critique of reinforced concrete as a building material, but over and beyond that it is an ideological critique. Jappe confronts the ideological vision, which he believes has always played a major yet largely overlooked role in reinforced concrete's phenomenal success, especially since the Second World War. Jappe argues that reinforced concrete is more than just another building material. Described by its promoters — and Jappe quotes abundantly from their own literature — as democratic, egalitarian, efficient, economic, and universal, Jappe demonstrates that reinforced concrete is not just an economic choice; it serves specific ideological purposes. Opting for reinforced concrete is not "innocent" or merely pragmatic, but is in the most profound sense an ideological choice. In Jappe's view, reinforced concrete is the materialization, the literal coming-into-being of a world which is uniform, monochrome, egalitarian, international, and unnatural: "Reinforced concrete has played a central role in the disappearance, not to say assassination, of traditional architectures" (p. 113).
Writing about the transition from the use of hydraulic cement to reinforced concrete, Jappe describes how an architectural commission reacted upon inspecting a house built by Francois Coignet in reinforced concrete. They noted a qualitative and social shift: "the use of materials of inferior quality and the replacement of qualified workers with low qualified construction workers." According to Jappe, "That sums up the era of reinforced concrete: low quality materials, low qualified labor force" (p. 30).
Reinforced concrete is marketed as practical, economical, and durable. Its pragmatic advantages are declared to be so positive as to override all cultural and aesthetic considerations, but Jappe does not believe that a choice in favor of reinforced concrete is made on the basis of disinterested judgement. He insists that reinforced concrete embodies a kind of anti-aesthetics. It is promoted as either "necessary" and "economical" from a practical perspective, or "honest" and "modern" from an artistic perspective, or "egalitarian" and "progressive" from a political perspective. The true purpose in every case is to replace what is harmonious and permanent with what is disharmonious and temporary. The pseudo-intellectual cult of brutalism and minimalism in architecture, for which the materials of choice are concrete and glass, serve as intellectual pretexts to legitimize this purpose.
For critics and intellectuals, the case for reinforced concrete is a philosophical justification for reducing and limiting the superfluous, reducing architecture to its "pure" function. For hard-nosed city councils and politicians, the selling line given to reinforced concrete is quite different: It is presented as the most practical and economical building material of all.
Jappe argues that the negative social and environmental impact of the widespread use of reinforced concrete has been intentionally downplayed and often concealed. A large part of Béton is taken up with a consideration of what the true impact of the widespread global use of this material is.
Reinforced concrete, notes Jappe, knows no distinction of nation, ethnic group, geography, history, custom, or spirituality. In fact, a key characteristic of reinforced concrete is that it neither distinguishes between regions nor even between the different purposes of buildings. Built in reinforced concrete, a school tends to look like a prison, a prison like a hospital, a hospital like an office block. In the world of reinforced concrete, every building is more or less the same, every nation more or less the same, every climate more or less the same. Only the minimal necessary attention is paid to practical considerations according to the structures' different purposes, which is a paradox when one considers how often "practicality" is touted as a major advantage of the material.
Reinforced concrete is not ultimately — when considered in terms of its durability and life expectancy — the most practical or economical choice. It is an optimal choice for quite other reasons. As his subtitle indicates, Jappe believes that reinforced concrete is a weapon of global capitalism, and as it emerges in his book, of Marxism as well. Around the world it simultaneously represents and reinforces the ideology of global progress and global development at whatever cost, and Jappe argues that the cost in this case is a very high one, to both the social and natural environments.
If this book can be read at one level as a socialist critique of capitalism, at a deeper level it is an environmentalist critique of the ideology of material progress and consumerism, and at another level still a conservative critique of the liberal mantra that progress and development are necessarily good in and of themselves.
Béton tells a somber tale and it does not make for pleasant reading. Jappe is a passionate writer, remorseless in the task he has set himself to call out a universal and largely ignored aspect of everyday life whose destructive impact he believes to be grossly underestimated. In doing so, Jappe provides evidence of what many people may intuitively have sensed but have never articulated, even to themselves: namely, that modern architecture, dependent as much of it is on glass and reinforced concrete, is uninteresting and ugly. Furthermore — and this is Jappe's chilling and startling allegation — modern architecture is built with the conscious intention of being uninteresting and ugly. Jappe believes that it is inspired by the will to destroy and by the conscious desire to make the world less beautiful. It is meant to be ugly, it is meant to be inconvenient, it is meant to be unaesthetic.
For Jappe, several prominent negative characteristics of reinforced concrete — lack of aesthetic quality, anonymity, the creation of a sense of social alienation — have been perversely regarded as advantages by its promoters. Reinforced concrete is for Jappe a weapon hidden in plain sight, one not recognized by its victims for what it is. In Béton Jappe is calling out the social, political, economic, and environmental destruction caused by the use of reinforced concrete.
Reinforced concrete is always presented as an economic nostrum for mass construction and social "development" challenges, and is widely accepted as such. Additionally, its prevalence is widely overlooked and its use seldom challenged, because a choice of building material is seldom considered an important factor in social or political discourse. But for Jappe, it is in fact a crucial arm of exploitation, social alienation, and environmental deterioration.
Jappe provides an interesting and informative short history of concrete up to the end of the nineteenth century and the driving forces of competition, profit, and the desire to provide acceptable improved mass accommodation for the lower classes, which underpinned its increased use in buildings. The way Jappe describes it, the increasingly efficient use of concrete really does appear to be as important as oil in the industrialization of the world, and it seems to be no coincidence that a disproportionate numbers of patents granted in the area of concrete use and its preparation, from the beginning of the eighteenth century, were awarded to British inventors. Britain was after all "the workshop of the world" and boasted a world empire.
Following his introductory chapters on the history of concrete in general, Jappe turns to the main subject of his essay: reinforced concrete. According to Jappe, the choice in favor of concrete for mass construction projects, and later reinforced concrete, was a political one from the start:
The fact that the working classes were increasingly lodged in concrete buildings gave birth to a belief, even a conviction, on the part of the political Left that there was something "proletarian" and "progressive" about the material. Hygenicism (the maintenance of hygiene was something the new advocates of concrete liked to stress, and the beneficiaries would be the working classes) became a part of Left-wing ideology. In the 1920s, social democratic authorities in the Netherlands and in Germany employed concrete as the principle material for their vast construction programs. (p. 35)
Concrete! Who thinks much about concrete? Concrete is simply here and there and . . . everywhere. While reading this remarkable book the reader may be struck, as this reviewer was, by the fact that we are surrounded by a ubiquitous substance whose origin we hardly question, whose history we know little or nothing about, and whose social and economic role is probably not known to us, yet which is — water excepted — the most-used substance in the world.
People have used plain concrete as a building material for centuries, although in the popular mind it is often referred to as cement. Technically speaking, cement refers only to the powdery component which is mixed with water and aggregate to create concrete. Concrete was widely and successfully used by the Romans and was even regarded as a symbol of Roman Imperial power. Roman concrete monuments were built to withstand the ravages of time, and many can be visited today. But what of reinforced concrete?
Reinforced concrete, by increasing a structure's tensile strength, is necessary, if not indispensable, for high-rise residential buildings and offices. The material and the intended product need one another. It is unlikely that there would be many high-rise buildings without reinforced concrete, and unlikely there would be a huge global demand for reinforced concrete without large-scale projects featuring high-rise buildings.
The architecture of reinforced concrete is regarded and described, especially by socialists, as egalitarian, yet Jappe argues that large building complexes using this material alienate and dwarf the individual and create a sense of hierarchy between the planner and the planned for. The people do not choose the high-rise edifice to live, work, or shop in (or for that matter to be born or die in); it is chosen for them by experts and professionals. Edifices built in reinforced concrete often embrace services in one structure, replacing the varied separate business housed each in its own structure, which characterized preceding architecture.
The widespread use of reinforced concrete as a building material is ill adapted to accommodate thriving street life and separate small shops. It is a material in the use of which the economics of scale greatly encourage mass production and mass building. The resulting "concrete jungle" is an inhospitable environment for small-scale social interaction and constrains public discourse and conviviality. Large concrete constructions in one area and condominiums in general encourage a withdrawal from the street and tend indeed to reduce street life altogether. It is not hard to see that this makes it an obvious choice for all systems which set great store on controlling their populations and reducing the power of an oppositional popular mass movement. Jappe quotes approvingly from the American sociologist Lewis Mumford (The City in History, 1961), who contrasts the organic growth of Medieval Sienna with San Francisco's grid system, "perfectly adapted to commercial demands and new bureaucracies" (p. 152).
According to Jappe, one of the most important technical advances in manufacturing reinforced concrete was the invention of pre-stressed concrete by Eugène Freyssinet in 1928. This is a form of reinforced concrete where the concrete is compressed prior to use and then reinforced with tensioned bars in order to withstand the anticipated pressure and increase tensile strength, the entire procedure being at relatively low cost. Because this form of reinforced concrete was much more economical than previous forms (p. 7), it triggered what Jappe unapologetically calls the "imperialism" (p. 37) of reinforced concrete, its global expansion to become the building material of choice for major construction projects around the world. Where pre-stressed concrete was introduced, it would replace the local and regional building materials. Before the advent of reinforced concrete, buildings were mostly built with local materials for reasons of cost and availability.
If all traditional ways of building are local, if their unity consists in their diversity and vice-versa, that is visibly firstly from the materials used. Builders availed themselves of materials on the spot or in the vicinity. . . . Time and energy were thus economized, there was little damage done through the transportation of materials, and relatively little damage to nature. (pp. 115-116)
Before the advent of reinforced concrete, buildings usually boasted a regional and national "character": the wooden buildings of Scandinavia, the sandstone buildings of Oxfordshire, the thatched rooves of northern Germany, the heavy grey jagged stones of the Mediterranean region, and so on.
Jappe reveals what seems obvious once it is stated in plain words: Reinforced concrete is the principal building material, and even a metaphor for, an urban, cosmopolitan, one-world architecture which has destroyed regional and national architectures.
The first building to have used reinforced concrete is said to have been the Ingalls Building in Cincinnati, constructed in 1904. This skyscraper became the iconic building of the American urban dream in the twentieth century. The skyline of New York is one of steel, concrete, and glass. From Jappe's perspective, it is no coincidence that the twentieth century is sometimes called "the American century." It was certainly the century of reinforced concrete.
It is widely claimed that reinforced concrete is a highly durable, long-lasting building material, but since the oldest reinforced concrete buildings are little over a hundred years old, this is only a postulation; we do not know how many of those buildings may be standing after another hundred years have passed. This fact reminds us that reinforced concrete buildings were not and are not built with future generations in mind. Commissions for buildings in reinforced concrete are as uncaring of future generations as they are of past ones. In stark contrast to buildings of the past, reinforced concrete structures are promoted as durable and long-lasting (albeit misleadingly in Jappe's view), thus giving them an apparent long-term economic advantage — albeit no reference is ever made to a debt that future generations may end up owing to reinforced concrete. Reinforced concrete drives forward the destruction of the past while investing nothing worthwhile in the future.
Jappe actually believes that reinforced concrete is a material with a much shorter life expectancy than commonly assumed ("permanent" is a word sometimes used to describe reinforced concrete structures). Its promoters and providers still insist that it is exceptionally robust and long-lasting, yet reports are increasingly emerging of reinforced concrete constructions showing disturbing signs of wear and tear. How long can reinforced concrete really be expected to last? Not too long, if Jappe is to be believed. Reinforced concrete, claims Jappe, far from being blessed with a long life, is a material created with "a planned obsolescence so vital to capitalism" (p. 7).
Jappe writes that he was inspired to write Béton by news of the sudden collapse of the Morandi viaduct (named after the engineer who designed it, Riccardo Morandi) in Genoa on August 15, 2018, which killed 43 people. The disaster occurred on what the Italians call Ferragosto, or Assumption Day, when, according to Roman Catholic belief, the Virgin Mary ascended into Heaven (an ironic twist not lost on Jappe). The bridge had been built using pre-stressed reinforced concrete. Jappe says that the Morandi bridge disaster led him to reflect on reinforced concrete's lifespan and from there to the role it played in twentieth-century urban development and modern architecture. The writer is frank about his emotional involvement in his subject and his detestation of modern architecture: "In this aspect of life, as in many others, time has done little to make me more docile in my views: Twentieth-century architecture repels me now as much as it did in the days of my youth" (p. 8). Jappe only claims originality in Béton in three respects: "the attention which this short study pays to the role played by the materials used in modern architecture, the use of vernacular architecture as a point of reference to be compared with modern constructions, and lastly the isomorphism between concrete and the logic of market values" (pp. 8-9; italics in original).
Another famous Morandi construction, the Rafael-Urdaneta bridge in Venezuela (successful modern architects tend to boast global résumés), partially collapsed in 1964, only a few years after it had been built. Another bridge designed by the still inexplicably respected Morandi in Agrigento, Sicily, has been closed since 2015 owing to what were described as "structural deficiencies." After being briefly reopened. it had to be closed again, and according to the local newspaper Il Sicilia of September 8, 2023, discussions are underway to decide whether the bridge should be demolished. According to Italian Wikipedia, Morandi is "considered one of the most important and innovative architectural engineers and designers of the twentieth century," but the English Wikipedia entry includes the mildly critical comment: "Over the years some of his particular cable-stayed bridges have had some maintenance trouble." Thus, the sudden collapse of a bridge leading to 43 deaths is just an example of "some maintenance trouble"! A prime example of English understatement, perhaps. Both Wikipedia entries omit to mention the number of deaths caused by the disaster, and indeed that there were any deaths, but the Italian entry indirectly admits that a reassessment of the claims about reinforced concrete's longevity might be advisable: "Reinforced concrete was long considered a 'quasi-eternal' material, and even up to and including the 1960s, the natural process of the degradation of concrete was little recognized." This thereby hints, if doesn't actually admit, that reinforced concrete should no longer be regarded as "quasi-eternal" after all.
But one might object that concrete impressively demonstrates its durability in the existence of concrete buildings from the past, the Roman Pantheon being one example. As Jappe's book is brief (just under 200 pages), it does not examine the subject of ancient concrete in detail. But the argument in Béton is that reinforced concrete paradoxically has a much shorter lifespan than plain, non-reinforced concrete. Furthermore, Roman concrete constructions involved time-intensive procedures which would deprive concrete today of its major selling point: low cost. Besides, the Romans did not build concrete tower blocks, except for the residential buildings called insulae. Jappe forgets to mention the instability and occasional collapse of these insulae in Ancient Rome. They were mostly built using concrete covered bricks. It may well be that the survival of concrete from days long past concerns prestigious state monuments built at great expense and with great precision and every possible precaution taken to ensure their longevity. The modern reinforced concrete high-rise building is a very different beast.
For Jappe, the negative impact of concrete, and especially reinforced concrete, as an "economic" and universal building material extends far beyond disasters arising out of the ineptitude of individual vainglorious engineers and architects such as Morandi. The problem lies in the material itself. A swathe of construction took place throughout Europe after the Second World War in which reinforced concrete was used in schools, hospitals, high-rise buildings, and bridges — hastily-erected grey edifices, mostly depressing and drab (concrete is notorious for showing the effects of weather, especially the marks of water) and built with no consideration whatsoever for the surrounding human, natural, or architectural environment. "Harmony" is not a word which features largely in the vocabulary of the architectural engineer working with reinforced concrete. Maybe longevity, too, has never been as important a consideration in planning and design as the promoters of reinforced concrete are wont to claim. Certainly, many of the reinforced concrete buildings of the 1950s and '60s have aged with a rapidity that none of the promoters or planners appear to have anticipated. Jappe is sure that ever more edifices built in reinforced concrete after the war will be showing more signs of significant, even fatal, deterioration with each passing year.
Jappe assesses the reasonable life expectancy of a reinforced concrete building without safety issues to be 50 years, "the shortest life span of any building material" (p. 102). Béton is proving prophetical even as this review is being written. It was published in 2020, and since then hundreds of reinforced concrete structures in Europe have been described as nearing obsolescence. Already, thousands of constructions built in the 1950s and '60s, enthusiastically praised as easy to build and easy to maintain at the time, may already be unfit for purpose, and some even dangerous.
Americans will be familiar with the collapse of the Champlain Towers condominium in Miami which killed 98 people. That reinforced concrete construction was only 40 years old. It is not implausible that exposure to sea water hastened its degradation, for salt erodes concrete. The disaster undoubtedly had multiple causes, all of them foreseeable, except perhaps its lamentable lack of maintenance, but here again another illusion is destroyed: Concrete structures cannot be left to their own devices, as they require regular maintenance and safety controls.
Germany is facing the daunting task of replacing hundreds, if not thousands, of motorway bridges built in the 1950s and '60s, while in Britain more than a hundred public buildings, including many schools, are facing closure at the time of writing this review (September 2023) owing to a recently detected rapid and alarming deterioration of the reinforced autoclaved aerated concrete (RAAC), a type of reinforced concrete that was widely used for building schools in Britain after the war. Structural erosion and deterioration began to be reported in the 1990s. Now some of the buildings are alleged to be in danger of imminent collapse. Large Victorian structures in Britain which were not demolished to make way for concrete seem to be set to enjoy much longer lives. Visitors to London may walk down Victoria Street and admire the superb Queen Anne-style Artillery Mansions which were built there in the late nineteenth century, one of the few Victorian buildings to have survived both the Luftwaffe and post-war "redevelopment" in reinforced concrete. The building has a good chance, if not demolished, of outliving all the steel and glass nonentities that have since been built in that part of London.
In fact, this has already partly been proved to be the case, as some post-war reinforced concrete buildings in the area have been demolished and replaced with new reinforced concrete structures. A few hundred yards away from Artillery Mansions was the British Department of the Environment's concrete, glass, and steel trio of 129-feet high quadrangles designed by Eric Bedford (Britain's Riccardo Morandi) and completed in 1971. Called the Marsham Towers, it was dubbed "the three ugly sisters" by locals. Like New York's Twin Towers, Marsham Towers was a soul-destroying glass-and-concrete eyesore, and again like New York's Twin Towers, heavily contaminated with asbestos. The towers were demolished in 1992, just two decades after they had been built.
Jappe examines the various explanations given for the Morandi Bridge tragedy, which point away from the failings of reinforced concrete as such towards "unforeseen" or even "unforeseeable" factors and events. But many such "unforeseen factors" — for instance, the increase in traffic load or erosion by salt (how was that possibly not foreseeable?) — are themselves related to an unrealistic estimation of concrete's qualities. Concrete, unless subject to a special and costly process which, Jappe tells us, was practiced by the Romans, corrodes rapidly when constantly exposed to salt water. Since Genoa is close to the sea — as were the Champlain Towers — such exposure was clearly a factor. This was known at the time of construction and was therefore not unforeseeable, but along with other caveats, was ignored.
The common element to all the factors contributing to the Morandi bridge collapse was for Jappe an overestimation of the tensile qualities and durability of the material used. The bridge was only half a century old. External factors such as exposure to salt water or subjection for a long period to exceptionally heavy loads will hasten what Jappe calls the in-built obsolescence of reinforced concrete. But reinforced concrete was and still is a building material of choice around the world. Skyscrapers would not be built in large numbers were it not for the invention of reinforced concrete. "What future does that offer for a large proportion of the world's buildings?" muses Jappe ominously (p. 17).
Jappe tells us that in the late nineteenth and early twentieth century it was often used as a practical, but not admired, material, which would be concealed by some kind of classicist facade in another material. It was at first integrated into traditional architectural styles, when buildings were not built exclusively or even principally in reinforced concrete. In Italy, the first buildings which used reinforced concrete used it only partially, notably the famous and very elegant Palazzo Bellini in Turin. In the United States, Frank Lloyd Wright was using the material from 1905 onwards, for example in the Unity Temple in Illinois. Even the Champs Elysée theater of 1913 was built in reinforced concrete, but it was given a marble facade. Thomas Edison was one of the first enthusiasts for using reinforced concrete as the principal material in mass housing construction, which became the material of choice for producing homes "in series," all looking exactly alike and by means of which a "worker's house could be built in a week."
* * *
Like all journals of dissident ideas, Counter-Currents depends on the support of readers like you. Help us compete with the censors of the Left and the violent accelerationists of the Right with a donation today. (The easiest way to help is with an e-check donation. All you need is your checkbook.)
For other ways to donate, click here.
Enjoyed this article?
Be the first to leave a tip in the jar!