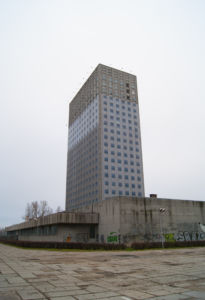 4,453 words
Part 2 of 2 (Part 1 here)
It is during and after the First World War that reinforced concrete was incorporated into political programs as a "progressive" building material. The Futurist Antonio Sant'Elia inspired an entire generation of so-called "brutalists": Le Corbusier, Buckminster Fuller, and members of the movement called De Stijl. Jappe cites Futurist proponents of concrete cities:
In his Manifesto for a Futurist Architecture, Sant'Elia describes Futurist architecture as characterized by "calculation, reckless audacity, and simplicity; an architecture of reinforced concrete, iron, glass, pasteboard, and in fact of any material which could ultimately replace wood, stone, and brick in order to obtain maximal elasticity and lightness." The programmed obsolescence of modern buildings is raised to become a positive feature. "Every construction should be obsolescent and transitory. Things should last a shorter time than we live. Each generation should construct its city anew." . . . An even more grotesque program can be found in the manifesto of the Futurist Fedele Azari, which predicts a future that is entirely geometrical, mechanical, artificial, and automatic. . . . He predicted with enthusiasm the advent of artificial intelligence, driverless cars, the replacement of animal and vegetable food with artificial foods, the total disappearance of animals, and of cities without stone, brick, or stucco; without trees or gardens, constructed entirely with reinforced concrete and crystals and machines and machines and machines . . . (The word for car and machine is the same in Italian)." (p. 41)
Jappe quotes as well the Russian painter Kazimir Malevich, who advocated in 1918 that the new Soviet government should completely demolish and rebuild Leningrad to look like an American city in order to create an "American mentality," adding that reinforced concrete was "a weapon which strikes home" (p. 41). Jappe continues:
Soon, Soviet engineers and architects were arguing that the factory was the natural home of the proletarian and that all decoration, all ornament, and the very quest for beauty itself was "a luxury of the rich" . . . democratic architects must concentrate on the essentials . . . In East and West a new aesthetic was put forward: "modern" or "proletarian" according to political orientation, an aesthetic of the machine . . . The elimination of architectural diversity to be replaced by a global uniform style came to be called the international style. It identified itself with functionalism, an architectural program and school whose founding work was a book called Ornament und Verbrechen (Ornament and Crime) published in 1908. (p. 43)
Jappe elaborates on the theme of simplification, brutalism, and minimalism, telling the reader that the material which best served and serves the ends of those ideologies is reinforced concrete. The German Bauhaus movement, later expelled from the country by the National Socialists, relied very much on the use of reinforced concrete in its proposed building projects. Ernst May's mass residential complex in Frankfurt built around 15,000 homes for the masses on the principle of Existenzminium (minimum existence) in which, as the name suggests, only the bare essentials would be catered for, with no time-wasting ornament or decoration, inside or out. (Someone from the former German Democratic Republic told this reviewer that in the Communist Germany of his childhood, some new apartment buildings had uneven structures and brackets deliberately built into the walls for the express purpose of preventing the hanging of paintings or other decorations, since such things were considered "bourgeois.") Another argument for a minimalist architecture of interiors was that it reduced the amount of housework for the housewife, freeing up time for women to take jobs. Ernst May was invited to the Soviet Union in a professional capacity in 1930, where he supervised the construction of entire cities that were built with reinforced concrete as their main material.
Jappe then proceeds to consider a figure who is sure to feature in any account of modern architecture and the ideology lying behind it:
Reinforced concrete freed itself of its somewhat marginal status, even its reputation as a suspect material, thanks to the rationalism and functionalism of the 1920s, especially thanks to the Swiss architect Charles-Édouard Jeanneret Gris, commonly known as Le Corbusier. The list of misdeeds committed (or proposed) by this sinister individual is well known to anyone with eyes to see. . . . If Le Corbusier had got his way, the historic center of Paris would have been demolished to be replaced by skyscrapers. . . . streets would be abolished so that personal encounters would be impossible, and cities built to serve the car. (p. 47)
Jappe quotes Le Corbusier reminiscing on the Paris of his youth, where it was possible to have discussions with friends in the middle of the road, and compared that to the hectic life in the modern city of later years that was dominated by the motorcar, which harassed pedestrians and chased them across the street. Le Corbusier himself admits to feeling like a "hunted animal" (his own words) as a result of the heavy traffic of modern cities, a development which he however wholeheartedly embraces. As Jappe notes, Le Corbusier's confession to submitting in a positive way to what frightens and oppresses him is a peculiar example of a psychologically pathological identification of a victim with his aggressor, simply because the aggressor is stronger, leading to a submissive comportment and even belief system in the face of what is "inevitable". Jappe writes, "Industrial capitalism has succeeded in presenting itself . . . as being both insurmountable and desirable. Most discussions and confrontations concern the partition of the cake and not the nature of the cake, on the quantitative questions and not the qualitative ones" (pp. 136-137).
Le Corbusier, from the passage cited by Jappe, seems to have suffered from a kind of Stockholm Syndrome, not in his case towards commandeering human individuals, but towards a commandeering technology. Le Corbusier identifies the triumph of the machine with the force of an inevitable future and submits to it. Jappe draws a parallel here with colonialism. Modern man is colonized by modern technology and architecture. He identifies with reinforced concrete out of a submissive admiration for its sheer power. Similar sentiments can be found in the writings of the Futurists. This does much to explain the fascination, even devotion — the word is not too strong — to concrete which can be found around the world and cannot be explained simply on grounds of its supposed practicality. It also offers an explanation as to why many promoters of brutalist and minimalist architecture tend to admire authoritarian states.
A. K. Chesterton once wrote that he hated no word in English more than the word "inevitable." Confronted with the "development" of cities using what Jappe calls the "weapon" of reinforced concrete, it is easy for the individual to succumb to the choice of reinforced concrete as somehow "inevitable." To be "up to date" and "modern," someone may identify with concrete constructions as characteristic of modern life. It would be "out of date" and "weird" to question them. It is a time-honored trick of manipulative power to fool those it seeks to manipulate into believing that their acceptance of something or forced submission to it is identical with their personal agreement with it. So it is that many people evade facing up to their own sense of unease and pessimism about modern architecture. Béton is telling the reader: look again — do you really like it? Jappe demonstrates to the reader that there is no art less neutral than architecture, yet no art whose political dimension is more widely ignored. Jappe assures us: In his eyes, anyone who detests modern architecture has nothing to apologize for. That reaction of detestation is entirely natural. It is the admirers of modern architecture, specifically constructions where reinforced concrete and glass dominate the whole, who are perverse.
Le Corbusier was an enthusiastic admirer of fascism. It is no surprise that Jappe lays great stress on this, for the same reason that it no surprise that Le Corbusier's contemporary admirers and followers downplay the fact as much as they can. Why, if it became widely known that the renowned architect was an admirer of fascism, his edifices around the world might be taken off the list of UNESCO "World Heritage" sites. Fascism's stress on order, authority, and purity obviously appealed to Le Corbusier, and monuments built under fascist governments were often made of concrete. Le Corbusier's enthusiasm for fascism did not make him any kind of a nationalist, however. As an architect he remained all his life a resolute internationalist. He declared that the ideal style was one and the same house for every country and every climate in the world. His vision is all about modernity and severing the human from the natural, and as Jappe succinctly expresses it:
Modernity implies above all a massive reductio ad unum . . . Modernity, which loves to cite the expression of individual freedom and personal choice at every opportunity, is in reality characterized by monocultures in every aspect of life. The results of modernity can be summed up as impoverishment, regression, and restriction of possible choices. . . . The languages spoken in the street might tell us whether we are in a new quarter of Dubai, New York, Tokyo, Sao Paolo, Jakarta, or La Défense; the architecture around us most assuredly won't. (pp. 121-122)
At the end of the war, a naïve observer might have expected Le Corbusier to be arrested as a fascist collaborator in view of his faithful service to the Vichy regime and his proclaimed admiration for Hitler and Mussolini. But Le Corbuiser's very influential friends knew how to protect him. Far from facing trial, Le Corbusier soon received a lucrative commission to construct a massive brutalist housing complex in Marseilles, called the Cité radieuse. The Minister of Urbanism and Reconstruction responsible for awarding Le Corbusier this lucrative commission was Francois Billoux, a member of the French Communist Party. Jappe hints at but does not elaborate on his association of authoritarian modes of government with the rise of experts, which he associates with the Renaissance:
It is the Renaissance which effected a radical separation between intellectual and manual work, spirit and hand, a project and its execution, the art and the craftsman, the "genius" and the rest of humanity. Thus began the rule of "experts" who have placed their hand in the course of the last few centuries on all human endeavor. (p. 130)
Here, as at several points in the book, Jappe seems to veer off his theme a bit, pointing in the direction of a school of socialism whose detestation of capitalism is so intense that it compared capitalism unfavorably to the Middle Ages (and indeed, Jappe makes it clear he is an admirer of William Morris and the early Marx), but even where Jappe digresses, it is never boringly. His loathing of modernism and above all modern architecture is refreshing for anyone who has had the experience of being told to be "more balanced" and "more tolerant" and "not so old fashioned" regarding the massive structures of reinforced concrete and glass which dominate so many urban landscapes. He writes scathingly of the architectural revolution of mass concrete building development: "This so-called revolution is the fruit of 'innovators' who, having reached the height of the mental capacity of a 14-year-old, have trashed the wisdom and knowledge of building acquired down the centuries" (p. 67).
In one respect, Jappe's hostility to fascism and insistence on Le Corbusier's enthusiasm for Right-wing politics — opportunistically abandoned in 1945 — blinds him to an obvious fact: The Futurists may have clamored for the creation of "new cities" built of reinforced concrete to replace historic Italian cities, and Le Corbusier may have enthused about Adolf Hitler, but the fascist dictators did not repay such admiration with a willingness to switch to reinforced concrete and glass for building homes or offices. The Duce expressed no desire to drain the canals of Venice nor destroy Genoa to create a "modern city," and Hitler never expressed the wish to rebuild Heidelberg or Nuremburg to root out the sentimentalism of the past. Concrete was indeed used in Italy and Germany in the 1930s, but mostly for roads and public monuments and prestigious edifices, a notable and famous example being the Colosseo Quadrato in Rome, a massive structure of reinforced concrete designed with the ancient Colosseum in mind.
But even when using simple monumental design, fascist architecture retained a sense of history quite alien to Le Corbusier's belief in the "same house around the world." The German and Italian governments did not smile upon town planning with skyscrapers, in stark contrast to the United States and the Soviet Union. Residential buildings in Germany and Italy up to 1945 tended to reflect local characteristics and use local materials. It was after the fall of Hitler and Mussolini that a dramatic and immediate change took place, away from the use of local material and local styles and in favor of reinforced concrete and high-rise edifices. Jappe is aware of this, and while he plays the fact down somewhat, he is nevertheless too honest not to admit that the best days of reinforced concrete in Europe began immediately after the war.
Jappe makes a very telling point about architecture while discussing Le Corbusier that is indisputable, but often forgotten:
We shouldn't forget that of all arts, architecture is by far the most important in terms of the impact it has on the lives of a large number of individuals . . . Architecture is all around us. Architects carry an immense social responsibility. (pp. 53-54)
The experience of architecture which "all looks the same" around the world, excepting the United States and the Soviet Union, is a post-war experience. The USSR, especially under Nikita Khrushchev, undertook huge construction projects using reinforced concrete for high-rise apartment blocks. In a speech made in 1954, Jappe tells us, Khrushchev declared that an architect's greatest virtue was to save money, and he lauded the longevity of reinforced concrete for economic reasons. Reinforced concrete was the progressive material of choice for "progressive" municipalities and planners everywhere:
It is important to insist on the thoroughly international character of the drive to build in concrete . . . be it for Soviet five-year plans, the New Deal in the United States, the Great Leap Forward in China, the home-building boom in Europe after the Second World War . . . all these projects invoked the power of concrete.  (p. 61)
Concrete is also the favored building material of the modern university and technical college, the "egalitarian" material, which stresses by its anti-traditionalist character the idea that further education is now freed from its heritage of being an aristocratic privilege.
The omnipresent nature or modern architecture — its numbing dullness, ugliness, and uniformity — is widely ignored by political idealists and commentators of every hue, by people who are otherwise not slow to polemicize and criticize. Wherever in the world a demonstration takes place; the demand for a political or social change is made; the advantages or disadvantages of a city for business or for tourism is provided; a report on crime, a documentary on life in the big city, or a report on COVID lockdowns is issued, the salient, oppressive omnipresence of huge, reinforced concrete buildings and the role such structures may play in many aspects of social alienation are entirely ignored.
Tourists, however, vote with their feet. When they visit a historic city, the one thing that they never seek out are the reinforced concrete buildings of London, Paris, or Rome, or for that matter Bangkok or Caracas. Why should they? They have seen the same thing at home. They travel to see buildings which have charms and individuality, and are different to buildings which they see at home — and such buildings are not built in reinforced concrete. In New York ,three top-of-the-table buildings for tourists are Grand Central Station, the Empire State Building, and Saint Patrick's Cathedral, none of which is built in reinforced concrete.
Reinforced concrete is not only culturally levelling, it is environmentally destructive. Jappe notes:
Between 1950 and 2019, global production of cement rose from 200 million tons a year to 4.4 billion tons; in other words it has multiplied by a factor of 22 in just 70 years, a rate of growth three times as rapid as that of steel . . . in Asia the figures are even more stunning . . . Japan has as much concrete as the entire United States. (p. 85)
Reinforced concrete has been put to use in building sea dams. Trust in the material proved misplaced when reinforced concrete dams could not withstand the tsunami of 2011 in Fukushima. But China is the country which leads the world in the use of reinforced concrete. It is responsible for about a half of the total global concrete consumption. The Three Gorges Dam alone contains just short of a million cubic feet of concrete, and it accounts for over half the entire building stock of China. If Jappe is correct in his skepticism about this material's durability, China will be facing very serious structural challenges in the course of the next 50 years, and if impure or low grade materials have been widely used — desert sand, for example, or inadequately purified beach sand — the challenges will be greater still.
What of the environmental aspects of mass concrete production? According to Jappe, there are four major problems: the harm to human health, the consequences of massive extraction of sand and gravel on natural environments, the consumption of energy and carbon dioxide emissions during the heating of concrete, and the sterilization of the soil. Sand, which is concrete's main component, is unhealthy if regularly inhaled. Silicosis, which is caused by repeated exposure to crystalline silica dust, affects millions around the world. During construction and demolition of concrete buildings, everyone in and around the building site inhales concrete dust. It is ironical that many who fearfully wore masks for fear of catching the COVID virus think nothing of being exposed to concrete dust, a dust often contaminated with asbestos (so called "asbestos cement"). Nobody thinks of concrete as a health hazard. It is everywhere, part of our lives.
Reinforced concrete further has a short life as a building, but a long life as rubbish. Jappe notes that concrete falls under the radar when it comes to recycling. Everyone knows about the problems created by discarded plastic, nuclear waste, and batteries, but what of concrete? China produced two billion tons of concrete waste every year. Recycling is feasible, at least in small quantities: currently, 1% is recycled in Brazil, 10% in China, and 90% in Japan and several European countries. But the recycling is often in reality a "downcycling": the utilization of demolished concrete is possible for road building, but impractical for buildings. The difficulties are greatly increased in the case of reinforced concrete, owing to the time and trouble involved in separating the steel from the concrete, so the recycling of reinforced concrete is generally regarded as "uneconomical" (p. 105). Concrete ruins are notoriously unappealing. Unlike other materials, they do not harmonize with nature and offer no relationship with the past because they are built on globalist universal models. As Jappe sardonically says:
In Europe, unlike China and other countries, it is a well-known fact that a relationship with the past relies heavily on the vestiges of past epochs. It is not just a matter of famous monuments such as the Roman Forum or the Castle at Perypertuse: Many are those who recount having an "aesthetic experience" in seeing an ancient farm in ruins, covered in ivy. What is often fascinating is the reclaiming of the building by nature, the return of the materials people have used to their original state under the effect of the climate: the stones once used to build a wall become rounded in time and begin to resemble stones in the field, as they originally were; the same is true of beams which rot like dead tree wood, and the tiles which crash down and mix with the earth. With modern materials it is a different story: concrete, steel, plexiglass, plastic, rubber granulate tiles, fiberglass, asbestos cement, and corrugated iron roofing do not return to nature except in terms of geological epochs. Nearly the entire world agrees that the remains of modern constructions are simply horrible. Even the most fanatical enthusiast of modernism will find it hard to get enthusiastic about cement, an asbestos hangar, or a corrugated iron sheet lying discarded on the ground. (p. 107)
Rivers and beaches are being plundered for their sand to make concrete. One might think that desert sand would provide an abundant resource for making concrete, but because the sand of the desert has been rounded by the wind, its use in making concrete will weaken the final product. To what extent desert sand is used and will be used as beach supplies dwindle is a matter of conjecture at the time of writing, but Jappe hints that it is probably already happening. Beaches continue to be plundered amidst an increasing rate to meet the increasing world demand for concrete. Beach sand needs to be purified, since salt corrodes concrete. "Cutting corners" in this respect reduces the concrete's lifespan. Ideal is river or lake sand, but this is in short and diminishing supply. At this point, the reader may wonder if concrete is quite as economical to produce as its producers insist. Jappe does not examine the cost of concrete manufacturing in detail, but again hints that this is probably higher than is generally supposed.
Concrete is now such a crucial material in many countries' economies that corruption and lobbying are rife. Jappe writes of rival gangs in India ruthlessly competing with one another for their share of the concrete market, and much like drug syndicates eliminating those who try to thwart them, often involve villagers whose livelihoods are destroyed by the destruction of lake and river beds in the frantic quest for ever more sand to meet the concrete manufacturers' demands.
Concrete necessitates another profitable and destructive invention, according to Jappe: air conditioning. Concrete buildings create an unendurable hothouse in warm climates, and so need to be air-conditioned. Many concrete buildings would indeed be uninhabitable without it. The common use of massive sheets of glass along with concrete exacerbates this problem. Le Corbusier actually intended to design buildings with no windows at all; instead of windows there would have been simple panes of glass built into the walls. The temperature of the rooms would be regulated exclusively by air conditioning. Common sense did prevail at least at this point, and Le Corbusier was given no commission to build the windowless offices and homes which he proposed.
There are many buildings, notably hotels, where it is not possible to open a window and where the room temperature is regulated uniquely by technology, however. Clearly, the influence of Le Corbusier, the brutalists, and the minimalists remains strong and relentless: "Geometrical pure forms, the straight line, the right angle, the triangle, the sphere are very rare in nature, at least among living beings" (p. 145).
Those words well encapsulate Anselm Jappe's critique of reinforced concrete and the polemical nature of his work. He regards the universality of minimalist architecture and its favored material, reinforced concrete, as unnatural and inorganic. Again Jappe quotes Lewis Mumford, to the effect that we are dealing here with two fundamental conceptions of life, namely the organic and the mechanical.
The insistence on huge glass panes in modern architecture — and not just for windows, and often which cannot be opened — is for Jappe part of the same "mechanical" program. Probably with Jeremy Bentham's all-seeing prison eye called the Panopticon in mind, Jappe writes:
The panoptical ideal of power is embodied not just in the clear straight line, but in the cult of transparency as well: in other words, the glass pane. The German writer Paul Sheerbart, who was admired by Walter Benjamin, wrote enthusiastically about glass buildings in his fantasy tales, the scene often set on other planets, as well as in an essay which appeared in 1914 dedicated to the architect Bruno Taut, who presented a house made of glass to Sheerbart in the same year. This is depicted in a more sinister manner in the novel We written by Eugene Zamiatin and published in 1920 in the newly-created Soviet Union. It is generally regarded as one of the very first dystopian novels and a model for those of George Orwell and Aldous Huxley. In We all the architecture is glass, the essential element of the new totalitarianism. Here as elsewhere, the imagination of a pessimist has anticipated reality: in the 1950s Ludwig Mies van der Rohe, former director of the Bauhaus (which used glass to a great extent), generalized the use of glass skyscrapers in the United States . What could the hideous pyramid at the Louvre or the new French National Library be made of other than glass, as is the new Acropolis museum in Athens . . . Bentham was a protagonist of the Enlightenment! It is also a struggle against our part of natural shade, against everything which evades the grasp of instrumental rationalism. (pp. 156-157)
Béton is a polemical essay, but in the three aspects already referred to, where Jappe lays claim to originality, the book fully succeeds in compelling the reader to consider modern architecture and review its supposed neutrality, necessity, or practicality. It does this firstly by considering the materials essential to it, most importantly reinforced concrete and its adjunct, the glass pane and the window which cannot be opened (Jappe might have mentioned the disappearance of lattice windows in modern architecture and in building renovations, making way for the more economical but less inviting single glass pane). Secondly, by the use of vernacular architecture, that is to say the architecture of land, nature, and tradition as a kind of architecture to be compared with the "architecture of progress" and the question: "Why do we need an international architecture at all?" And thirdly, the isomorphism — that is to say the convergence between enthusiasm for reinforced concrete and glass, and market values where the need for financial gain supersedes health, happiness, identity, or any spiritual debt to past or future (the very notion of spiritual debt would presumably be incomprehensible to the proponents of international architecture). That explains Jappe's subtitle and justifies it. Reinforced concrete is an arm of a global system whose only measure of value is profit.
This book points towards another isomorphism, one which offers an optimistic counterbalance to its pessimism. It is the convergence of views of those from very different traditions: conservative, socialist, anarchist, and ecological, which naturally identify with a native architecture against a mechanical, international, and profit-driven one. Béton will hopefully awaken in its readers an awareness of the nature of reinforced concrete and antipathy towards it. Such awareness and antipathy will help bring people together in opposition to a weapon of what the French writer Guillaume Faye called " the system for destroying the peoples." That is why Béton is that rare thing: an important piece of writing.
* * *
Like all journals of dissident ideas, Counter-Currents depends on the support of readers like you. Help us compete with the censors of the Left and the violent accelerationists of the Right with a donation today. (The easiest way to help is with an e-check donation. All you need is your checkbook.)
For other ways to donate, click here.
Enjoyed this article?
Be the first to leave a tip in the jar!