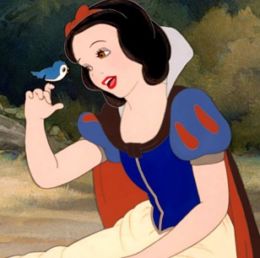 1,630 words
As the Queen worked, gazing at times out on the snow, she pricked her finger, and there fell from it three drops of blood on the snow. And when she saw how bright and red it looked, she said to herself, "Oh, that I had a child as white as snow . . ." — The Brothers Grimm, "Snow White and the Seven Dwarfs"
Hey white boy, what you doin' uptown? — Lou Reed, "Waiting for the Man"
Whenever people in the artistically creative industries use the term "reimagining," I wish I had an old service revolver. Not for them, but rather — after a glass of decent Scotch — to put myself out of the misery this term inevitably involves. We all know what "reimagining" means now. Take a classic piece of white culture — a tale, a play, a movie — and ethnically cleanse it while at the same time emasculating it. And put some cross-dressers in, if that is this week's fad.
So, when I read that "Snow White and the Seven Dwarfs" was to be "reimagined," I just yawned, rolled over, and went back to sleep. Reimagined as what? "Snow White and the Seven Deadly Sins"? "Snow White and the 7-Eleven"? "Snow White and the Seven Samurai"? (Actually, I would watch that.) But the media ruckus over the movie became a story thoroughly indicative of the hatred of whites, particularly men, endemic in contemporary filmmaking and the people who fund it. And we all know which tribe runs that little game.
This "live action" remake features a Snow White who isn't white, and an absence of dwarfs in both title and film. It is not out until next year, but there is also a rumored lack of a Prince Charming. Can't have white love stories in an age of miscegenation. The lead actress, Rachel Zegler, is obnoxious even by the standards of the film industry, and looks like some species of Latina. She has been running her mouth off to the ever-salivating showbiz media about the "new angle" the movie takes, describing Prince Charming as a stalker and Snow White "showing the kind of leadership of an empowered woman." Soon, there will be no space for whites in movies except as the baddies. Hey, white boy. What you doin' uptown?
No mention by this bimbo of the lack of dwarf actors in the remake, however. My personal little Oscar would go to Jordan Prentice as Jimmy in 2008's brilliant In Bruges. Now, the one movie which would have provided the community of dwarf thespians with more employment than when Freddie Mercury allegedly hired some little people to walk around at his parties bearing plates of cocaine on their heads, has been closed to them. Nice work if you can get it.
This Zegler ninny has supposedly got herself into hot water with her vapid, man-hating, anti-love, anti-white drivel. I'm not so sure about that. Marketing works in mysterious ways its wonders to perform, and how you create waves in showbiz doesn't matter — as long as the tide is high on opening weekend. Whenever I hear the phrase "social media backlash," I smell public relations. And, for the modern Disney corporation, trashing whitey is the best PR there is, so another iconic piece of white culture gets ritually dragged through the mud — and it is white culture, white as the snow.
I seem to be mentioning the Brothers Grimm a lot recently, but the original story of Snow White (which was most likely a traditional folk tale) was written by the pair. It was called — draw in breath – "Schneewittshchen und die Sieben Zwerge." I know to non-Germanic readers this sounds like a series of sneezes, as though it were being enunciated by Sneezy himself, but that's the German language for you. The original Grimm tale — and it is a grim tale — is here. I understand, from those who know these things, that German translates well into English — well, as long as it isn't Heidegger — and so we should appreciate the full meaning. It's very short. Fairytales were short, because they were for children, to be read at bedtime, although who knows what these kids dreamt about? If you think that science fiction or whatever genre you favor is weird, ain't seen nothing yet. The Brothers Grimm make Stephen King look like Dr. Seuss.
Written in 1812, while France was attempting unsuccessfully to invade Russia (see War and Peace, and we'll catch up when you are done in a few months, as the book is a little longer than a Grimm tale), Snow White and the Seven Dwarfs was filmed in 1955 but, rather more famously, was one of the great cartoons from the stable of Walt Disney, and released in 1937. I must have seen it as a very small boy, because while watching it again today, certain images seem to be stored in that strange almanac of childhood memories I'm sure we all have. The Queen, when she becomes a witch, must have scared us all witless. I watched it here, and if you have a child or grandchild who has not seen it, treat them. If they are good, that is. If not, then it is a poisoned apple for them.
I have always loved old cartoons and, after a day's reading and writing, will often watch a couple: Felix the Cat, Daffy Duck, the brilliant Bugs Bunny. In England in the 1970s we grew up on American culture on both TV and radio. I suspect that the British TV industry realized it couldn't compete with the United States and, rather than making cartoons and kids' shows itself, decided that it would be cheaper to buy them in bulk from Uncle Sam. This is why I ran home from the school bus most days, if I hadn't spent my bus fare on chocolate and comics and had to walk all the way back, to watch Get Smart and Lost in Space rather than the scanty British product (other than Dr. Who) on offer. Not that I was complaining. This was magical television in an age when television was still a magical thing.
I am familiar with the concept of the TV as a surrogate nanny. I've seen parents do it, and I suppose it started in England in the 1970s: mum in the kitchen, singing along to a Carpenters song on the little transistor radio, and me and my brothers on the sofa watching Tom & Jerry. There was a lot of fresh Americana in Britain then, unlike today's stale fare, and it contributed hugely to our generation's imaginations, which are vital to any child.
The cinema-length cartoons were also mostly from the US, and Walt Disney became part of our cultural DNA, just as his work is hard-wired into the American psyche. I saw all the classics of that era. My brothers were born in 1966, when I was five. A few years later, when they were old enough to start making mischief — they are identical twins — either my father or mother would take me to the cinema once in a while to take a break from pandemonium. I believe I saw Bambi and Dumbo with Mum, and The Jungle Book and the wonderful The Aristocats with Dad. It gave one parent a breather while the one who drew the short straw got to stay at home and try to control the boys, who were double trouble. When my brothers got older and hit the gym, and had punk haircuts and looked like proper nutters, they actually referred to themselves as The Brothers Grimm.
As for watching Snow White and the Seven Dwarfs again, I had forgotten how famous the music in the 1937 movie became: "Some Day My Prince Will Come," "Whistle While You Work" — some of these ditties sound like Noël Coward might have penned them. Given that Snow White was released two years before the war that changed the name of The Great War to the First World War, it might explain a popular marching song of British troops:
Whistle while you work.
Hitler is a berk.
He's half barmy, so's his army,
Whistle while you work.
I bet the surrogate dwarves in the new movie don't work. In the 1937 Snow White, as in the fairytale, the dwarves were miners. "The Dwarfs' Marching Song" was appealingly albeit confusingly covered by Tom Waits (reimagined, I suppose, rather spoiling my opening argument), but I am sure you can whistle the tune;
Hi ho! Hi ho!
It's off to work we go!
Not an ethos that would appeal to Gen Z.
Cartoons have, of course, become far easier to produce in the age of information technology, and I suppose it is tailor-made for artificial intelligece. I remember going to a girlfriend's house in Brixton in 1987. She had told me that her housemate was a cartoonist, and I imagined someone doodling little characters with speech bubbles and captions which she would then try to sell to magazines or newspapers. But this girl was drawing a series of pictures of an exotic-looking cartoon woman which looked like the same picture repeated. The little paint-pots on her workbench were labelled "Jessica's dress," "Jessica's skin," and so on. She was one of a huge, worldwide team drawing single-frame pictures for the 1988, part-live and part-animated movie Who Framed Roger Rabbit?, a fun movie rightly famous for the performance of the late, great English actor Bob Hoskins. He said that acting the scenes with no one else on set — because obviously the cartoon characters were added in the studio — made him fear for his sanity.
So, another day, another reimagining. But where Walt Disney and his team's imagination brought light and beauty to a world just two years from a genuine war, this new offering looks like it's just a part of a cultural one.
* * *
Like all journals of dissident ideas, Counter-Currents depends on the support of readers like you. Help us compete with the censors of the Left and the violent accelerationists of the Right with a donation today. (The easiest way to help is with an e-check donation. All you need is your checkbook.)
For other ways to donate, click here.
Enjoyed this article?
Be the first to leave a tip in the jar!