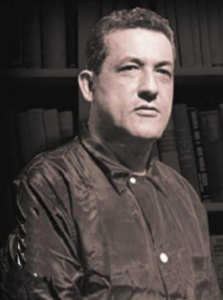 2.045 mots
English original here
Le 25 décembre, jour de Noël, marque également l'anniversaire de l'un des penseurs les plus intransigeants et non-conformistes à avoir jamais traversé la scène politique américaine : Lawrence Dennis. De prime abord il y a déjà trois caractéristiques factuelles que tout le monde peut retenir au sujet de M. Dennis.
Premièrement : il était l'un des principaux théoriciens économiques et politiques de droite des années 1930 et 1940 — un fasciste américain si vous voulez. Et il a été rattrapé par le "procès de la grande sédition de 1944" (un procès qui s'est terminé de manière non concluante lorsque le juge Edward Eicher, un ancien membre du Congrès de l'Iowa, est soudainement tombé mort et que personne ne s'est soucié de reprendre la procédure).
Deuxièmement : Lawrence Dennis était en partie afro-américain, un fait qui était légèrement crédible à première vue, étant donné son teint "basané" ou "bronzé" et ses cheveux courts et raides. Dennis pouvait "passer pour blanc" s'il le voulait, et il l'a fait pendant plusieurs décennies. Mais ce fut surtout pour des raisons de commodité. Pendant ses années à Exeter, à Harvard, au corps diplomatique et à Wall Street, parler d'un héritage mulâtre n'aurait été qu'une complication inutile, et il ne l'a donc pas fait. En fin de compte, il n'y a aucune raison de croire qu'il avait honte de son héritage métis ; on dit que lorsqu'il est mort à plus de quatre-vingts ans, il arborait une chevelure frisée.
Le mélange racial de Dennis, associé à sa politique de droite radicale, confond les historiens politiques de gauche. Ils n'ont aucun mal à accepter le fait que W. E. B. Du Bois, un autre mulâtre à la peau claire, est allé à Harvard et a ensuite rejoint le Parti communiste américain. Mais imaginer qu'un autre homme à la peau claire d'origine noire était un fasciste ? Et non seulement un fasciste américain, mais un ancien diplomate et célèbre théoricien de la diplomatie. En 2007, une biographie de Dennis a été publiée sous le titre de La couleur du fascisme [1]. Comme on pouvait s'y attendre avec ce titre tapageur, l'éditeur a érigé la biographie en saga raciale : un récit de vie dans la honte, la "tromperie" et l'hypocrisie parmi de vindicatifs semeurs de haine.
Mais nous arrivons maintenant au troisième fait remarquable à propos de Lawrence Dennis — peut-être le plus étrange de tous. Il avait été un enfant vedette, un angelot prédicateur. À la fin du XIXe siècle, les journaux de New York et de Chicago étaient fascinés par le je-ne-sais-quoi de ce phénomène précoce, "Larney Dennis" — l'enfant prodige de Géorgie, venu pour sauver les âmes en détresse ! Des décennies plus tard, l'usage d'un bambin accrocheur de couleur haranguant les pécheurs deviendrait un élément de routine sur le circuit vaudevillesque des églises (le révérend Al Sharpton a commencé de cette façon). Mais, à la fin des années 1890, ce petit prodige de la prédication au teint mat, drapé dans sa blouse blanche, à la voix énergique, était unique en son genre, autant dire un indéniable atout pour toucher un public : "Priez ! Priez ! Mettez-vous à genoux et priez !" Les tons frémissants d'un enfant, mais animés d'une force de conviction lui apportant gravité. Sur l'estrade, une forme fluette en robe blanche avec une majesté étrange dans le visage solennel en forme d'olive, levant un petit index autoritaire. En dessous, une foule bigarrée de plus de trois mille personnes, mêlant curiosité, cynisme ou dévotion ; pourtant tous, croyants et moqueurs, étaient pareillement tenus en haleine par ce morceau de bravoure. En un mot, Lawrence Dennis, le chérubin nègre évangéliste, était devant son premier public new-yorkais à l'église baptiste Mount Olivet dans la 53e Rue cet après-midi, jouant l'une des scènes les plus pittoresques de la vie trépidante de la grande métropole. Bien avant 4 h, l'heure dévolue à l'office, l'église était pleine à craquer… Le petit Lawrence secoua les boucles noires confinées de chaque côté de sa tête avec un ruban rose et regarda autour de lui avec des yeux remplis d'espoir. "J'ai 5 ans — rétorqua-t-il à la première question — et je suis né le 25 décembre, l'anniversaire du Christ". "Pourquoi es-tu ici ?" vociféra une négresse du milieu de l'assemblée. "Pour sauver New York", a clamé le prédicateur. "Je suis venu sauver la brebis égarée en chacun de vous" (Chicago Tribune, 8 janvier 1899).
Un début de vie des plus rocambolesques pour un diplomate, ou un banquier d'investissement de Wall Street, ou un théoricien économique fasciste — tout ce que Dennis serait dans les années 1920 et 1930. Tout semble romanesque dans cette histoire de l'enfant évangéliste tout de blanc vêtu ; il est tellement éloigné de la carrière adulte de Dennis. Un peu comme l'histoire homérique d'Achille à Skyros, déguisé en princesse pour ne pas avoir à mourir dans le conflit avec Troie comme la prophétie l'avait prédit (comme vous vous en souvenez peut-être, cette expérience incita tellement Achille à éprouver sa résistance aux épreuves qu'il partit et périt quand même dans le conflit troyen). La rupture de Lawrence Dennis avec son passé survint au milieu de son adolescence, et elle fut brutale. Il rejoignit la très sélective école préparatoire Phillips Exeter Academy en rangeant au placard sa renommée et sa négritude d'enfance. Il fut un orateur hors pair à Exeter, puis à la prestigieuse université de Harvard, où il suivit un cursus accéléré en arts et sciences de deux ans et demi (c'était plutôt moins difficile qu'il n'y paraît aujourd'hui : pendant la Grande Guerre, Harvard et Yale ont distribué des validations de cours comme des petits pains, afin que les garçons puissent se rendre en France [pour remplir leurs obligations militaires] ou revenir et obtenir leur diplôme sans trop d'efforts).
Après cette période, il travailla au sein du corps diplomatique en Haïti, en Roumanie et en Amérique centrale. Il semble que ce soit son passage au Honduras et au Nicaragua qui ait radicalisé ce jeune diplomate en pleine ascension. Il lui est apparu clairement que l'Amérique centrale et les Caraïbes — la plupart des Amériques en fait — étaient les pions manœuvrés sur un plateau de jeu par le Département d'État américain et, en fin de compte, par Wall Street. Il essaya de publier des articles sur les révolutions au Honduras et au Nicaragua dans l'Atlantic Monthly et dans Foreign Affairs, mais Foggy Bottom [surnom de la haute administration à Washington] les interdit [2]. Non sans morgue, Dennis a alors quitté le département d'État et est allé travailler pour la Guaranty Trust Company [3] pendant un certain temps, puis pour la banque d'investissement J. & W. Seligman. Cette dernière envoya Dennis en mission à Lima, en tant que leur représentant. Dennis examina scrupuleusement la situation et rechigna : les prêts de Wall Street au Pérou étaient mal montés dès le début et prédestinés à l'échec. C'était une vieille ruse de Wall Street, remontant au moins au milieu du XIXe siècle. L'intention de départ était que la banque d'investissement fasse des prêts à un pays d'Amérique latine, que le pays ne serait jamais en mesure de rembourser. Lorsque le gouvernement étranger se trouvait en défaut de paiement d'échéance, la banque d'investissement exigeait alors que le département d'État américain et le Trésor interviennent et garantissent les prêts, en réclamant des actifs ou des revenus futurs du pays [4].
Lawrence Dennis quitta alors Seligman et écrivit des articles pour The New Republic exposant ces manigances au Pérou. Dorénavant, il était strictement interdit d'emploi à la fois à Wall Street et au Département d'État. Il ne s'en souciait guère au demeurant. Ce fut en 1932, en pleine acmé de la Grande Dépression, qu'il jeta un pavé dans la mare avec un livre basé sur son expérience diplomatique et bancaire, intitulé Is Capitalism Doomed ? (Le capitalisme est-il condamné ?), livre qui reçut un accueil critique favorable. Le capitalisme auquel Dennis fait référence ici n'est pas la finance internationale en soi, mais plutôt la marque américaine spécifique du capitalisme du laissez-faire propre au "Wild West" (Ouest sauvage), sans contraintes ni surveillance gouvernementales. Établissant un parallèle avec la thèse de Frederick Jackson Turner sur la fermeture de la frontière américaine dans les années 1890, Dennis soutenait que l'époque du capitalisme du "Far West" — spéculation effrénée, emploi ploutocratique de la manière forte par le Congrès et "républiques" étrangères faibles — était révolue [5]. En cette année 1932, un grand nombre poussait des cris d'orfraie quant à l'effondrement de l'économie américaine. Mais l'intempestif Dennis n'a pas hurlé avec la foule. Pour lui, la solution n'était pas une révolution bolchevique qui détruirait la plupart des structures existantes de la société et placerait une classe étrangère au sommet. Il a proposé quelque chose de beaucoup plus simple : un ethos nationaliste qui restreint les capitalistes et place les besoins réels du peuple américain au centre des débats. En d'autres termes, le fascisme américain.
Is Capitalism Doomed ? était principalement chez Dennis le reflet de ses aventures diplomatiques et de celles avec Wall Street. Il lui a fallu quelques années de plus pour mûrir un argumentaire pertinent sur la raison pour laquelle le fascisme, plutôt que le bolchevisme, était le remplacement approprié du capitalisme flibustier de Wall Street. Le résultat fut son traité de 1940, The Dynamics of War and Revolution (La dynamique de la guerre et de la révolution). Is Capitalism Doomed ? avait été publié par Harper & Bros., ancienne et respectable maison d'édition new-yorkaise grand public. Néanmoins, à la fin des années 30, les relations fascistes de Dennis l'ont placé en situation délicate, et il a dû le distribuer par le biais de sa propre impression privée [6]. En conséquence, ce livre de Dennis n'a jamais été beaucoup distribué. Mais il est clair qu'il atteignait le summum de sa perspicacité politique dans des passages aussi incisifs que ceux-ci :
En 1933 et 1934, j'étais l'un des rares écrivains américains à comprendre que socialisme et nazisme devaient conjointement aboutir à une forme extrême de socialisme en raison des pressions exercées par les tendances inévitables du changement social. J'ai tourné en dérision les interprétations du fascisme et du nazisme faites également par les conservateurs et les communistes à l'époque. Incidemment, il faut remarquer que les communistes américains et leurs compagnons de voyage, qui sont aussi peu versés en politique conséquente que les férus de Wall Street ou Mme Roosevelt, ont tous deux aidé pas mal Mussolini dans les premiers temps en dénonçant les fascistes comme des suppôts du capitalisme. Mon livre The Coming American Fascism, a été considéré par mes nombreux détracteurs comme totalement sans rapport avec le fascisme parce qu'il ne s'accordait pas avec l'interprétation orthodoxe de Moscou de ce nouveau phénomène. Sur ce point, la ligne orthodoxe d'Union Square et de l'Union League Club était la même.
Pour moi, en 1933-1936, comme aujourd'hui, l'idée alors avancée sur Park Avenue et en bas de la Troisième Avenue [quartiers aisés de New York] que le démagogue d'un mouvement national-socialiste populaire avec une milice privée populaire sous ses ordres pourrait être le Charlie McCarthy [ventriloque-marionnettiste] des grands hommes d'affaires était tout à fait absurde. J'ai connu de manière proche trop de grands hommes d'affaires pour avoir le moindre doute quant au rôle qu'ils joueraient dans n'importe quel acte de Charlie McCarthy avec un Hitler. Les hommes d'affaires sont socialement les membres les moins intelligents et les moins créatifs de nos classes dirigeantes.
* * *
Like all journals of dissident ideas, Counter-Currents depends on the support of readers like you. Help us compete with the censors of the Left and the violent accelerationists of the Right with a donation today. (The easiest way to help is with an e-check donation. All you need is your checkbook.)
For other ways to donate, click here.
Notes :
1. Gerald Horne, The Colour of Fascism : Lawrence Dennis, Racial Passing, and the Rise of Right-Wing Extremism in the United States (New York University Press, 2007). [lire recension plus bas]
2. Un diplomate plus célèbre radicalisé par des expériences similaires en Amérique latine fut Sumner Welles, sous-secrétaire d'État dans les années Cordell Hull, qui consacra un long livre, Naboth's Vineyard : The Dominican Republic 1844-1924 (Payson et Clarke, 1928) pour détailler l'exploitation de cette nation insulaire par des intérêts bancaires américains.
3. Plus tard, Morgan Guaranty Trust ; actuellement une branche de la holding financière JPMorgan Chase.
4. Barbara Stallings, Banker to the Third World : US Portfolio Investment in Latin America, 1900-1986 (University of California Press, 1987).
5. Voir le traitement de ce sujet par Keith Stimely [texte ci-dessous].
6. Justus Doenecke, « The Isolationist as Collectivist : Lawrence Dennis and the Coming of World War II », in : Journal of Libertarian Studies n°3/1979.
Enjoyed this article?
Be the first to leave a tip in the jar!