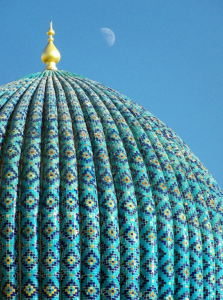 2.313 slov
English original here
Poznámka Grega Johnsona:
Následuje přepis části rozhovoru Jonathana Bowdena v londýnském Union Jack klubu ze soboty 21. listopadu 2009, který následoval po jeho dnes už slavném vystoupení o fenoménu Punch and Judy. Titulek je redakční.
Otázka: Liberály velice znepokojuje islám, militantní islám.
Jonathan Bowden: Ano, to máte pravdu.
O: Právem?
JB: Vlastně ano, protože se vlastně v jádru jedná o iliberalismus v náboženském hávu. Působí to samozřejmě trochu paradoxně, protože i když o islamizaci Evropy nebo Anglie ani v nejmenším nestojím, islám obdivuji. Má záliba v neortodoxních postojích v těchto otázkách je celkem dobře známa. Muslimové by měli žít ve své části světa, tj. od Maroka po Indonésii. Mají svůj kus planety, zhruba její šestinu. Jejich blok by jim měl zůstat, jejich umma i jejich potenciál. Představují odlišný druh lidské existence.
Většina z nás na Západě si stěží dokáže byť jen představit metafyzický objektivismus natolik absolutní, že úplné, otrocké podvolení se Bohu představuje základní stavební kámen jeho systému. Většina z nás tomu vůbec nedokáže porozumět, protože jsme časem dospěli k takové míře sekularizace, že v současném ovzduší moderny či postmoderny nás všechny náboženské ideje nechávají poněkud chladnými.
Islám představuje velice skutečnou hrozbu soudobému liberalismu, který pracuje se značně pomýlenou představou o povaze multikulturalismu, jenž se snaží uskutečnit. V prvé řadě je řada z nově příchozích znatelně méně liberální, než lidé už Západ obývající. Za druhé se těmto přibyvším pohled na současný Západ ani za mák nezamlouvá. Rozhodně nás ale nijak nelitují – naopak: vidí v nás beznadějné slabochy, kteří jim bez velkého odporu udělají místo.
Islám je nadmíru pravicový, chceme-li se držet této koncepce, systém výkladu světa. Proto u něj ostatně po druhém Vatikánském koncilu nalezli útočiště někteří extrémní katolíci, stejně jako část fašistů a národních socialistů. Je to totiž systém totální a absolutní.
Nám je tento způsob cizí: naše civilizace je podle mého přesvědčení založena na opačném principu otevřenosti, reflexivnosti a důrazu na důkazy, o němž hovoří Lady Renoufová, či sokratické tradici. Západní civilizaci vnímám v prvé řadě, byť ne výlučně, jako řecko-římskou, alespoň co se diskurzu uvažování o vlastní existenci týče. Vycházíme sice z víry v existenci jistých absolutních pravd, nejsme si však už tolik jisti jejich zněním – a navíc se nezdráháme podrobit je zkouškou životem, bojem, řečí důkazů a tak dále. To ještě neznamená, že neexistují žádné pravdy nebo věci přesahující život. Naše myšlenky o nás coby civilizaci však zahalila taková míra nejistoty a zmatku, že jsme propadli jakési kolektivní senilitě podzimu. Nyní nám hrozí nebezpečí ze strany ostatních skupin, neboť nás paralyzuje váhavost a ztráta víry, na níž Západ tradičně stavěl.
Islám pro nás není skutečnou hrozbu, protože nedokáže dobýt Západ zevnitř, tak to vidím já. Může si jej podmanit zvenčí, hrubou fyzickou silou, demografickou výměnou nebo militantní propagandizací. Západ však vyrostl na odlišné civilizační etice, a tak zde islám nenachází dostatečnou živnou půdu. Všimněte, že kromě radikálních extrémistů a outsiderů o něj původní obyvatelstvo v podstatě neprojevuje sebemenší zájem. Pro lidi ze Západu není ničím přitažlivý, neoslovuje západní duši. Dokonce i ta hrstka, která se o islám hlouběji zajímá prostřednictvím diskurzu typu perenialismu, většinou nezachází až ke konverzi a pokud ano, volí si súfismus, tedy intelektuálně nejotevřenější prvek islámu, případně u islámu dlouho nevydrží. Ale samozřejmě platí, že slabé a zlomené lidi může ovládnout někdo silnější, kdo jim přiloží pomyslnou zbraň ke spánku, to je pravda.
O: Zmínil jste islám od Maghrebu po Indonésii, řada západních – nebo "západních" – politiků však v sobě živí jakousi dvojí loajalitu k jisté blízkovýchodní zemičce, kdysi nazývané Palestina.
JB: Ano.
O: Jak nahlížíte na nebezpečí islámu v tomto regionu?
JB: Dívám se na něj z jejich úhlu pohledu, který se od toho našeho liší… To je totiž právě ono: je možné pochopit postoj toho druhého, i když jej nesdílíte. Liberalismus se v tomto relativismu vyžívá: cítím vaši bolest do té míry, že bych si s vámi chtěl vyměnit místo. Nám by to ovšem někdo sotva oplatil, což je ovšem nanejvýš logické. Chci tím říct, že islámský odpor a/nebo postoje arabských nacionalistů i dalších nebělochů k Izraeli jsou naprosto oprávněné, protože se jedná o teroristický stát, který se násilně zmocnil palestinského území a silou ho také drží.
Přestože to vlastně není náš problém, nedokážeme se ubránit, abychom do něj nebyli zataženi. Příčina je nasnadě: mocenské postavení této skupiny ve Spojených státech a absolutní podřízenost Británie Americe. Michael Portillo, který byl v 90. letech ministrem obrany za torye, v podstatě řekl: "Žádnou zahraniční politiku ani nemáme. Děláme, co nám Spojené státy nadiktují." To znamená účast v nekonečné sérii jejich potyček a miniválek na Středním východě i jinde, které neustále hrozí přerůst v obrovské konflikty, jež jsou v širším slova smyslu všechny vedeny s ohledem na bezpečí oné země.
Ta je však vyzbrojena jadernými hlavicemi i odhodláním bojovat v případě nutnosti až do konce. Celé je to velice obtížná situace a liberálové ji navíc ještě dál zkomplikovali, když všechno pomíchali dohromady. Může to mít celkem neškodné vyústění, řekněme prostřední a ne zcela jasné vyústění nebo z toho může také být strašná katastrofa pro nespočet lidí, včetně dosud nenarozených dětí. Nelze to říct s jistotou.
Nezapomínejme, že když nastoupil do úřadu Obama, CIA – která se dopustila mnoha, mnoha omylů, včetně tvrzení o přítomnosti zbraní hromadného ničení ve zmrzačené zemi Iráku, byť je docela dobře možná, že věděli od začátku, že neříkají pravdu – mu řekla, že během následujících 25 let dojde na Blízkém východě k jaderné válce, nukleárních přestřelce. A neříkejme, že CIA se plete vždy, protože předpověděli třeba válku mezi Gruzií a novým Ruskem Putina s Medvěděvem už rok před jejím vypuknutím. Jistě, pořád je to jen zpravodajský dokument, jakých vznikají celé stohy. Rusko nedávno pořádalo válečné hry, při kterých byly naprosto vymazány z mapy Polsko a Česká republika. Takže vlády a státy s podobnými scénáři pracují zcela rutinně. Přesto ale těžko můžeme popírat existenci skutečného ohniska střetu civilizací, tektonických desek národů a kultur – a Izrael přilévá, přilévá, přilévá olej do tohoto ohně.
Podle mě bychom měli skoncovat s nezdravým, takřka siamským vztahem s Izraelem a nechat je vytvářet si svůj vlastní osud, podle své vlastní vůle. Můj náhled bych neváhal označit za inverzi perspektivy islamistických radikálů. Přál bych, aby odešli ze západních zemí a soustředili se na budování ummy v islámských zemích. Samozřejmě že odchod z Blízkého východu má také svou cenu: už bychom se nemíchali do tamějších záležitostí, nekontrolovali bychom tamní ropná naleziště, skončily by intervence v zemích regionu i svrhávání skupin, jež nám jsou proti srsti. Není to naše starost. Dospěli jsme do postimperiálního světa.
A odstřihneme se od Izraele, na kterém nám přestane tolik záležet. Lidé to budou vyjadřovat různými eufemismy, a bránit se nařčením z různých "anti-" s tím, že chtějí jen a pouze neutralitu a tak dále, ale výsledek se nemění. Ustoupíme do pozadí a dojde k separaci.
O tu ostatně kdesi v hloubi duše stojí také mnoho muslimů. Rádi by viděli svět složený z velkých svébytných bloků, protože jakkoliv možná doufají, že si Západ demograficky podmaní, mnozí se obávají sekularizace muslimů vlivem Západu. Ideologická síla Západu je značná a přes svou vnitřní slabost zůstává velice dobře vyzbrojený. Bushovi se snadno, za necelé dva týdny, povedlo svrhnout Saddámův režim, ve Třetím světě jeden z nejlítějších. Nezapomínejme, jakou mocí Západ vládne. Vůdci, i třeba ti jako Nick Griffin, žádní liberálové nejsou a kdyby se chopili moci, za určitých okolností by jí neváhali využít.
Blair kdysi prohlásil, že půjdeme do války s Irákem, protože pokud tak neučiníme a neochráníme západní společnosti dokonce i v jejich stávající podobě, objeví se jiní, kteří nesdílejí naše hodnoty a kteří tak učiní ve jménu mas. Na mysli má nepochybně nehumanistické formy myšlení, tj. jisté dobře známé politické tendence, které nikdy příliš na dlouho neopouštějí úvahy liberálů. Myslí na ně neustále, vždyť jsou přece jejich lícovou stranou, že ano.
O: Dojde podle vás k válce s Íránem? Izrael proti Íránu? Amerika proti Íránu?
JB: Těžko říct, těžko říct. Objevují se tendence na obě strany a cítím, že pokud mělo dojít k nějakému ničivému prvnímu úderu, stalo by se tak spíše za Bushovy vlády. Aškenázská lobby v Americe nikdy nevěřila Obamovi a na jeho místě by mnohem raději viděla Hillary Clintonovou, to byl jejich kandidát. Slíbila totiž Íránu zdrcující odvetu, pokud by byl napaden Izrael.
Íránu k jaderné zbrani pořád ještě zbývá kus cesty. Pochopil jsem, že svůj jaderný program skryli na 56 nebo 57 různých místech, řada z nich se nachází pod budovami škol, nemocnic nebo pod mocnými horami. Podle mě by měli být schopni vyvinout dost štěpného materiálu pro bojovou hlavici do roka, Mossad však mluví o pěti nebo šesti letech, kdy ještě nebudou schopni využít jaderné zbraně, tedy zhruba do roku 2015.
Jak jsem už řekl, takové věci se odhadují velice nesnadno. Pokud by na Írán zaútočili Izraelci, budou jejich letadla muset doplnit palivo někde po cestě. Nemyslím si, že by chtěli riskovat sestřelení svých pilotů někde nad Blízkým východem a jejich následné dopadení a možné lynčování v libovolné arabské zemi, nad níž by byli sestřeleni. Bude jim tak muset pomoci Amerika, což fakticky znamená její souhlas s útokem. Rusko poskytlo Teheránu spousty velice vyspělých technologií, které budou v případě vzdušného útoku proti Izraelcům moci použít. Írán navíc stojí těsně před dokončením vývoje několika typů balistických střel, schopných zasáhnout všechny americké základny v Iráku i Afghánistánu. Pokud navíc Teherán vydá povel šíitským milicím v Iráku pozvednout zbraně proti americkým okupačním silám v Iráku, vyústí to v ohromný chaos. Šíité cítí loajalitu k Íránu, k nikomu jinému.
Američané svým iráckým dobrodružstvím docílili pravého opaku svých záměrů – rozšířili šíitský chalífát z Teheránu až na izraelské hranice, což rozhodně nezamýšleli. Další příklad podniku, který se proklatě vymstil.
My se však musíme snažit odstřihnout od různých vendet Třetího světa, především proti onomu blízkovýchodnímu státu, které se nás netýkají a do nichž bychom mohli být navzdory naší vůli i vlastním zájmům být velice snadno zataženi.
O: Pokud se nám povede odstřihnout od Izraele, co na to nesmírně vlivná židovská menšina v Británii a…
JB: …a hlavně ve Spojených státech. Nepochybně je to rozzuří a budou se vztekat a kopat kolem sebe na všechny strany. Na to se prostě musíme připravit. Měli bychom se řídit následující zásadou: nikomu nebude fyzicky ublíženo, ale Západ má své specifické zájmy, které jsou jasně jeho a musí se jich držet, pokud má přežít.
Vezměme si třeba příklad toho Gibsonova filmu (Umučení Krista) Sám nejsem katolík ani křesťan. Když Mel Gibson, hollywoodská superstar a současně syn nejkontroverznějšího muže v Austrálii, papeže střiženého Colinem Jordanem, natočí film, všechna velká média v Americe nad tím nekonečné týdny a měsíce lkají a dští síru. Film ale vysílali ve všech multikinech a do distribuce jej převzaly přidružené společnosti Disney i Icon Films. Reklamy na něj vidíte na každé autobusové zastávce, v každém papírnictví WHSmith, na Amazonu i na billboardech. Zatím vydělal přes půl miliardy dolarů a stal se díky tomu devátým nejúspěšnějším snímkem v dějinách kinematografie.
Co se o tom tedy myslet? Gibson se přece "jenom" postavil lobby a jejím nářkům, snesl jejich invektivy a umlčel je. Jeho život pokračuje a natáčí další filmy, jde dál. Zdá se tedy, že se prostě musíte připravit na nějaký ten křik a rámus, pokud chcete vést kulturní válku. Pro spoustu lidí to ale může být nesmírně nepříjemné a obtížné – ne proto, že by se tak báli, když jim někdo pohrozí sevřenou pěstí. Sžírá je morální strach.
Znovu se musím vrátit ke svým předchozím slovům, tedy k otázce etiky. Ne všechny problémy současného Západu lze totiž vysledovat k nějakým strukturálním nebo socioekonomickým příčinám. Ty vidím jako "pouhé" epifenomény a příznaky hlubšího úpadku, který je v prvé řadě vnitřní, duševní. Jedině a teprve po ozdravení mentálních procesů může dojít také k přirozené reorganizaci všech vnějších tělesných fenoménů. Nebude to nic snadného, ale změna smýšlení mění vše. To, co vidíte kolem sebe, je projevem jisté mentality, nikoliv opačně.
Skutečná otázka proto zní, proč obyvatelé Západu projevují takovou zbabělost ve všech záležitostech sebeúcty a proč propadli myšlenkám, jejichž aplikace je přímou jízdenkou k zániku jejich druhu, kultury i civilizace? Nikdo nemůže s jistotou říct, jak to dopadne, protože tak už to holt bývá. Proč ale nevidí, co se jim odehrává přímo před očima? Ve skutečnosti to moc dobře vidí, vždyť o tom neustále mluví, byť obvykle zcela nejapným způsobem.
O: Kdosi připodobnil existenci Židů coby k pandám velkým: o těch biologové a ochránci přírody hovoří jako o druhu na pokraji vyhynutí následkem přirozených procesů a jejich další existence je prý možná už jedině díky zásahům z vnější. Souhlasíte s tímto hodnocením, a pokud ano, do jaké míry?
JB: Takto jsem to myslím ještě zformulované neslyšel. Mnozí přední Židé samozřejmě vyjádření značné znepokojení z probíhající asimilace, humanismu a integrace, vůči kterým není imunní ani Židovstvo. Podle židovských organizací se v Británii 3000 Židů každoročně přestane označovat za Židy. Rabín Jonathan Sacks, ze své funkce jeden z předáků britského židovského společenství a konzervativec, se domnívá, že asimilace dosáhla rozměrů existenční krize – a je na tom kus pravdy.
Pochopitelně ale není možné po generace hlásat liberální humanismus, obzvlášť z perspektivy reformního judaismu, aniž by se vám to časem vrátilo jako bumerang. Ne všichni z dané skupiny se chovají jako nějaký předvoj, většina chce prostě v klidu žít a konzumovat v rodinném kruhu, a tak ochotně vezme za vděk každou příležitostí k pohodlné dekonstrukci. Pokud tedy budete vytrvale propagovat dekonstrukci skupin, nebude těchto tendencí ušetřena ani vaše skupina.
Žádný kolektiv nemůže uniknout logice části svého vlastního myšlení. Především pak sotva můžete prohlásit: "Pro ostatní chci něco jiného, než bych rád pro své lidi," a označovat se hlasatele univerzálně platného učení. Jestliže smýšlíte kmenově, tedy jazykem filozofie nominalistický, jistě můžete užívat specificky kmenové kategorie. Pokud ale chcete, aby se celý zbytek světa choval jinak než vy, možné to není. Skončili byste stejně jako oni. A "gojifikace" značné části Židů na západě Evropě značně pokročila – do té míry, že se vytrácí ochota identifikovat se s Izraelem. Hodně z nich se nijak nežene bojovat za tu zemi, že ne? Chtějí zůstat tady, na Západě.
This translation originally appeared at Delian Diver.
* * *
Like all journals of dissident ideas, Counter-Currents depends on the support of readers like you. Help us compete with the censors of the Left and the violent accelerationists of the Right with a donation today. (The easiest way to help is with an e-check donation. All you need is your checkbook.)
For other ways to donate, click here.
Enjoyed this article?
Be the first to leave a tip in the jar!