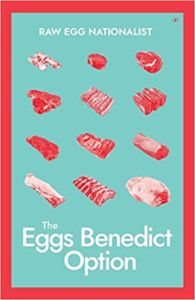 2,360 words
Raw Egg Nationalist
The Eggs Benedict Option
Quakertown, Pa.: Antelope Hill Publishing, 2022
An anonymous Twitter character going by the name of Raw Egg Nationalist has released a new book which is outselling globalist literature on Amazon. Unlike his earlier work, this is not a cookbook and has nothing to do with historical bodybuilders. Rather it is an analysis of the dangers of the modern diet: how it got this way, the globalist plan to make it even worse, and what we can do about it. The Eggs Benedict Option takes its name from Rod Dreher's The Benedict Option, which advocates fighting today's mainstream society by forming conservative Christian communities. But the present text suggests better options which do not depend on religion, and that would reliably improve our lives.
The author goes back to prehistory for an analogy to our current predicament. The common belief is that before the agricultural revolution, life was "nasty, brutish, and short," to quote Thomas Hobbes. But while early hunter-gatherers were certainly not pacifists, life became harsher in important ways during the transition to a sedentary life.
Primitive man had a more varied diet; the author cites one "23,000-year-old site from the Rift Valley" which suggests "a diet spanning four food webs: twenty large and small animals, sixteen families of birds, and 140 kinds of fruits, nuts, seeds and pulses, as well as a myriad of plants for medicinal and craft purposes." In permanent settlements under the control of the first states, though, their diet was significantly narrower, and their health suffered in various ways, including malnutrition and tooth decay. After the domestication of animals such as pigs, new epidemic diseases developed which might never have emerged but for the crowded conditions that both people and animals were subject to in early cities.
Upon the invention of agriculture, man did not spontaneously abandon his nomadic lifestyle. On the contrary, many early agricultural laborers had no choice in the matter, as they were slaves. The author argues that as many did not take happily to the drudgery of the new means of food production, the first city-states, with their large food requirements, could not have survived without using slave labor. These subjects had such short lives that the state often went to war in search of new captives to replace them.
This brings us to the connection with our situation today. Globalist forces such as the World Economic Forum have decided that the world needs a "Great Reset," meaning a global change in behavior as dramatic as the agricultural revolution and the development of the first states. Like the original "Great Reset" in prehistory, this new restructuring will be unpopular with many, so the authorities intend to impose it on us.
There are a number of facets to these globalist proposals which the author discusses in detail, but the most interesting have to do with a new diet plan. The Planetary Health Diet was proposed in a 2019 report by the EAT-Lancet Commission on Food, Planet, Health, a collaboration between the prominent British medical journal The Lancet and the Education and Agriculture Together (EAT) Foundation. The latter is a partner of the World Economic Forum and describes itself as "a global non-profit startup dedicated to transforming our global food system through sound science, impatient disruption and novel partnerships." The Commission assumes that there will be ten billion living people in 2050, and that all of these must be fed a diet that fits with the United Nations' Sustainable Development Goals and the Paris Agreement on climate change.
The most incredible aspect of this new diet is the proposal to avoid animal products almost entirely. Ostensibly, this is to protect the Earth from global warming and other threats to the environment, and it is claimed that this diet will benefit human health as well. The Planetary Health Diet proposes a 2,500-calorie daily diet in which only 19 calories would be taken up by eggs, 100 by dairy, and about 130 by all types of meat together. A single large egg, by comparison, contains about 80 calories. This plan is far from the norm either historically or today, and with good reason.
The author refers to a man named Weston Price, who worked as a dentist in the late nineteenth and early twentieth century. Over the course of his practice, as a diet high in refined grains and sugar replaced traditional Western foods, he was alarmed to see both the dental and general health of his patients decline. Price developed the theory that the new modern diet was responsible not only for an increase in tooth decay but for a number of other ailments, including allergies and psychological problems. He undertook an investigation of the diets of numerous peoples around the world, along with the prevalence of various health conditions among them, and published a book of his findings in 1939.
Not surprisingly, Nutrition and Physical Degeneration did not find any healthy group of people with a diet as overwhelmingly plant-based as the one proposed by the Planetary Health Diet. On the contrary, the diets of those with particularly good health were high in animal products. This included many hunter-gatherer and pastoralist tribes. Regarding the Torres Strait Islanders, who live in an area between Australia and Papua New Guinea, Price spoke to a doctor who had never seen a case of cancer in them, in stark contrast to the local whites. A contemporary of Price, Dr. Edward Howell, made a similar comment about the natives of northern Canada, who were also free of heart disease and diabetes. Another doctor practicing among the same peoples noted that some who had assimilated to the Western diet and lifestyle developed tuberculosis, but could be cured by returning to their traditional diet. This largely consisted of raw meat from a number of local mammals and birds.
Animal products have a great advantage over plant foods in terms of a number of critical nutrients. Vitamin B12 can rarely be found in plant foods, but is plentiful in meat, especially liver and other organ meats. This contrast is at times even more dramatic than the nutrition facts on the packaging might suggest, as a given amount of certain nutrients in animal products is effectively more than the same amount in plant foods. Iron, for example, is much more easily absorbed when it comes from animal products: As much as 20% of the iron in red meat is absorbed during digestion, compared to at most 7% for plant-based foods.
A similar pattern can be found with protein. The World Health Organization uses something called the Protein Digestibility-Corrected Amino Acid Score. The author argues that this overestimates the quality of plant protein sources such as soy, but even the PDCAAS gives peanuts a far lower score than eggs or milk, and gluten an even lower score. Plant sources of protein also lack some of the nine essential amino acids which the body needs for optimal functioning, while animal products provide all of them.
People who largely or entirely avoid animal products are thus more likely to have nutritional deficiencies. The author cites one study showing that about 60% of vegans and 40% of vegetarians have a vitamin B12 deficiency, which can lead to infertility or permanent neurological damage. Other nutrients which tend to be low in vegans and vegetarians include zinc and creatine, having negative consequences for their mental health, among other things.
Lack of animal products is of course not the only unhealthy aspect of the modern diet; there is also the presence of certain plant foods. Compounds in grains, legumes, and nuts act as what the author calls "anti-nutrients" — that is, they inhibit the digestion of nutrients such as calcium and can lead to deficiencies. Traditional societies would often ferment such foods before eating them, which reduces the effects of these substances and provides enzymes which improve overall digestion. The Japanese traditionally ate miso, which is made with fermented soybeans, but eating unprocessed soybeans was unheard of, except among the truly desperate.
In keeping with the mindset of the author's previous work, he explains straightforwardly what actions the reader can take in his own life — and this is not limited to eating certain foods and avoiding others. A system already in place in Russia known as "dacha gardening" does not require large-scale organization, government intervention, or expensive equipment. All it requires is small plots of land and a willingness to work.
As the author explains, as of 2004 two-thirds of Russian households grow food in their own gardens, mostly for their own consumption. This accounts for more than half of the nation's total agricultural output, and the vast majority of its vegetables. More than half the country's meat and milk is likewise produced by individual households. This is despite these operations taking up less than 3% of the country's agricultural land, meaning that it is far more efficient than industrial agriculture.
This is partly due to something which is often noted when contrasting Communism and capitalism. An individual has more personal investment in something he owns privately than in something he merely contributes to as part of a larger group. Under the Soviet system, agriculture was largely collectivized, leading to much lower productivity and famines. A similar contrast, although thankfully without the famine, is found between agricultural laborers working for major corporations today and private individuals working mainly for themselves and their own families.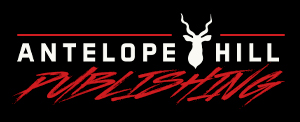 Along with healthy food, this type of agriculture provides fresh air, sunshine, and exercise, which many in our sickly nations are sorely in need of. This need not be the backbreaking labor of ancient slaves; the average Russian gardener spends an estimated 17 hours a week working on his garden. The personal connections fostered by buying and selling the produce directly to and from the consumer, as well as bartering with other producers, are an added benefit.
Anyone with so much as a back yard can begin to contribute to this type of agriculture today. Indeed, it would in one sense be easier for people in most of the United States to do so, as the climate in Russia is colder and the growing season is limited to a third of the year. However, government regulations are generally written for the benefit of those already in positions of power in an industry, and food is no exception. The author makes reference to organic farmer Joel Salatin's essays on how current policies put the small farmer at a disadvantage, and argues that we will need politicians to change laws to encourage more such people to produce and distribute their goods locally.
One particular policy which both the small farmer and the general public would greatly benefit from reversing is corn subsidies. These were initially introduced in the US after the First World War, when war-related European demand for US corn suddenly disappeared. During the Great Depression, farmers were similarly struggling to make ends meet, and in both cases the government took certain actions to protect them, including by buying up corn surpluses. However, later policies had the effect not of simply propping up farmers, but of flooding the market with corn. When prices fell too low, the government simply paid the producers directly, giving them an incentive to continue producing more corn no matter what.
This constant excess of corn has had several very negative effects. One is that grain is fed to livestock that might otherwise be fed entirely on grass. This is done largely in enormous industrial abominations called concentrated animal feeding operations (CAFOs), or "factory farms," similar to the fields of pods in which people are grown in The Matrix. Conditions there are so bad that animals are given doses of antibiotics preemptively, as the unnatural environment would otherwise be expected to make them sick. Not only does this encourage microbes to develop resistance to the antibiotics, but it cannot eliminate the effects of pod life on the animals. Such an existence is enough to degrade the quality of the meat; anyone who has ever eaten grass-fed beef has presumably noticed the contrast.
Another effect is the proliferation of high fructose corn syrup. This is a type of sweetener that is produced from corn starch, and due to corn subsidies is cheaper than simple table sugar. The substance can now be found in an incredible array of food products, including many which one would think do not need sweetening, such as loaves of bread. It has been used not simply as a replacement for existing forms of sugar, but in addition to them; our diet has become much more sugar-intensive overall since its introduction. Unlike glucose, another common form of sugar found in food, fructose gives the consumer less of a feeling of fullness, making it easier to overeat. It also contributes to greater fat storage in the body. Many argue that the current obesity crisis is largely due to the rampant consumption of high fructose corn syrup.
The book is not perfectly written. It suffers from the type of overly casual language which is common in contemporary books for a mass audience, as if the author is transcribing a lecture. This is a matter of not only colloquialisms, but clichés. One paragraph ends particularly egregiously with: "History would never be the same. Got milk?" It is nevertheless well-organized and accessible for the most part.
The Eggs Benedict Option stands out among dissident writing in that I would highly recommend it to people who are already based and redpilled; the author is clearly populist, but does not repeat many familiar talking points. Commendably, considering how dark our current situation is, it avoids being simply a gloomy catalogue of how much the wealthy and wicked have to answer for. The content is not merely of intellectual interest, but makes suggestions which, if followed, can lead to rapid improvement in the reader's own life. Ultimately, with the help of the broader political and cultural movement the author hopes for, this will lead to a healthier society.
* * *
Like all journals of dissident ideas, Counter-Currents depends on the support of readers like you. Help us compete with the censors of the Left and the violent accelerationists of the Right with a donation today. (The easiest way to help is with an e-check donation. All you need is your checkbook.)
For other ways to donate, click here.