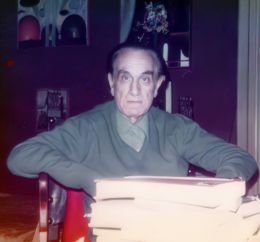 6,175 words
A previously unpublished exchange of letters between the Swiss neo-fascist activist Gaston-Armand Amaudruz and Julius Evola from 1958 was recently discovered among the former's papers (scans of the original letters can be found here). Mr. Amaudruz was then part of the leadership of the New European Order (NEO), a pan-European neo-fascist movement that had been established in 1951. He was prompted to write to Evola by an article the latter had published that was critical of the NEO. We are pleased to be able to present translations and transcriptions of these letters, below. The translations are at the top, and the French originals appear below. We would like to thank our volunteers: Cian Arawn, who provided a transcript of Mr. Amaudruz's first letter, and Ulrich Duca, who transcribed the other two letters and translated all three of them into English.
Passages that were written in Italian in the originals are here in italics.
Much correspondence between Mr. Amaudruz, Savitri Devi, and her circle of friends has recently been published at The Savitri Devi Archive, here.
* * *
Lausanne, February 22nd 1958
Baron Julius Evola
Professor
Corso Vittorio Emanuele 197
Rome
Dear Sir,
As a long-time admirer of your work, I have always attached great importance to keeping you informed of the efforts made by the New European Order, whose assemblies have kindly entrusted me with secretarial duties, and I never missed the opportunity to invite you each time. The same goes for the coming meeting, in Milan at Easter, for which you already received the documentation.
Unfortunately, we never had the pleasure of your participation, and consequently, we have never been able to benefit from your insights as much as we would have wished.
Last spring, in May, you called attention to us in an article published in Meridiano d'Italia (on May 12, 1957), however. This article, along with some parts that were favorable to us, nevertheless included criticisms on important points that I must consider as unfounded. Because your name's authority could give credence to a partly unfavorable judgement of the New European Order among Meridiano's large readership, I requested that our friend Prof. Dr. von Leers, in view of his long-standing relationship with you, should discuss the points raised by your article with you. Since he did not tell me about any positive result, and since our common friend Angelo Berenzi is encouraging me to write to you again directly, I take the liberty to send you these lines.
First of all, it is appropriate, in all fairness, to note that the points for which you give us your approval in the above-mentioned article are more important than those on which you have reservations. They are even crucial. Indeed, in the face of our century's giant blocs — the USA and USSR today, China tomorrow — a "discriminating but organic and articulated type of confederacy" is the only means first of salvation, and then of recovery. Respect for the peoples' traditions, the elimination of the class struggle, a corporative order, positive anti-Communism and anti-capitalism, independence from the two current blocs, struggle against our dominant regimes — all these points which met with your approval represent for us a powerful comfort and encouragement.
It is all the more important, in the interest of a European spiritual synthesis, to carefully examine the few points of disagreement, and thus remove the reasons for biases which might possibly remain in certain areas.
You worry about our "social coloration." Our desire to put the means of production at the service of the whole community seems to you rather dangerous. Furthermore, you condemn labor service as a clearly demagogic and proletarianizing aspect of National Socialism.
On the first question, your concerns will doubtless vanish if we make it clear that we have not spoken of "nationalizing" the means of production. Indeed, it is very possible, without resorting to extreme collectivist methods, to limit the right of disposal of the means of production to some indispensable points in such a way that their use in accordance with the general interest is secured. As for the terms and conditions, we shall specify them little by little, in an effort of doctrinal synthesis and while taking into account the various peoples' specific genius. We can already predict that there is no one, simple solution, but that "many roads lead to Rome."
Regarding the second problem, I must confess — and our German comrades share this feeling — that I do not see a demagogic and proletarianizing character of labor service. Here is an occasion for interaction between the elites and the rest of the people, an interaction which could only offer these elites a better vision of their mission.
You express doubts on another point as well. You refer to the following excerpts from the New European Order's declarations: "The soul, the spirit, and the body's natures are predominantly determined by heredity. This means that, for a given community, they depend on race. Race determines culture." (Zurich declaration) ". . . the struggle between races will more than ever become the principal basis of the opposition between peoples and classes." — And you reproach us for expressing racism in biological terms, "admitting that the determinism of heredity is to declare oneself either for eugenic interventions or extremist interdictions." The "white race" concept, moreover, would be rather vague and would provide a rather uncertain basis to the European idea.
Let us note at the outset that, in the passage quoted above, we affirm the primary but not exclusive importance of heredity. Thus, we do not postulate a determinism of heredity, the importance of other factors being assumed. We simply take note of the results of scientific research, particularly of those experiments on uniovular and biovular twins. Apart from any metaphysical stance concerning the nature of the soul and the body — whether we are spiritualists, materialists, or critics — we must acknowledge the scientifically established laws of heredity.
Let us here notice, moreover, that you yourself seem to defend the same point of view in the end, because you state in your pamphlet Il razzismo, on page 9:
Our point of view goes beyond both positions, by affirming that race exists both in body and in spirit. [underlined in the original]
Doesn't this passage mean that the laws of heredity are as valid for the domain of the soul as for the body? How else would you justify your extremely just conception of calling for the promotion of true elites, of men worthy of governing, if not in the name of heredity: because these men, by birth, possess the psychic characteristics that are the basis of their mission? . . .
This passage also represents a crucial synthesis for European revolutionary thought. It indeed recognizes, in the face of materialists and spiritualists, that race exists in the soul as well as in the body — whatever may be the nature of the body and the soul. This idea of synthesis is able to unite the partisans of opposing metaphysics around the same doctrine because, as you say, it "surpasses both positions." This idea can make European racism's unity a condition of any possible recovery.
Consequently, is it an "extremist intervention" if on the one hand we demand measures to prevent the mixing of our peoples with the black and yellow races, and on the other we spare these same peoples flawed offspring and create favorable conditions for the birth of true elites? As a philosopher, as a political theorist, you postulate, and rightly so, such elites. As a creator, can you object to the measures designed to produce the elites you ask for?
As for the concept of the white or Aryan race, it is true that its understanding is not limited to present-day Western Europe, but includes parts of Soviet Russia and America as well. But, because geographical Europe includes the main Aryan core, this Europe must become the political instrument for the salvation and recovery of our race.
One can debate about wording. In many texts, like the New European Order's declarations, one will inevitably come across some more or less awkward phrases. But we all know one thing: Beyond wording, there is an idea that asks total fanaticism of us: the idea of our race's salvation in a unified Europe that is strengthened by social justice.
As you observed, the New European Order is still in the catacombs phase of its life. If necessary, we could mention names and report persecutions. Perhaps not all of our followers' names would be very prominent, but they are the names of men who agreed to make sacrifices for the cause. And since you regret the absence of any "prominent" names among us, why don't you join us to end this reproach?
Here are therefore some reflections I thought important to submit to you. I hope they will contribute to disperse the prejudices that your article in Meridiano seemed to show, and that you will want to come to Milan to allow us to benefit from your experience and your insights.
Please accept, dear Sir, my very best wishes.
G-A. AMAUDRUZ
Rome, March 4th 1958
Dear Sir,
I received your letter, and above all I thank you for the attention you have shown me. I regard your initiatives with sympathy and I recognize the idealism and the passion with which your friends, without backing down in spite of sacrifices and persecutions, lead the struggle for a better world. However, there can be no question of a formal adhesion, since I have never been a member of any movement or party. My task is to "bear witness" to certain values in complete independence. Whether and how these values can be translated into action is not a thing that should concern me.
Apart from that, as my article itself has shown you, if there are indeed points of agreement between our principles, there are also some other points on which there is a divergence that even the considerations developed in your letter could not eliminate. There are two things to note in particular. The first is that you are developing a type of militant action (in my opinion, without a clear perception of the existing possibilities) for which it is mainly "myths" that are useful to you, while I remain on the level of principles, on which there is no possibility for concession or mitigation. Secondly, but also related to this, the background [in English in original] is quite different. I think that your main point of reference, that which you regard as favorable and decisive for a European recovery, are the ideas and the systems that triumphed not so long ago in Germany and Italy. Yet, I regarded these movements as something provisional and approximate, having value not in what made them "original" but in what they partly reflected of the principles of the great European conservative, aristocratic, and — if you like — reactionary political tradition; to be clearer, to that which was the formative political and social force before the French Revolution, the movements of 1848-49, the advent of the Third Estate, and the world of the masses. And it was only with the idea of rectifying in this sense certain possibilities contained within the "fascist" movements that not so long ago I carried out some activities in Italy and Germany.
This clarification may, I think, make you understand the reservations expressed in my article with regard to certain concessions you make to rather suspect ideas, such as the "social" idea and to so-called "social justice," to the idea of the people, and to a racism that is more than questionable — up to aberrations such as the "labor service." These are the dregs that were also present in yesterday's movements, and toward which, now that this experience has ended, strict discrimination is necessary.
However, this is not the case — it would take too long to examine these points in detail by letter, by taking up what you have just written to me. You claim to know my books, but I doubt that you have come across any that could provide an idea of their fundamental orientation. The pamphlet on race you are talking about must simply be a cyclostyled extract released by Rauti and taken from a small work (which should have been quoted) that is in turn a summary of my Synthesis of the Doctrine of Race (also published in German). This book includes a systematic critique of the hybrid and materialistic idea of race that is against the confusion between race and people, the degradation of the "Aryan" idea, the scientistic theory of heredity and its conclusions — in short: against racism as it had been stated by extremist Hitlerism; and it is precisely because of this that at some point Mussolini had been interested in this book. — As for the rest, the essential work is my Revolt Against the Modern World (also published in German); it is a morphology of traditional values and an interpretation of history without which, in my opinion, one could not truly understand the present state of the world and everything that — with an almost superhuman effort — would be required to realize any given recovery, which, it goes without saying, could not begin on the political level. In this book, which was first published in 1934, the chapter on America, Russia, and Europe was almost prophetic. And my experiences, and what can be deduced from the principles which are neither of today nor of yesterday, push me more and more to consider as possible and important — from now on — that only an action of "living testimony" is possible or important, without deluding oneself about what can be "done," because I don't think the forces that have been in motion for centuries can still be stopped.
This does not prevent us from recognizing those who are still standing and fighting in spite of everything – even on hopeless positions. There must even be such people. As an individual, by my temperament I would even be inclined to be there. But as far as my essential role is concerned, which I try to fulfill to the best of my ability, I have to stand on a different plane, where it is only possible to hold the front in its entirety, waiting for those who keep watch at night to eventually meet those who will appear in the new day. It is a very sad truth that today there is no possibility of exerting any action in the environment (with the exception of a few elite people – but without power) only on the condition of being infected, at least in part, by the same evil that one fights.
This does not prevent us from recognizing those who are still standing and fighting in spite of everything — even in hopeless positions. There even must be such people. As an individual, by my disposition I would even be inclined to stand there. But as far as my essential role is concerned, which I try hard to fulfill to the best of my ability, I must stand on a different plane, where it is only possible to hold the front in its entirety, waiting for those who keep watch at night to eventually meet those who will appear in the new day. It is a very sad truth that today there is no possibility of carrying out any action in this environment (with the exception of a few elite individuals, who are powerless) except on the condition of being infected, at least in part, by the very evil one is fighting against.
I regret that I have no copies at my disposal of the two books I have just mentioned, in case you are not familiar with them. If it is of any importance, Mr. Berenzi may be able to allow you to read them.
Although I would love to exchange ideas with you and your friends at the Milan meeting, I don't think I will be able to go there. As you may know, I am almost physically immobilized by an injury, and leaving Rome involves too many logistical problems.
Please accept, dear Sir, the expression of my cordial sentiments.
J. EVOLA
Lausanne, July 19th 1958
Mister Professor Julius Evola
197 Corso Vittorio Emanuele
Rome
Dear Sir,
Your letter dated March 4, 1958 did indeed reach me and I thank you very profusely for going to the trouble of expressing your point of view in such a detailed way.
Without a doubt, the task you chose — bearing witness without any compromise on the plane of values — is imbued with greatness, and it is good and necessary that forces of the first order devote themselves to this.
The risk — against which we can thankfully fight — is a separation, followed by a misunderstanding from those involved in, as you say, "militant action." This risk is twofold: on the one hand of depriving the "militants" of the contribution of the "theorists," and on the other of depriving the theorists of the militants' willpower.
It therefore seems to me that we must all be both theorists and militants at the same time, the stress being put, depending on the individual, sometimes on one and sometimes on the other, leading to an indissoluble and living unity between thought and action.
The issues raised in your letter would require many pages to answer, and yet the risk of misunderstandings would remain. Moreover, I have the feeling that we opened the discussion on secondary points, anyway, for it is so true that we generally know better what divides us than what unites us. Furthermore, having neither your experience nor your qualifications, I would not want to carry on an unnecessary debate.
However, I think I must correct those points where, so it seems, you attribute to us a position that is not ours.
First of all, we do not desire a restoration of Fascism or National Socialism. If these systems failed, it is because they contained weaknesses that caused their failure. Any restoration of any given era or of any given historic system comes up against the same argument: They were not perfect, because they could not maintain themselves . . . By contrast, we have to pick up all the valid elements from the past that we can as an obvious condition of finding better solutions for tomorrow. And here, indeed, one of our goals is to identify what remains valid in Fascism and National Socialism.
Furthermore, our social conceptions are in no way egalitarian. For us, social justice is the whole of those measures putting each individual in society in a place where – by virtue of his character, intelligence, and culture — he will be able to render the greatest service to the community considered as an organism. And first and foremost, let us mention all the measures guaranteeing a hierarchical order ensuring the functions of leadership to those worthy of being leaders.
As for the question of the labor service, it appears to me quite incidental. If it were up to me, I would gladly give it up to please you, even though I do not really see in what way this service would deserve the wrath that could not also be directed at military service!
But let's limit ourselves to these few points. I simply regret your distrust of us, and I hope that subsequent developments will clear them up. As for me, I will do my best to contribute to this.
Finally, I am taking the liberty of enclosing an invitation to attend and participate in the work of our cultural commission. The same obstacles will probably stand in your way again this time. But involvement in terms of a report seems feasible . . .
Please accept, dear Sir, my very best wishes.
G-A. AMAUDRUZ
* * *
Lausanne, le 22 février 1958
Barone Julius Evola
Professeur
Corso Vittorio Emanuele 197
Rome
Cher Monsieur,
Depuis longtemps admirateur de vos œuvres, j'ai toujours attaché beaucoup de prix à vous tenir au courant des efforts faits sur le plan du Nouvel Ordre Européen, dont les assemblées ont bien voulu me confier le secrétariat, et je n'ai pas manqué, chaque fois, de vous inviter. De même pour la prochaine assemblée, à Milan à Pâques, pour laquelle vous avez déjà reçu la documentation.
Malheureusement, nous n'avons jamais eu le plaisir de votre participation ni, par conséquent, pu bénéficier de vos lumières autant que nous l'aurions voulu.
Au printemps dernier, au mois de mai, vous nous avez cependant marqué de l'attention par un article paru dans le "Méridiano d"Italia" (du 12.5.57). Cet article, â côté de passages favorables à notre endroit, contenait néanmoins des critiques sur des points importants, critiques que je dois considérer comme non fondées. Comme l'autorité de votre nom pouvait accréditer dans le large public des lecteurs du "Méridiano" un jugement partiellement défavorable au Nouvel Ordre Européen, j'avais prié notre ami Prof. Dr von Leers, vu l'ancienneté de ses relations avec vous, d'examiner avec vous les points soulevés par votre article. Comme il n'a pas pu m'annoncer de résultat positif et que, d'autre part, notre ami commun Angelo Berenzi m'encourage à vous écrire encore une fois directement, je me permets de vous adresser les présentes lignes.
Préalablement, il convient d'abord, en toute justice, de relever que les points sur lesquels vous nous marquez votre approbation dans l'article susmentionné sont plus importants que ceux qui font l'objet de vos réserves. Ils sont même capitaux. En effet, devant les blocs géants de notre siècle – USA et URSS aujourd'hui, Chine demain – une "confederazione di tipe non promiscue ma organico e articolato" représente le seul moyen, de salut d'abord, de redressement ensuite. Respect des traditions des peuples, suppression de la lutte des classes, ordre corporatif, anitcommunisme et anticapitalisme positifs, indépendance à l'égard des deux blocs actuels, lutte contre nos régimes dominants – autant de points sur lesquels votre accord représente pour nous un réconfort et un encouragement puissants.
Il importe d'autant plus, dans l'intérêt d'une synthèse spirituelle européenne, d'examiner avec soin les quelques points de divergence et d'écarter ainsi les raisons de prévention qui pourraient subsister dans certains domaines.
Vous vous inquiétez de notre "coloratura sociale". Notre volonté de mettre les moyens de production au service de la communauté entière vous parait plutôt dangereuse. D'autre part, vous désapprouvez le service du travail comme un point nettement démagogique et prolétarisant du national-socialisme.
Sur la première question, les inquiétudes se dissiperont sans doute, si nous précisons que nous n'avons pas parlé de "nationaliser" les moyens de production. En effet, il est fort possible, sans recourir à des méthodes collectivistes extrêmes, de limiter sur les points indispensables le droit de disposition des instruments de production, de manière que soit garanti leur usage conforme à l'intérêt général. Quant aux modalités, nous devrons les préciser peu à peu, dans un effort de synthèse doctrinale et tout en tenant compte du génie particulier des différents peuples. Et l'on peut déjà prévoir qu'il n'y a pas une solution unique, schématique, mais que "divers chemins mènent à Rome".
Sur le second problème, je dois avouer – et nos camarades allemands partagerons ce sentiment – ne pas apercevoir le caractère démagogique et prolétarisant du service du travail. Il y avait là, pourtant, l'occasion d'un contact entre les élites et le reste du peuple, contact qui ne pouvait que donner à ces élites une vision plus juste de leur mission.
Dans un autre ordre d'idées, vous formulez des réserves. Vous vous référez aux passages suivants des déclarations du Nouvel Ordre Européen : "Les caractères de l'âme, de l'esprit, du corps sont déterminés de façon prépondérante par l'hérédité. Cela signifie que, pour une collectivité donnée, ils dépendent de la race. La race détermine la culture." (Déclaration de Zurich) ; "…la lutte entre les races va plus que jamais être le principal fondement des oppositions entre peuples et classes." – Et vous nous reprochez de poser le racisme en termes biologiques, "ammetendo il determinismo del l'eredità e dichiarandosi per interventi eugenici o interdizioni estremistiche". Le concept de "race blanche", en outre, serait assez vague et fournirait une base assez incertaine à l'idée européenne.
Relevons d'emblée que, dans le passage cité ci-dessus, nous affirmons l'importance prépondérante mais non exclusive de l'hérédité. Nous ne posons donc pas un déterminisme de l'hérédité, l'intervention d'autres facteurs étant prévue. Nous nous bornons simplement à enregistrer les résultats de la recherche scientifique, et notamment des expériences portant sur les jumeaux univitellins et bivitellins. En dehors de toute prise de position métaphysique sur la nature de l'âme et du corps – que nous soyons spiritualistes, matérialistes ou criticistes – nous devons reconnaître les lois de l'hérédité, scientifiquement établies.
Remarquons ici, d'ailleurs, que vous semblez vous-même, en fin de compte, défendre le même point de vue, puisque vous déclarez dans votre brochure Il razzismo, à la page 9 :
"Il nostre punto di vista supera l'una e l'altra posizione, con l'affermare che la razza siste sia nel corpo, sia nello spirito."
Ce passage ne signifie-t-il pas que les lois de l'hérédité sont aussi valables dans le domaine de l'âme que du corps ? Comment, sinon, justifieriez-vous votre conception extrêmement juste réclamant la promotion d'élites véritables, d'hommes dignes de gouverner, si ce n'est au nom de l'hérédité : parce que ces hommes, de naissance, possèdent les caractères psychiques qui fondent leur mission ?…
Ce passage représente aussi une synthèse capitale pour la pensée révolutionnaire européenne. Il constate en effet, face aux matérialistes et aux spiritualistes, que la race existe dans l'âme comme dans le corps – quelle que soit la nature du corps et de l'âme. Cette idée de synthèse est capable de réunir autour d'une même doctrine les partisans des métaphysiques opposées, car, comme vous le dites, elle "supera l'una e l'altra posizione". Cette idée peut faire l'unité du racisme européen, condition de tout redressement possible.
Dès lors, s'agit-il "d'intervenzioni estremistiche", si nous réclamons des mesures, d'une part pour empêcher le mélange de nos peuples avec les Noirs et les Jaunes, d'autre part pour épargner à ces même peuples une descendance tarée et pour réunir les conditions favorables à la naissance de ces élites véritables ? Comme philosophe, comme théoricien politique, vous postulez, et avec raison, de telles élites. Comme réalisateur, pouvez-vous vous opposer aux mesures destinées à produire les élites que vous demandez ?
Quant au concept de race blanche ou aryenne, il est exact que sa compréhension ne se limite pas à l'Europe occidentale actuelle, mais comprend des parties de la Russie soviétique comme de l'Amérique. Mais, parce que l'Europe géographique comprend le noyau aryen principal, cette Europe doit devenir l'instrument politique du salut et de redressement de la race.
On peut discuter des formulations. Sur de nombreuses pages de texte, comme les déclarations du Nouvel Ordre Européen, on rencontrera fatalement quelques phrases plus ou moins heureuses. Mais nous savons tous une chose : par-delà les formulations, il y a une idée qui exige de nous un fanatisme total : l'idée du salut de la race par une Europe unie et forte dans la justice sociale.
Comme vous le relevez, le Nouvel Ordre Européen se trouve encore à la phase de la vie dans les catacombes. S'il le fallait, nous pourrions citer des noms et faire état de persécutions. Les noms des nôtres n'auraient peut-être pas tous un relief extrême, mais ils sont tous des noms d'hommes qui ont consenti des sacrifices pour la cause. Et puisque vous déplorez chez nous l'absence de noms de "relief", pourquoi ne vous joignez-vous pas à nous pour faire cesser ce reproche ?
Voilà donc quelques considérations qu'il semblait important de vous soumettre. J'espère qu'elles contribueront à dissiper les préventions dont votre article dans le "Méridiano" semblait témoigner, et que vous voudrez bien venir à Milan nous faire bénéficier de votre expérience et de vos lumières.
Je vous prie de croire, cher Monsieur, à mes sentiments les meilleurs.
G-A. AMAUDRUZ
Rome, 4 mars 1958
Cher Monsieur,
J'ai reçu votre lettre et avant tout je vous remercie pour l'attention que par là même vous me témoignez. Je considère avec sympathie vos initiatives et je reconnais l'idéalisme et la passion avec lesquelles vos amis, sans reculer devant des sacrifices et des persécutions, conduisent le combat pour un monde meilleur. Toutefois il ne saurait pas être question d'une adhésion formelle déjà par le fait, que je n'ai jamais fait partie, en principe, d'aucun mouvement ou parti. Ma tâche est de "témoigner" certaines valeurs en toute indépendance. Si, et comment, ces valeurs peuvent être traduites en action, ce n'est pas là une chose qui doit m'occuper.
A part cela, comme mon article même vous l'a montré, s'il y a bien des points d'accord entre nos principes, il y a aussi des autres points où il y a une divergence que même les considérations développées dans votre lettre ne sauraient éliminer. Il y a surtout deux choses à remarquer. La première est que vous développez une action militante (selon mon avis, sans une perception claire des possibilités existantes) pour laquelle ce sont surtout des "mythes" qui vous sont utiles, pendant que je reste sur le plan des principes, sur lequel il n'y a pas de concession et d'atténuation qui soit possible. En second lieu, mais aussi en relation avec cela, le "background" est assez différent. Je pense que votre point principal de repère, ce que vous considérez positif et déterminant pour un redressement européen, ce soient les idées et les systèmes qui s'étaient affirmés hier en Allemagne et en Italie. Or, ces mouvements je les ai considérés comme quelque chose de provisoire et  d'approximatif, ayant une valeur non pas en ce qu'ils avaient "d'original" mais en ce qu'ils reflétaient en partie des principes propres à la grande tradition politique conservatrice, aristocratique et -si vous le voulez- réactionnaire européenne; pour être plus clair, à celle qui a été la force politique et sociale formatrice avant la révolution française, les mouvements de 48-49, l'avènement du tiers état et du monde des masses. Et ce fut uniquement dans l'idée de rectifier dans ce sens certaines possibilités contenues dans les mouvements "fascistes" que hier j'ai développé une activité en Italie et en Allemagne.
Cette mise au point pourra-t-elle je crois, vous faire comprendre les réserves formulées dans mon article à l'égard de certaines concessions que vous faites à des idées assez suspectes, tel que l'idée "sociale" et de la soi-disant "justice sociale", à l'idée du peuple, à un racisme plus que discutable – jusqu'à des aberrations comme le "service du travail". Ce sont les scories présentes aussi dans les mouvements d'hier, à l'égard desquels s'impose, maintenant que cette expérience s'est conclue, un sévère travail de discrimination.
Pourtant ce n'est pas le cas – ce serait trop long par lettre d'examiner en détail ces points, en reprenant ce que vous venez de m'écrire. Vous dites connaître mes livres, mais je doute que soient tombés entre vos mains ceux qui pourraient donner une idée de l'orientation fondamentale. La brochure sur la race dont vous parlez doit être simplement un extrait cyclostylé diffusé par Rauti et tiré d'un petit ouvrage (qu'on aurait dû citer) qui à son tour est un résumé de ma "Sintesi di dottrina della razza" (parue aussi en allemand). Ce livre contient une critique systématique contre l'idée hybride et matérialisante de la race, contre la confusion entre race et peuple, la dégradation de l'idée "d'aryen", la théorie scientiste de l'hérédité et ses déductions -bref : contre le racisme tel qu'il avait été affirmé par l'hitlérisme extrémiste; et c'est justement pour cela qu'à un moment donné Mussolini s'était intéressé à ce livre. – Pour le reste, l'ouvrage fondamental est ma "Rivolta contro il mondo moderno" (parue également en allemand); c'est une morphologie des valeurs traditionnelles et une interprétation de l'histoire sans lesquelles, à mon avis, on ne saurait pas comprendre vraiment l'état actuel du monde et tout ce qui- avec un effort presque surhumain- serait nécessaire pour faire un redressement quelconque, qui, ça va de soi-même, ne saurait pas commencer sur le plan politique. Dans ce livre, dont la première édition est parue en 1934, le chapitre sur l'Amérique, la Russie et l'Europe a été presque prophétique. Et mes expériences, et ce qu'on peut déduire des principes qui ne sont ni d'aujourd'hui ni d'hier, me poussent toujours plus à considérer comme possible et importante -désormais- uniquement une action de "témoignage", sans se créer des illusions sur ce qui peut être "fait", car je ne pense pas que les forces en mouvements depuis des siècles peuvent encore être arrêtées.
Cela n'empêche pas de reconnaitre ceux qui sont encore debout et qui combattent malgré tout – même sur des positions sans espoir. Il faut même qu'il y ait de telles personnes. Comme individu, par mon tempérament je serais même porté à être là. Mais pour ce qui est mon rôle essentiel, que je m'efforce de remplir dans la limite de mes possibilités, je dois me tenir sur un plan différant, où seulement est-il possible de tenir le front intégralement, en attendant que ceux qui veillent la nuit puissent éventuellement rencontrer ceux qui apparaitront dans le nouveau jour. Il est une bien triste vérité, qu'aujourd'hui il n'y a aucune possibilité d'exercer une quelconque action dans le milieu (à l'exception d'auprès de quelques personnes d'élite -mais sans pouvoir) qu'à la condition de se faire infecter, au moins en partie, par le même mal qu'on combat.
Je regrette de ne pas disposer d'exemplaires des deux livres que je viens de nommer, dans le cas que vous ne les connaissiez pas. Si cela peut avoir une importance quelconque, il se peut que M. Berenzi ait la possibilité de vous les faire lire.
Bien que j'aimerais bien échanger des idées avec vous et vos amis à l'occasion de l'assemblée de Milan, je ne crois pas que je pourrai me rendre là. Comme peut-être vous le savez, je suis presque immobilisé physiquement par une blessure, et quitter Rome se lie avec trop de difficultés matérielles.
Veuillez agréer, cher Monsieur, l'expression de mes sentiments de cordialité.
J. EVOLA
Lausanne, le 19 juillet 1958
Monsieur le Professeur Julius Evola
197 Corso Vittorio Emanuele
Rome
Cher Monsieur,
Votre lettre du 4.3.58 m'était bien parvenue et je vous remercie bien vivement de la peine que vous vous êtes donnée à exposer votre point de vue de façon aussi circonstanciée.
Sans aucun doute, la tâche que vous avez choisie : témoigner sans aucun compromis sur le plan des valeurs est empreinte de grandeur, et il est bon, il est nécessaire que des forces de premier ordre s'y consacrent.
Le danger -contre lequel on peut heureusement lutter- est une séparation, puis une incompréhension de ceux qui sont engagé, comme vous dites, dans "l'action militante". Ce danger présente un double aspect : d'une part de priver les "militants" de l'apport des "théoriciens", d'autre part de priver les théoriciens des volontés militantes.
Il me semble dès lors que nous devons tous être à la fois théoriciens et militants, l'accent portant, suivant les individus, tantôt sur un terme, tantôt sur l'autre, et conduisant à une unité vivante et indissoluble entre la pensée et l'action.
Les problèmes soulevés par votre lettre exigeraient de nombreuses pages de réponse. Et encore le risque de malentendus subsisterait-il. D'ailleurs, j'ai l'impression que nous avons ouvert la discussion sur des points malgré tout secondaires, tant il est vrai que nous savons en général mieux voir ce qui nous sépare que ce qui nous unit. D'autre part, n'ayant ni votre expérience ni vos titres, je ne voudrais pas poursuivre un débat sans nécessité.
Cependant, je crois devoir reprendre les points où, visiblement, vous nous attribuez une position qui n'est pas la nôtre.
Tout d'abord, nous ne songeons pas à une restauration du fascisme ou du national-socialisme. Si ces systèmes ont échoué, c'est qu'ils contenaient des faiblesses qui ont causé l'échec. Toute restauration, de n'importe quelle époque, de n'importe quel système historique, se heurte au même argument : ils n'étaient point parfaits, puisqu'ils n'ont pas su se maintenir… En revanche, il faut reprendre dans le passé tous les éléments valables, condition évidente pour trouver des solutions meilleures pour demain. Et ici, en effet, l'un de nos objectifs est de dégager ce qui reste valable dans le fascisme et dans le national-socialisme.
D'autre part, nos conceptions sociales ne sont en aucune façon égalitaristes. Pour nous, la justice sociale est l'ensemble de mesures mettant chaque individu, dans la société, à la place où, de par son caractère, son intelligence et sa culture, il pourra rendre les plus grands services à la communauté considérée comme un organisme. Et en tout premier lieu mentionnons toutes les mesures assurant un ordre hiérarchique assurant les fonctions de commandement à ceux qui sont dignes d'être des chefs.
Quant à la question du service du travail, elle me paraît terriblement accessoire. S'il ne tenait qu'à moi, j'y renoncerais volontiers pour vous faire plaisir et bien que je ne distingue pas vraiment en quoi ce service mériterait des foudres qui n'atteindraient pas le service militaire !!
Mais limitons-nous à ces quelques points. Je regrette simplement votre méfiance à notre égard et souhaite que les développements ultérieurs la dissiperont. Pour ma part, je ferai mon possible pour y contribuer.
Pour finir, je me permets de vous remettre ci-joint une invitation à assister et à participer aux travaux de notre commission culturelle. Sans doute, les mêmes obstacles se dresseront ils cette fois de nouveau sur votre route. Mais une participation par voie de rapport semblerait réalisable…
Je vous prie de croire, cher Monsieur, à mes sentiments les meilleurs.
G-A. AMAUDRUZ
* * *
Like all journals of dissident ideas, Counter-Currents depends on the support of readers like you. Help us compete with the censors of the Left and the violent accelerationists of the Right with a donation today. (The easiest way to help is with an e-check donation. All you need is your checkbook.)
For other ways to donate, click here.