3,761 words
Nothing can produce better drama than ex-friends going to war. As political theater, it produces just as much heat and excitement as when real enemies go at it; but with friends, there's the added element of contempt — the result of all that icky familiarity they used to share.
But as with much of what we view online these days, I wonder how much of it is WWE and how much is MMA.
This much we do know: This past week, conservative YouTuber Steven Crowder and Daily Wire boss Ben Shapiro have been fighting like cats. Unlike the recent TERF Wars on the Left, nobody is hurling death threats at each other or attacking anyone in the streets. This is more like a nasty society-page spat — one with fairly high stakes that neither side will likely ever be able to recover from.
The story begins with Crowder leaving The Blaze in December as America's most popular conservative commentator. This means that he's been fielding offers from conservative media outlets that might be looking to raise their profiles by becoming Crowder's new host. Then, on January 17, Crowder posted a half-hour video of himself speaking somberly about how things in the conservative movement need to change:
This has been a long time coming. This is a conversation that I've actively avoided, sidestepped. And I've hoped and prayed that it not be necessary behind the scenes for a long while. But that's no longer possible.
Oh, suspense! To what juicy stuff could Mr. Crowder be referring? Well, to turn a novel into a short story, he has noticed how certain conservative media giants have been carrying water for the Left for many years:
But for the first time I have to say that I believe that many of those in charge in the Right-leaning media are actually at odds with what's best for you, the viewer, the customer, and more importantly the country. We here at Mug Club, we thought that we were all in this together, that we were fighting the media-entertainment-industrial complex. We thought that we were all genuinely taking it to Big Tech. But too many of those in charge of the big conservative platforms are verifiably in bed with them. Big Tech is in bed with Big Con. The people you thought, the people I thought, were fighting for you, a lot of it has been a big con.
Being the honest conservative that he is, Crowder is now urging all like-minded content creators not to sign with these major media outlets and instead register with his new initiative, Stop Big Con.
And what prompted all of this? One of these Big Con companies had offered him a contract which essentially proves their duplicity with Big Tech in black and white. Crowder didn't name names at first, but savvy viewers quickly figured out that the culprit was Shapiro's Daily Wire.
Basically, the contract (Daily Wire co-boss Jeremy Boreing calls it a non-binding term offer; more on him below) stipulates that if Crowder were ever to lose more than 50% of his advertisers due to boycotting without regaining them in a timely manner, his fee will be docked. Should a major social media platform issue a content strike against him, his fee will be docked. Should he get banned for whatever reason from any of these platforms, his fee will be docked. The fees are significant, and if things were to go badly for Crowder, could amount to 110% of the $50 million the Daily Wire offered to pay him for a period of four years.
I therefore guess it is theoretically possible — or at least mordantly amusing to speculate — that Crowder could sign on the dotted line and wind up owing money to Shapiro.
Here's the breakdown: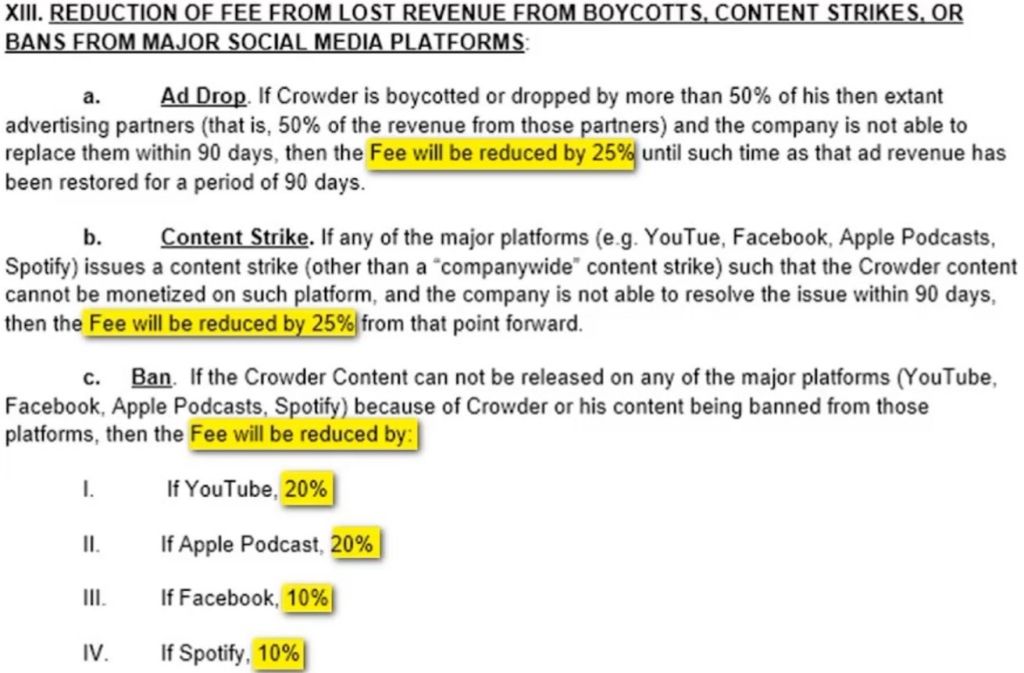 Crowder also stresses that the Daily Wire promised to dock him by hundreds of thousands of dollars if he fails to make his daily, monthly, or yearly programming quota. He also doesn't care for their heavy reliance upon advertising:
By the way, all these contracts came with three, four, five ad reads per show, which would fundamentally change what this show is. Gotta get those dollar dollar bills.
Several things struck me as strange about Crowder's presentation. One is his overwrought delivery. While watching him I began to wonder if he has training as an actor. His voice trembles. He fidgets. He gazes into the distance. He takes long, dramatic pauses. He has the look of a beaten puppy as he plaintively suggests that this commentating thing he's been doing for the past decade (with ungodly amounts of success) just might not be for him anymore. Threatening to quit something you're really good at in such a dramatic fashion can be a form of emotional manipulation, and not the defeatism it appears to be. Is Crowder pulling the strings that are so obviously attached to the Daily Wire's offer, or is he pulling our heartstrings? Or maybe his purse strings?
The second bit of weirdness was that he didn't mention the $50 million up front. He didn't disclose this crucial piece of information until after Boreing responded to Crowder by going over their offer line by line. It's quite a big elephant in the room that Crowder was hoping we wouldn't notice. He responded to Boreing in a second video, explaining that it wasn't about the money; it was about the principle of the thing:
I looked over the offers, and I saw the clause come out — and I don't just mean unreasonable demands for control, but what I would argue are immoral terms that actually punish conservative content creators on behalf of Big Tech. And that's something I just couldn't unsee. . . .It's not the exception. It's the rule.
Such an arrangement would force conservative voices to self-censor in the face of Leftist oppression, which makes the Daily Wire hardly different from a Leftist oppressor itself. And what about all the other, younger content producers who could get sucked into such a self-defeating relationship? How could the Daily Wire torpedo conservatism for the sake of business? These were all good points.
Of course, the media ignored context and went to the wall for Shapiro and Daily Wire, gleefully making hay over how "far right blowhard" Steven Crowder had referred to a $50 million offer as a slave contract. Couldn't Crowder have seen this predictable cavalcade coming? All he had to do was mention the money up front. But he didn't.
The next weird thing about Crowder's video was his appeal to the unnamed Shapiro to reform:
I genuinely hope that those I'm addressing, and you know who you are, have a change of heart. It's never too late to do the right thing. Guys, this is a genuine plea. We can all do better. We can all do better. It doesn't have to be this way. And please don't make me have to provide receipts.
How can this possibly be taken at face value? This is the sort of thing you say in private because you are genuinely hoping to help reform a person without damaging their reputation or hurting their feelings. Once you make it public, however, you're effectively chucking reputation and feelings out the window. The time for changes of heart have long since passed, and Crowder seems to think it hasn't. Can anyone imagine Ben Shapiro responding to this with an apology video? Picture him saying the following:
Yes, Steven, I am in bed with Big Tech. Thank you for so bravely pointing this out. I am not worthy to be called a conservative. Please forgive me. I promise to change my ways, and I wholeheartedly agree with you. Moving forward, let's all do better together!
It's funny to imagine it.
Also, did anyone notice the unsubtle threat at the end? "Please don't make me have to provide receipts." How can anyone take this at face value? Did Crowder secretly record video of Shapiro pressing his milky-white fingers together and admitting through cackling laughter that he bats cleanup for team ZOG? Not quite. But in his second video, he revealed secret audio of a phone conversation he had had with Boreing — his supposed friend — in which the latter claimed that young content producers, under his contract, would be "wage slaves."
This, I guess, is what Crowder refers to as a "receipt" — and as receipts go, it's a big nothing burger, because Boreing was describing how the Daily Wire's relationship with these content creators would be temporary and mutually beneficial. Yes, the Daily Wire keeps perpetual ownership of whatever content they produce (in their own studio, with their own equipment), but while earning a wage, the creator can build up his brand and then move on to bigger and better things. Reasonable, right?
You can watch Boreing's sobering hour-long video and judge for yourselves how reasonable the Daily Wire was being. He says repeatedly that what Crowder referred to as a contract was really a negotiable offer. He also claims that he was fully prepared to scale back some of the so-called "exploitation." Regardless, it wouldn't be fair to shoulder all the financial burden if Crowder were to get banned on a certain platform and lose all that ad revenue.
Then, at 45:27 in the video, Boreing drops a truth bomb:
Steven implied that he not only didn't like this $12.5 million a year number that I offered him, but that he thought it should be closer to $30 million a year. That's $120 million over four years, just for Steven's show. I would still have to spend those tens of millions of dollars every year that I told you about on things like marketing and infrastructure and technology to support the show, the part that Steven's never done. As soon as he said that, I knew we would never get to a deal.
$30 million per year, huh? Why didn't Crowder mention this in his initial video? And why didn't he mention just how underhanded and unethical it is to secretly record phone conversations with supposed friends? Is this his way of "doing better?"
The last bit of bizarreness involves what I call conflicting motivation. If Crowder had known for a long time that Shapiro was "verifiably in bed" with Big Tech, why did he, the conservative paladin he claims to be, go a-courtin' with him to begin with? Had he hoped to make it a spectacular ménage à trois and then lashed out like a jealous lover after being spurned? Or was this all part of a master plan to take down "Big Con" by catching Shapiro in flagrante delicto with the enemy? For all we know, Crowder's interest could have been piqued by a mixture of vanity and idle curiosity — but where's the fun in that, right?
In any case, Crowder's timeline unravels his story a bit. Only by not knowing in advance whom Shapiro was sleeping with could Crowder then claim surprise and disgust when catching them in the act. Only then could Crowder make a believable plea for Shapiro and his ilk to change their ways.
But if he knew in advance what was happening in Ben Shapiro's bedroom (which is the first thing he says in the first video), then what the hell was he doing even knocking on the door? There's a reason why David Duke is not going to hit up FOX News for a job any time soon. And it's a pretty good reason. If someone is in bed with the enemy, then they are probably the enemy, too.
There are several ways to look at all this which I believe are noteworthy.
The first, of course, is Crowder's own. It is possible that he is being honest about everything. But even if he's dabbling in political theater, he still has a valid point. Any contract which penalizes conservative content creators when they get canceled or censored by Leftist platforms is self-defeating for those of us who really want to defeat the Left. Isn't defeating the Left one of the main reasons why we're all doing this to begin with? The counter-argument, which Boreing lays out tangentially in his video, is that making money according to the Daily Wire's business model will allow conservative institutions to grow over time until that point when they won't need Leftist platforms at all.
But Crowder offers the perfect riposte: Such tacit cooperation with the enemy opens the door for the enemy himself. Who's to tell if the person docking a content creator a half-million bucks for getting banned on Facebook really wishes to beat Facebook in ten years, or is simply acting on Facebook's behalf to soften the Right?
For the clearest take on this perspective, go to two videos from Styxhexenhammer666. He convincingly lays out all of Crowder's arguments, but in less time and with less drama.
The second is the Daily Wire's viewpoint, which is argued quite ably by Jeremy Boreing. It's an hour long, but fairly painless. Boreing maintains that for a talent as major as Crowder, there would be no way to earn any money at all without stipulations protecting them from whatever deplatforming or cancellation Crowder might suffer in their employ. Given their business model, who can blame them? It's easy to point fingers when you're not running a major media business. Those who do understand the folly of throwing good money after bad.
Still, despite a college try at lip service, Boreing doesn't come across like the passionate culture warrior that Crowder is. It seems that beating the Left isn't really a top priority for him or the Daily Wire. Yes, he promotes good business practices. His willingness to negotiate in good faith and his criticisms of Crowder's erratic behavior are also well-taken. But if the mission is as important as he says it is, then shouldn't business suffer when it jeopardizes the mission? Or is it really only about the money?
This dichotomy is exemplified best by Shapiro's defense of Boreing, which Shapiro tweeted last week:
Once more, if you actually care about the supposedly horrific non-binding first offer term sheet offering $50M/4 years, Jeremy reads it line-by-line here.

It is quite simple. If your show loses money, you lose money. This is how capitalism works. https://t.co/DlwJqwKMPf

— Ben Shapiro (@benshapiro) January 20, 2023
Yes, crowing about capitalism under such circumstances is a bad look. I'm surprised Shapiro had said that part out loud. If the Daily Wire were manufacturing widgets or distributing canned goods or selling concert tickets, then fine; units are units, and everyone needs to make a buck. But when you're selling content that's supposed to push a conservative agenda and roll back the advances of an increasingly violent and oppressive Left, then trotting out "capitalism" as an excuse for pulling your punches just makes you look like a grifter.
Knowing what we know about Ben Shapiro, it seems that the two things he cares most about in his professional life are money and Israel. And I'm sure these two are way ahead of whatever comes in third.
Next, we have Andrew Anglin, who pours the Jewish Question onto the proceedings like he's putting out a campfire with a gallon of gasoline. No one does this sort of thing better, so head over to Unz or the Stormer for your daily dose of erudite Jew-hate with a side of funny.
But is he wrong? Well, when you zoom out and look at Jew/gentile business relations across centuries and continents, you can see that he is perfectly within his rights to recognize patterns. The stereotypes about Jews and money didn't spring out of thin air. Jewish history is rife with usury, profiteering, nepotism, vulture capitalism, organized crime, and all sorts of other exploitive relationships with the goyim. So if he wants to frame this as gentile boy scout Crowder going to war against the happy hooked-nosed merchants of Big Con, that's mighty white of him:
This is just what the Jews do: They use nepotism to take over industries and then they dominate the industries through money and dirty dealings. Crowder was shocked by the contracts because he's not Jewish. Non-Jews can't process the way Jews do business, which is why they virtually always beat us at business.
To be clear: Crowder doesn't say "Jews." But come on.
But Anglin's analysis goes astray a bit when you zoom in on this issue in particular. Those annoying facts have a way of blunting Occam's razor a bit, don't they? If Steven Crowder "can't process the way Jews do business" on account of his being an honorable gentile, then how could he "process" Pearl Harboring his one-time friends, making veiled threats against them, and making secret recordings of their phone conversations? Is that how gentiles do business?
For the most cynical and sarcastic take, we must go to Mark Dice. For him, this whole dust-up has a very simple explanation: Crowder wanted $30 million per year. Boreing wouldn't budge past $12.5 million. This offended the greedy and egomaniacal Crowder, who then tried to destroy the Daily Wire out of revenge. That's it. It's all about money. Crowder, Boreing, Shapiro, all of them are in bed with Big Tech. It's just that Crowder threw a hissy fit over not having a big enough pillow:
Crowder's painting this like he walked away from $15 million because he didn't want to be beholden to Big Tech, and it's not about money at all. What really happened was he made a counter offer to their $12.5 million a year of $30 million a year, and then the Daily Wire just figured that there's no way that they were going to come to an agreement. And so they told him that it would probably be best if they just continued to do their own thing. So it seems like Crowder wanted to sell out to Big Tech for more money, but then after the Daily Wire decided that the two weren't a good fit and they couldn't afford his ridiculous amount of money, and then ended the negotiations, rebuffing him, and basically said you'd be better to do your own thing, then he started getting really bitter.
At one point, Dice even avers that Crowder "has no revenue coming in, and he's desperate." Ouch.
Go to Dice's two videos on Crowder for a little more nuance — but not a whole lot more. Despite giving Crowder props for his talent and his valid criticisms of the Daily Wire's business model, Dice lays into Crowder worse than Shapiro did. It seems that the fire which burned the Daily Wire's bridge, burned Dice's as well. "You can lose my number, bro," he says.
I will note one thing that undermines Dice's assessment: Although both he and Shapiro claim that Crowder had asked for $30 million per year, in his video Boreing merely claims that Crowder had "implied" that he was worth that $30 million. Not exactly the same thing, is it? Of course, I wasn't there, so maybe Crowder did indeed throw haymakers with his obnoxious $30 million take-it-or-leave-it deal. On the other hand, maybe he was speaking in hypotheticals. Maybe he was making some secondary point or just cracking a joke. Maybe he deliberately proposed an unreasonable amount of money to demonstrate how paltry Boreing's initial offer was once he factored in how Crowder's fate would be controlled by Leftist Big Tech, from whom he could expect no mercy.
After his unprovoked attack on the Daily Wire, can anyone blame Shapiro for ignoring the latter possibilities and running with the former — even if the latter is true?
That's the thing about political drama on the Internet: You never know whom to believe.
The only good thing about this whole bruhaha is that the entertainment is not over yet. By the time most of you read this, Crowder will have appeared on Tim Pool to dump on Big Con some more. Who would not want to tune in for that?
And now for the most important take of all: mine.
We all know that Ben Shapiro isn't the asset to the Right he pretends to be. Despite sound positions on a lot of conservative issues, he outed himself as something of a charlatan during the Trump campaign in 2015. He seems perfectly happy with a Right that doesn't talk about race realism, white identity, the Jewish Question, and the Great Replacement, and that doesn't say anything bad about America's greatest ally. A guy like that is either too stupid to understand that such a denuded Right will never be able to resist the Left, or he's controlled opposition who deliberately steers American conservatism in directions where it will do the least good.
Now, in two brief videos, Steven Crowder has exposed all this. Regardless of his motives (be they noble or ignoble) and his methods (which were pretty ignoble), he now has people talking about how the Daily Wire effectively take sides with the Left against the Right in their very contracts. Crowder is absolutely correct when he tells Jeremy Boreing that the Daily Wire should change its business model. They should move away from advertisers and closer to a pay-per-view model, like HBO, in which customers pay more but get exactly what they're paying for. The Daily Wire's advertiser model puts money before the mission, and serves conservatives weak tea with skim milk when what they really want are double shots of espresso they can pound before rolling up their sleeves and making America great again — in the streets, if necessary.
The problem is that Steven Crowder is too talented to realize that his pay-per-view model can only work if you are as talented as he is — and no one is as talented as he is. When it comes to comedy, charm, wit, chutzpah, and pure entertainment, there is no crowd of competitors around Crowder. He stands alone. The only political commentator who has ever even approached Crowder's level was Rush Limbaugh. Apologies to all the boomers and Gen-Xers out there who enjoyed El Rushbo in his prime, but Crowder is better.
But as with most gifted people, he seems to assume that others have his level of talent. They don't. And if others tried to do things his way — that is, with subscribers and no advertising — they would likely fail. At 44:46 in his conversation with Boreing, he boasts that he could bring in 350,000 subscribers on day one with no marketing. Boreing recoils as he reenacts his shock and says something telling: "I hope that's true. But I can't take that risk."
That's because he's a normal person. He's not Steven Crowder.
*  *  *
Counter-Currents has extended special privileges to those who donate $120 or more per year.
First, donor comments will appear immediately instead of waiting in a moderation queue. (People who abuse this privilege will lose it.)
Second, donors will have immediate access to all Counter-Currents posts. Non-donors will find that one post a day, five posts a week will be behind a "Paywall" and will be available to the general public after 30 days.
Third, Paywall members have the ability to edit their comments. 
Fourth, Paywall members can "commission" a yearly article from Counter-Currents. Just send a question that you'd like to have discussed to

[email protected]

. (Obviously, the topics must be suitable to Counter-Currents and its broader project, as well as the interests and expertise of our writers.)
To get full access to all content behind the paywall, sign up here:
Paywall Gift Subscriptions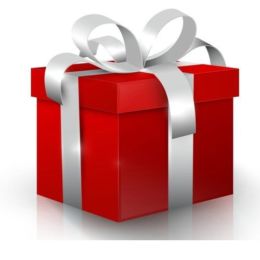 If you are already behind the paywall and want to share the benefits, Counter-Currents also offers paywall gift subscriptions. We need just five things from you:
your payment
the recipient's name
the recipient's email address
your name
your email address
To register, just fill out this form and we will walk you through the payment and registration process. There are a number of different payment options.
Enjoyed this article?
Be the first to leave a tip in the jar!