Alternativa di Destra:
The Story of the Italian Right's Music
Ondrej Mann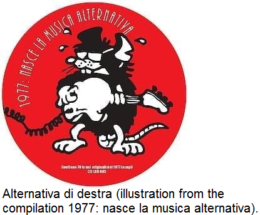 3,788 words
Man can work musically with his zeitgeist, analyzing it and then either accepting it as one's own or radically rejecting it. Here I would like to deal with the latter in a certain limited territory where this phenomenon has occurred to a quite large extent: the Right-wing music scene in Italy.
Since the end of the Second World War, we can observe in Italy an effort to create a music that in some way develops the aesthetics of the Salò Republic (aka the Italian Social Republic), but at the same time does not appear excessively nostalgic and also offers ideas concerning Italy's future.
Italian neo-fascism was under constant siege in the political sphere after the Second World War, and was feared by the other political parties. Franco G. Freda writes well about this in his book The Disintegration of the System and Adriano Romualdi in A Culture for Europe. In Italy in the second half of the 1960s, the first musical attempts were made to rework the legacy of Italian Fascism from a new perspective. These attempts were linked to the singer and composer Leo Valeriano. Leo Valeriano composed the first "protest songs" against the Berlin Wall, the 1956 revolt in Budapest against the Soviets, and the decadent nature of the West in general. Similar works came to an end when the year 1968 arrived, however, when the momentum moved to the spirit of Italy's revolutionary Left. The birth of a real anti-Communist political music scene therefore had to wait until the second half of the 1970s, when it built on a series of successes in the revolutionary struggle.[1]
In the second half of the 1970s, under the influence of the "New Right," the MSI (Movimento Sociale Italiano) faction began to organize the so-called "Campo Hobbit," an annual meeting in the countryside at which young militants discussed politics and the possibilities of metapolitics, and there were also music performances, the graphic presentation of the movement, books, and so on. Here the musical style of alternativa di destra (Right-wing alternative) was born. During the period when Campo Hobbit was held, there was literally an explosion in "alternative music." It was the protest music of a whole generation.
The songs' style was very simple: almost exclusively acoustic guitars and singing. Its themes revolved around the daily political struggle of the militants, memories of fallen fighters, anti-Communism, and sometimes also polemics or accusations against the regime and ironic comments on state repression. The first bands of this genre, such as Gruppo Padovano di Protesta Nazionale and individual singers such as Gabriele Marconi, played ballads, and later, the first rock band, Janus, appeared.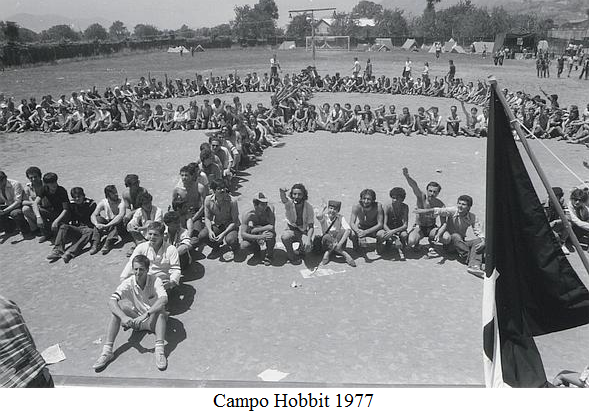 Janus was founded in Rome in 1976. This ensemble's music inspired many upcoming bands and influenced a whole musical current of the time. To illustrate, let's mention as an example their cover of the song "Manifestazione non autorizzata" by the famous Italian band Intolleranza. Janus accomplished a lot and managed to create a modern music scene in an environment that was known for its very negative attitude towards modern music. But thanks to its undeniable musical qualities, Janus has stood its ground in its endeavors and offered the general public a range of styles characterized by a unique sound: 1970s-style hard rock, melodic ballad music, classical rock, and Celtic music. The band recorded several singles during its tenure, but its masterpiece is considered to be the LP Al Maestrale. After that Janus got into trouble, which led to the band's breakup. Their song "Viva l'Europe delle Aquile" appeared a few years later on a compilation released by Rupe Tarpea.
The movement was very strong in the late 1970s, and so was the music scene at the time. Many concerts were held and its songs were broadcast on the airwaves via "alternative" radio stations. The most famous band of the time was certainly the Compagnia dell'Anello (Fellowship of the Ring). The band, as the name suggests, was inspired by Tolkien's books. Their first concerts were organized by the members in their own homes. The band itself consisted of two guitarists who also sang. These managed to bring in other musicians, and later formed a successful music group along with professional musicians.
Compagnia dell'Anello was asked to play all over Italy at MSI events. Some of the musicians later left and were replaced by others. They often appeared at various nationalist meetings and played much more complex music than that which they debuted with. Their two LPs, Terra di Thule and Rotta per Bisanzio, were released on CD in 2004, and both are still highly regarded in Italian nationalist circles today.
Compagnia dell'anello- Sulla strada
Compagnia dell'Anello remained forever faithful to its musical expression, which the band found in the style of the old medieval ballads, as can be heard in "Costume del Cervo Bianco." The song deals with the symbolic representation of the sacred relationship between man and nature as shown in a deer hunt. The song was inspired by an old Scottish ballad. Compagnia dell'Anello also achieved a magical atmosphere in the song "Terra di Thule," which deals with the cycle of a man's life from his birth through his childhood years to his enlistment as a warrior and his death in Greenland.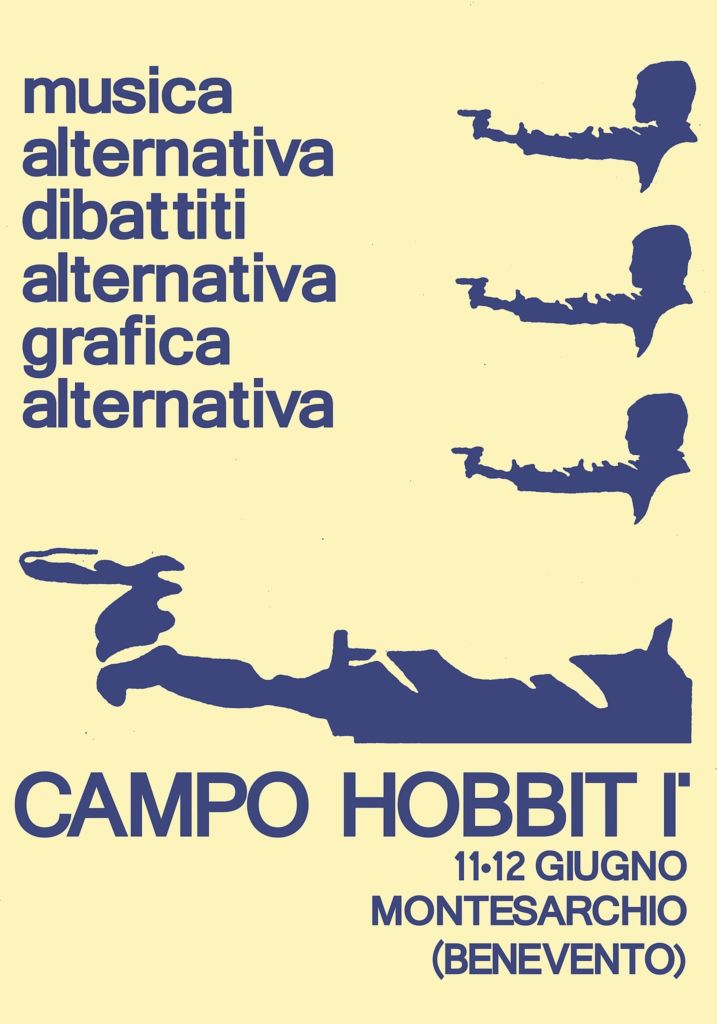 Following the example of Compagnia dell'Anello, another important band of the time, Amici del Vento (Friends of the Wind), was formed. Their origins can be traced to 1975. The band was officially formed in Milan in the second half of the 1970s, and in 2003 they reappeared on the scene with a series of new concerts and a new CD.
Amici del Vento also deal with epic themes in their songs, focusing on the harsh reality of militancy in the city of Milan in the late 1970s. The city was then under the thumb of various Communist gangs. In a well-known solo song dedicated to Sergio Ramelli, a militant of the Fronte della Gioventù, they sing about his death at the hands of the Red assassins who beat him with an iron bar as he was returning home in April 1975. Among other things, the piece describes bitterness towards the state establishment since it guaranteed impunity for Communist thugs.
The music scene also included various independent songwriters, most notably Massimo Morsello. This composer wrote the song "Nostri Canti Assassini," which became the real anthem of all the young national revolutionaries. He said of his beginnings:
I have written and played songs since I was 18, 20 years ago. In those days there were concerts with a few thousand comrades attending. Nevertheless, recordings were very basic and unprofessional. I must admit "Punto di non Ritorno" is the only professional recording I have ever done, and the fact that it has sold 7,000 copies is confirmation of the importance of concentrating on the technical quality as well.[2]
Scusate Ma Non Posso Venire – Massimo Morsello 21/09/1996
The MSI has always been skeptical of it young militants' modern music, however, and so has not supported efforts in this direction. Concert announcements, reviews, and interviews with bands did not appear in its press in the 1970s and only appeared in newspapers such as La Voce della Fogna, Marco Tarchi's newspaper, or Pino Rauti's Linea.
There was major state repression in the early 1980s, which led to the arrest and imprisonment of several hundred activists. 1980 was therefore a very difficult year for the movement. Its most difficult moment came after the attack on the Bologna train station. Dozens of people were killed in a bomb explosion there, and it is now known that the bomb was planted by "someone" with the aim of destroying the growing neo-fascist movement. Afterwards there were mass accusations, investigations, and arrests of militants. The whole movement suffered great losses, and only after years of slow and hard work was it able to function again.
Thus, until the second half of the 1980s, there was no relevant music being made in the style of alternativa di destra. There were only a few songwriters armed with acoustic guitars during this period who performed at very sparse gatherings, mostly playing older works by Massimino Morsello and Compagnia dell'Anello.
In these years the surviving music scene became radicalized and hardened in its expression, so at first glance it might have seemed that alternative di destra had was swallowed up by a completely new, more predatory phenomenon called skinhead rock in the early 1980s. A typical example of this is the well-known band Plastic Surgery from Verona. Plastic Surgery became famous for their song "Rivolta," which is still relevant today. It was used as an intro by the Roman neo-fascist rap group Drittarcore in their video, Difendi Roma.
Drittarcore – Difendi Roma
Italian non-conformist music has developed in two separate currents since the early 1980s. At that time, the more aggressive current of skinhead rock was predominant and the smaller current of alternative di destra only survived thanks to a few songwriters. This changed in the second half of the '80s, when old bands in this current returned and new ones were formed. The two currents were roughly balanced at this time, but operated independently. Their fusion didn't come about until around 2000, as I will discuss later. Nowadays there is a certain resurrection of alternativa di destra's musical style, thanks mainly to the CasaPound movement, and now it seems that Italy is experiencing a new dawn of this style of music.
Gabriele Marconi, "Ricordi"
I remember the great plains
Of a chin bleached white
By the wind from the north
People gazing in amazement
On the iron sword
And my great steed
When Europe was born.
My bones hang in the center of Prague
My blood runs through Paris
My skin is now a drum
Calling for the march
From Derry to Belfast.
The skinhead movement was organized in 1986 under the banner of the Veneto Fronte Skinheads (VFS), an organization that focused mainly on music and was able to inspire a significant number of young militants. VFS represented a radical departure from the underground Italian music scene of the time, as it had been the Left's domain until then. From then, the Italian militant music scene revolved around three main institutions: fanzines, recording studios, and concerts.
VFS carried out many forms of activities. They published fanzines such as All Out Attack, as well as the more recent Groaaar, and organized Rock Against Communism (RAC) concerts and mass gatherings such as Ritorno A Camelot (Return to Camelot) in 1991. Ritorno A Camelot entered the history of the Italian far Right as hundreds of European activists attended political debates, practical lessons, speeches, and finally a concert by the Italian band Peggior Amico and the English Skrewdriver. Ian Stuart even dedicated a song to the event: "Return to Camelot."[3]
While Peggior Amico gave impetus to the creation of new bands, several militants from the Fronte della Gioventù founded a new metapolitical project called Dart (Divisione artistica) in Rome in 1987. Dart soon left the MSI's youth organization and decided to work independently, and then established collaborations with several smaller organisations. One of Dart's most important activities was the publication of the magazine Opera al Nero, which gained great popularity mainly due to its original look, comic strips, and the breadth of its topics. Dart's members also founded the skinhead band Intolleranza, and with its help breathed new life into the Roman music scene. Events between 1987 and 1989 were very rich for the Dart project, including concerts, new contacts, trips, and demonstrations.
Intolleranza was very active in touring, but not so active in recording their albums. Only two full-length albums, two split albums, and one EP were produced. In September 1987 Dart participated in the Raduno della Contea (The Shire Assembly), a musical event held outdoors annually that was organized by the Fronte della Gioventù in Rome. The band Verde Bianco Rosso likewise played in front of hundreds of people.
Jak Wiatr – Come Il Vento (Intolleranza)
In January 1989, Dart organization held a concert entitled Pensando ad un amico (Think of a Friend) that was dedicated to the murder of militant Alberto Giaquinto by a police officer during street clashes. The January concert was a huge success: Intolleranza played a special set with two singers for the occasion, interspersing rock songs with melodic ballads, and they also projected thematic images for each song. About 300 militants attended the concert.
In May 1989, Dart co-organized a new initiative with a big reach, the Rock Against Drugs concert. It was announced by the organizer as an apolitical concert intended to introduce young people to the issue of drugs. The well-known Radio Rock of Rome also participated in promoting the event. The concert was an attempt to reach not only militants and skinheads but also others who were non-political. After a week of Leftist threats against Radio Rock, the radio station decided to continue promoting the event. The concert was a success: several hundred people turned up, half of whom were punks, ordinary people, hardcore fans, and thrash metal fans; the other half were skinheads and nationalists. Two heavy metal bands earned a very bad reputation among the Reds for themselves that night due to their participation, and one was even banned from playing in Rome. Eventually, one of them had to re-form under a different name.
Due to growing problems, both Dart and Intolleranza ended their activities in the summer of 1989. But in the following years the Italian scene continued to follow Dart's legacy, and thanks to VFS's constant activity, the Italian music scene found new energy. At the beginning of the 1990s the scene was quite favorable for the emergence of skinhead bands: the Gesta Bellica was formed in Verona in 1992, Peggior Amico became internationally known, and bands like ADL 122, Corona Ferrea, and many others formed in Milan. In 1992 a big concert took place near Rome featuring Skullhead, Peggior Amico, and others.
In the meantime, a new generation of rock bands who had not begun as skinheads emerged in Rome, such as Sopra Le Rovine, Frammeto 56, and especially Hyperborea, which recorded a famous cassette of covers of classic songs by several bands in the alternativa di destra style. The cassette was released by Rupe Tarpea Produzioni in 1993 and became so hugely popular that Hyperborea was able to play all over Italy, and also went to Spain twice.
The entire Roman scene is recorded on a 1993 Radio Pirata tape that is dedicated to Ian Stuart. Here we can find bands such as Nuova Alba, from which Londinium SPQR emerged, and Scogliere Di Marmo, from which the avant-gardists Sotto Fascia Semplice came. In this period another Roman band, 270 Bis, also started to play, being quite atypical in that it alternated between rock, pop, and ska.
The year 1993 can also be considered the time when the style of identitarian rock we know today emerged. This style was born on the Rupe Tarpea label and its wave of Roman bands. The journey which had begun with Janus in the late seventies and continued by Intolleranza found its completion in bands like Hyperborea, 270 Bis, and Londinium SPQR. The hallmark of "identitarian" rock or "identity music" is not exclusive to the style of music, but rather that this type of music speaks to the audience through the movement's ideas. These ideas are generally positive and accessible by people outside the nationalist movement.
In 1994, Rupe Tarpea released a vinyl EP entitled Incise nella Pietra which included four tracks featuring the main alternativa di destra bands: Janus, Hyperborea (with a Massimo Morsello cover), Intolleranza, and Sopra le Rovine. Its cover was designed using a collage of the national movement's leaflets and posters. The album was intended as a document of the time. Its cover offered graphic presentations of what the movement had already done and outlined its future goals.
Meanwhile, in Milan a major band called ADL 122 (Anti Decreto Legge 122) was formed. Its name came from an unjust law passed in April 1993 that ordered dozens of Milanese skinheads to remain in their homes from 9 PM to 8 AM — just like the mafia bosses. Milan bands made superhuman efforts to keep the local scene alive by playing afternoon gigs.
In 1993, Peggior Amico (The Worst Friend), the leading band among Italian skinheads, released its second album — and its first nationalist CD — under its own label, Tuono Records. In 1994, ADL 122 released its first album through Tuono Records: Fuorilegge (Outlaw). This was followed by a second album in 1996: Angelo della Morte (Angel of Death).
In 1995, RTP released a CD by the now-defunct band Intoleranza, consisting of 54 minutes of militant rock. It became one of the most successful CDs, followed by the compilation Fuori dal ghetto in the same year, released by Tuono Records, featuring the best Italian skinhead bands. New bands were springing up like mushrooms after the rain of the time. Also worth mentioning are Terre di Mezzo, with their Celtic-influenced rock; the famous Antica Tradizione; Londinium SPQR; Sopra le Rovine; Malabestia (from the former Framento 56); and many others.
In 1996, a CD by the independent singer Massimo Morsello was released: Punto di non Ritorno (Point of No Return). Excellent production values and a good advertising campaign managed to sell many copies quickly. The fact that the CD was recorded by an exiled militant contributed to the fact that it remained completely unreported by the mainstream media. Nevertheless, his songs such as "Leon Degrelle," "Abortion," and "Nostri Canti Assassini" spoke for themselves. Most importantly, the CD reached a wide audience outside of the narrowly-focused subculture. From Massimo Morsello, the public could also still enjoy the CD La Direzione del Vento, released in 1998.
There is a funny story connected to this CD. Massimo Morsello took advantage of the fact that he was not well-known on the Left and published a half-page article about his album in the Communist newspaper Il Manifesto, declaring the album to be revolutionary and pointing out his friendly attitude towards the Palestinians. A few days later, the newspaper found out through letters from its readers who Morsello was and that he had been mocking them just to publish an advertisement for his CD. The newspaper publicly apologized to its readers and tried to get Morsello to return the money he had received for his article – -but he just laughed at them.
In a new lineup, La Compagnia Dell'Anello and Amici Del Vento gave a spectacular concert in Monza, Lombardy on December 8, 1997. The concert summed up 20 years of their activity, and was well documented on a double CD as well as a video recording.
At the turn of 1996-97, the Italian nationalist music scene was at its peak. We could find a really strong skinhead movement in bands like Peggior Amico, Gesta Bellica, ADL 122, andCorona Ferrea; the reemerging alternativa di destra scene with older songwriters and bands like Massimo Morsello, Compagnia dell'Anello, Amici del Vento, and Leo Valeriano; and a quite new scene of identitarian, or identity, rock was born with bands like Hobbit from Perugia, Attacco Frontale from Florence, Malabestia, Hyperborea, the experimental Sotto Fascia Semplice, Tempo Scaduto, and Londinum SPQR. Londinum SPQR has managed to attract different kinds of audiences to its concerts, so it is difficult to classify it within only one scene. Terrre di Mezzo, on the other hand, managed to combine classic rock with elements of folk music.
In 1997, the Lorien association and label was founded and functioned as a very extensive archive of older nationalist music that was already very difficult to find, managing to release some rarities that had been thought lost for 20 years. In 1999, the seminal album Viaggio al Termine della Notte by the band Hobbit was released, and by 2000 a key trilogy was recorded by SFS (Sotto Fascia Semplice), Gambadilegno, Perseo, and Crociato. Their music opened up new and progressive approaches in nationalist music, both in terms of musical techniques and lyrics. In this way, SFS inspired the lyrics and music of Incantesimi d'Amore by the slightly more famous 270 Bis.
Sottofasciasemplice – Squadristi
Also in 1997 the new phenomenon of Zetazeroalfa was born, and by the year 2000 it had fulfilled its potential. Its founder Gianluca Iannone said of the band's beginnings that
Zetazeroalfa was originally created as a joke. During a warm summer night in our city of Rome . . . between beers and laughter, we imagined what would happen if we imprinted our vision of life in music . . .and then we started to play.
The band demonstrated tremendous charisma and a strong will to "do things differently." It is now the official band of the CasaPound Italia initiative, and a whole line of activities revolve around it — briefly, the student movement Blocco Studentesco, the athletic group La Muvra, the disaster management group La Salamandra, and so on.
ZETAZEROALFA – Disperato Amore (Official Fan Video Zentropa Germany)
But something went wrong in the late 1990s, and many Milanese bands like ADL 122, Corona Ferrea, and Peggior Amico broke up. This also impacted Milan's skinhead movement. In Italy as a whole the skinhead movement was still functioning in 2000, mainly thanks to older, persistent bands such as Gesta Bellica, but also because of newcomers like Armco from Vicenza at the time, featuring members of the former Peggior Amico.
The nationalist movement developed rapidly in Veneto and Lombardy after that, but only to a limited extent in central and southern Italy, with the exception of Dente Di Lupo in Rome and Block 11 in Catania. While Londinium SPQR and Hyperborea seemed to have exhausted themselves musically and hardly played any gigs by 2000, a new wave of bands such as Imperium, Aurora and Zetazeroalfa from Rome, Delenda Carthago from Perugia, DDT from Milan, and 270 BIS showed great development.
For a longer time after 2000, a lot of new bands emerged: Innato Senso Di Allergia (InSeDiA) in Rome, playing ska punk and, in the early days, cutting street punk, and Armorea from Rovigo, but also many skinhead bands like Mannaz from Padua, Ultima Frontiera from Pordenone, Injustice Side, Malnatt, Porco 69 from Lombardy, and Sumbu Brothers from Verona, who were famous for their unusual look. Later, there was also Bronson, the Italian hardcore tiger punk band from Rome that has been performing since 2012.
Bronson – Quelli come noi (Official Video)
On the Internet one can map various events, and not only musical initiatives, emerging from Italian Right-wing music. There are many articles and sites dealing with its history. There are also several web radio projects, as for example MusicAzione, which is run by people related to the Aurora project.
Thus, the situation for Italian Right-wing music is quite good at the moment with more than 30 bands actively playing and holding frequent and ever-larger concerts, along with CasaPound Italia organizing music events, lectures, political and commemorative events, and otherwise cultivating the scene. There are also music publishers, restaurants, stylish shops, individual zine publishers, book publishers, and music videos being filmed. In short, there's always something going on.
*  *  *
Don't forget to sign up for the weekly email Counter-Currents Newsletter for exclusive content, offers, and news.
*  *  *
Counter-Currents has extended special privileges to those who donate $120 or more per year.
First, donor comments will appear immediately instead of waiting in a moderation queue. (People who abuse this privilege will lose it.)
Second, donors will have immediate access to all Counter-Currents posts. Non-donors will find that one post a day, five posts a week will be behind a "Paywall" and will be available to the general public after 30 days.
Third, Paywall members have the ability to edit their comments. 
Fourth, Paywall members can "commission" a yearly article from Counter-Currents. Just send a question that you'd like to have discussed to

[email protected]

. (Obviously, the topics must be suitable to Counter-Currents and its broader project, as well as the interests and expertise of our writers.)
To get full access to all content behind the paywall, sign up here:
Paywall Gift Subscriptions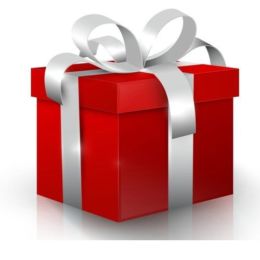 If you are already behind the paywall and want to share the benefits, Counter-Currents also offers paywall gift subscriptions. We need just five things from you:
your payment
the recipient's name
the recipient's email address
your name
your email address
To register, just fill out this form and we will walk you through the payment and registration process. There are a number of different payment options.
Notes
[1] The Years of Lead (Italian: Anni di piombo).
[2] Interview by Massimo Morsello for the underground magazine Final Conflict in 1996.
[3] Robert Forbes & Eddie Stampton, The White Nationalist Skinhead Movement: UK & USA, 1979-1993 (Port Townsend, Wash: Feral House, 2015), p. 433.
Enjoyed this article?
Be the first to leave a tip in the jar!