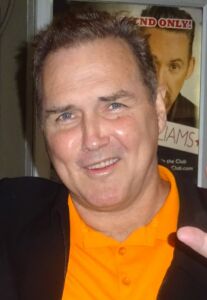 1,433 words
Norm Macdonald knew exactly what a modern comic wasn't supposed to say. He also knew why, in these repressive times, the only remaining funny material is what you're not supposed to say. And no one had quite the same skill in saying the ghastliest things with such an innocent twinkle in their eye.
Macdonald, who died Tuesday after nine years of very privately dealing with acute leukemia, had the finest comic mind ever spat out by Saturday Night Live. Even though SNL has been on the air for 46 years, that's not the compliment it sounds like, seeing as the first season was the only one I'd consider truly great, and Norm didn't join the show until nearly 20 years later. But the second-greatest comic mind SNL ever showcased was that of Michael "Mr. Mike" O'Donoghue, who was the show's chief writer for its first season. Just like Mr. Mike, Norm Macdonald was the only other comedian I can think of who could make death and Hitler jokes absolutely hilarious.
I'm paraphrasing from memory, but when Michael O'Donoghue wrote for National Lampoon, he did a column called "Children's Letters to the Gestapo." One of the letters was something along the lines of, "Dear Mr. Himmler: How did you Nazis fit those Jews in your ovens? My parents can hardly fit a pot roast in ours."
On his podcast Norm Macdonald Live — which ran for three seasons starting in 2013, meaning that Norm knew he was dying the entire time — he frequently accused his dunderheaded Jewish sidekick Adam Eget of being a Holocaust denier simply to force Eget into desperately explaining to celebrity guests why this wasn't true. During one bit when Norm pretended not to know the origins of the number "420" as it related to marijuana culture, he looked up April 20th and read a biographical entry about Hitler, pretending not to know who he was the entire time:
4/20 was the birthday of Austrian-born German politician and the leader of the National Socialist Party, a fella went by the name of Adolf Hitler. . . . This guy — there's a picture of him — Adolf Hitler. Very compelling kind of a figure. Odd-lookin' duck. There's somethin' about his eyes. Hypnotic. His eyes are almost entirely black. He was a decorated veteran of World War I and joined the Workers' – Hold the fort! He hated Jews. . . . I'm sick of these kinds of characters. I think we should kill Hitler. Me and you, go, suicide — kill him.
"He died 50 years ago, probably," Eget responded cluelessly.
"Did he?" Norm asked matter-of-factly. "I didn't even know he was sick."
At the time, no one knew exactly why Norm was sick, but his appearance had noticeably changed. Whereas he was once beanpole-thin and youthful, he had puffed-up and aged considerably. I suspected this was due to alcohol and/or cocaine abuse, and perhaps prescribed steroids to keep the attendant kidney problems in check.
But the entire time he knew he was dying, he kept doing jokes about death, and all of them were funny:
Lots of people are scared. They're scared about what's after this hellish existence. . . . And I'm like them. I don't know nothing about none of that. Nobody knows what happens after you die. But I do know what happens right after you die. You're found. And that's the worst part, there. That's the worst part. Being found. (From a 2016 stand-up performance in Canada)
The reason I don't like [saying someone "lost a battle with cancer"] is because in the old days, they'd go, "Hey — that old man died." Now they go, "Hey — he, he lost his battle." That's no way to end your life, you know? "What a loser that guy was! The last thing he did was lose! He was waging a brave battle, but I guess in the end he kind of got cowardly was what happened, and then the bowel cancer got brave. You gotta give it to the bowel cancer, you know, they were in a battle, and then" — what the fuck? And I'm pretty sure, I'm not a doctor, but . . . I mean if you die, the cancer also dies at exactly the same time. So that to me is not a loss. That's a draw. (From a stand-up performance sometime after his diagnosis with blood cancer)
If Norm Macdonald still exists in another dimension, he's cracking jokes about the fact that every last news report of his death said that he'd "lost a battle with cancer."
My first exposure to Norm was during his three-year run in the mid-'90s as the host of SNL's "Weekend Update" segment. He announced that a magazine had rated the best jobs in the world as well as the worst job: "Crack Whore." The next year, he said that the new worst job was "Assistant Crack Whore." And the year after that, it was "Crack Whore Trainee."
During the O. J. Simpson trial, Macdonald never missed a chance to joyously label Simpson a murderer. On the "Weekend Update" segment after Simpson's acquittal, he famously announced, "Well, it's finally official: Murder is legal in the state of California." When he was removed from "Weekend Update" by NBC producer Don Ohlmeyer, Macdonald and others suspected it was because Ohlmeyer was a close friend of Simpson's who'd allegedly held a party for O. J.'s jurors after the acquittal. Ohlmeyer disagreed, saying that Jay Leno told nightly O. J. Simpson jokes at NBC around the same time and was not fired. He said that an analysis of ratings proved viewers turned away from the show when "Weekend Update" came on, which the network couldn't afford, because the show's ratings were already tanking. Ohlmeyer added that his problem with Norm was that he didn't care about aggressively alienating the audience so long as Norm thought the jokes were funny.
I prefer Ohlmeyer's explanation, because it was truer to Norm Macdonald's spirit. "I just like doing jokes I like," Norm once explained, "and if the audience doesn't like them, they're wrong, not me."
Without being stupidly (and suicidally) overt about it, Norm made clear that none of the modern pieties were sacred to him. When he announced on "Weekend Update" that Michael Jackson and Lisa Marie Presley were divorcing, he said, "According to friends, the two were never a good match. She's more of a stay-at-home type, and he's more of a homosexual pedophile." He had a repeated bit about how he didn't understand parents going to gay pride parades, because sucking cock wasn't exactly an accomplishment on the scale of graduating first in your class at Harvard. Perhaps his most brilliant piece of all, which lasted under a minute, was when he told a deeply confused Larry King that he was a "deeply closeted gay guy," which was not the same thing as revealing he was gay because, after all, he was closeted.
But he was so good, I find it almost impossible to choose his best bit. Maybe it was when he went on The Comedy Central Roast of Bob Saget and told one corny, unfunny joke after the next until people finally caught on to what he was doing. Or when he appeared before the menopausal hens of The View to keep gleefully insisting that Bill Clinton was a murderer despite their repeated demands that he shut up. Or when he twisted Patton Oswalt's statement about how the worst thing about Bill Cosby's rape ordeal was "the hypocrisy" by describing a rape victim gradually regaining consciousness, seeing Cosby's blurry cock in front of her face, and reporting that Cosby had just committed hypocrisy against her.
Norm was not only fearless enough to touch the most untouchable taboo of all, he fairly molested it by doing a stereotypically Jewish impression of Madeleine Albright right in front of President Bill Clinton at the White House Press Correspondents' dinner in 1997. A master of understatement, he once told David Letterman, "You know, with Hitler, the more I learn about that guy, the more I don't care for him." And he explained how he was able to make a joke about Jewish media control simply by telling a true story:
We did one when Marlon Brando said something about the Jews controlling Hollywood. He got in trouble, so he went and apologized to the Jewish leaders, and they said, "Okay, you can work again." Which is exactly what happened. It was just so funny to say what actually happened, and they couldn't go after me or anything.
It will always be funny to say what actually happens. But now, one of the funniest people to actually say it is gone.
*  *  *
Counter-Currents has extended special privileges to those who donate $120 or more per year.
First, donor comments will appear immediately instead of waiting in a moderation queue. (People who abuse this privilege will lose it.)
Second, donors will have immediate access to all Counter-Currents posts. Non-donors will find that one post a day, five posts a week will be behind a "paywall" and will be available to the general public after 30 days.
To get full access to all content behind the paywall, sign up here: