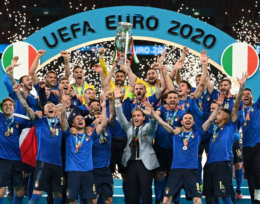 147 words / 2:10:31
On this episode of Counter-Currents Radio, the regular roundtable of Greg Johnson, Millennial Woes, and Fróði Midjord discuss current events and answer listener questions. Topics discussed include:
00:00:00 Italy vs. England

00:18:00 Fuentes banned from Twitter

00:37:00 Critical race theory

00:39:00 Charles Murray and race-realist arguments

00:47:00 Films about time travel

00:52:00 White film characters replaced by blacks

00:57:00 Putin

01:10:00 The possibility of racial separation in America

01:19:00 Bronze Age Pervert

01:26:00 Socially awkward people

01:41:00 Young people living with their parents

01:55:00 Your most marked personality trait
To listen in a player, click here. To download, right-click the link and click "save as."
Unfortunately, intermittent connection problems during the original livestream led to absences in some small sections of this episode.
Follow Millennial Woes:
Website: https://www.millennialwoes.com/
Linktree: https://linktr.ee/millennialwoes
Telegram: https://t.me/millennialwoes
Follow Fróði Midjord:
Linktree: https://linktr.ee/guidetokulchur
Telegram: https://t.me/guidetokulchur
Website: https://gtkmedia.org/
*  *  *
Don't forget to sign up for the weekly email Counter-Currents Newsletter for exclusive content, offers, and news.
Enjoyed this article?
Be the first to leave a tip in the jar!