1,536 words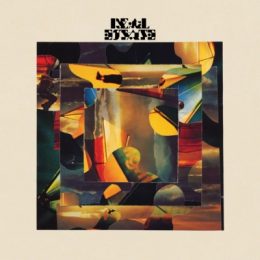 The Main Thing, the fifth studio album from the corduroy indie band Real Estate, was released today, February 28, 2020. It contains some of their most mature work yet, coupled with a healthy attitude towards introducing more complex synthesizer work and poetic lyricism for an album that can be beautiful in its feather-lightness. Like much of Real Estate's work, none of The Main Thing particularly stands out as an individually memorable track. It instead exists as a healthy, normcore, intensely white pastiche of solemn guitar-based tracks meant to be enjoyed as part of the album as a whole or in playlists of similar music. The Main Thing would make for a superb summer picnic soundtrack.
Like Spoon, Hot Chip, or the Mountain Goats, Real Estate has held a dear place in the hearts of millions of white pseudo-hipsters that had a rough time in college for 11 years. They released their eponymous debut in 2009, a record marked by wistful attitudes and thoughtful guitar work, a formula they'd have no trouble repeating and tweaking as they released more albums. They came into their own commercially with 2014's Atlas, a slightly more turbulent album, which they followed up with 2017's In Mind. Based in Brooklyn, but originally from New Jersey, Real Estate's discography consists solely of the melancholy or imaginative stuff suited to suburban teens and dudes who just got broken up with. They're the Beach Boys, plus seventy layers of reverb and some substance-enhanced prose.
The Main Thing follows a period of uncertainty about the band's future, with canceled tour dates, vaporous allegations of sexual misconduct, and a detour into wine-making painting a blurry picture about whether Real Estate was going to stop recording, sell out, or do something different. The latter seems most appropriate; The Main Thing is definitely still Real Estate, but with a sliver more maturity and a dash of experimentation. True to their typical form, however, much of the album is somewhat indistinct; though this makes for more of an easy listening experience than a bore.
"Friday," the album's opener, makes liberal use of bright piano chords, textured synthesizers, and riff-focused guitars to pair with vocalist Martin Courtney's contemplations on the existence of other people. "Friday" is an excellent first track, because it sets the album's mood of plaintive comfort; nothing is too hurried or too slow for the song's various components to become washed out or drag on. Courtney's vocals are a far cry from exuberant, but they're certainly not depressive. They just are.
"Paper Cup" is the second track and lead single from The Main Thing. Amelia Meath of the electro-folk group Sylvan Esso features as a guest vocalist. "Paper Cup" succeeds in blending youthful euphemism ("I'm on the same old shit") with forward-facing maturity and complexity in its instrumental forms. Matt Kallman, the band's keyboardist, deserves special praise for his judicious use of varied voices and playful harmonies that add an extra layer to the rich sound of "Paper Cup."
"Gone" is reminiscent of Death Cab for Cutie's late-2000s work. Featuring sparse lyrical arrangements, a straightforward — albeit machine-assisted — drumline, and additional tension in the third quarter of the song, "Gone" is one of the album's more somber works. Despite this, it doesn't lack the optimism that Real Estate is so adept at weaving into their more bitter tracks.
"You" begins with a fluttery, psychedelic shimmer that segues into a buzz-toned guitar riff atop a sparkly rhythm track. "You" is one of the most upbeat tracks on the album, but it's not a total stomper either. Think more "eccentric white kids running around a field in the suburbs" music. Themes of sleep, time dreamt away, and coming to terms with the laws that govern reality showcase the band's growth from a four-tet of high school friends into renowned musicians in their own right. The band's personal growth is universalized in this track's lyrics into an allegory for the fleeting, albeit romantic, years of youth and how they lay the foundation for one's artistic expression in later years.
"November" is short and sweet, at 2 minutes 22 seconds. It's also about fleeting youth — "When I was just 19 / I was neither here nor there" — and makes use of the suburban childhood motif, train tracks, and a repeated refrain to some loosely defined significant person who felt the same sense of ennui as the narrator. "November" is like meeting your best friend in high school, all over again.
"Falling Down" features a more stripped-back style centered around a very simple rhythm guitar line and interspersed, clean-fretted licks from lead guitarist Julian Lynch. "Falling Down" is blocked out in defined sections with their own levels of volume and mixing; midway through, a flourish of strings breaks away for the song's dramatic peak of guitar, soft drumming, and the shine of the drone-like synthesizers hiding in the background. "Falling Down" lacks a traditional chorus structure, opting instead for a series of verses that carry a light beauty to them; it's cold out, but to be with the person you love is warmth enough.
"Also A But" begins with a descending guitar riff, tender bassline, and surf-ish Arcade Fire-influenced synthesizer work that swirls gently about the album's most aggressive drumming. "Also A But" jumps between phases of high tension and simple melancholia with an ease that could only be accomplished after years of focused practice on this particular, woozy subgenre of rock music. "Also A But" is an oddly complacent rumination on disaster, with lyrics that describe toxic algae blooms and mushroom clouds set to indie melodies and Courtney's innocent, childlike voice. As far as apocalypse soundtracks go, "Also A But" may be the one that feels most applicable in 2020. There's no reason to feel down about the end of the world if there's something beautiful in the calamity.
Title track "The Main Thing" is another short fuse at 2 minutes and 35 seconds. The guitar tone on "The Main Thing" is intriguing for its ability to closely mimic the sound of brass, lending this song an Elephant 6-like atmosphere. This is broken by the sudden splurge of psychedelic string work that Lynch deftly fits into the song's final thirty seconds.
"Shallow Sun" features mellow slides, reflections on the passage of time, and apologies for the loss of one's better years. "Shallow Sun" has a poignancy to it that could only be expressed by members of the band's generation; there's a sense of guilt apparent in Courtney's voice that suggests he wishes he had done more with the time he seemed to have had in his youth. It's not like such guilt is realistic, as one only has so much agency and skill as a child, but the sentiment is still one worth exploring.
"Sting" is a simple instrumental with a muffled, Strokes-adjacent drum machine beating on in the background. It serves as an interlude. This drumline slowly pulls itself out of the mud and seamlessly transitions into the next track, "Silent World." "Silent World" combines melancholia with optimism once more, making a repeated plea for an unnamed person to place their hopes in the sun. The sun as a metaphor for a promising future is one that dates back centuries, and it's at home in the lemony, blue hues of this track and Real Estate's discography more generally.
"Procession" is a rumination on loss of memory, especially that of one's hometown. "Procession" has a bittersweet quality that leans more towards the depressive; the idea that one could be familiar with the place he's raised in, but be unable to identify anything specific in it despite the best efforts of the town's residents in his absence paints the same tale of dispossession, disappearance of identity, and destructive cosmopolitanism that we're all familiar with. This is the darker side to Real Estate's music; behind the veneer of indie sensibilities and lyrics that avoid being too specific, they often touch upon deeply troubling subjects that aren't appropriate to discuss openly in the public sphere today. It's one thing to write a wistful tune about the place you were born, but to open up this feeling to discussion risks the causes of such a tragedy being exposed. This isn't to say Real Estate are secretly a band of traditionalists; if asked about what led to these feelings regarding their hometown, they're just as bound to misdiagnose the societal ill as anyone else does. Their emotions are still genuine and relatable, regardless.
"Brother" is another gentle instrumental, spacey in composition, with classical influences on the guitar work readily apparent. The artistic decision to dress the album's last two songs in instrumental interludes is unique, as it demarcates the album's more uplifting content with its more disheartening, of which there's not nearly as much as their previous albums. The band has a positive outlook in regards to their future; despite hometown blues and the loss of time, it appears they have a pretty good idea what they'd like to do with their remaining years.
It's a good sign for the band that their work is becoming more optimistic. But I'm not certain everybody feels the same way they do. This album, simple in its happiness about life's beauty, may be some small motivation for us to smile again.