Traditional French Songs from Le Poème Harmonique
Alex Graham
1,333 words
Le Poème Harmonique is an early music ensemble founded by French lutenist and conductor Vincent Dumestre. The group is known for its recordings of seventeenth- and eighteenth-century French and Italian music, which have received several accolades. In Aux marches du palais and Plaisir d'amour, the group turns to traditional French songs, some of which are still widely known and sung today. Lovers of early music and folk music alike will appreciate this repertoire and Le Poème Harmonique's stellar musicianship.
The songs on both albums have disparate origins and encompass a variety of styles and emotions. What unites them is their shared cultural significance and their place in France's musical heritage. Each has an interesting history and gives one a window into French culture. Together, they form a rich tapestry of French musical life.
Geographically, the songs span several regions throughout France: Brittany ("La Louison"), Upper Normandy ("Quand je menai les chevaux boire"), Valois ("La fille au roi Louis"), Lorraine ("La blanche biche," "En passant par la Lorraine"), Berry ("Bourrée"), Savoy ("La Péronnelle"), Provence ("Tambourin"), Limousin ("Réveillez-vous, belle endormie"), Saintonge ("Le roi a fait battre tambour"), and southwestern France ("N'èran tres fraires," "Qui vòu audir cançon," "Sarremilhòque," "Jan Petit que danse," and "La molièra qu'a nau escus").[1] Some particularly popular songs lack a clear origin.
Some of the songs are quite old. "La fille au roi Louis," for instance, was written by the thirteenth-century troubadour Audefroy le Bâtard. The version in Aux marches du palais, one of the most beautiful songs on the album, was collected by Gérard de Nerval. The story behind "La Pernette" dates from the twelfth century; the best-known version dates from the fifteenth century and is sung by children today.[2] "J'ai vu le loup, le renard chanter" ("J'ai vu le loup, le renard, le lièvre"), a parody of "Dies irae," lacks a definitive original version but is thought to date from the Middle Ages. The versions of the songs in Plaisir d'amour date from the eighteenth and nineteenth centuries, but some of them, like "La blanche biche" and "Quand je menai les chevaux boire," were likely transmitted orally for centuries before they were collected. Most of the songs in both albums have multiple versions on account of their oral transmission and origins in everyday life.
The interest in collecting folk music that swept much of Europe during the nineteenth century was also present in France. In 1852, Napoleon III's minister of public education undertook a project (which was never completed) to collect and publish French folk songs. Nerval published his Vielles ballades françaises in 1842. Théophile Marion Dumersan's Chansons nationales et populaires de France was published in 1866. Many of the songs in Aux marches du palais and Plaisir d'amour are drawn from such anthologies.
Several songs featured here were inspired by French folklore or events in French history. "Le roi Renaud" is a stirring medieval lament about the legendary hero Renaud de Montauban, whose story is told in the twelfth-century chanson de geste The Four Sons of Aymon. "Le trente et un du mois d'août" is a nineteenth-century sea shanty inspired by the capture of an English ship by the French. "La complainte du Mandrin" is about the life and execution of Louis Mandrin, an eighteenth-century folk hero who has been described as the French Robin Hood. "Mort et convoi de l'invincible Malbrough" ("Malbrough s'en va-t-en guerre") describes the hoped-for death of John Churchill, Duke of Marlborough in the Battle of Malplaquet. "Le roi a fait battre tambour" was likely inspired by the death of Henry IV's mistress, who was thought to have been poisoned in 1599 at Marie de Médicis' behest.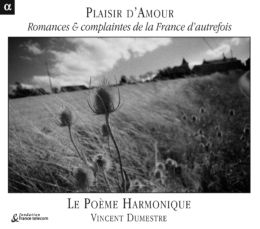 Both albums illustrate the overlap that once existed between classical and popular music, especially in the realm of vocal music. The booklet accompanying Plaisir d'amour points out that the cross-pollination between them was such that it is sometimes uncertain whether a song originated as an art song or a folk song. Not only were composers influenced by popular music, but tunes from classical works sometimes became popular among the public and gained a life of their own. "La complainte du Mandrin" and "Jan Petit que danse" both derive from parodies of operas by Rameau, and the tune of "Les tendres souhaits" was composed by Pergolesi.
Conversely, some of the songs in these albums inspired works by classical composers. Mozart famously composed a set of variations on "Ah! vous dirai-je maman," and Josquin's "La belle se siet" is a setting of another version of "La Pernette."[3] The versions of "L'amour de moy" and "En passant par la Lorraine" included here were both composed by members of the Franco-Flemish School (though the two compositions are very different: The latter preserves the folk character of its source material to a much greater extent, in contrast to the former's intricate polyphony).
The bourrée in Plaisir d'amour is a transcription of a folk dance composed by Chopin during his stay at George Sand's estate in Berry. Originally scored for piano, here it is played by two bagpipes (cornemuses) to great effect. ("La religieuse rebelle," another instrumental interlude in Plaisir d'amour, is also heavy on bagpipes.) Bagpipes feature prominently in traditional French music; there are as many as 16 types of bagpipes in France.[4] Similarly, the tambourin featured in the album is from Rameau's Les Indes galantes and was inspired by the traditional Provençal dance of the same name. Rameau was fond of tambourins and included one in the second volume of his Pièces du clavecin.
The songs here conjure a range of moods. Many are tragic tales of star-crossed lovers ("La fille au roi Louis," "La Pernette," "Qui vòu audir cançon"), death ("Le roi Renaud," "La blanche biche," and "Le roi a fait battre tambour"), and misery ("Une jeune fillette"). These songs' somber beauty is striking. "Les tendres souhaits," "Aux marches du palais," and "Plaisir d'amour" are wistful love songs. "La Furstenberg" evokes the courtly elegance of French baroque music. The patriotic ditties "Le trente et un du mois d'août" and "Mort et convoi de l'invincible Malbrough" are jaunty and convivial. "J'ai vu le loup, le renard chanter" is a rousing evocation of medieval pagan revelry. The songs in Occitan (with the exception of "Qui vòu audir cançon") are energetic dances; the rhythmic "Sarremilhòque" is reminiscent of Scottish puirt à beul ("mouth music").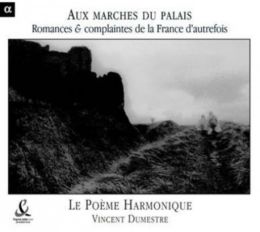 Le Poème Harmonique is equally at home in both the more restrained mood of "L'amour de moy" or "Plaisir d'amour" and the looser, more folk-like style of "Sarremilhòque" or "Jan Petit que danse," which the singers handle with verve and agility. The group defies the stereotype that early music ensembles are staid and formal.
Both albums are noteworthy for their historical verisimilitude. Many of the songs are sung with old-fashioned pronunciation. The songs from southwestern France are sung in Occitan, and "La Pernette" is sung in Franco-Provençal (both languages are now endangered). As with their other recordings, the ensemble makes use of period instruments like the viol, cornemuse, and theorbo.
I heartily recommend both Aux marches du palais and Plaisir d'amour. They transport one to the France of the past, a France that no longer exists. As such, one cannot listen to this music without a sense of melancholy. France is being swarmed with immigrants who have no connection to this music or the heritage to which it belongs. And yesterday, Prime Minister Elizabeth Borne announced that arrest warrants could be issued to those found guilty of racism or anti-Semitism, effectively making it illegal to criticize France's suicidal immigration policies. This is a declaration of war not only against the French people, but French culture as well. If the French are replaced, the heritage of France will die with them.
*  *  *
Counter-Currents has extended special privileges to those who donate $120 or more per year.
First, donor comments will appear immediately instead of waiting in a moderation queue. (People who abuse this privilege will lose it.)
Second, donors will have immediate access to all Counter-Currents posts. Non-donors will find that one post a day, five posts a week will be behind a "Paywall" and will be available to the general public after 30 days.
Third, Paywall members have the ability to edit their comments. 
Fourth, Paywall members can "commission" a yearly article from Counter-Currents. Just send a question that you'd like to have discussed to

[email protected]

. (Obviously, the topics must be suitable to Counter-Currents and its broader project, as well as the interests and expertise of our writers.)
To get full access to all content behind the paywall, sign up here:
Paywall Gift Subscriptions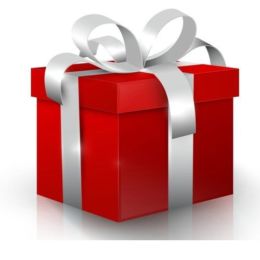 If you are already behind the paywall and want to share the benefits, Counter-Currents also offers paywall gift subscriptions. We need just five things from you:
your payment
the recipient's name
the recipient's email address
your name
your email address
To register, just fill out this form and we will walk you through the payment and registration process. There are a number of different payment options.
Notes
[1] See Chants Populaires Francais, a great resource.
[2] It is hard not to savor the gallows humor (pardon the pun) of this video.
[3] William Elders, Josquin des Prez and His Musical Legacy (Leuven: Leuven University Press, 2013), trans. Paul Shannon, p. 197.
[4] Eric Montbel & Jean Blanchard, Bagpipes of Central France (UNESCO, 1989). Liner notes.