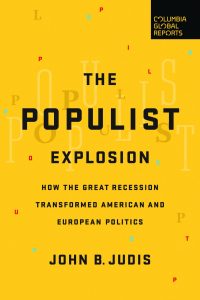 1,973 words
John B. Judis
The Populist Explosion: How the Great Recession Transformed American and European Politics
New York: Columbia Global Reports, 2016
Following the collapse of the Warsaw Pact in 1989 and, two years later, of the Soviet Union itself, there was a widespread sense in the West that the free market had conclusively vindicated itself and that socialism had been just as conclusively relegated to the scrapheap of history. But the political outcome of this period, surprisingly, was not continued electoral triumph for conservative cum classical liberal politicians of the Reagan/Thatcher type who had presided over victory in the Cold War. Instead, an apparent embrace of "markets" by center-Left parties in the West was followed by the rise of "new Democrat" Bill Clinton in the US (1993) and "new Labourite" Tony Blair in the UK (1997). Asked in 2002 what her greatest achievement was, Thatcher replied, "Tony Blair and New Labour. We forced our opponents to change their minds."
This was the neoliberal moment, when there appeared to be a broad consensus on economic issues among all mainstream parties. Francis Fukuyama famously speculated it might herald a Kojèvian end of history.
The worm in the apple was partly that the supposedly "pro-market" consensus between mainstream parties was not so much a return to laissez-faire as a new type of crony capitalism involving collaboration between business interests and the political class as a whole. To some extent, current dissatisfaction with "capitalism" is really anger at this corrupt alliance against the common man misinterpreted as market failure.
But it must also be admitted that the free international movement of labor and capital, perhaps the most important point on which business interests and political elites are agreed, is objectively contrary to the interests of the Western working class. As Cambridge University economist Ha-Joon Chang has written:
Wages in rich countries are determined more by immigration control than anything else, including any minimum wage legislation. How is the immigration maximum determined? Not by the "free" labor market which, if left alone, will end up replacing 80-90 percent of native workers with cheaper immigrants.
This kept the neoliberal honeymoon brief.
John B. Judis' The Populist Explosion is fairly reliable on this economic aspect of recent populist movements; his subtitle even suggests they might merely be a consequence of the post-2008 recession. Yet Jean-Marie Le Pen founded the Front National as early as 1972. Populist opposition to mass immigration elsewhere long predates the neoliberal moment as well. Like all mainstream writers, however, Judis is innocent of race and identity. He is the sort of writer who thinks Islamic terrorism would disappear if all Muslim immigrants were provided with good jobs.
The Populist Explosion consists of an introduction, six historical chapters, and a conclusion. Theoretical discussion is mostly limited to the introduction and conclusion. The author follows the late Argentine political scientist Ernesto Laclau's understanding of populism as developed in his book On Populist Reason (2005). In this view, there is no one feature common to all populist movements, but only a kind of family resemblance among them. This family resemblance certainly includes a rhetoric centered on advocacy for "the people" and opposition to entrenched elites, but people and elites may be defined differently by different movements. The people may be "blue-collar workers, shopkeepers, or students burdened by debt." The elites may be the "money power" of late nineteenth-century American populism, George Wallace's "pointy-headed intellectuals," or today's globalists.
The author also follows Laclau in recognizing the existence of both Left- and Right-wing populisms. He claims to see at least one defining difference between them, however:
Leftwing populists champion the people against an elite or establishment. Theirs is a vertical politics of the bottom and middle arrayed against the top. Rightwing populists champion the people against an elite that they accuse of coddling a third group, which can consist, for instance, of immigrants, Islamists, or African-American militants. Leftwing populism is dyadic. Rightwing populism is triadic. It looks upward, but also down upon an out group.
I am unsure whether this is a timeless truth about populist movements, but it correctly describes a recent pattern. Sam Francis described the managerial elites' alliance with the underclass as a "squeeze play" against the middle class. European nationalists' struggle against the alliance of globalists with unskilled Third World immigrants fits this model as well. No Leftist movement would deliberately exclude the underclass or non-white immigrants, whom they hope instead to lure away from any loyalty to current elites.
Judis also remarks that populist movements "often function as warning signs of a political crisis." They occur when people see the prevailing political norms as being at odds with their own hopes and fears. Populist politicians express these neglected concerns in a language pitting ordinary people against intransigent or out-of-touch elites, thus becoming catalysts for change. In a two-party system such as America's populism, it may succeed indirectly by getting its concerns adopted by one of the major parties instead of by breaking through to electoral success itself.
The book's first chapter traces populism back to late nineteenth-century America, which may not seem all that far. Politics since ancient times has been a contest between the many and the few, but this modest study does not claim to cover the populares faction of Republican Rome. Modern populism in Judis' sense is "an American reaction that spread later to Latin America and Europe."
Between 1870 and 1890, farm prices in the South and Midwest fell by two-thirds, compounded in some regions by drought. Railroads, which enjoyed a virtual monopoly, were raising farmers' transport costs at the same time. Many fell into debt or lost their land to East Coast investors. The response of President Grover Cleveland's Secretary of Agriculture, Norman Jay Coleman, to calls for government help expressed the political orthodoxy of the time: "The intelligent, practical, and successful farmer needs no aid from the government; the ignorant, impractical and indolent farmer deserves none."
In May 1891, the legend goes, some members of the Kansas Farmers Alliance, riding back home from a national convention in Cincinnati, came up with the term "populist" to describe the political views that they and other alliance groups in the West and South were developing. The next year, the alliance groups joined hands with the Knights of Labor to form the People's Party that over the next two years challenged the most basic assumptions that guided Republicans and Democrats in Washington.
At its height, in 1894, the People's Party elected four Congressmen, four Senators, twenty-one governors, and four hundred sixty-five state legislators. In 1896, Democratic presidential candidate William Jennings Bryan adopted much of the party's platform, and they endorsed his candidacy rather than fielding someone of their own. The People's Party subsequently lost support. Their historical significance was considerable, however:
The populists were the first to call for government to regulate and even nationalize industries that were integral to the economy, like the railroads; they wanted government to reduce the inequality that capitalism, when left to its own devices, was creating; and they wanted to reduce the power of business in determining the outcome of elections. Eventually, much of the populist agenda, [including] the graduated income tax, was incorporated into the New Deal.
Judis' first chapter also devotes space to Huey Long and George Wallace. His second chapter describes the Perot and Buchanan movements, as well as the Tea Party and Occupy Wall Street. Chapter Three concludes his history of American populism with the Bernie Sanders and Donald Trump campaigns. The author seems to understand that it was precisely the utopianism of Sanders' program which attracted young voters:
While older voters evaluated Sanders's programs by whether they could be included in the president's Fiscal Year 2018 budget, younger voters liked the visionary sweep of Medicare for All and Free Public College. They understood that these couldn't happen within the current "rigged system" and would require a political revolution. The contrast couldn't have been sharper with Clinton's campaign that dwelt entirely on lists of incremental changes.
"Visionary" is the correct word. Those of us old enough to remember the Cold War received a jolt recently when polls indicated that fifty-seven percent of young Democratic voters are favorably disposed toward a hot, new idea they have just heard about called "socialism."
As for Donald Trump, the author writes that he:
. . . repeatedly displayed the thin skin of a businessman who treasures his celebrity. At his rallies, he cheered supporters who beat up protestors. And he tried to turn his supporters against the press. [Judis apparently thinks the press's own behavior had nothing to do with this.] Trump's actions reflect a bilious disposition, a meanness borne out of bare-knuckle real estate and casino squabbles, and a conviction, borne out of his financial success, or perhaps arrested development, that he could say in public whatever he thought in private about Mexicans or women without suffering any consequences.
Might this outspokenness not appeal to millions of Americans tired of being told they are not allowed to mention certain obvious realities? It wouldn't seem so to an author who has never experienced the temptation to express an unorthodox thought. Going to press apparently in the late spring of 2016, the author, like all other mainstream so-called experts, expected Trump to be "soundly defeated."
In keeping with his economic orientation, Judis explains the first appearance of populism in Europe as resulting from the downturn of the 1970s, and ascribes their recent breakthroughs to the recession after 2008. Left-wing populist movements, as he observes, have been most significant in southern Europe, while Right-wing populists have been most influential in the north. Particularly informative for this reviewer was his account in Chapter Five of recent Left-wing movements in Greece and Spain. Greece's Coalition of the Radical Left, popularly referred to as Syriza, was established in 2004 and is now ruling the country. Its rise is largely a reaction to tough austerity measures forced upon Greece by the European Union. Golden Dawn, a less successful party which some would describe as Right-wing populist, is left unmentioned. Spain's center-Left Podemos party was founded in 2014 and received twenty-one percent of the vote in parliamentary elections in December 2015. It is now the third-largest group in the Spanish legislature, but has suffered internal rifts.
The author's final chapter provides useful summaries of the history of four northern European Right-wing populist parties: the Danish People's Party, Austria's Freedom Party, UKIP, and France's Front National (since renamed National Rally). All are best-known for opposing mass Third World immigration. Judis acknowledges that immigration threatens working-class wages, but does not seem to understand the threat to native folkways which motivates so many of these parties' voters. He mentions Germany's AfD only in passing. The Populist Explosion went to press before the rise of Sebastian Kurz in Austria or Marine Le Pen's defeat at the hands of Emanuel Macron.
The book's conclusion discusses the threadbare accusation of fascism still leveled at Right-wing populists. Among the genuine resemblances the author sees are "the role of the charismatic leader, the flouting of democratic norms, [and] the scapegoating of an outgroup." Of course, it is mainly these parties' stress on the nation that reminds the Left of interwar fascism. Today's Right-wing populism is a response to neoliberal globalism and its primary weapon of mass immigration, just as fascism was a response to the threat of Leninist Communism. But Judis concedes that today's populists operate within a democratic, multiparty framework rather than aiming at dictatorship.
The second essential difference from interwar fascism (including German National Socialism) was that those earlier movements were expansionist and imperialistic. Today's Right-wing populists sometimes describe themselves as "sovereigntist," seeking to protect their borders from economic migrants and their national governments from supranational organizations such as the European Union and the United Nations. In other words, they are defensive rather than aggressive movements. The cry of fascism serves – and no doubt is meant – to divert attention from these obvious realities.
Enjoyed this article?
Be the first to leave a tip in the jar!