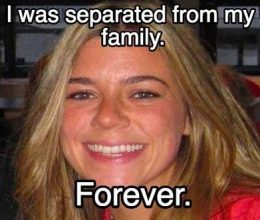 614 slov
English original here
Pokud existuje dobrý argument proti volebnímu právu žen, jsou jedním zvlášt vynikajícím příkladem aktuální pokusy médií zmocnit se zadního mozku (tj. jeho primitivní, evolučně starší části) žen a znemožnit tak jakékoliv racionální myšlení přehráváním záznamů dětí plačících a dožadujících se svých rodičů z americko-mexických hranic.
A pokud existuje účinná metoda, jak přimět lidi, kteří se o problematiku nijak nezajímají, ani se nevěnovali se studiu faktů daného případu dost na to, aby se kvůli této otázce zvedli a šli k volbám, je jí přesně toto. Zvuk pláče má na ženy tak silný fyzický vliv, že může doslova vyvolat tvorbu mateřského mléka. Společnost jménem Hygeia vybavila své odsávačky mléka tlačítkem, s jehož pomocí mohou ženy nahrát pláč svého dítěte, a následně tak vyvolat produkci mléka tehdy, když se svými dětmi nejsou.
Pro ženy to jsou naprosto přirozené a zdravé instinkty. Jejich cílem pochopitelně je snazší výkon ženských povinností. Nedělají z nich však lepší lidi. Nejsou ani dobrým průvodcem v prostředí masové politiky.
Tito lidé se tedy dopouštějí doslova citového zneužívaní žen, aby tímto způsobem snáze vnutili svůj program veřejnému diskurzu. A ani na moment nepochybujme, že se najdou tisíce těhotných a nedávno porodivších žen (nemluvě pak o těch s posttraumatickou stresovou poruchou), na které zapůsobí tato nevybíravá manipulace natolik, že budou hlasovat pro cokoliv, o čem jim manipulující lidé řeknou, že jim to uleví.
Vůbec už nesejde na tom, že počty dětí oddělených od jejich rodin vzrostly dlouho před zavedením tohoto opatření.
Ani na tom, že právě z tohoto důvodu bylo toto opatření přijato.
Ano, mám na mysli oddělování dětí od jejich rodin migranty-únosci.
Podle ministerstva vnitřní bezpečnosti (Department of Homeland Security, DHS) došlo mezi říjnem 2017 a únorem 2018 k masivnímu 315% nárůstu případů dospělých s nezletilými, kteří se "podvodně vydávali za 'rodiny', aby se takto domohli vstupu do země".
Ve zprávě dále stojí:
DHS na hranici paušální politiku rozdělování rodin neuplatňuje. DHS je ovšem zodpovědné za bezpečnosti všech nezletilých v našem opatrovnictví. Proto bude DHS i nadále v určitých případech dospělé a nezletilé rozdělovat. Děje se tak:
1) Pokud DHS nebude schopné zjistit rodinný vztah;
2) pokud DHS dospěje k závěru, že dítě by nebylo se svým rodičem nebo opatrovníkem v bezpečí; nebo
3) pokud dojde k trestnímu stíhání rodiče nebo opatrovníka.
Zamysleme se na okamžik nad tím, co by zrušení tohoto postupu znamenalo: doslova bychom únosce a obchodníky s dětmi za jejich zločiny odměňovali vyšší šancí získat občanství. Z toho důvodu jsme to dělali kdysi – a proto také došlo k více než třísetprocentnímu nárůstu popsané ilegální činnosti za systému "chyť-a-nechej-jít" (catch-and-release).
Stejně dobře bychom se samozřejmě při využití podobných metod mohli dočkat kampaně za úplné zrušení věznic. A proč vlastně ne? Doslova každý, kdo je odsouzen za mříže, tím je oddělen od svých dětí. Proč tedy neustále dokola nepřehráváme pláč dětí smutných z toho, že tátu zavřeli za ozbrojené přepadení, abychom ženy přiměli k podpoře úplného rozpuštění všech policejních sborů a zavření věznic?
"Ale děti zločinců se přece po dobu výkonu trestu do státních zařízení nezavírají," namítnete možná. Tak tomu je ale jedině proto, že jim obvykle doma zůstane druhý rodič, který se o ně může postarat. Co ale myslíte, že se děje, když těžký zločin spáchá svobodná matka nebo oba rodiče společně? Pak děti každopádně putují do výchovných zařízení. O tom ovšem – pokud se tedy zrovna nediskutuje o tom, jak věznění černochů za užívání marihuany rozděluje rodiny – v mediálním mainstreamu nikdy neuslyšíte ani slůvko.
A víte co? Možná mají kritikové nakonec pravdu. Obvykle není v takovýchto případech první možností přidělit děti pěstounům – zpravidla je nejprve snaha svěřit děti jejich nebližším příbuzným. Takže… proč ne. Uplatněme tento přístup i u dětí migrantů: pošleme je jejich nejbližším příbuzným.
Do Mexika.
This translation originally appeared at Delian Diver.
* * *
Like all journals of dissident ideas, Counter-Currents depends on the support of readers like you. Help us compete with the censors of the Left and the violent accelerationists of the Right with a donation today. (The easiest way to help is with an e-check donation. All you need is your checkbook.)
For other ways to donate, click here.
Enjoyed this article?
Be the first to leave a tip in the jar!