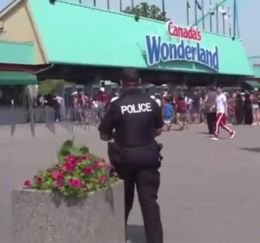 1,242 words
Canada's Wonderland in Vaughan, Ontario is a premier amusement park for those who enjoy the thrill of roller coasters, water parks, family fun, unhealthy but delicious snacks, robberies, swarmings, and even the odd bird explosion. For some mysterious reason, this year's opening of the park was fraught with "teen" violence, unruly behavior, and other generalized beatings. No one knows what's going on. Maybe it's the weather; maybe it's some sort of additive they've put in the ice cream cones this year. Who knows? It's all a great mystery.
Canada's Wonderland, located just North of Toronto, is traditionally known for its 200-plus attractions, including 18 roller coasters. It's a giant monument to summertime kitschy-fun, ice-cream headaches, dangerous overcrowding, and g-force induced concussions. Another inevitable concomitant of diverse youth teens congregating in large numbers is, of course, violence.
Over the course of Wonderland's opening weekend between May 5 and 7, there were several incidents involving unruly "teens." According to Colin Flaherty's lexicon of mainstream media newspeak, the term "teens" is invariably code for black.
The mayhem was so widespread on opening weekend that the York Regional Police issued a press release that effectively relaunched Operation Beehave, an initiative that began in the summer of 2022 to address swarmings, theft, and assorted criminality that were occurring on the amusement park's grounds and its surrounding area:
York Regional Police is increasing our presence and enforcement efforts to combat incidents of mischief, threats and unruly behaviour occurring in the City of Vaughan with the re-launch of Operation Beehave.
Officers responded to several calls for service last weekend in the area of Jane Street and Norwood Avenue and on the grounds of Canada's Wonderland. While no charges resulted, several guests were escorted from the park by police.
York Regional Police first launched Operation Beehave in July 2022 after a number of swarming-style robberies and other crimes occurred. Following a significant increase in police presence, incidents of robbery, disturbances and mischief declined.
Operation Beehave, a play on the word "swarming," was initially launched a year ago after the Canada Day long weekend (July 1-3), during which several swarming robberies took place.
A story published on May 9, 2023 in the Toronto Sun featured the headline "Arrests made as Wonderland's opening results in 'war zone'." A spokesman for the amusement park confirmed that on the opening weekend's Saturday, several guests were removed from the park for "unruly behaviour and altercations." Furthermore, numerous videos emerged on social media that showed fights, confrontations, and young people being handcuffed and escorted off the premises. All of them also showed throngs of young people filming the melodrama. A follow-up piece in the same newspaper confirmed the relaunch of Operation Beehave to quell the chaos.
One news outlet reported that a "physical confrontation" carried over to a nearby food court, where a "food fight" ensued — that was in fact more of a brawl. One Twitter user prefaced his tweet of a video of what looks like a food court brawl with the words: "First rule of Canada's Wonderland fight club? Don't record Canada's Wonderland fight club."
After only a cursory search on YouTube, it was easy to find an account devoted to causing criminal or near-criminal trouble at the amusement park. In a video entitled "How I got kicked out of Wonderland," user Kishka, who is black, documents his obnoxious behaviour on video. This is representative of typical black pathology. Just imagine dealing with thousands of visitors who act in a similar manner all the time.
Videos such as these are part of the wider trend on social media of filming reprehensible actions for the sake of notoriety, as in the case of Bacari Ogarroso, who is known on social media by his alias Mizzy, and who was recently arrested in London for his so-called "pranks." As comprehensively reported in his latest article, Mark Gullick quite rightly states that Mizzy exclusively made white people the target of his malicious stunts. If left unchecked, arrogant, self-aggrandizing black criminals such as Kishka and Mizzy will spawn countless would-be imitators. As Gullick points out, if current trends continue escalation is inevitable: "If young blacks, who are not constrained by the police in any event, escalate these 'pranks' it will become a vicious new chapter in the urban terrorism they already perpetrate."
Is obnoxious behavior at a fair, amusement park, carnival, exhibition, or other public venues a relatively new phenomenon? Perhaps the propensity for young, black wannabe gangsters to use smartphones to record their feral recklessness for the sake of social media clicks is, but the trend itself has a long, sordid history.
A firefighter who worked in New York City in the 1980s has offered a first-hand account of a carnival from Arkansas which was set up in one of the more unruly parts of town. Despite warnings from the anonymous author and other firefighters, the naïve carnival workers went there anyway and had been hoping to stay for a week. Their stay was much shorter:
The very next day, we went by to see how they were doing. Lo and behold, they were shutting it down and packing up. We asked why. One of the workers said he had never seen anything like it. Packs of blacks were stealing, fighting, and causing mayhem, assaulting workers etc. The carnival had a lion on display. A bunch of blacks took the darts from the balloon popping game and threw them at the lion! You can't make this stuff up. Looks like things haven't changed much in the inner city in the last 30 years.
In a news story from 2022, it was reported that Disneyland and Walt Disney World, in California and Florida respectively, had experienced an uptick in violent incidents. Sections were added to the respective parks' websites to remind guests that unruly or inappropriate behavior could result in guests being kicked out. Both parks had to deal with multiple large fights. California's Disneyland, for instance, saw "a brawl during Memorial Day weekend that resulted in the removal of several guests." And at Walt Disney World in July 2022, "a large fight between two families took place in front of Peter Pan's Flight just months after a woman suffered a head injury after an altercation." This incident was captured on camera and posted to Twitter.
The late Colin Flaherty devoted a section of one of his most well-known books to black violence at carnivals, fairs, and amusement parks throughout the United States. In Don't Make the Black Kids Angry, Flaherty documents over a dozen instances of mob violence, shootings, fights, property destruction, robberies, and more at different venues.[1]
During the summer months we would do well to heed John Derbyshire's advice from his 2012 article entitled "The Talk: Nonblack Version" concerning attending outdoor events:
If planning a trip to a beach or amusement park, find out whether it is likely to be swamped with blacks on that date.
Do not attend events likely to draw a lot of blacks.
If you are at some public event at which the number of blacks suddenly swells, leave.
One of the things that vibrant youths do not like to see is white people having fun. Stay safe out there, everyone.
* * *
Like all journals of dissident ideas, Counter-Currents depends on the support of readers like you. Help us compete with the censors of the Left and the violent accelerationists of the Right with a donation today. (The easiest way to help is with an e-check donation. All you need is your checkbook.)
For other ways to donate, click here.
Note
[1] Colin Flaherty, 'Don't make the black kids angry': the hoax of black victimization and how we enable it (Place of publication not identified: Colin Flaherty, 2015), 317-323. See also Colin Flaherty, 'White Girl Bleed A Lot': The Return Of Racial Violence To America And How The Media Ignore It (Washington, DC: WND Books, 2013).