Überfolk a jejich debutové album Music for Nations
Jared George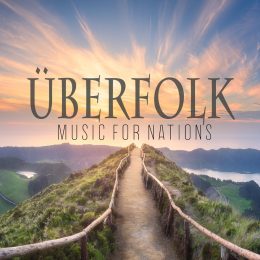 1.718 slov
English original here
Na obalu debutového alba projektu Überfolk Music for Nations se mezi kopci vine stezka někam do dáli, symbol cesty k ideálu. Takováto cesta ale nevyhnutelně bývá nesnadná a vede prachem, blátem i trním pozemského života. Tento obraz dobře vystihuje hudbu recenzovaného dvojalbového projektu, jelikož Music for Nations skutečně vypráví o lidech s kořeny, lidech otevřených vizi, lidech spojených sdíleným původem i osudem.
Zvlášť nápadně to vyniká ve srovnání s typickým moderním uměleckým počinem, jenž už z podstaty věci v žádné konkrétní etnické perspektivě být ukotven ani nemůže, pokud tedy není prostoupen ironií nebo si nefetišizuje některou z neevropských kultur. Moderní umění tak zpravidla setrvává v nihilistických, intelektuálních abstrakcích, otevřených nekonečným "interpretacím". Konkrétně v hudbě pak sledujeme postupnou tendenci k jednoduchým rytmům a nesmyslným textům "goo goo ga ga", předkládaným globálním konzumentům hudebních produktům (zdráhám se je nazývat písničkami), které se "líbí každému". I hudba tak prochází "fastfoodizací".
Cíle vytčené dvojící Überfolk jsou tak v současném dějinném momentě nanejvýš žádoucí. Byť je z jejích úst znící výzva znovu se chopit svého odkazu a vzepřít se přílivové vlně šedivého globálního konzumerismu určena lidem ze všech různých skupin, přichází od dvojice evropské krve, a tak se nijak netají svou vlastní příslušností.
Hlavní autor a zpěvák George Burdi spolu s vokalistkou Cat Weissovou (vystupuje na YouTube jako Philosophicat) a řadou dalších instrumentalistů i skladatelů přišli s albem Music for Nations. Výsledný počin naznačuje, jak se vypořádat se současným světem – ne odvržením svého dědictví a rozpuštěním se v syntetickém, multikulturním galimatyáši, ale naopak přitakáním svému jedinečnému odkazu. Odvěká moudrost označující různá náboženství za "vícero cest na jeden horský vrcholek; kdo jej ale chce dosáhnout, musí se pevně držet své zvolené cesty," platí ještě důsledněji pro lidskou zkušenost: kdo ji chce ochutnat v celé její plnosti, může tak dosáhnout jedině skrze svébytné dědictví svého lidu.
První album otevírá prologem "Präludium — Der Weg eines Kriegers" ("Preludium – válečníkova cesta"), jakousi ouverturou alba. Praskání ohně ustupuje okázalé orchestrální smyčcové hudbě. Präludium v lecčem evokuje filmovou hudbu a v závěru se přidává cembalo. Jeho jasně rozpoznatelné tóny se opakovaně objevují napříč celým albem, ať už v podobě nástroje samého nebo v brnkání čistě nahraných akustických kytar. Hudba tak současně navozuje atmosféru dvořanskou i lidovou; dokonalé ukotvení celého počinu. Úvodní píseň uzavírá návratem ke zvukům ohně spolu se vzdáleným hřměním hromu, jasné zasazení skladby do nespoutané síly živlů. Hlavní motivy i výjevy alba jsou tímto dány, stejně jako jeho tón.
Velká část z následujících skladeb Überfolk přímo vybízí k tomu být užity jako doprovod k filmům, videím nebo jako soundtrack.
Druhá písně alba "The Warrior Poet" (Válečník-bard) rozvíjí některé motivy z Präludia: začíná probleskáváním akustické kytary, tonálním sourozencem řezavého cembala, které jsme slyšeli v úvodu. Toto náladové arpeggio dláždí cestu hlasu George Burdiho v hlubším kontrastu s živými kytarami. Náročný refrén s bohatě vrstvenými vokály zase představuje hlas Cat Weissové, étericky ženský kontrapunkt Burdiho zemitého témbru, který se v refrénu ptá "Kam zmizel válečník bard"? Hledáme hlasy, jež by se s námi na Západě v tomto čase obtížných zkoušek podělily o moudrost i povzbuzení.
Tempo i vyznění písně "Watching Mind" (Bdělý duch) udávají rytmické údery basových bubnů, prvotní a kmenové společenství evokující zvuk, který jistě potěší všechny příznivce neofolku. V tomto duchu se drží i "Arcadia", sesterská skladba k "Watching Mind". Pomalejší a zahloubanější kus probouzí touhu "lesích Arkádie", idylickém a přirozeném způsobu života.
"My Ancestors" (Mí předci) kreslí výjev zpěváka stojícího v poli tváří tvář zástupu svých předků. I tento nanejvýš působivý motiv bychom v drtivé většině současného populárního umění a zábavy hledali marně.
V "Law of Life" (Zákon života) se Catin hlas rozléhá mocně a jasně, hlavně v její druhé polovině, kde nejen že doplňuje Burdiho, ale také zpívá kontrapunkt ("protihlas"), jež doprovází a zkrášluje hlavní vokál.
Také "Old Souls" (Staré duše) hovoří ke stávajícímu dějinnému momentu, zde skrze optiku reinkarnace a věčného návratu. Verše jako "We were born for this epic moment / We have come as the bringers of the light" ("Pro tento epický okamžik jsme byli zrozeni / Přicházíme jako světlonoši") dobře zachycují náladu a duchovní rozpoložení alba, tedy výzvu k znovuobjevení a obraně našich kořenů.
Přes své nepochybně dobré úmysly Burdi čas od času sklouzává k přílišné doslovnosti, jež posluchače vytrhává z kouzla okamžiku – příkladem takovéto těžkopádnosti může být třeba "Life has a definite purpose" (Život má svůj pevně daný smysl.") Dávám přednost poetickému jazyku, který náležitou náladu navozuje před přímou deklarací.
V následujícím tracku "Walk with Giants" (Kráčet po boku velikánů) se Burdi rozehrává k velkému vokálnímu výkonu, který předkládá v bohaté a příjemné poloze hlubší části svého rozsahu, jež jeho hlasu skutečně svědčí. Brnkání radostně znějící akustické kytary doprovázené smyčcovým podkladem a nadpozemsky nehmotnými vokály vytváří nádech světla a skutečné naděje.
Vliv neofolku je jasně patrný i v "Away" (Pryč), jehož pochodovou rytmiku podbarvují vokály obou partnerů, následované "The Final Roar" (Poslední zaburácení), jež první polovinu dvojalba uzavírá.
Jak se na závěr sluší a patří, otevírá písničku vábivá harfa a Weissová se se zvučným, až operním výrazem rozezpívává k jednomu ze svých nejlepších výkonů. Očekávání jsou naplněna v melodickém marši, jenž ustupuje klidnější pasáži, jen aby se znovu vrátil s dalšími vrstvami smyčců i bicích nástrojů, což vytváří jednoznačně jednu z nejdynamičtějších písní projektu.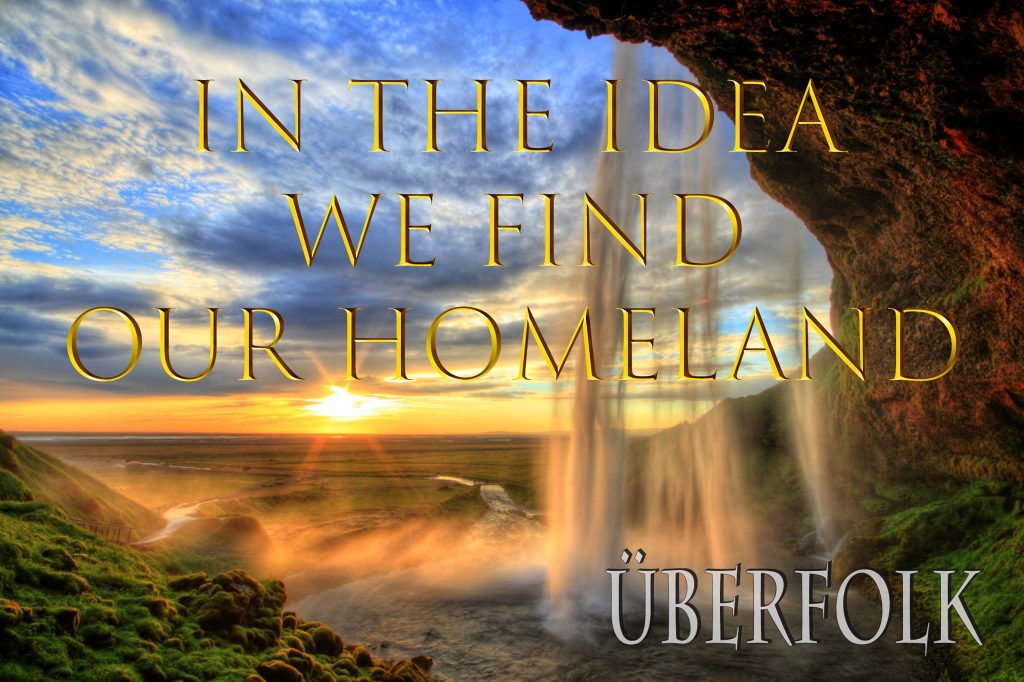 Druhé album otevírá skladba "
Stardust
" (Hvězdný prach), jejíž kytarové linky připomínají středověkou loutnu. Vyvstává tak před námi minulost tak vzdálená a přesto povědomá, plná mytických veršů jako "
Stirred from deathly slumber
 / 
The embers back to flames
" (Probuzené z mrtvolného spánku / se vyhaslé uhlíky znovu rozžehávají).
Následující píseň "Hyperborean Sun" (Slunce z Hyperboreje) začíná pomalou figurou akustické kytary, která by se neztratila ani na metalovém albu. Změna rytmu v chytlavém refrénu, jeden z Burdiho nejsilnějších výkonů, nebo velkolepé outro s perkusními ozvěnami evokujících armády pochodující kopci za doprovodu zpěvu Weissové: není divu, že právě tato podmanivá skladba se zkraje roku 2019 stala první ukázkou z nového projektu, která měla přitáhnout pozornost obecenstva.
V "A Prayer for My People" (Modlitba za můj lid") slyšíme neobytný sborový zpěv beze slov, jež splétá hymnický zvuk s příjemnou proměnou melodií.
Další zapamatováníhodnou skladbou jsou "Waning Days" (Vytrácející se dny) se svým výrazným hvízdavým refrénem. Vrstevnaté vokály písně nabízejí jeden z nejrozkošnějších příkladů harmonické mezihry vokálů Burdiho s Weissovou.
"Waiting for the Fall" (Čekání na pohromu) zní a je zahrána trochu jako staré songy politicky angažovaných folkařů. (zde se recenzent trefil, jde o coververzi skladby Waiting For The Fall /Orphan In the Storm, 2004/ neofolkové skupiny Changes, jejíž raná tvorba se datuje do let 1969-74 – pozn. DP)  Tato nedlouhá skladba s poněkud temnými a "akceleracionistickými" motivy v textu, který mluví třeba o "blížící se občanské válce" se ale věnuje velice skutečným nadějím a obavám lidí našeho věku
Další skladba tyto nálady staví do kontrastu s poselstvím z jiné doby. "1916" (jde o coververzi skladby 1916 ze stejnojmenného alba Mötorhead – pozn. DP) vypráví o mladíkovi, který dobrovolně narukuje do bojů 1. světové války – nebo, jak se jí stále běžněji říká, prvního dějství evropské občanské války.
"1916", pochod vyšperkovaný smyčcovým podkladem, je díky své atmosférické produkci další skladbou, která by se nádherně vyjímala ve filmovém soundtracku. Asi po třech minutách se píseň velice harmonickým způsobem překlápí s tím, jak smyčce přechází na vyšší tóninu a Burdi zpívá:
I když to nebyla má vina a nikdo mi ji ani nedával,
den nebyl ani v polovině a na zemi leželo deset tisíc pobitých.
Skladbě by možná prospělo, kdyby tento přechod přišel o kus dřív, a tím jí vtisknul klasickou strukturu sloka-refrén-sloka-refrén, zatímco takto se objevuje jen jednou v závěru.
Celkově mě při poslechu některých písní z alb Music for Nations napadlo, že bych ocenil více dynamiky a přechodů, což platí i pro následující kus "The Sun Invincible" (Nepřemožitelné Slunce). Zatímco se totiž vokály budují variacemi a přibývajícími prvky, podkresleny zůstávají toutéž sekvencí kytarových akordů, která se po celou dobu trvání písně (čtyři a půl minuty) nemění.
Lyrické motivy písně směřují k esenci alba a načrtávají výjev Slunce, přihlížejícího všem triumfům i těžkostem pozemského života, velké hře, jejímiž jsme všichni bez výjimky aktéry. Kromě těchto prožívaných událostí a nad ním však existuje také struktura, vyšší osud, s nímž hledáme soulad, jak zaznívá i z nejzásadnějších veršů celého alba: "Focus on the inner light / The Sun is rising every night" (Soustřeď se na vnitřní světlo / Slunce vychází každou noc). Odpovědi i cestu k nim hledejme v nitru.
"This Death" (Tato smrt) je uvozena recitací Poeova Havrana Jasonem Köhnem, známého z YouTube kanálu No White Guilt. Znovu slyšíme vzdálené andělské hlasy a téma blízké a drahé evropským lidem: střídání ročních období se zvláštním důrazem na podzim. Metafora života a znovuzrození se dobře hodí k obecnému vyznění alba. Několik linek akustických kytar se umně doplňuje, někdy také s Burdiho hlasem, i tady by však neuškodilo, kdyby byly tyto prvky lépe rytmicky sladěné.
Vrchol alba "Song for Sweden (Europa!)" (Song pro Švédsko /Evropa!/) funguje jako trefné shrnutí projektu. Prostřednictvím odkazů na krále i bohy medituje nad dějinným momentem, v němž jsme se ocitli a spřádá mytické ideály jako pomoc při konfrontaci tvrdě střízlivé reality, před níž západní civilizace stojí.
Klavírní akordy přinášejí neotřelou zvukovou paletu, do níž Weissová zpívá "It's hard to reckon / How it all came down to this" (Těžko pochopit / jak jsme dospěli až sem). Burdi se k ní svým hlasem přidává a následně zpívá i samostatně v představení, které by nezapadlo ani na velkých scénách divadel a koncertních síních západního světa.
Album skutečně dostává svému názvu, "Hudba pro národy", pochopitelně ale s určitým zaměřením a úhlem pohledu, jak je ostatně pro bělošský pár, který za dílem stojí, zcela přirozené. Švédsko v závěrečné skladbě hraje úlohu múzy Überfolk i symbolu širší evropské sféry.
"Song for Sweden (Europa!)" postupním stupňováním přerůstá v pochod s monumentálními orchestrálními perkusemi a sborové hlasy autorské dvojice stoupají k výšinám, kompletují dílo a podtrhují tak to, čemu obecenstvo celou dobu naslouchalo: milostnému psaní i budíčku Evropě a jejím synům a dcerám po celém světě.
* * *
V současnosti lze album projektu Überfolk Music for Nations koupit jako dvojitý digipak od Midgård Records ve Švédsku a ve zbytku světa e-mailem labelu VIR Rekords.
Další distributory i aktuální informace najdete na webu Überfolk, nebo na facebookovém a twitterovém profilu kapely.
Album Überfolk najdete také na Spotify, iTunes a Amazonu.
O autorovi
Jared George je multimediální autor, jehož tvorbu můžete najít na stránkách The Great Order a s nimi spojenými účty na různých sociálních sítích.
This translation originally appeared at Delian Diver.
* * *
Like all journals of dissident ideas, Counter-Currents depends on the support of readers like you. Help us compete with the censors of the Left and the violent accelerationists of the Right with a donation today. (The easiest way to help is with an e-check donation. All you need is your checkbook.)
For other ways to donate, click here.