3,216 words
Meghan Markle is not the first conniving, social climbing, American divorcee to imperil the British Monarchy. Before her, there was Wallis Simpson, the Duchess of Windsor. And, as problematic as she was, Wallis had a hell of a lot more going for her. Born Bessie Wallis Warfield in Baltimore in 1896, Wallis was not pretty (one biographer has even speculated that she was a hermaphrodite). However, she made up for that with an unerring fashion sense — and, especially, with ambition. In 1916 she married a Naval aviator, Earl Winfield Spencer, who was posted to San Diego as commanding officer of a training base. The marriage was an unhappy one, as Spencer drank heavily and abused Wallis.
After a few years, she is supposed to have begun a series of sexual exploits, though much of this has been heavily embroidered and exaggerated by biographers and by the scandal sheets. For example, after her husband was posted to the Far East, Wallis spent a year touring China, during which time she is supposed to have learned a variety of sexual tricks in Chinese brothels. But there is actually not a shred of evidence for this widely repeated legend. We do know that after a year in the Orient, the only Chinese phrase Wallis managed to master was "Boy, pass me the champagne!" Wallis and Win Spencer separated in 1925 and their divorce was finalized in 1927.
After that, Wallis set her sights on Ernest Simpson, an American-born British shipbroker who had been an officer in the Coldstream Guards. The two married in 1928 in London. Because the shipping business continued to boom throughout the Great Depression, Wallis and Ernest were able to live in style in a posh flat with a staff of servants. And they began to move in High Society. Through a friend, Wallis made the acquaintance of Thelma, Lady Furness who was having an affair with the Prince of Wales.
Edward Albert Christian George Andrew Patrick David (known to his family as "David") was the still unmarried, forty-year-old heir to the throne. He was known as the most eligible bachelor in the world. Accounts of his first meeting with Wallis differ, but it was decidedly not love at first sight. Through Lady Furness, however, Wallis and Ernest soon became part of the Prince's intimate social circle. In 1934, Furness decided to sail to New York to spend a few weeks with friends. On hearing the news, Wallis exclaimed "Oh Thelma, the little man is going to be so lonely" (Edward was not very tall). "Well," responded Thelma, "you look after him while I'm away." As Furness noted in her memoir years later, Wallis "looked after him exceedingly well."
When Lady Furness returned to London it was apparent that Wallis and Edward had begun an affair. Thelma was soon cut off from the Prince's circle entirely, as Edward now only had eyes for Wallis. By the time King George V died on January 20, 1936, Edward had become slavishly dependent upon her. And he was determined to make Wallis his Queen. All of this must have come as something of a shock to Wallis herself, who had probably been surprised even that an affair took place (she was, after all, pushing 40). But then she allowed herself to dream. "Soon I shall be Queen of England," she is reported to have said to a friend.
There was, however, a major impediment to these plans: Wallis was still married to her second husband. By this point, however, Ernest Simpson had grown tired of being cuckolded and had begun an affair of his own. He willingly agreed to allow Wallis to sue for divorce, on the grounds of his infidelity, and the divorce was granted in October 1936. Those who were close to the situation at the time observed that Wallis was completely naïve concerning the intricacies of British culture and society, and concerning the nature and limits of the monarchy. She genuinely believed that since Edward was King he could do whatever he wanted, including making her his Queen. And she believed that the divorce from Ernest was the last obstacle to her sitting beside Edward at his coronation.
Edward, however, knew otherwise. He broached the subject of his marriage plans with Prime Minister Stanley Baldwin, who was horrified. Baldwin brought the matter to his cabinet, who threatened to resign en masse if Edward went through with it. Baldwin also consulted the leaders of the Commonwealth nations, who voiced their unequivocal opposition. In recent years, the idea has been floated that there was another agenda involved here. Edward was known to be a Germanophile, and a possible Nazi sympathizer. The Royal Family are, of course, German, and Edward spoke German fluently (calling it "meine Muttersprache," my mother tongue). Notoriously, after his abdication he met Hitler in 1937, greeting him with a Nazi salute. The British government saw war with Germany on the horizon, and wanted Edward out. His desire to marry Wallis was therefore seized upon as an excuse to oust him — or so the story goes.
The reason people have proposed this theory, however, is that they can't imagine that anyone in 1936 was really that worked up about divorce. But this reflects a failure to understand how norms have changed — how, indeed, they have declined. Wallis wasn't just divorced, she had been divorced twice, and both her husbands were still alive. And this was a time when divorce was still regarded as genuinely shameful. Worse still, the Church of England did not permit people to marry divorcees, and, as head of the Church of England, the King could not be seen to break his own Church's rules.
For this reason, divorce was, at the time, unheard of in the Royal Family, and the royals did not socialize with divorced persons. This was true as late as the 60s and 70s, when the Queen's cousin, Lord Harewood, found himself ostracized by the family when he divorced his wife to marry his pregnant mistress. And the Queen gave her consent for Prince Charles to marry the divorced Camila Parker Bowles in 2005 only after the Church had lifted its ban on the remarriage of divorced persons three years earlier.
The idea of Wallis Simpson becoming Queen was literally unthinkable to the majority of Britons — with the exception of soon-to-be Prime Minister Winston Churchill, who drunkenly exclaimed at a dinner party, "Why can't the King have his sweetie?" But Edward was not to be deterred. He decided to force the issue by making a public show of his relationship with Wallis, which had hitherto been kept under wraps. The pair cruised the Mediterranean on a private yacht and were photographed together. Naturally, these pictures were splashed all over the world's papers within days. Up until this point, the British press had kept mum about the affair, even though it was an open secret in London. This was also a time when Britain's press still adopted a deferential stance toward the royals. But when the story made the international papers, The Times and others had no choice but to run with it.
The result was pandemonium. The vast majority of the public was opposed to the relationship, and saw Wallis as a femme fatale who had bewitched the King and led him astray. There is at least some truth to this. Queen Mary, Edward's mother, referred to her as an "adventuress" (a word that needs to come back into style). The rest of the family merely referred to her as "that woman," as they would for the next several decades. The hostility of the public was such that Wallis was unable to go out, and Edward feared for her safety. In fact, the situation is uncannily like that faced by Camila Parker Bowles after it was revealed that she had been carrying on an affair with Prince Charles when he was still married to Diana.
It was not long before Edward told his family and his government that if he could not marry Wallis and remain King, he would abdicate the throne. It was then that Wallis was shocked into wakefulness. She confided to a friend that she felt like she was "meddling in history." She fled to France and sent a letter to Edward, trying to break off their affair and to withdraw from the situation. He responded that he would abdicate anyway and then follow her to the ends of the earth. Helpless and horrified (and, one imagines, frightfully disappointed) she sat in a French chateau listening to the radio when, on December 11, 1936, Edward gave a brief speech announcing his abdication. Famously, he said: "I have found it impossible to carry the heavy burden of responsibility and to discharge my duties as king as I would wish to do without the help and support of the woman I love."
Edward saw his abdication as a "great renunciation," undertaken in the name of love. "How romantic!" mooned millions back in Wallis's home country. Others, including Edward's family, saw the abdication as a great betrayal: as the act of a hopelessly selfish and self-involved man. Edward had begun his reign stating to confidantes that he aspired to be the first "modern king." At this, he surely succeeded.
Edward left the monarchy in the hands of his younger brother, Bertie, who took the name George VI, emphasizing continuity with the reign of their father. Almost as soon as he had signed the instrument of abdication, Edward boarded a ship bound for France, bound for Wallis (whom he could not see for several months, until her divorce became absolute). Ironically, the name of the ship was the H.M.S. Enchantress. Upon arrival, he sent his brother a telegram breathtaking in its callous flippancy: "Had a good crossing. . . . Best love and best of luck to you both." Gee, thanks a lot. Bertie responded several months later with a wedding present for Edward and Wallis: he decreed that while Edward could publicly style himself "HRH" (His Royal Highness), as is the case with all British princes, Wallis could not.
The message could not have been clearer: George VI was declaring that Wallis was unworthy of membership in the Royal Family. It was an unprecedented move, since wives are always allowed to enjoy the same status as their husbands. And it rankled Edward until his dying day. After his brother's death, he begged Elizabeth II to grant the HRH title to Wallis, but she refused to act against her father's wishes. Since Edward was no longer King or Prince of Wales, his brother bestowed on him the title Duke of Windsor. Wallis was known after their marriage (which took place on June 3, 1937) as the Duchess of Windsor, but never as Her Royal Highness the Duchess of Windsor (as is the case with other royal duchesses — e.g., Camila, Kate, Meghan, etc.).
The further adventures of Wallis and Edward were, to say the least, anticlimactic. The King made it clear that he did not want them to reside in England, where the once-popular Edward might almost be seen as a pretender to the throne. So, they lived out most of the rest of their lives in France. During the Second World War, when all the royals were expected to do their bit, George VI posted Edward to the Bahamas as its Royal Governor, in which capacity he served for five years. It is worth noting that the Bahamas is 7,057 kilometers distant from Buckingham Palace. In advance of the Windsors' arrival in Nassau, the locals were issued instructions from the Palace that while the Duke was entitled to bows and curtsies, the Duchess was not. Petty? Perhaps. But, as George VI explained to a friend, if the Windsors had not been treated so frostily, the world would have assumed that the Royal Family approved of what Edward had done.
After this brief foray into noblesse oblige, the Windsors lived out the rest of their lives in Paris, mostly throwing dinner parties or attending them. Their close friends included Oswald and Diana Mosley, who were also exiles. Edward died of throat cancer in 1972, and received a state funeral in London, befitting a king. For a couple of days, the Duchess was at last received into the British Royal Family, and even treated with a certain amount of sympathy. But she never forgave or forgot how she had been treated in years past. When finally she died in 1986, after years of senescent decline, her fabulous collection of jewels was auctioned, as per her last will and testament, to benefit charity — even though some had belonged to Edward's ancestors, and should rightfully have been returned to the family.
There are quite a few parallels between l'affaire de Wallis and that of Meghan — but there are significant disanalogies as well. Obviously, as I have already pointed out, both are cunning, social climbing, divorced Americans. But of course, one is half golliwog, and the other is not. Both also seem to have entered into their royal relationships with a good deal of naivete. Meghan claimed in her interview with Oprah that she wasn't too clear about what Harry's family "did" (!). This is probably an exaggeration, but the Royal Family does seem to have a history of not being very upfront with brides-to-be about the burdens of the royal lifestyle. Witness, for instance, Diana and Fergie's disillusionment on learning that their royal husbands would be "away a lot." Too much consumption of Disney princess movies may be the problem here, at least with Meghan.
Another parallel is that in both cases the royal husbands — Edward and Harry — seem to be utterly enslaved to these women. Asked about his reaction to Meghan and Harry encouraging people not to vote for him, Donald Trump said, "I wish Harry a lot of luck. Because he's going to need it." And how. Meghan has utterly ruined Harry at this point. It must not be all that great to be born into a family, however wealthy and privileged, that has marked out your entire life for you in terms of exactly how you are going to live and work. But at least this gave Harry a purpose in life, which few modern people can boast. At least he was given the opportunity to serve something greater than himself. Now he is cut off, cast out, and whining on Oprah. The British Monarchy has never fallen so far. Even Prince Andrew's paedo scandal seems dignified by comparison.
The great mystery, of course, is why. What is it that he sees in "that woman"? This was the great mystery of Wallis and Edward as well. Again, Wallis wasn't pretty. And she wasn't even that nice. Sandy Bertrand, Edward's golfing partner in later life, recalled how the Duchess often said to him, in Edward's presence, "Sandy, you are so kind to play golf with my old man. It must be so boring for you." The Duke would meekly defend himself, "Darling, I don't think he's bored." Whereupon she would shoot back, "Of course he is!" Bertrand said when Wallis treated Edward this way "he seemed to feel that it showed that she cared." Yes, Edward was really, really pathetic. When he was still king, a servant walked in on them once to find Edward on all fours painting Wallis's toenails. Indeed, he was so submissive that many have speculated that the relationship was sadomasochistic.
The real truth may have been that the dynamic was that of mother and child. Edward's mother, Queen Mary, was apparently not a very affectionate woman, and his relationships with women, as a consequence, seem to have been infantile. The editor of Wallis and Edward's correspondence, Michael Bloch, has written that "His letters to her are infantile, adoring, trusting; they plead for affection and protection. Hers to him are sensible, affectionate, admonishing, possessive. The correspondence resembles nothing so much as the letters exchanged between a fond but wise parent and a lonely, hypersensitive child at boarding school."
Could something similar be at work with Harry and Meghan? He certainly has married a girl who is quite a lot like his mum. Manipulative, attention-hungry, self-absorbed, and clever. Might he harbor deep-seated resentment against his family, because of how he thinks they treated his mother? We've been assuming that Meghan just leads Harry around by the nose. But is he a pawn, or an accomplice? He could be both. Whatever the truth, he is a lot less sympathetic a character than the Duke of Windsor.
We will never really know what it was that Edward saw in Wallis. And, ultimately, who cares? It is all a footnote to history, though an interesting one. And who, ultimately, cares about Meghan and Harry? Actually, quite a lot of people — mostly, it seems, affluent, white, educated, very privileged people. Which just shows how utterly clueless those people are, if we needed any more evidence. These are the sort of people who think that they're lucky to have survived the trauma of their latest Facebook post not receiving any likes. They watch as a billionaire who controls a media empire and two royals sitting on $50 million sit around talking about what victims they all are, and they think "I can relate."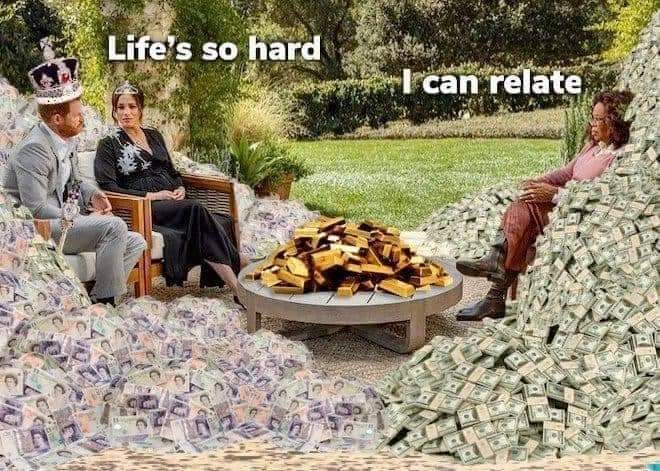 It's clear that Meghan is a colossal narcissist. And obviously, all that has occurred since the marriage is due to Meghan's desire to constantly maneuver herself into the spotlight. Being a junior royal, playing second fiddle to Duchess Kate was not the life she wanted for herself. So she has grabbed media attention in any way she can, even if that means damaging an institution that is more than a thousand years old. Why should she care about history — why should she care about her adopted nation — when her feelings have been hurt?
Was Wallis a narcissist? Certainly, she did care a great deal about her status and how she was regarded by others, but based on what I have read I would say that Wallis was no more narcissistic than any other woman. In all the years that she was married to Edward, she did little that seemed to suggest she was desperate for media attention. In fact, she was fairly careful not to do anything that would embarrass her husband's family, even though she must have despised them. When Meghan and Harry's engagement was announced, I prayed that the Queen would "create" him Duke of Windsor, so that Meghan could be the Duchess (the Queen is in the habit of giving Dukedoms as wedding presents to sons and grandsons). But that would have been too obvious a "statement" on Her Majesty's part.
And the truth is that Meghan would not have deserved it. Say what you want to, Wallis had class. Meghan has none at all.
If you want to support Counter-Currents, please send us a donation by going to our Entropy page and selecting "send paid chat." Entropy allows you to donate any amount from $3 and up. All comments will be read and discussed in the next episode of Counter-Currents Radio, which airs every weekend on DLive.

Don't forget to sign up for the weekly email Counter-Currents Newsletter for exclusive content, offers, and news.