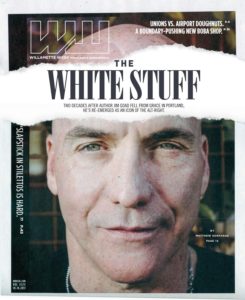 181 words / 2:00:38
To listen in a player, click here. To download the mp3, right-click here and choose "save link as" or "save target as."
On this episode of Counter-Currents Radio, Greg Johnson talks to Jim Goad, a well-known and highly prolific author and columnist. They discuss Jim's tenure at Taki's Magazine, some personal history, current events, and the two answer listener questions. Topics discussed include:
00:00:00 Jim's history with Taki's Magazine
00:10:00 The evolution of Jim's views
00:18:45 The beef between Jim and Greg
00:41:00 Right-wing interpreters of Hegel
00:43:00 What motivates Leftists?
01:01:00 The 1000 year Reich of racist comedy
01:08:30 Thoughts on vegetarianism
01:14:30 Jim's creative process
01:17:15 Anton LaVey
01:21:15 Boyd Rice
01:25:45 Would you move to escape the social collapse?
01:40:00 David Cole
If you want to support our work, please send us a donation by going to our Entropy page and selecting "send paid chat." Entropy allows you to donate any amount from $3 and up. All comments will be read and discussed in the next episode of Counter-Currents Radio, which airs every Friday.
Don't forget to sign up for the twice-monthly email Counter-Currents Newsletter for exclusive content, offers, and news.