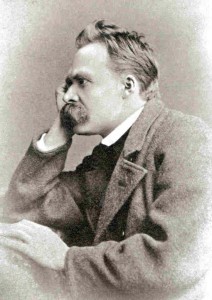 160 words
Greg Johnson will be joining Fróði Midjord on Guide to Kulchur today at 11:00 AM PDT / 2:00 PM EDT / 20:00 CET to discuss Friedrich Nietzsche's Second Untimely Meditations as part of a series called First Principles, devoted to books central to a Right-wing understanding of the world. You can watch the stream on the official Guide to Kulchur YouTube and DLive channels.
Questions submitted through Entropy will be read and answered on air.
You can follow Guide to Kulchur on their website, on Telegram, and Twitter for further updates. Past episodes are archived on Bitchute.
https://youtu.be/gtZIhXPeHvk
If you want to support Counter-Currents, please send us a donation by going to our Entropy page and selecting "send paid chat." Entropy allows you to donate any amount from $3 and up. All comments will be read and discussed in the next episode of Counter-Currents Radio, which airs every Friday.
Don't forget to sign up for the twice-monthly email Counter-Currents Newsletter for exclusive content, offers, and news.