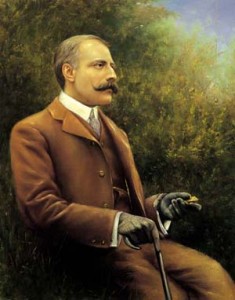 1,568 slov
English original here
Evropan Edward Elgar: Vlastenec, Angličan a Evropan
Edward Elgar (2. června 1857–23. února 1934) patří k čelním představitelům poslední generace evropských romantických skladatelů. K této generaci bývají řazeni mj. Giacomo Puccini (1858–1924), Gustav Mahler (1860–1911), Richard Strauss (1864–1949), Jean Sibelius (1865–1957), Ralph Vaughan Williams (1872–1958) či Sergej Rachmaninoff (1873–1943).
Pozdní romantismus se pojí s érou úplného vrcholu sebedůvěry evropské civilizace a její celosvětové nadvlády. Ačkoli, stejně jako u plně rozkvetlých květů nebo zralého ovoce, dokáže pozorné oko při zpětném pohledu už rozeznat první známky rozkladu a vnitřní dekadence, již vyvrhla do plného světla katastrofa 1. světové války.
Mnozí hodnotu Elgarovy tvorby snižují s tím, že je prý příliš "bombastická" a "hurávlastenecká", což je nesmysl. "Bombastická" hudba sice úžasně a vznešeně zní, ve skutečnosti však bývá prázdná. Pompéznost, to je úderný úvod, který vyšumí, skvostné crescendo, jež ale není emocionálně zasloužené. Elgar však nikdy neslibuje víc, než dokáže splnit a nikdy si ani nebere víc, než kolik si zaslouží. Na to byl jako skladatel až příliš svědomitý, příliš árijský.
Nařčení z "pompéznosti" a šovinismu
Tato nařčení snad mohou souviset s tím, že Elgarova hudba v sobě, podobně jako třeba ta Brahmsova, nese nezaměnitelně mužného ducha, jenž vášeň a zápal snoubí s důstojností a vznešeností pevné sebevlády. Některým lidem pak dělá problém se s něčím podobným ztotožnit.
Co se "šovinismu" týče: Edward Elgar byl hrdý a vlastenecký Angličan, v prvé řadě se však cítil být Evropanem. Jeho hudba vyrůstá z evropského romantismu a kontinentální tvorby si velice vážil. Navíc na rozdíl od celé řady vědomě nacionalistických skladatelů pozdního romantismu, kteří se proto do svého díla snažili zakomponovat vlastní národní hudební tradice, včetně těch lidových, neměl Elgar kdovíjak valné mínění o anglické vážné hudbě (s výjimkou Purcella). Nezajímal ho ani rozsáhlý korpus anglické lidové hudby. Přesto je však jeho hudba sice nepopsatelně, ale zato neomylně anglická – Angličanem totiž byl, nepotřeboval se tak snažit znít.
Výtky ze "šovinismu" jsou z velké části zapříčiněny tím, že Elgarova "Land of Hope and Glory" (Země naděje a slávy) z roku 1902 a otextovaná A. C. Bensonem se záhy stala jakousi neoficiální anglickou národní hymnou. Elgar sám však byl nešťastný z exploze válečného konfliktu Velké války, již považoval za bratrovražednou tragédii, a když tak slyšel hrát "Land of Hope and Glory" ve válečném kontextu, zděsil se: píseň totiž skutečně složil na oslavu Anglie. Ne však Anglie proti a nad ostatní evropské země.
Mládí a dospělost
Čtvrté ze sedmi dětí středostavovské hudební rodiny z vesničky Lower Broadheath poblíž Worcesteru Edward Elgar už v raném mladí vykazoval známky hudebního nadání, jimž se dostalo podpory a rozvoje. Po několika měsících, kdy pracoval jako koncipient v právnické kanceláři, si Elgar uvědomil svůj omyl a začal se hudbě věnovat profesionálně. Ještě jako mladík si získal pověst nejen vynikajícího a varhaníka, ale také dirigenta a skladatele.
Elgar se skutečně vypracoval od píky. V mládí pracoval mj. jako vedoucí kapely ve worcesterském ústavu pro choromyslné nebo učitel hry na housle na Worcester College for the Blind Sons of Gentlemen.
Do svých třicátin procestoval evropský kontinent, aby zde čerpal inspiraci od předních skladatelů a muzikantů. Později také často navštěvoval koncerty v londýnském Crystal Palace.
V poslední dekádě 19. století si Elgar postupně vybudoval pověst jako i jako skladatel, především skladbami pro velké sborové festivaly anglického kraje Midlands. Mezi jeho díla z této doby patří The Black Knight (Černý rytíř, 1889-92) a King Olaf (Král Olaf, 1896) inspirovaná tvorbou básníka H. W. Longfellowa, a také The Light of Life (Světlo života, 1896) a Caractacus (1897-98). Méně slavnými instrumentálními skladbami z této etapy Elgarovy kariéry jsou např. Serenade for Strings (Serenáda pro smyčcový orchestr, 1888-92) a Three Bavarian Dances (Tři bavorské tance, 1897). V očích londýnského hudebního establishmentu však Elgar i nadále zůstával spíš menším provinciálním skladatelem.
První úspěchy
Velký Elgarův průlom přišel až v roce 1899, kdy mu bylo už 42 let, s uvedením jeho orchestrálních Variací na vlastní téma pro orchestr (op. 36), všeobecně známé jako Enigma variace. Právě ty zajistily Elgarovi domácí i celosvětovou slávu a dodnes zůstávají nedílnou součástí koncertního i reprodukovaného repertoáru. Zde Daniel Barenboim diriguje Variaci IX "Nimrod".
(Mám jeho verzi raději než ostatní na YouTube dostupné verze, protože Barenboimovo tempo je asi nejblíže Elgarovu vlastnímu vkusu – ostatní dirigenti skladbu obvykle příliš natahují na úkor jejího dramatického vyznění. Z nahrávek Enigma variace nejvíce doporučuji tu dirigovanou sirem Adrianem Boultem.)
Vrchol hudební kariéry
Když v roce 1900 zemřel sir Arthur Sullivan, byl Edward Elgar prohlášen za vedoucího britského skladatele (tak už to konec konců v monarchiích funguje). Toto období trvající až do vypuknutí bojů 1. světové války bylo pro Elgara sledem hudebních triumfů a společenských poct. Roku 1900 mělo premiéru jeho velké oratorium The Dream of Gerontius (Sen Gerontiův, 1918). Následujícího roku složil první ze svých pěti pochodů Pomp and Circumstance (Slavnostní vojenské pochody, 1901-07). První tři byly zakomponovány do "Land of Hope and Glory", které se dodnes ve Spojených státech hraje během každé ceremonie při předávání maturitních vysvědčení. Zde si můžete poslechnout strhující podání prvního z pochodů, včetně sborového zpěvu "Land of Hope and Glory". 1]
Úspěch slavily také koncertní předehry Cockaigne (In London Town) (1901) a Na jihu (Alassio) (1904), Introdukce a Allegro pro smyčce (1905), nesmírně populární  Symfonie č. 1 As Dur (1908), Symfonie č. 2 Es Dur (1911) či symfonická báseň Falstaff (1913).
Dílo
Podle mého mínění je největším Elgarovým dílem Houslový koncert b moll (1910), který považuji za houslový koncert, jaký měl složit Brahms namísto onoho Brahmsova jména nehodného počinu, jenž se tak nazývá. Dvě jeho nejlepší verze odehrál Nigel Kennedy (dnes jen "Kennedy") pod vedením Vernona Handleyho a Simona Rattleho. Naneštěstí na YouTube podle všeho nenajdete kvalitní videozáznam tohoto představení.
V poválečné Evropě s její na prach rozdrcenou civilizací vyšla Elgarova hudba z módy. Jeho posledním zásadnějším dílem byl Violoncellový koncert v e moll (1919). I když se jedná o jeden z jeho nejlepších počinů, dočkal se velmi vlažného přijetí. Nejraději mám nahrávku Jacqueline Du Preové s dirigentem Johnem Barbirollim (spolu s dokonalým provedením Elgarova cyklu písní Sea Pictures /1899/ s mezzosopranistkou Janet Bakerovou). Na YouTube naštěstí je k dispozici skvostný výkon Yo-Yo Ma, zde je první věta v jeho podání.
Elgarova o osm let starší žena Alice zemřela v dubnu 1920.  Po její smrti ztratil zájem o komponování a namísto toho se snažil rozptýlit nejrůznějšími zálibami. Naštěstí pro nás bylo jednou z nich i tehdy velice mladé umění záznamu zvuku. Elgar začal s pořizováním nahrávek svých hlavních děl už v roce 1914. S vynálezem elektrického mikrofonu však došlo k naprosté revoluci při zachycování zvuku.
Od roku 1926 tak Elgar začal dirigovat a nahrávat nová provedení svých nejvýznamnějších počinů, včetně Variací Enigma, Falstaffa, první a druhé symfonie a koncertů pro cello a housle. Tyto nahrávky Variací Enigma a houslového koncertu s Jehudim Menuhinem coby sólistou jsou v USA dostupné na CD u společnosti EMI. 2]
Edward Elgar byl také jako jeden z prvních skladatelů při dirigování vlastních skladeb zachycen na film. V listopadu 1931 natočila společnost First National-Pathé filmový týdeník s Elgarem, jak diriguje Pomp and Circumstance, Pochod č. 1 u příležitosti otevření londýnského studia EMI na Abbey Road.
Závěr života
Počátkem 30. let Elgar znovu našel zájem o práci. BBC v roce 1932 u příležitosti jeho 75. narozenin uspořádala festival jeho skladeb a také si objednala třetí symfonii, která však nikdy nebyla dokončena. (Anthony Payne rozpracoval nástin do koncertní podoby, díky níž si můžeme představit, o jak velkolepé dílo se mohlo jednat. I tyto studie samy o sobě jsou však úžasné a dnes tak mají své pevné místo v elgarovském repertoáru. Vynikají zejména zpracování Sira Colina Davise, Richarda Hickoxe, Paula Daniela a Andrewa Davise.)
Elgarovi se podařilo prožít život naplněný nejen umělecky, ale také osobně. Manželství s Alice bylo dlouhé a spokojené, a přestože jeho paní bylo v době, kdy se brali, už přes čtyřicet, dopřál jim osud jedno dítě, roku 1890 narozenou dceru Carice Irene. Elgar byl v roce 1904 pasován na rytíře – a další pocty následovaly. Časem se také stal poměrně zámožným. Zemřel roku 1934 na rakovinu, ve věku 76 let. 3]
Poznámky:
1] Nahrávka Variací Enigma sira Adriana Boulta obsahuje vynikající verzi všech pěti Pochodů.
2] V Británii a zbytku Evropy, kde neplatí tak drakonické autorské zákony, jsou k dostání ve třech cenově dostupných nahrávkách od Naxosu: Symfonie 1 & Falstaff, Symfonie 2 & the Cello Concerto, a Enigma Variations, Cockaigne Overture, & Pomp and Circumstance Marches 1-5.) Zakoupit si můžete i Elgarovy kompletní elektrické nahrávky od EMI ve zvýhodněné sadě: The Elgar Edition: The Complete Electrical Recordings of Sir Edward Elgar.
3] Jeho nejlepší životopis sepsal Michael Kennedy: Portrait of Elgar, 3. vyd. (Oxford: Clarendon Press, 1987). Nejlepší sbírkou Elgarovy hudby pak jistě je Elgar: The Collector's Edition obsahující 29 disků všech nejlepších Elgarových skladeb a většiny těch méně známých – často ve své definitivní podobě – a 30. disk s Elgarovými vlastními nahrávkami. Při ceně kolem 50 dolarů (tj. ekvivalentu tři běžných CD) jen sotva kdy narazíte na výhodnější koupi hudby.
Poznámka DP:
Zajímavá perlička ze života Edwarda Elgara:
V roce 1884 si zahrál pod taktovkou Antonína Dvořáka, který přijel do Worcesteru na festival, kde se hrály jeho díla; a to Stabat Mater a Symfonie č. 6 D dur. Edward byl jeho skladbami uchvácen, obdivoval jeho instrumentaci a zpěvnost. O dva roky později přijel Antonín Dvořák znovu, aby provedl svou Symfonii č. 6 D dur na koncertě v Birminghamu, kde Elgar opět hrál v orchestru. Před příjezdem A. Dvořáka svému nejlepšímu příteli dr. C. W. Bruckovi, napsal dopis, ve kterém stálo: "Ve čtvrtek znovu přijede do Birminghamu Dvořák. Provede tu svou Symfonii č. 6 D dur a tak se musím snažit a vydat ze sebe co nejvíce." ("Dvorak will perform with us again on Thursday. He is going to conduct his sixth symphony in D major, so I shall try my best.") Joung P. M. Letters of Edward Elgar, Geoffrey Bles, London 1956, s. 26
Source: https://deliandiver.org/2018/06/evropan-edward-elgar.html