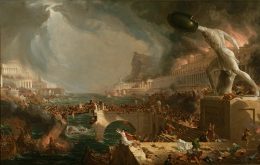 1,475 words
So are we merely documenting the decline?
This is a question I often see posed among people on the Right. Things are not exactly ascending for us these days, and so the decline that we see dripping all around us like dirty water from a cracked ceiling can get monotonous and depressing.
So the FBI now gives the January 6 investigations higher priority than investigating child sex crimes? Terrific. Sports Illustrated is featuring its first transgender swimsuit model? Fantastic! A grammar school on Long Island is refusing to remove a book depicting anal and oral sex? Isn't that special! The man who allegedly ran down and killed a teenager for being a Republican is merely being charged with manslaughter, while James Fields rots in prison for the rest of his life? What's not to love about that? And how about that illegal immigrant from Venezuela who was captured, released, and then raped a teenaged girl in Alabama? It's a good thing the mainstream media won't be covering that one, right? The black mayor of New York City is dumping illegal immigrants on the suburbs and calling anyone who fights it a racist? Things just keep getting better and better, don't they?
And this is all on a slow news day. Don't even get me started on the recent hate speech legislation in Ireland, or the travesty that is the incarceration of Sven Longshanks in England.
It's just not good. People with deep pockets and ruthless dispositions wish to fundamentally change Western Civilization for the worse, against the wishes of the people. And it's working. We can't fight them in the streets — they control most of the police, and their paramilitary organizations are well-funded and organized. We can't fight them in court — they control most of the courts. And when we speak out against them, we run the risk of getting doxed, losing our careers, or getting arrested.
So what can we do besides keep our heads down and slink along with our lives, hoping that on this particular day the axe won't fall on us or someone we love?
Documenting the decline is a start — and there is nothing inherently wrong with that. It certainly beats capitulating to the Left or doing nothing. Such efforts help establish communities. They give people points of reference and facilitate friendships and working relationships among those who share a healthy dislike for the way our society has been trending as of late. A critical mass of people documenting the decline from all corners also makes silencing counter-perspectives more difficult for the ruling elites. And somebody's has to keep track of things while our world keeps swirling down the drain.
There is more to it than this, of course, and it is all fueled by hope. To lose hope is to lose life. People throughout history have endured worse than this and survived, and even thrived. Imagine being a zek in a Soviet gulag; not all of them starved or froze to death, you know. What keeps me going is the hope that we writers of the Right not merely document, but persuade. Despite all the Left's money, power, and influence, white people of the West are held back by one thing most of all: the taboo against defending their own ethnic or racial interests. Yes, it is a powerful taboo, and was paid for dearly by the deaths of tens of millions during the Second World War.
But it can be reversed. Why do I believe this? The Right has truth on its side, for one thing – particularly the biological truth about race and gender differences. And it's not like it isn't obvious that our society is cracking up, as the links above demonstrate. Further, defending one's interests is perfectly natural — indeed, moral. This makes our arguments more elegant and attractive. But we all know that truth alone will not set us free. We must fight for it, cull ideas from it, and construct new modes of thought from it: whole ideologies and ways of life. After this, we connect with our past and plan for the future. This is exactly what the dissident Right has been doing for at least the past decade — and it has been doing it quite well, mainly through top-notch writing. From my personal canon, one could do a lot worse than White Identity by Jared Taylor, The White Nationalist Manifesto by Greg Johnson, On Genetic Interests by Frank Salter, and The Culture of Critique by Kevin MacDonald. But there are many others, including the indefatigable Gregory Hood and that mordant genius Jim Goad, who has made a career out of making us laugh at our enemies' criminal insanity and unconquerable stupidity.
Are we perfect? No. Do we have our share of setbacks, embarrassing episodes, and dubious characters? Absolutely. But the constant stream of persuasive and constructive writing from dissident authors has not let up after many decades — and especially not since the crackdowns and deplatformings which have occurred since the Unite the Right rally in Charlottesville in August 2017.
It's at the point now that if I ever do get doxed and lose everything, I would have something of a community to fall back on. I would survive and become a three-dimensional dissident rather than merely a 2D one, cranking out essays and reviews in my spare time. This might make me a bigger pain in the neck for our elites than I am now (not saying much, I know). But imagine how tough the Right would be if we could all withstand doxing and bounce back stronger? And the more people we have not simply documenting the decline, but using it as an inspiration for creating great works, the more attractive the dissident Right becomes for those fed up with the way things are today.
There was a lot of decline going on during the Summer of Floyd in 2020. It got me angry and afraid at the same time. But it also inspired me. For months I burned with urgency — and if reader comments and the number of hits each article was getting are any indication, it egged me on to produce some of my best stuff for Counter-Currents. Or were the following 17,000 words just documenting the decline? You be the judge:
"They Do This Because They Can"  (June 2, 2020)
"We Have Indulged Them Long Enough"  (June 12, 2020)
"An Open Letter to White Police Officers" (June 18,2020)
"Black Lives Matter is Black Supremacy" (June 23, 2020)
"March 1917 in June 2020" (June 26, 2020)
"Welcome to Year 1 of the After-Floyd Era" (July 13, 2020)
"We Need a White Underground Railroad" (July 15, 2020)
"I'd Rather Have the Klan Than This" (August 20, 2020)
"In Defense of Kyle Rittenhouse" (August 28, 2020)
If we were to stop doing all of this, then yes, there our situation would be hopeless. But this would result not from pressure from our enemies, but from the weakness in our own hearts. Do we really want to be weak? This is a choice, not an immutable condition. We choose to be weak or strong, in the same way we choose to save our souls. If humanity is greater than the sum of its parts and is — in part — divine, then we must recognize that some things are more important than our own comfort or security. Honesty and honor are two personal characteristics that are worth preserving; so is the good of our families and our tribe — or in the case of whites, our people and the great civilization they created. This takes strength, spirit, sacrifice, and tenacity.
They say fortune favors the bold. I don't think that's quite right. Fortune favors the tenacious. These are the people who just don't give up. Anything can happen. At any point things can change — for the better, for the worse, for the I-don't-know-what. And if we have already established communities, and if we have accepted modes of thought, points of controversy, money, and resources, as well as some kind of plan in place, then we just might be able to improvise, adapt, and overcome, to borrow a phrase from a Clint Eastwood movie.
This could entail a stroke of good luck, such as Donald Trump winning in 2024 and uncucking himself long enough to goad the Left into secession. Or it could entail disaster, as I explored in my novel Charity's Blade, in which thousands of blacks and browns go on a murderous rampage against American whites all at once and start a civil war. These two eventualities and countless others in between constitute opportunities.
Opportunities come and opportunities go, and if we aren't ready for them, then they will go a lot more than they will come. This isn't quite logical, but you see my point: What's important is not merely to document the decline, but to survive it. And we do this by producing great works which not only raise our people's morale, but will survive after we're gone.
* * *
Like all journals of dissident ideas, Counter-Currents depends on the support of readers like you. Help us compete with the censors of the Left and the violent accelerationists of the Right with a donation today. (The easiest way to help is with an e-check donation. All you need is your checkbook.)
For other ways to donate, click here.