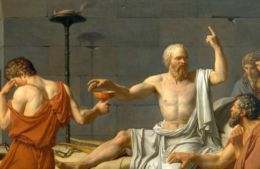 1,632 words
The man . . . has equipped himself with many things for his journey. — Franz Kafka, "Before the Law"
While I have life and strength I shall never cease from the teaching and practice of philosophy. — Socrates, Plato's Apology
Plato's Apology is effectively the court report of the trial of Socrates with Plato as stenographer. The arraignment and trial of Plato's friend and mentor took place in 399 BC and, although he was sentenced to death by the dicasts of the Athenian Senate (the ancient Athenian judicial role of both judge and juror), technically Socrates committed suicide by drinking hemlock. He didn't need to, Athens having given him an easy route to freedom, but like a man crucified almost exactly 400 years later on similar charges to those of Socrates, he recognized his destiny and the responsibility it bestowed on him. The Athenian was offered the judicially sanctioned option to pay a fine he could set himself, but rejected the offer. Both Socrates and Christ were offered the chance to escape their fate. It appears that neither had to die. But that appearance is deceptive; of all men, these two had no choice.
The Apology is, in many ways, the most straightforward of Plato's works, and yet it is not strictly a work of philosophy. Its subject is really the relationship between philosophy and the state, and to what extent the latter will tolerate the former. It is also an excellent approach slope if you are new to Plato. If you are, incidentally, and you are looking for texts, try to obtain those edited and translated by Benjamin Jowett, the great nineteenth-century theologian, teacher, and translator of Plato and Thucydides, who describes the Apology with an almost moving simplicity: "The conversational manner, the seeming want of arrangement, the ironical simplicity, are found to result in a perfect work of art, which is the portrait of Socrates."
Socrates has been brought to trial as a result of a petition by three citizens: the poet Meletus, the politician Anytus, and the orator Lycon. One might fancifully think that grudges were born because Meletus overheard Socrates' opinion of poets in his Republic monologue, Anytus (like today's politicians) purported to sniff a threat to democracy, and Lycon resented Socrates' dismissive attitude towards Sophists such as Protagoras — but the charges were unanimous. Socrates was tried for the related crimes of the "importation of novel divinities," and the subsequent corruption of youth. The Apology is in three parts: Socrates' defense against the charges; the verdict and discussion of a possible penalty; and Socrates' final, accusatory speech against an Athenian state who would, he said, regret their decision, even though Socrates himself did not.
Socrates' indifference towards and even welcoming of death can be parsed into three separate aspects. He tells his friend Hermogenes that he has no wish to continue living. He reports that his divine sign or daimonion — Socrates' inner voice, which only ever dissuaded him from action — had been silent, and that he considered his whole life to have been a preparation for his death at that moment. He will say this explicitly in the Phaedo's death-cell scene. But, most importantly for our understanding of this wisest of men, Socrates accepted his death sentence because it was the law, and thus the will of the state. The maxim is that although you may not agree with the results of due process, you must believe in due process.
Socrates considers the charges against him as an almost proto-Maoist suspicion of the state towards anything straying from the norm. He sketches the opinions held about him: ''Socrates is an evil-doer, and a curious person, who searches into things under the earth and in heaven, and he makes the worse appear the better cause; and he teaches the aforesaid doctrine to others."
Despite Socrates recalling Aristophanes' play The Clouds, in which he is ridiculed by the playwright, the pair get on very well together in Plato's Symposium. But it is not so much Socrates' philosophical methods which cause the state such unease as the fact that he is teaching this method to the youth. It is not Socrates the philosopher who is put to death, but Socrates the educator.
Both Socrates and Christ were — and remain — educators, and unsanctioned education is a dreadful danger to the repressive state, a fact known to Xenophon's Socrates when he replies to Meletus that "I am prosecuted by you on a capital charge because there are people who think I am an expert at education, which is the greatest of human goods." This appears in Xenophon's Conversations of Socrates, which is an alternative account of Socrates' trial.
That Socrates believes himself qualified to be an educator is due, paradoxically, to the revelation made by a Pythian priestess during Socrates' friend Chaepheron's infamous visit to the Delphic Oracle. Socrates, says the oracle, is the wisest of men because he knows that he knows nothing. This is a notoriously problematic formula, of course, and we should treat it as simply the emblem of Socratic method, by which apparent certitudes are shown to be undermined by the simple expedient of the patient and gradual questioning of premises and outcomes.
Indeed, Socrates is able to show his signature dialectic in court as he cross-examines Meletus, easily bamboozling the poet and coming to an acerbic verdict of his own: "Nobody will believe you, Meletus, and I am pretty sure you do not believe yourself."
Patient reasoning, the teasing out of answers hidden behind truths which are merely apparent, is anathema to power, which prefers incontrovertible statements backed by force. Orders, in short. Socrates also takes careful aim at the acquisition of wealth and reputation, a tendency not traditionally unconnected with power. Again, individuals with these priorities have already put themselves in Socrates' sights:
You, my friend — a citizen of the great and mighty and wise city of Athens — are you not ashamed of heaping up the greatest amount of money and honor and reputation, and caring so little about wisdom and truth and the greatest improvement of the soul, which you never regarded at all? And if the person with whom I am arguing, says: Yes, but I do care; then I do not leave him or let him go at once: but I proceed to interrogate and examine and cross-examine him . . .
The last thing a city which is the epicenter of global power needs is a conscience. Socrates describes himself as a gadfly, buzzing and stinging the great beast of state to keep it on its guard:
I am that gadfly which God has attached to the state, and all day long and in all places am always fastening upon you, arousing and persuading and reproaching you. You will not easily find another like me . . .
"I am a mischievous person," he adds. And there is also something else the state and its representatives find to their distaste in Socrates' inquisitory behavior in the market square: mockery. Just as the devil cannot endure to be mocked, neither can the state — particularly if the people decide to join in the fun:
But I shall be asked, Why do people delight in continually conversing with you? I have told you already, Athenians, the whole truth about this matter: they like to hear the cross-examination of the pretenders to wisdom; there is amusement in it.
There will always be deserved amusement in the deflation of the pompous, but if the values of pomposity nestle Venn-like with those of the state, the mocker must keep one eye on the door unless he is to end up at 70 years old and in a court of law for the first time in his life, as Socrates informs us is his position. Socrates imagine someone asking him, "Could you not have held your tongue?", and his answer is a simple one: no. It would be disobedient to God.
And so Socrates is given the death penalty, although he had, apparently, two ways to escape his fate. Firstly, as Xenophon writes in the Memorabilia, he might have gained an acquittal from the Senate had he "in any moderate degree . . . conciliated the favor of the dicasts." There is also a suggestion that Socrates' friends could have had him released during a 30-day delay in his execution while a sacred ship was returning from Delos, an annual ritual pledged by the Athenians to thank the gods for the deliverance of some Athenian youths during a storm. Socrates, of course, would hear of no such thing. The law had spoken.
We are no longer in the time of Athens, nor of Roman rule of the Middle East, but just as the triangle had the same sum of internal degrees at the time of Socrates and of Christ, so too, it seems, that to speak truth to power is still, as it was then, only permissible when that truth has been sanctioned by the state. To speak unsanctioned truth may not lead to hemlock or the cross, but there are social punishments available to the modern state which can act as a less fatal but still effective disincentive. Speech is important to Socrates: "I would rather die having spoken after my manner, than speak in your manner and live."
In an age such as our own, which in terms of principled behavior makes the court of the Medicis look like a showplace of virtue, the Apology is a manual of probity, integrity, and honesty. Socrates was always going to die, no matter how many chances he was given to be spirited away by the friends who will grieve for him in the Phaedo, and for a reason far greater than considerations of mortality or immortality: "The difficulty, my friends, is not to avoid death, but to avoid unrighteousness; for that runs faster than death."
*  *  *
Counter-Currents has extended special privileges to those who donate $120 or more per year.
First, donor comments will appear immediately instead of waiting in a moderation queue. (People who abuse this privilege will lose it.)
Second, donors will have immediate access to all Counter-Currents posts. Non-donors will find that one post a day, five posts a week will be behind a "Paywall" and will be available to the general public after 30 days.
Third, Paywall members have the ability to edit their comments. 
Fourth, Paywall members can "commission" a yearly article from Counter-Currents. Just send a question that you'd like to have discussed to

[email protected]

. (Obviously, the topics must be suitable to Counter-Currents and its broader project, as well as the interests and expertise of our writers.)
To get full access to all content behind the paywall, sign up here:
Paywall Gift Subscriptions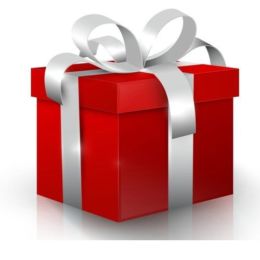 If you are already behind the paywall and want to share the benefits, Counter-Currents also offers paywall gift subscriptions. We need just five things from you:
your payment
the recipient's name
the recipient's email address
your name
your email address
To register, just fill out this form and we will walk you through the payment and registration process. There are a number of different payment options.