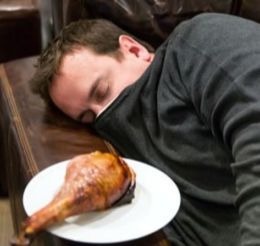 1,495 words
The winter months are, and have always been, my least favorite time of the year. Perusing the most recent string of articles on this site, I realize this places me in the minority — perhaps even a minority of one. Hating the winter is not exactly Nordic of me.
Autumn is when things start to die. Winter is when they stay dead. Spring is when they come alive again, and summer is when they are fully abloom. Plants understand this. So do bears, who seem to be the only sane mammals; they simply put themselves into a coma until the weather gets nice again.
For those who trot out the hackneyed "you can always put on more clothes in the winter but you can only take off so many clothes in the summer" line, the truth is that you can't line your lungs or nostrils with sweaters and thermal underwear. That nasty, face-biting frosty air and the brutal cold it brings like a billion unwanted immigrants will always find its way inside you like the Red Death wriggled its way into Prince Prospero's costumed ball. On the other hand, if the summer heat overwhelms you, you can strip naked and jump in a lake. Or you can simply sleep during the daytime and venture outside during the gloriously wild summer nights. Problem solved.
To me, the only good thing about winter is that it always ends. It's also the only bad thing about summer. The dark and cold months are something I basically have to fight every year.
I understand and accept on a theoretical level that some people prefer coldness and darkness to warmth and light, but I am only able to do so by conceptualizing such people as an entirely different species than I am.
But since today is Thanksgiving, I come to you like a humble emissary from the Wampanaog tribe offering a temporary truce with the clinically insane Pilgrims who savor the rare pleasures of frostbite and snowblindness.
Whether people celebrate or condemn the arrival of pale toes onto the New World's shores doesn't change the fact that I'm part of a centuries-long European diaspora that places me in a land that currently demonizes all things European.
I shed no tears for the Injuns and their self-pitying "Day of Mourning," because I firmly believe that if they'd had the technological savvy to invent things such as firearms and boats capable of traversing oceans, they would have done their level best to invade and pillage Europe. As I've stated many times, it's not exactly a moral triumph if your people have never dropped a nuclear bomb on anyone because your people were too busy chasing buffalo to even invent the wheel. So my attitude is, "Bend over, Squanto — the white man's comin' in."
Although I'm an animal lover to the point of embarrassment, I don't even blink at the annual mass slaughter of turkeys, because turkeys are charmless even for birds. Me and the missus will gleefully and remorselessly gnaw on the roasted carcasses of a goose and two Cornish hens this time around, and we fully intend to eat more dead birds next year.
Since I don't pretend to know which entity placed me on this planet in this solar system at this incredibly crappy point in time, I won't make a grand public display of thanking that entity, a practice which I'm led to believe was at the root of the first Thanksgiving.
Eight years ago on Thanksgiving morning, I broke up with a girlfriend of nearly two years. Our union had been filled with passion and tumult. It reminded me of Longfellow's poem about the girl with a curl in the middle of her forehead: When it was good, it was very, very good, and when it was bad, it was horrid. We had guests coming over to my apartment and were preparing Thanksgiving dinner. She was chopping up a head of cauliflower and wanted to know where she could find a glass bowl to store the cauliflower chunks. I pointed right behind her and said, "There's one right there." She didn't initially see it, so I said, "No, right there, right in back of you." Although I don't feel my tone was hostile in the least, she felt otherwise. She simply muttered, "The way you talk to me," froze up like one of the Great Lakes under January winds, and disappeared into another room for a couple hours. I wound up driving her to the airport and was left to explain to my guests why my girlfriend wouldn't be dining with us.
Neither of us took the breakup well. I cried for weeks, and she told me she grieved so intensely that she lost 40 pounds — about 40 more pounds than she could afford to lose.
But one day during my extended postpartum agony, desperately grasping for some mooring to keep me afloat through the emotional maelstrom, I took a blank sheet of paper and drew a vertical line down the middle. On the left side I wrote down all the ways in which my life had gotten worse over the past five years. On the right, I wrote down the ways in which my life had improved. I focused on the things that improved and vowed to build on them. It proved to be a very useful exercise, and I recommend it to everyone.
Since I don't know exactly which ethereal being I'm expected to thank or blame for my current situation this Thanksgiving, I'll merely enumerate the things that make me sad these days and contrast them with the things that make me glad.
When I started making these lists, I realized that nearly everything that's depressing me is happening in the outside world, whereas everything that gives me hope is happening internally and in my immediate surroundings. It's just my luck that the world started falling apart right around the time I finally pulled my act together.
I won't spend too much time listing my gripes, because that's what I do on this site twice a week for the rest of the year. I'm not happy with the price of turkeys or increasingly short attention spans or the systemic decline in the quality of everything in this country. I don't like that people are getting dumber at the same time they're getting more opinionated. I don't like the fact that one's opinions, rather than their behavior, is what determines whether they're a good or bad person. The old saw about how "opinions are like assholes­ — everyone has one" has metastasized into "your opinions, and your opinions alone, are what determine whether or not you're an asshole." I don't like that what passes for the "Left" and "Right" have ossified into a pair of morally hysterical pit bulls barking at one another and vowing to rip out the other's throat while the kennel masters guffaw at how dumb and gullible pit bulls are. I don't like the fact that we've sacrificed nearly everything that used to be good about this society just so that no one ever says the word "nigger" in public anymore. The only thing that doesn't make the outside world unbearably tedious is that it always manages to sicken me in new and creative ways.
Oops, looks like I did spend some time listing my gripes. Old habits are hard to break.
On the other hand, I'm glad we all haven't completely lost our minds over the past couple years, although we may simply be biding our time.
I'm happy about my dog's goofy and dumb enthusiasm and the way he finds pleasure in everything when we make our two-and-a-half-mile daily trek around the lake.
I'm happy that my son — whom I love with a ferocity unknown to me until he came along– didn't really have a walnut-sized brain tumor last December like doctors suspected, even after taking an MRI. Instead, it was a cerebral cavernous malformation, which they removed. A year later, he's doing better than ever.
I'm happy that after prison and brain surgery and cancer and a thousand other indignities that would have broken a thousand weaker people, I haven't sacrificed any of the things I respect about myself merely in the service of trying to please others.
And at the risk of forcing you to vomit your Thanksgiving dinner all over your computer screen, I'm happy that the thing that I'd lacked the most and that tortured me the most — a stable relationship with a woman who didn't create problems out of thin air for the sheer sadistic thrill of it — arrived on my windowsill like a sweet little unexpected sparrow a few years ago. I have love — the most important thing. Everything else is just creamed corn and green-bean casserole. I have love, and that's what keeps me warm over the dark months. That's what will keep the fires burning inside no matter how cold the world gets.

* * *
Like all journals of dissident ideas, Counter-Currents depends on the support of readers like you. Help us compete with the censors of the Left and the violent accelerationists of the Right with a donation today. (The easiest way to help is with an e-check donation. All you need is your checkbook.)
For other ways to donate, click here.
Enjoyed this article?
Be the first to leave a tip in the jar!