The Worst Week Yet:
September 25-October 1, 2022
Jim Goad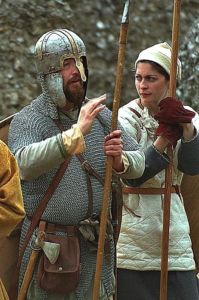 2,606 words
Putin Goes Full-Blown Antagonistic Toward Satanic Anglo-Saxon West
From the very start of the conflict in Ukraine I've made clear that I don't take a side, because the very fact that a World War is brewing while the world economy is already teetering on collapse will be bad for the United States no matter who wins, assuming that there will be any winners when the radioactive dust settles.
Although I find it hard not to admire Vladimir Putin merely for the fact that he's one tough, cold eel, I have noticed a tendency among many of the Extremely Online to cheer for Russia in this conflict because they seem to be so myopically fixated on specific issues that they actually think we're on the brink of a thermonuclear war for no other reason than to decide whether or not it's acceptable for drag queens to sodomize schoolchildren.
In a speech Putin held on Friday to formally announce Russia's annexation of four regions in Ukraine, he did criticize the "West" — a term he seemed to use at least ten times for every time he mentioned Ukraine — for foisting "degradation" and "perversions" on "children in our schools." He even referred to it as Satanism:
Such a complete denial of man, the overthrow of faith and traditional values, the suppression of freedom acquiring the features of a "reverse religion" [the opposite of what the religion is] — outright Satanism.
Okay, so far I can comprehend how this is all juicy red meat for that cloistered contingent of people whose daydreams are filled with thoughts of Satan and pedophilia. I get it, I swear I do.
But everything else in Putin's speech signals that while these types of people consider him a natural ally, their love is likely unrequited. I doubt this former KGB officer cares if you like him or think he's "based." If you're a proud Western Christian nationalist, he seems more likely to view you as an archenemy than a friend.
First off, while Putin may claim to be a Christian, he clearly does not see Russia as a Christian nation. In his speech he made sure to note the tremendous influence of "the great moral values of Orthodoxy, Islam, Judaism, and Buddhism" on "Russian culture." A purely Orthodox culture would not accept Islam, Judaism, and Buddhism, much less give them equal billing.
He claimed that "Russophobia" is racist and that it's "now spreading all over the world."
He reminded the world that only the US has actually dropped nuclear bombs on countries, and that despite the Western media's insistence that Russia is the imperialist aggressor in this situation, it is actually America that has held a unipolar military and financial stranglehold on the rest of the world since 1945:
After the collapse of the Soviet Union, the West decided that the world, all of us, would forever have to put up with its dictates. . . . The profits from World War II allowed the United States to finally overcome the consequences of the Great Depression and become the largest economy in the world, to impose on the planet the power of the dollar as a global reserve currency.
He implied that "Anglo-Saxons" — he mentioned them by race, not by country — were behind the "sabotage" of the Nord Stream gas pipelines.
Claiming that Russia "led the anti-colonial movement" in the 1900s, Putin then dragged "the West" — yes, all of it — all the way back to the Middle Ages and essentially bitch-slapped us for all of the same unpardonable sins that your typical far-Left college-geek Poli Sci major blames us these days:
It is worth reminding the West that it began its colonial policy back in the Middle Ages, and then followed the global slave trade, the genocide of Indian tribes in America, the plunder of India, Africa, the wars of England and France against China, as a result of which it was forced to open its ports for trade opium. What they did was put entire nations on drugs, purposefully exterminated entire ethnic groups for the sake of land and resources, staged a real hunt for people like animals.
These are the words of someone preparing to justify the wholesale slaughter of an irredeemable group that he's marked and tagged as evildoers. It doesn't seem to matter whether or not you think he's cool.
Writer Pushes for Virtual-Reality Children, Theoretically Opening the Door for Virtual-Reality Child Molestation
Catriona Campbell is a hag-faced British woman who writes with unrestrained glee about another kind of "Great Replacement" — not of white Europeans with browns, yellows, and blacks, but of actual human beings with virtual-reality simulacra of human beings.
In case you are fortunate enough not to know what a "Tamagotchi" was, it was a "virtual pet" toy first marketed in 1996. Shaped like a little keychain, the crude digital device had a touchscreen allowing you to press buttons to act like a parent to the little catlike creature that appeared on the screen. You had to "feed" it when it was hungry, give it "medicine" when it was sick, and "clean up" after it digitally excreted waste products. You could "raise" the virtual-reality beast to adulthood, at which point it didn't need your constant "care" anymore, or you could neglect it until it died. Unlike an actual parent of a real child, you could even "pause" the entire process, essentially freezing the little being in time until you decided you wanted to continue pretending to nurture a non-existent creature.
In her new book AI by Design: A Plan for Living with Artificial Intelligence, Catriona Campbell heralds the advent of a "Tamagotchi generation" where adult human beings opt to raise startlingly realistic but fully digital "metaverse" children rather than suffer the pangs of setbacks of raising an actual child:
Virtual children may seem like a giant leap from where we are now, but within 50 years technology will have advanced to such an extent that babies which exist in the metaverse are indistinct from those in the real world. As the metaverse evolves, I can see virtual children becoming an accepted and fully embraced part of society in much of the developed world. . . . We're already well on our way to creating the Tamagotchi generation which, for all intents and purposes, will be "real" to their parents. On the basis that consumer demand is there, which I think it will be, AI children will become widely available for a relatively small monthly fee. Make no mistake that this development, should it indeed take place, is a technological game-changer which, if managed correctly, could help us solve some of today's most pressing issues, including overpopulation.
According to an article about Campbell in the Daily Star:
An AI expert has predicted that "virtual children" will become the norm in the next 50 years — you'll be able to raise them in the metaverse without having to change a single nappie . . . Virtual kids born in the metaverse could become more common in the next 50 years. . . . Author Catriona Campbell believes parents will want to care for digital children in virtual reality, using a headset to feel like they're really there with a CGI kid. . . . These virtual kids would be just like the real thing but could be switched off at the touch of a button, and Campbell argues they'll help the world deal with "overpopulation."
An article from May, replete with terrifying stock photos of real human women interacting with phantom ghost babies, explains how "virtual parenting" will work:
Parents will see and interact with their offspring through next-generation AR glasses and haptic gloves. These devices allow users to experience a realistic sense of touch when handling virtual or holographic objects. . . . They will cost nothing to feed, take up no space, and remain healthy for as long as they are programmed to "live." And they could be accessible through a Netflix-type subscription service for as little as $25 (£20) per month. . . . Digital children will look, sound, act, and even "feel" like real humans. . . . They will be capable of speech and simulated emotional responses — like a baby's coo, a child's giggle, or a teenager's backchat — and possess a form of digital memory and other cognitive abilities.
It all sounds like a horror movie. But it's not. This is all really happening. The "children" won't be real, but this is really happening.
Armed Blacks March Against Wetbacks in Austin
For all the caterwauling we hear about white supremacist terrorism, the only racially exclusive groups I've seen marching in public hoisting rifles and chanting racially supremacist slogans are black these days. There's the Not Fucking Around Coalition (NFAC), who bait "rednecks" to meet them in the streets and vocally encourage the murder of police officers. NFAC largely evaded the sort of federal harassment and bad press that "patriot" groups get until their leader actually pointed his rifle at FBI agents.
The Elmer "Geronimo" Pratt Pistol & Rifle Gun Club is similar to NFAC in that they love marching in public with assault rifles, their membership is exclusive to blacks, they encourage their members to shoot at police officers, and the mainstream press hardly ever mentions them, much less works itself into a tizzy over them.
Named after Elmer Pratt, a Black Panther who, in the fashion of black activists and black people in general, had a penchant for giving himself silly alternative names such as Geronimo Ji-Jaga and Geronimo Ji-Jaga Pratt, the group marched in Austin last week along with other "black self-defense" groups such as the Black Riders Liberation Party, demanding that Joe Biden immediately "close the border" and start doling out heapin' helpings of reparations to America's eternally disgruntled Negro peeps.
When one member shouted, "We don't say, 'Hands up, don't shoot!'," other members reportedly chanted, "Guns up! Shoot back!" in response.
One member explained that Mexicans take the jobs that we're supposed to believe black people would take if actually given the chance. Although it's unclear whether he was yelling at specific illegal Mexicans or merely the concept of illegal Mexicans, another shouted, "Take your ass home!"
One proudly proclaimed that he's a racist and drew an analogy between a racist and a pianist: Just as a pianist practices the piano, "I am a racist. I practice my race. I practice hard, too. Get good at it."
I like that definition. I also suspect that all the practicing racists who are reading this like it, too.
Black Man Who Punched Elderly Asian Woman Over 100 Times on Camera Pleads Guilty to Hate Crime
Remember last year's prolonged high-profile moral panic regarding anti-Asian violence in America? Remember how it was blamed on Donald Trump calling COVID-19 the "China virus" and how this implied it was his followers who were randomly beating the poo stuffings out of hapless Asians on our nation's streets and subway cars? Remember how the press, almost as if it was deliberate, left out the fact that in nearly every case, it was blacks rather than whites who were targeting the slants?
Tammel Esco is a thick-browed, dumb-looking black man, but I didn't have to tell you that. All I had to say was his name, and your brain would have auto-filled in the rest. He served three years in prison for stabbing the mother of his child in 2010. Among multiple other arrests, he threw a woman through a store window just last year. He was charged only with misdemeanor arrest. Despite his history of previous convictions, he served no jail time for the latter crime. Instead, he bravely endured five months of "treatment."
On March 11 of this year, in the vestibule of an apartment building in Yonkers, New York where he was freeloading on his mother's generosity, Esco was filmed by surveillance cameras attacking an unnamed elderly Filipino woman from behind, calling her an "Asian bitch." He knocked her to the floor with the first blow, then hunched over her and proceeded to punch her with both fists over 100 times. Just to make the entire grisly scene more vulgar, his fat ass crack was exposed for the latter half of the assault. He then stomped on her face and spat upon her. Merely for its slow, plodding deliberateness, the footage of the attack is perhaps the worst of all the videotaped anti-Asian assaults by blacks that I've witnessed over the past year. Yonkers Police Commissioner John J. Mueller called it "one of the most appalling attacks I have ever seen."
Remarkably, the woman survived after a few days in the hospital.
Even more remarkably, Esco was charged with, and pleaded guilty to, a hate crime for the incident. In late November, he will be sentenced to over 17 years in prison.
Whites Are the Leading Victims of Hate Crimes in Philly, Say Philly Police
Speaking of black people being charged with hate crimes, Christopher Tremoglie of the Washington Examiner writes:
I contacted the Office of Public Affairs of the Philadelphia Police Department to request statistics about the city's hate crimes. According to its data, white people were more often the victims of hate crimes than any other racial group each year between 2017 and 2020.
Ah, Philadelphia, the cradle of liberty where the American Experiment's whole shitshow got started.
Tremoglie says that the initial report he received was "sloppy" and that the "office even sent a revised report two weeks later, allegedly because of a typo." Although it was unclear what the typo was, the hate-crime totals were markedly different.
The first report he received, covering the years 2017-2020, found these totals: 83 white victims, 54 black, 13 Asian, seven Hispanics, and one American Indian/Pacific Islander.
The second report, sent two weeks after the Philly PD said they found a "typo" in the original, tallied 54 white, 45 black, 12 Asians, and seven Latino victims. Interestingly, the totals the second time around were far less overwhelmingly tilted toward white victims, although whites still eked out a "victory," if that's what you want to call it. Despite the fact that according to modern dictates it's almost impossible to commit a "hate crime" against whites, the police department in a city where there are actually more black residents than white ones had to concede that whites are being attacked at disproportionate rates.
This is good news, although it really isn't.
Black Writer Says It's Racist for Whites to Try to Save Blacks
In case you haven't noticed, former "science" magazines such as National Geographic and Scientific American have largely abandoned science in favor of pushing turbocharged amphetamine wokeness. The same applies to Forbes: At some distant point in a now-dim past, Forbes had something to do with business and money. These days, though, it's focused on employing black females whose beat is "Diversity, Equity, and Inclusion" and who churn out screeds titled "What Is White Saviorism And How Does It Show Up In Your Workplace?":
White saviorism can be thought of as the belief that white people are here to save, help, teach, and protect their non-white counterparts. . . . White saviorism propagates the idea that white people's experiences are the only ones that are valid and that white people must save racially marginalized people — this can show up as white employees thinking that they know better than those with lived experiences of racism. Rather than leaning on practitioners with both the knowledge and the lived experience, white saviorism rears its ugly head and leaders would rather rely on the expertise of white anti-racism educators.
You heard it here: We are no longer required or expected to "save, help, teach, and protect" non-whites. In fact, we'll be resented and shamed if we even try to help them. So don't help them. Don't you dare even try to help them.
At least this week ends on a good note.

* * *
Like all journals of dissident ideas, Counter-Currents depends on the support of readers like you. Help us compete with the censors of the Left and the violent accelerationists of the Right with a donation today. (The easiest way to help is with an e-check donation. All you need is your checkbook.)
For other ways to donate, click here.