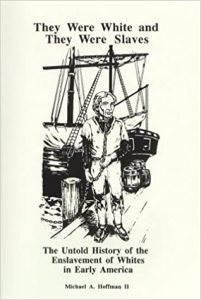 3.818 palabras
Traducido por Tradición Viva
English original here
Más o menos cada pocos años aparece un libro que destroza tus cimientos y te hace volver a cuestionar casi todo. Para mí, Culture of Critique de Kevin MacDonald y Gulag Archipelago de Aleksandr Solzhenitsyn son dos de esos libros. Ellos eran blancos y eran esclavos de Michael A. Hoffman es otro.
Me enteré de este libro por primera vez por Jim Goad, quien estaba siendo entrevistado por Greg Johnson para Counter-Currents. Si mal no recuerdo, Goad estaba discutiendo su actitud ligeramente distante hacia el Nacionalismo Blanco y citó este libro como un ingrediente clave de su identidad única e individualista. "No hago abrazos en grupo", afirmó rotundamente. Al instante, sentí la necesidad de leerlo.
Podría continuar con una afirmación trivial como "No me decepcionó" o "Resultó mejor de lo esperado", pero mi reacción a este volumen esclarecedor fue la de un niño regañado que sabe que se equivocó y está agradecido de que la reprimenda no hubiera sido peor. They Were White and They Were Slaves narra la brutal y trágica (y, me atrevo a decirlo, vergonzosa ) historia de los blancos esclavizando a otros blancos, principalmente en las Islas Británicas y en la América Colonial. Cada página del libro duele. Para hacer una comparación, casi me trago el capítulo de Cómo los judíos derrotaron a Hitler de Benjamin Ginsburgque cubría el belicismo judío antes de la Segunda Guerra Mundial. Dediqué más de un tercio de mi reseña solo a ese capítulo. Consumí Christian Slaves, Muslim Masters de Robert Davis con el mismo abandono. ¿Por qué? Porque estos libros me dieron a alguien a quien culpar. Alguien que no sean blancos, eso es. Michael Hoffman no permite el mismo tipo de salida, por lo que cualquier defensor o identitario blanco simplemente tendrá que tantearlo mientras lee They Were White y They Were Slaves.
*  *  *
Las diversas narrativas adjuntas a Ellos eran blancos y eran esclavosrequieren análisis discretos. Primero, está la historia exotérica del fenómeno. Por supuesto, los blancos habían esclavizado a su propio pueblo a lo largo de la historia, como lo han hecho todos los pueblos. Hoffman toca esto, mencionando brevemente el papel de los vikingos en el comercio mundial de esclavos durante la Edad Media, así como la esclavitud contemporánea de blancos sobre blancos en Rusia, que era algo aparte de la servidumbre. Pero Hoffman se centra principalmente en el fuerte aumento de la demanda de mano de obra barata y su transporte que inició el descubrimiento del Nuevo Mundo. Durante más de dos siglos, la América colonial y el Caribe se convirtieron en pozos negros de la esclavitud blanca. Por ejemplo, en 1627, los esclavos blancos constituían más de cuatro quintas partes de los 25.000 esclavos en Barbados.
Hoffman ofrece una descripción amplia y bastante repugnante de la miseria abyecta que un gran número de blancos tuvo que soportar en Inglaterra desde los siglos XVI al XIX. Como resultado del despojo generalizado de tierras, que tuvo lugar hacia el final del reinado de la reina Isabel, un gran número de labradores ingleses fueron desalojados de sus granjas familiares y luego acudieron en masa a las ciudades, lo que provocó la crisis gemela de superpoblación y pobreza. Hoffman cita extensamente a Herman Melville, quien aún en 1839 fue testigo de hambrunas masivas en las calles de Liverpool. En un pasaje, el esclavo negro de John Randolph de Roanoke visitó Irlanda con su amo y, al ver la pobreza y la miseria generalizadas, se sintió conmovido a contemplar su posición superior en la vida.
Y el trabajo no era necesariamente una salida para estas personas a menos que proporcionara una muerte prematura, especialmente para los niños. Hoffman estima que la tasa de mortalidad de los niños en el asilo fue del noventa por ciento.
En la Inglaterra del siglo XIX, decenas de miles de niños blancos fueron empleados como trabajadores esclavos en las minas de carbón británicas. Los niños blancos, de siete años, fueron atados como burros a carros de carbón y se les ordenó arrastrarlos por los pozos de las minas. En 1843, niños blancos de cuatro años trabajaban en los pozos de carbón. En los antiguos cementerios ingleses se pueden ver epitafios en lápidas como uno que dice: "William Smith, de ocho años, Miner, murió el 3 de enero de 1841".
Fue dentro de estas turbulentas circunstancias que hombres emprendedores conocidos como "espíritus" formarían "bandas de prensa" y secuestrarían a blancos pobres para una vida de servidumbre en el Nuevo Mundo, todo por una tarifa. Los niños, literalmente, serían arrebatados de las calles, a veces en presencia de sus padres o hermanos, para no ser vistos nunca más. Por supuesto, esta práctica fue recibida con la aprobación tácita de muchos en la aristocracia, como se describe en el clásico Kidnapped de Robert Louis Stevenson. Luego, los comerciantes de gatos gordos transportarían estas almas desafortunadas a las Américas en las bodegas de los buques de carga ordinarios, un viaje tan peligroso y letal como el comercio transatlántico de esclavos de africanos, mucho más famoso. Hoffman estima que cientos de miles de blancos pobres de Inglaterra, Irlanda y Escocia, muchos de los cuales eran niños, se encontraron con un destino tan espantoso. La etimología del término "secuestro", como en el caso de atrapar niños, da fe de este horrible fenómeno.
Las autoridades inglesas también fueron bastante inteligentes en la forma en que enmarcaron este comportamiento. La mayoría de las veces, estos eran criminales que se salvaron de la horca y, afortunadamente, se les dio una segunda oportunidad en el Nuevo Mundo como sirvientes contratados. Para justificar esta mentira, las autoridades bajaron sustancialmente el listón de lo que constituye un criminal. Si cazaba furtivamente un ciervo, o se saltaba la iglesia el domingo, o robaba una hogaza de pan para alimentar a sus niños hambrientos, entonces tenía una posibilidad real de que lo llevaran a la barbados. Los presos políticos también lo hicieron.
Hoffman escatima pocos detalles sobre los horrores que los esclavos blancos tuvieron que enfrentar en Estados Unidos durante el período colonial: los grilletes, la tortura, los azotes, la violación, el asesinato, los suicidios, el incesante trabajo de deformación corporal. Las leyes de esclavos fugitivos eran duras y se aplicaban de manera casi ubicua. Escapar o ayudar a escapar fue castigado brutalmente. Hoffman también señala cuán fraudulenta era realmente la servidumbre por contrato. En algunos casos, sí, una persona recibió una parcela de tierra y su libertad después de cumplir su condena. Pero en la mayoría de los casos, sin embargo, los dueños de esclavos blancos ignorarían o anularían cualquier acuerdo que tuvieran con sus esclavos (para ser secundados casi siempre por el corrupto sistema judicial), o oprimirían sin piedad a sus cargos hacia el final de su mandato para alentar la fuga.
De hecho, la mitad de los "sirvientes contratados" blancos no vivieron para alcanzar su libertad. Si alguien piensa que este dato sombrío se refiere principalmente a los blancos esclavizados en la vejez, en realidad se refiere a los blancos que fueron "contratados" por primera vez entre las edades de 16 y 20.
*  *  *
Eran blancos y eran esclavos, como era de esperar, también desafía los mitos prevalecientes (algunos dirían "engaños") de la victimización negra y el racismo blanco. Si los blancos esclavizaban a los de su propia especie tan mal, si no peor, que los negros, entonces eso hace estallar la idea de que el racismo es el pecado original de nuestra nación, ¿no es así? Además, casi todas las minorías raciales que buscan el poder en los Estados Unidos hoy en día utilizan su condición de agraviada como "víctimas" como un medio para arrogarse el poder. Sigue siendo irrelevante si esta victimización es real o si los blancos tratan a estas minorías mejor de lo que se tratan a sí mismos en sus propias partes del mundo. Lo que es material es cómo estas minorías utilizan la historia como un arma, ya que construyen y mantienen sus narrativas víctima.
Por supuesto, a los blancos no se les permite hacer esto. El victimismo blanco no solo descarrilaría las narrativas de victimismo de las minorías, sino que pondría a los blancos al frente de la línea para cualquier reparación o privilegio que estas minorías sientan que son legítimamente suyos. Quizás es por eso que el izquierdista Howard Zinn se refiere escrupulosamente a los blancos en cautiverio en el período colonial como "sirvientes" en lugar de esclavos en su Historia del Pueblo de los Estados Unidos, a pesar de utilizar algunas de las mismas fuentes que utilizó Hoffman.
Hoffman lo dice mejor:
Todo el aparato de la institución de la esclavitud humana en los Estados Unidos de habla inglesa, que ha sido profundamente conmemorado en la voluminosa literatura sobre la esclavitud negra, se puso en marcha por primera vez en la esclavitud de los blancos que fueron secuestrados en su tierra natal, murieron a bordo de un barco. , sufrió esclavitud infantil y separación de padres e hijos para siempre; soportó leyes de esclavos fugitivos, la prohibición de reuniones de esclavos blancos y castigos corporales severos y extremos, a veces hasta la muerte.
La motivación para el encubrimiento del alcance de la esclavitud blanca por parte de académicos de la casa aprobados y financiados por el establecimiento es obvia. Admitir la verdadera historia de la esclavitud blanca y registrarla fielmente en la historia moderna es proporcionar evidencia empírica de que la piel blanca no necesariamente encarna poder o estatus; que el "pobre blanco", el "campesino sureño" de hoy al que se le pide que subsidie ​​con sus impuestos y sacrifique su salario digno y sus perspectivas laborales, para que los negros sean "compensados ​​por la esclavitud", en realidad no le debe nada a nadie.
Hoffman también se esfuerza por mostrar cómo en muchos lugares se trataba peor a los esclavos blancos que a los negros. Hubo varias razones para esto, la primera fue puramente económica. Dado que fueron en gran parte robados y luego transportados en barcos de carga que se dirigían al Nuevo Mundo de todos modos, los esclavos blancos eran mucho más fáciles de adquirir y prescindir de los negros. Había que comprar y pagar esclavos negros en la costa este de África. Los barcos esclavistas construidos con el único propósito de transportar esclavos también tenían que pagarse. Como resultado, los esclavos negros tendían a ser más valiosos que los blancos y sus dueños eran más reacios a abusar de ellos o exponerlos a trabajos potencialmente letales.
Aquí hay una anécdota que personifica la diferencia de posición entre los esclavos blancos y negros:
En el transcurso de un viaje de 1855 por el río Alabama en el barco de vapor Fashion, Frederic Law Olmstead, el arquitecto paisajista que diseñó el Central Park de la ciudad de Nueva York, observó que se arrojaban fardos de algodón desde una altura considerable a la bodega de un carguero. Los hombres que arrojaban las balas a la bodega con cierta imprudencia eran negros, los hombres de la bodega eran irlandeses. Olmstead preguntó sobre esto a un compañero en el barco. "Oh", dijo el oficial, "los negros valen demasiado para arriesgarlos aquí; si los Paddies caen por la borda o se les rompe la espalda, nadie pierde nada".
La segunda razón tiene que ver con la naturaleza rebelde de los blancos cuando se les trataba como animales. Las leyes de esclavos fugitivos se hicieron cumplir con tanta rigurosidad y los esclavos blancos fugitivos fueron castigados tan brutalmente porque la amenaza de que los esclavos huyeran o se rebelaran era muy real, más que para los esclavos negros, según Hoffman. Por supuesto, Hoffman cubre la rebelión de Bacon y otras revueltas fallidas de esclavos blancos. También cita fuentes contemporáneas que describen los disturbios entre los esclavos blancos como "crónicos" y ponen a regiones enteras al "borde de la guerra civil". Tal discordia llevó a la mayoría de los hacendados del sur y otros propietarios de esclavos a reemplazar gradualmente a sus esclavos blancos por negros.
*  *  *
Probablemente puedas descubrir el lado opuesto de la denominación del Diablo aquí. Al socavar el insidioso mito de la victimización negra con la victimización blanca, Hoffman refuerza simultáneamente el mito concomitante de que los blancos son los villanos definitivos. Eran blancos y eran esclavos esencialmente no tiene otro. Los blancos hicieron la captura, el envío, la compra y el abuso. Algunos también se enriquecieron con eso. Los británicos de sangre azul como Andrew Reid, James y Andrew Armour, Scot Duncan y otros sirvieron como comerciantes detrás del comercio de esclavos. Los de sangre fría como los capitanes Edward Brockett y Barnet Bond desarrollaron una reputación temible con el látigo. Sí, se describe al economista judío David Ricardo como particularmente desalmado en su evaluación de que sería mejor dejar que los blancos desempleados se murieran de hambre que "crear una demanda ilimitada de seres humanos". Pero en este sentido, Ricardo apenas se diferencia de otros pensadores de la época como Jeremy Bentham y Thomas Malthus. Este último, en un momento, instó a los pobres a practicar la "moderación moral". Traducción: deja de tener hijos. Un siglo después El mundo abisal. Sin embargo, describe, como narrador, la muerte prematura de niños pequeños nacidos en familias desesperadas como una "bondad del destino".
De hecho, las poblaciones blancas "excedentes" de Inglaterra eran un problema real no solo para ellas mismas, sino también para la aristocracia. La aristocracia veía a los blancos pobres como una amenaza revolucionaria, por lo que fueron terriblemente lentos en detener la bárbara práctica de la esclavitud que o alentó a estos Robespierres en ciernes a las colonias o les exprimió todo el trabajo posible con un torniquete. Los proyectos de ley que exigían que la edad mínima para los deshollinadores fuera de diez años fueron rechazados en el Parlamento cuatro veces entre 1804 y 1819. Este era un trabajo peligroso y potencialmente mortal que se esperaba que realizaran niños de hasta cinco años. Según el probablemente incircunciso Lord Sydney Smith, la reforma del comercio del deshollinador "no podría llevarse a cabo sin un gran daño a la propiedad".
(Y para jugar al abogado del diablo aquí, incluso hasta el punto de que el diablo mismo dijera: "Sí, está bien. No. Detente. De verdad. Solo detente. Me estás haciendo quedar mal". ¿Y si la aristocracia tuviera razón? ¿Qué pasaría si la verdadera razón por la que la Revolución Francesa no tuvo paralelo en suelo británico no se debiera a la consumada habilidad política de Edmund Burke, como sugiere Russell Kirk en The Conservative Mind, sino a que las autoridades siguieron encontrando formas creativas de gestionar las florecientes poblaciones de su país? ¿pobre?)
Oof. Me voy al infierno por eso. Pero aparentemente estaré esperando en una fila muy larga. Los defensores e identitarios blancos deben tener una visión clara de los pecados de nuestro propio pasado. Claro, constantemente nos intimidan por las cosas malas que les hemos hecho a los no blancos. Pero en muchos momentos y lugares, los blancos también se hacían cosas horribles entre ellos. El único consuelo aparece cuando nos damos cuenta de que los blancos pueden haber sido la raza más moral en comparación con todas las demás . Hoffman discute cómo los blancos y solo los blancos continuamente hacían intentos de reforma, intentos que finalmente comenzaron a sanar la herida sangrante en nuestro lado que era la esclavitud blanca. No se puede decir lo mismo de las sociedades mesoamericanas, musulmanas, africanas y asiáticas que nunca habrían abandonado la esclavitud si los blancos no lo hubieran hecho primero.
Pico fino, pero ahí está.
*  *  *
Otro golpe de tambor que resuena a lo largo de este libro es el de la señalización de la virtud blanca, especialmente cuando se trata de personas que no son blancas. ¿Crees que es un fenómeno reciente? ¿Crees que hoy no podría ser más molesto? Piensa otra vez.
Una y otra vez, tenemos blancos acomodados que se preocupan absolutamente por el destino de los esclavos negros pobres, mientras que a su alrededor sufren los blancos empobrecidos y esclavizados. Los cuáqueros abolicionistas que no tenían ningún reparo en poseer esclavos blancos parecen especialmente mojigatos. En Bleak House, Charles Dickens nos ofrece a la Sra. Jellyby, un personaje que se obsesiona con el bienestar de los africanos lejanos mientras hace que las condiciones sean intolerables para los niños blancos que trabajan en su hogar. ¿Recuerda esos proyectos de ley de limpieza de chimeneas que fueron rechazados en el Parlamento? Tres de esas derrotas se produjeron después de la abolición de la trata de esclavos negros en 1808. Esto demuestra claramente dónde estaban las prioridades de las élites británicas en ese entonces, que no está lejos de donde se encuentran hoy.
Quizás el momento más delicioso de They Were White and They Were Slaves ocurre hacia el final cuando Hoffman rompe con Harriet Beecher Stowe. Él la llama "una de las grandes hipócritas del siglo XIX, un fraude piadoso cuyo legado de odio maligno hacia los de su propia especie ha infectado a muchos otros hombres y mujeres blancos hasta el día de hoy".
Citaría más, pero prefiero guardar algunas de las mejores cosas para aquellos que realmente leerán el libro.
*  *  *
La narración final entrelazada entre las páginas de They Were White y They Were Slaves me llevó a ese meta lugar beatífico donde uno visualiza, como, todo con una claridad cegadora y divina. Es como el peyote, supongo. Nunca lo he probado. De todos modos, perdóneme si alguno de ustedes, lectores, ya ha llegado a este maravilloso lugar y se ha estado preguntando durante todos estos años cuándo finalmente aparecería ese lento Spencer J. Quinn. Bueno, aqui estoy.
Gracias a este pequeño libro asombroso, ahora entiendo por qué los blancos votan a los demócratas.
¿Y si, qué maldita sea, la obstinada lealtad que muchos blancos pobres y de clase trabajadora tienen hacia un partido que es más gusano que manzana en lo que respecta a la corrupción, que tiene un historial deprimente en la economía, que casi ha renunciado al cristianismo y El patriotismo, y que francamente demoniza sus intereses raciales es, de hecho, un artefacto de la trata de esclavos blancos de hace siglos? ¿Qué pasa si estos pobres blancos ven la clase como una línea divisoria más profunda que la raza, la religión, la economía o la bandera? Y, finalmente, ¿qué pasa si esta división de clases es realmente la profunda y dolorosa cicatriz psíquica dejada por la esclavitud blanca?
Esto significa que el Partido Demócrata puede servir una mezcla heterogénea de excrementos humeantes esculpidos para el pueblo estadounidense, pero siempre que hagan algo más que hablar de boquilla a los intereses de clase de los blancos pobres, obtendrán su voto. Hasta Donald Trump, ¿qué tenían que ofrecer los republicanos como alternativa? ¿La curva de Laffer?
Al haberme criado en la clase media alta, había visto los signos de esta lucha de clases toda mi vida y nunca me lo había tomado en serio: películas como Norma Rae y Roger and Me; novelas como Las uvas de la ira y La jungla; las canciones de época clásica de Bruce Springsteen, por nombrar algunas. David Duke, uno de los defensores blancos más conocidos del mundo, se postuló para un cargo a principios de la década de 1990 como demócrata, no como republicano. Hay una escena fascinante de la película El Papa de Greenwich Village. La madre irlandesa de clase trabajadora de un oficial de policía de la ciudad de Nueva York (en una actuación impresionante de Geraldine Page) se reúne con un par de representantes de la policía de Nueva York después de que su hijo muere en circunstancias dudosas. Más tarde, se refiere a ellos como "dos pequeños idiotas con educación universitaria". El puro desprecio en la forma de decir de Page nunca me abandonará. Vi esta película en la universidad, y me preguntaba entonces por qué esta persona odiaría a alguien simplemente porque fue a la universidad.
Ahora lo sé. O, o al menos, creo que lo sé. Perdóname mientras escupo:
Para muchos blancos estadounidenses, los mayores villanos de la historia no son los no blancos sino otros blancos. Es difícil obtener cifras exactas aquí, pero Hoffman estima que el número de británicos blancos que fueron secuestrados, engañados o condenados a la esclavitud en el Nuevo Mundo llega a cientos de miles. Compare esto con el crimen mayormente negro sobre negro en nuestras ciudades y los menos de 600 blancos que los negros matan todos los años. Compare esto con los aproximadamente 3.000 blancos asesinados por el terror islámico en suelo estadounidense a partir del 11 de septiembre. Lamento decir esto, pero la mayoría de los blancos estadounidenses pobres no sabrán acerca de las horribles condiciones de los blancos en Sudáfrica, o la historia del comercio islámico de esclavos blancos. Y los judíos son tan buenos para entretenernos y cubrir sus huellas que cualquier travesura que hagan probablemente pasará por alto también.
Entonces, a la luz de esto, tiene sentido que muchos blancos pobres desconfíen del capitalismo, el libre mercado, los recortes de impuestos para los ricos y otras plataformas económicas clásicas del Partido Republicano. Sí, un trozo más pequeño de un pastel más grande les dará más en un sentido absoluto. Pero nunca se trató de eso. Se trataba de evitar que los ricos se hicieran demasiado ricos, porque nunca se sabe qué van a hacer con todo ese poder.
Si eran blancos y eran esclavos nos enseña algo, es humildad. Esto es algo que todos deberíamos tener en un grado u otro. La derecha disidente puede percibir un holocausto no blanco que ya se acerca en el horizonte, el primero desde quizás el asedio de Viena en 1683. Han sucedido muchas cosas desde 1683. Hemos tenido un holocausto de nuestra propia creación que no ha sido denunciado criminalmente en los últimos años. Esta es quizás una de las principales razones por las que los blancos han reaccionado tan lentamente.
Por supuesto, esto tiene que cambiar.
Y la única persona que parecía estar a la vanguardia en esto no era otro que Donald Trump. Trump fue (y sigue siendo) el único republicano a nivel nacional desde Ronald Reagan en cruzar con éxito esta división entre blancos y blancos. FH Buckley en su libro de 2018 The Republican Worker's Party describe este fenómeno. Trump abandonó parte del globalismo neoconservador de libre mercado del Partido Republicano que heredó de Mitt Romney, John McCain y George W. Bush y se acercó a millones de blancos descontentos con un buen populismo pasado de moda. Y funcionó. Esta es la clave del éxito de la raza blanca en el Thunderdome multirracial en el que se está convirtiendo el Oeste. Necesitamos leer libros como "eran blancos y eran esclavos", necesitamos entender las profundas diferencias que persisten entre nosotros como resultado de nuestro pasado difícil, y necesitamos sanar las heridas que aún nos mantienen separados como pueblo.
Porque si no lo hacemos, las heridas que recibiremos una vez que seamos minorías despreciadas en nuestras naciones serán mucho peores.
Enjoyed this article?
Be the first to leave a tip in the jar!