Scandza Forum FundraiserAnnouncement Update & Registration
Fróði Midjord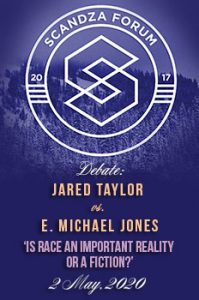 875 words
"Fróði Midjord's Scandza Forum is one of Europe's most important identitarian metapolitical gatherings, providing fellowship and networking to those who attend and powerful ideas to those watching on the world-wide web. I am continually impressed by the Scandza Forum's commitment to quality and attention to detail." — Greg Johnson, Counter-Currents
"Scandza Forum is a courageous organization that brings the best and most powerful identitarian ideas to increasingly appreciative audiences. I have the highest respect for what Fróði Midjord has achieved." — Jared Taylor, American Renaissance
"Europe is the sick man of the modern world. The Scandza Forum is part of the cure. Because universities no longer fulfil their role as providers of objective knowledge, international fora of concerned citizens and scientists like the Scandza Forum are absolutely necessary." — Helmuth Nyborg, Professor Emeritus of Psychology
"Dear Fróði, I am proud of you and I am moved by your dedication. You must understand that I have been active [as a nationalist] since 1982 … and I have seen all kinds of examples of cowardice and opportunism, but at [the Scandza Forum] I found hope and courage…" — Swedish university professor
"Attending Scandza reaffirmed my belief that more and more of our people are becoming aware of what is wrong with our societies, and realizing that nationalism is the solution." — Alex Roberts, engineer from Britain
"Scandza Forum is a true highlight in terms of events and a great way to meet and network with like-minded people. Highly recommended." — Marcus Follin, "The Golden One," author and content creator
"The Scandza Forum is the most well-run Dissident Right conference in Europe, providing a platform for identitarians and conservatives to meet, exchange ideas, and hear speeches from the movement's best thinkers." — Millennial Woes, cultural commentator and speaker
"I have participated in several Scandza Forum events over the years. They are always very stimulating, informative, and well run, and I wish it continued success. The Scandza Forum is an important institution on the side of White interests, and I encourage people to support it in whatever way possible." — Kevin MacDonald, Professor Emeritus of Psychology
"The Scandza Forum is a brilliant way to meet intelligent people who care about the future of the West, as well as to learn about all of the latest Red-pilled academic research. Superbly organized by a based Viking called Fróði (who has somehow traveled forward in time), you will "eat, drink and be merry," surrounded by people who, like you, want to ensure that tomorrow civilization does not die." — Dr. Edward Dutton, The Jolly Heretic, Independent Researcher
JARED TAYLOR SPILLS THE BEANS | Announcement Update
FUNDRAISER | Jared Taylor vs. E. Michael Jones: 'Is Race an Important Reality or a Fiction?'
Many people, even on the Right, claim that race doesn't really exist. 
E. Michael Jones has a Ph.D. in American Literature, is the author of numerous books dealing with the downfall of the West, is a prominent spokesman for Catholicism, and has a huge following on the Right.
When I heard interviews with him where he said things like "race is a fiction," that only Christianity can explain the massive differences between Europe and Africa, and that language alone defines ethnicity, I immediately wanted to invite him to a debate at one of my events, because these are some astonishing claims! 
And who better to debate him than Jared Taylor?
Both men have accepted my invitation to fly in and do a live debate at the next Scandza Forum, May 2nd, on the topic: "Is race an important reality or a fiction?" This will be one of the most anticipated debates of the decade! The promo video for the debate has reached almost 30,000 views on Twitter and Youtube, and the comments are just on fire!
Because our hostile elite has prevented Jared Taylor from traveling in the Schengen Area, this Scandza Forum will take place in Zagreb, Croatia, and Tom Sunic will be giving us a welcoming speech in his hometown. 
Additional speakers include Greg Johnson, Edward Dutton, Millennial Woes, and Fróði Midjord. 
Croatia is beautiful in May and this is the perfect opportunity for an early and much-needed vacation. But this event can only happen with your help!
***
Organizing an event like this takes both hard work and funding. The costs we need to cover include:
A large conference venue

Travel expenses 

Accommodations 

Transportation

Technical equipment
These events never break even without the help of donations, even on our home turf. Ticket sales don't cover all expenses, and organizing the conference in a new country will mean even more expenses. 
Even if you can't make it to the event yourself, we will be filming the speeches and putting them online.
When the bad guys try to silence us, e.g. by preventing Jared Taylor from speaking at our events, it is more important than ever that we stand our ground and use our freedom of speech in public.
This debate is sure to become a classic that people talk about for years to come. So, support the fundraiser, share our promotion videos, and sign up for the event! (Remember that participants will be vetted, as usual.)
If you want to help the continued work of the Scandza Forum and make sure that we can make this event happen, there are two main ways you can send us donations:
Credit card: 
Follow this link to send us a safe credit card donation. Note that the payment processor does not allow us to receive transactions under $10.
Cryptocurrency:
Bitcoin: 1DKQ4NR88y4DK7khE4xFmvBxQFUyw6ZLC3
Ethereum: 0x3a6D6A69260cF733c32AB51E1C83B8f39c48dc4A
If you prefer some other method for supporting us, please send me an email: [email protected]
I want to thank you in advance for supporting our work and I hope to see you all in Zagreb!