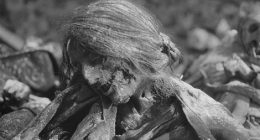 115 words
O stolzere Trauer! Ihr ehernen Altäre,
Die heiße Flamme des Geistes nährt heute ein gewaltiger Schmerz,
Die ungebornen Enkel.
— Georg Trakl

Not allowed to mourn,
still we stand and grieve
the burned, drowned and unborn.
Never do they leave
our thoughts: the dead of Dresden,
dead of the Baltic Sea,
the Gustloff failed by heaven,
the children who'd not flee
the bomber and torpedo,
the wrath of smiling tyrants.
From Berlin to Toledo,
the Reds rejoice, the hydrants
forever without water,
lifesavers now reserved
for Ali's son and daughter,
the steeple bell uncurved.
Yet a few good men
with courage, stout of soul,
can slay a foe of ten
and topple down the fool.
30 January 2018