On the Importance of Logical Consistency
Petr Hampl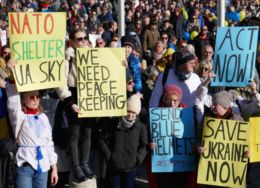 1,785 words
Few things are as mentally refreshing as looking at the world from a completely different perspective — to see things through the eyes of someone you don't like and don't agree with at all. If nothing else, it helps you sort out your own thoughts. I therefore went to the website of the World Association of Socialist Youth and Students and looked at their anti-war manifesto.
It was shocking even to someone who has had obligatory Marxist-Leninist training (it was compulsory in Czechoslovakia's technical colleges in the 1980s). World socialists are against the war, which is fine — but the crux of the problem, in their view, is that capitalist America is at war with capitalist Russia. We therefore need to abolish nation-states and establish global working-class rule, and then there will finally be peace. Then there are some quotes from Trotsky and insults to Stalin. Worst of all are the American Republicans, who are the "fascist party," and the current Italian government, because they are preventing masses of Arabs and Africans from entering their country. And so on. You can probably imagine.
What stands out among this welter of oddities is the rather clever observation that war does not begin with the first shot and end with the last. It's part of a chain of events that play out over a very long period of time. Understanding any war (including deciding whether it's worth fighting) depends on the long-term story we situate it in.
One war, several stories
In late February last year, there were a few commentators who suggested that relations between Ukraine and Russia had always been fairly harmonious, and then the Russian President suddenly went mad and, for strange reasons, started a war. These commentators stressed that Russia's actions were completely irrational and that we should not even try to understand them. None of them held that view for long, however, and understandably so, given that it doesn't make sense. That leaves only two stories.
The first — and the one I personally prefer– sets the war against Russia amidst the long-term collapse of Western civilization. The current financial and power elite are mentally defective and behaving suicidally: It has caused a migration crisis in its own countries and supports their Islamization; it is destroying its own economy through idiotic "green" spending; it is destroying its own population with transgender madness; and in the meantime, it is starting more and more wars that it is unable to fight. Thus, the civilization that until recently ruled most of the world is gradually becoming a poor, backwards, and isolated region. And the risk of this scorched earth being colonized by Islam is very high.
The war against Russia and the forthcoming war against China are thus seen as a logical component of the degenerate elites' rampaging. But this can be understood from a completely different perspective as well. Russia can be seen as a blot on the face of the world, a barbaric ethnic group that loves dictators and threatens all free nations — a demon that must be chained or destroyed lest it consume the world. From the first Rurikovs though Dmitri Donskoy, Peter the First, Catherine the Great, Bolshevism, and finally Putin, it has all been one big mess. As a good friend of mine (with whom I disagree on this matter) wrote a few weeks ago, when the Russians refused to give their country away to Western corporations, they missed the opportunity to become a civilized nation. But fortunately, in this view, they are so stupid that they have started a war in which they will be easily destroyed. Then, only the destruction of China will separate us from a beautiful world without misery, poverty, and war.
Misguided conservatives
The latter story, which is being told by liberals, is at least perfectly consistent: The Western financial and power elite play the role of superheroes saving the world, just as they always have. It is saving the world by simultaneously using its green thumb, eliminating sexist prejudices, Islamizing Europe, and taming the lower classes. The logical next step for them is the elimination of the bloodthirsty Russian barbarians. Even if we disagree with this view, its various elements fit together. Transgenderism in grade schools, the toleration of child marriage among migrants, and murdering civilians in Ukraine — it all is in service of the same goal.
But what about the conservatives? They've been accusing the liberal elites of depravity for years. Then, suddenly, the elites' perverted members become noble defenders of civilization, sometimes metamorphosing back into monsters who are trying to destroy civilization. They are in turn sending weapons (defending civilization), celebrating monsters wearing swastikas (defending civilization), promoting sex changes in children (an attack on civilization), supporting the killing of Russian civilians (defending civilization), and destroying industry in their own countries (an attack on civilization). In other words, the narrative changes depending on the situation. But it's not a dialectic; it's a logical fallacy.
No wonder these pro-war conservatives seem somewhat confused.
Hippies for more nukes?
In short, we can live in a fantasy world, but is must at least be consistent. Otherwise, we must accept that the truth is whatever the public relations agencies are currently saying — even though we can have no idea what they will say even a minute from now.
Couldn't the two stories be connected? As in, the Western elites have gone mad and are destroying their own civilization, while at the same time there are these bloodthirsty barbarians in the East? If we accept that worldview, we should at least demand rational action against the eastern barbarians — that is, an immediate end to the fighting, even at the cost of temporary concessions, and the reapplication of the strategy that worked during the Cold War.
The conservative thus has only two options at present: oppose the war, even at the cost of Russia gaining some advantages, or completely throw away his moral convictions and logical thinking.
Incidentally, the radical socialist movement mentioned at the beginning also has a problem with consistency. If capitalism is the cause of the war, as they say, and if the US Republicans are a fascist party, then how do they come to terms with the fact that the mania for war is strongest among the radical Left? Killing without end is mainly promoted by the American Democrats, the German Greens, the Czech Pirates, and so on. The Right tends to be far more restrained, and the populist parties are mostly anti-war. The radical socialists merely deflect this with remarks about the traitorous Left — but if this is true, then all Left-wing groups and parties are traitorous.
If they wanted to instead deal with the paradox, they would have to admit that their critique of capitalism has long since moved from the barricades to the corporate headquarters. Every corporate boardroom today is dominated by the anti-civilization Left, where they mechanically repeat the slogans of an inverted Marx and his followers. This of course does not prevent them from exploiting their own employees, customers, and the peoples of poorer countries.
Same assumptions, different consequences
I have one final observation regarding COVID. The Radical Socialist Manifesto likewise mentions that corporate domination and their need to accumulate profits has led to completely irrational measures. This may sound familiar to readers of the alternative media, but their particular criticism goes as follows:
In response to the COVID-19 pandemic, the corporate and financial oligarchy rejected the most basic public health measures required to contain the spread of the virus because they impinged on profits. More than 20 million people died as a result, more than 1 million of them in the United States.
I ask the reader to put aside his own views on COVID for a moment and concentrate on the logical aspect of the matter. What is interesting is that the same assumptions — corrupt corporate elites and so on — can be used to draw completely opposite conclusions. Some conclude there were too few lockdowns due to corporate profits, while others conclude there were too many. Similarly, some conclude that there was too little vaccination due to corporate profits, others conclude that there was too much.
In such a dispute, empirical facts should be the deciding factor– but we run into the problem that each side can find facts to support its views. Some industries collapsed during the lockdowns (e.g., aircraft manufacturing and tourism) and others became fabulously rich (e.g. transportation services and pharmaceuticals). The richest people then invested everywhere. What was their interest in doing so? The richest increased their share of world ownership during COVID, but this was already happening before that.
Again, we can view the COVID years within various long-term narratives. One of the more tenuous ones is that since the eighteenth century, people have been getting sicker and sicker. The human lifespan may be increasing, but quality of life is declining and overall health is getting worse. A key factor is precisely the destruction of human bodies by modern medicine. I do not claim to agree with this view, but it is clear and consistent. It's a view that many came to share as a result of COVID.
According to the latter view, modern medical technology helps us by prolonging life and improving quality of life despite — or because of — the fact that it brings huge profits to some. It is therefore worthwhile to trust doctors and nurses, since even if they take money from the pharmaceutical companies, their positives outweigh their negatives.
But there is a third narrative as well, and it is the one I personally advocate: Modern medicine is great, and modern medical technology is wonderful, so the occasional negative consequences are an acceptable price to pay for their enormous benefits. But one must expect that, sooner or later, the trend will reverse and the need to increase profits, as well as bureaucratic idiocy, will lead to negative effects that will outweigh the advantages. The question is, of course, when that tipping point will come. We have not yet reached it.
In short, if an opinion is consistent and all its parts fit well together, it does not follow that it is therefore true. Even in a dream world, everything can fit together perfectly, but when they don't, we can be sure that we are making a mistake. Then it is up to each of us to reexamine how our reasoning is being influenced by emotions and enthusiasm, and dig deeper.
This is particularly important within the current anti-system opposition. We must not forget that all successful revolutions and regime changes in history were carried out by groups that were better educated, more capable, and possessed better analytical thinking than those they ended up replacing.
* * *
Like all journals of dissident ideas, Counter-Currents depends on the support of readers like you. Help us compete with the censors of the Left and the violent accelerationists of the Right with a donation today. (The easiest way to help is with an e-check donation. All you need is your checkbook.)
For other ways to donate, click here.
Enjoyed this article?
Be the first to leave a tip in the jar!