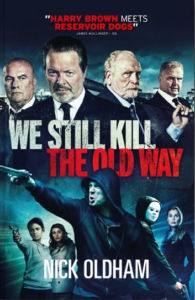 861 words
Nostalgia: something we all feel. For some of us it is most poignant when we feel nostalgia for a time we never even knew. A time when our cities and countries were majority white. A time before the family was under daily assault. A time when some things still made sense. We, of course, are cursed to know that the seeds of our own destruction were already being sown in these times. We look back at such eras both fondly and with annoyance. How could our fathers and grandfathers betray us as they did? What are we left with but to pick our way through the ruins?
We Still Kill the Old Way is a 2014 British crime film that is laden with nostalgia. It follows the story of a criminal leader, Ritchie Archer, who is long retired and returning to London from Spain (where all good British criminals fled) to avenge the death of his brother. This film pulls no punches in setting up the antagonists, either; perchance the writers, directors, and actors have encountered the modern multicultural scum that infest London? Either way, whilst somewhat over the top it does ring true regarding the current state of affairs there.
This film follows in the vein of others in the genre, perhaps most notably Harry Brown (2009). Harry Brown told the story of an elderly ex-Royal Marine pensioner, played by Michael Caine, living on a housing estate that has become ridden with crime. His only friend is killed by thugs, and Brown takes matters into his own hands.
Harry Brown is quite a depressing film, and the biggest difference between it and We Still Kill the Old Way is that Ritchie Archer has all his old criminal mates to call upon in his quest for vengeance. Harry Brown had no one. It was bleaker, and in some ways more realistic, with that element of isolation. Archer and his chums are not very nice, of course, but at no point does the film ever really present them in a finger-wagging way. This is remarkable: You as the viewer are left to enjoy the violence they mete out to their multicultural foes.
Their multicultural foes are also realistic. In fact, they remind me of people I had the misfortune of going to school with. All of modern London's ugly mishmash of races are shown, and both sexes are represented equally. To some viewers it may appear cartoonish, but I have to assure them that the trend and behavior portrayed feels very much on point. They are low-level scum obsessed with degeneracy in a way Archer's generation of criminals weren't.
The nostalgia for the golden age of London gangsters is hinted at throughout the film — in a way, in an almost racial sense. Yes, we had our gangsters and problems, but they were ours. One character repeatedly remarks on how the streets were still safe to walk for women then. The remaining elderly white gangsters are men out of time and, along with their female compatriots, all the characters their age are white. The pub they drink in is just like many pubs in these areas that are now overrun with non-drinking Muslims; they are the last bastion of the white populace.
That haunting sense of loss lurks under the surface of a mostly upbeat revenge tale. It is alluded to when the Archer boys capture one of the thugs. Said thug killed a Second World War veteran and escaped justice due to incompetent prosecution. He gets what is coming to him, but again, in a very heartstring moment. It alludes back to Harry Brown, and it reflects real life: There certainly have been sad stories of elderly British veterans who were killed after home invasion burglaries.
This, of course, is fantasy justice — a British version of Death Wish 40 years later. Our heroes are all aged, of course, and from a better time. Their actions are taken in an attempt to get us back to that better time. Perhaps this tells us something about now versus then. In Harry Brown and We Still Kill the Old Way, the justice is meted out with a huge age gap: 70-year-olds taking out 20-year-olds. Charles Bronson in Death Wish is not an aged vigilante; he's a middle-aged man. As our society slumps into a further state of societal decay, it seems our nostalgia is such that the only heroes we are allowed to summon must be from such a distant age.
This is risky business, in some ways. These films feel like they slip under the radar at times: dog whistles, alluding to a time before all that. Yet they still occasionally get made. Are we passing the point where anyone will actually still remember what it was like? It is all being lost in a haze of feel-good nostalgia? Like a drug addict, we know what was good but we got lost and are now out of touch with reality.
Honestly, I'm not sure if this film sells a myth that is still part of our culture — a myth that shouldn't die in which small groups of determined, violent men can right wrongs inflicted upon the innocent.
* * *
Like all journals of dissident ideas, Counter-Currents depends on the support of readers like you. Help us compete with the censors of the Left and the violent accelerationists of the Right with a donation today. (The easiest way to help is with an e-check donation. All you need is your checkbook.)
For other ways to donate, click here.
Enjoyed this article?
Be the first to leave a tip in the jar!