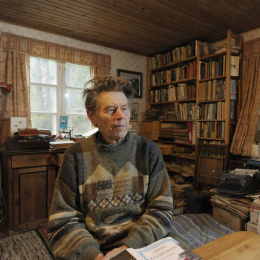 1.035 slov
English original here
Podobně jako v dalších severských zemích vládne i ve Finsku silná atmosféra konformismu. Zákony Jante efektivně drží na uzdě příliš konfliktní a svéhlavé jedince. Proto se zdá paradoxní, že se jednou z kulturních ikon moderního Finska stal charakter tak výsostně barvitý jako Pentti Linkola. Linkola, který zemřel v noci na neděli 5. dubna ve věku 87 let, během své "kariéry" veřejně známého intelektuála učinil četná prohlášení, jež by kohokoliv jiného dostala daleko za hranice slušné společnosti nebo i za mříže. Neváhal nazvat německý národní socialismus "nádhernou filozofií", byl nadšen z 11. září, pochvalně se vyjadřoval o skupině Baader-Meinhofová a věřil, že lidskou populaci na Zemi je záhodno snížit bakteriologickými zbraněmi.
Přesto ale i nemálo z těch, kdo Linkolu považovali za šílence a brutálního fašistu, oceňovalo jeho asketický způsob života i literární mistrovství a považovali ho za vpravdě výjimečnou osobnost. Každoročně se tak v některém z větších listů objevuje rozsáhlý rozhovor s Linkolou a v roce 2017 získala Riitta Kylänpääová za jeho biografii nejprestižnější finské ocenění v oblasti literatury faktu. Respekt k němu velmi často překračuje i jinak hluboké politické příkopy.
Sám jsem se stal jeho ohromným příznivcem už v mládí, ostatně bez něj bych se dost možná nikdy nezačal zajímat o ochranu životního prostředí. Jeho autorský styl byl vysoce osobní, plný útočnosti i smutku a svou zálibou v nekonečných souvětích připomíná spíš finské klasiky jako Aleksis Kivi a Joel Lehtonen než střední proud literární moderny.
Později jsem se s Linkolou několikrát osobně setkal, byť nemůžu říct, že bych ho znal zvlášť dobře. Poprvé se tak stalo v roce 2002, kdy jsem se vydal do jeho rybářské chaloupky ve Valkeakoski pořídit s ním rozhovor pro literární časopis. Vyprávěl mi o svém estetickém vkusu. Z finské literatury si nejvíce cenil klasiků, orientoval se ale i v současné tvorbě. Vyjádřil podiv nad tím, že taková "dvě veledíla světového umění", Sedm bratří od Aleksise Kiviho a Sibeliovy symfonie, mohla vzniknout v "tak pozoruhodně hloupé zemi" jako Finsko. S jeho vymezením stylistického ideálu lze jen souhlasit:
Dobrá próza by, když nic jiného, měla alespoň být srozumitelná. Není to samozřejmě v závislosti na tématu vždy snadné. Když ale uklízečka najde v koši roztrhané papíry, měla by být schopna poznat, co autor svými řádky mínil říct, ať už si sama myslí cokoliv. Styl by neměl být přespříliš suchý, zabíhat do odborného žargonu, a pokud existuje finský výraz, měl by se užít před těmi odvozenými z latiny a dalších cizích jazyků. Sám jsem vždy snažil psát srozumitelně a barvitě, ale na druhé straně se také vyhýbat klišé i obratům přespříliš originálním. Člověk by v tomto ohledu měl usilovat o dosažení rovnováhy – užívat sice bohatých jazykových prostředků, ale nepodrývat základní stavební prvky jazyka. Jak jsem řekl, není to nic snadného a člověk si nikdy nemůže být příliš jistý vítězstvím.
Linkolu jsem poznal jako kultivovaného, zdvořilého muže, který se nebral příliš vážně. Proslul i svým suchým smyslem pro humor. Když jsem ho před pár lety potkal na knižním veletrhu v Helsinkách, podle zvyklostí jsem se ho ptal, jak se mu daří, načež opáčil: "Nu, hůř než včera, ale líp než zítra." Čas od času mi zavolal, aby se mnou probral nějaký novinový článek nebo knížku. Při jednom z telefonátů si Linkola, tehdy čtyřiaosmdesátiletý, postěžoval, že ho začínají zlobit nohy, po celý život ta část těla, na kterou se mohl nejvíc spolehnout. "Dnes zvládnu ujít v kuse sotva pár kilometrů – a už se musím u cesty na chvíli vydýchat."
Jeho popularita na skutečné pravici není žádnou velkou hádankou. Byl silným kritikem modernizace, humanismu i globalismu způsobem okouzlujícím i ve svých krajnějších či provokativnějších podobách. Podobně jako řada barvitých osobností minulosti Linkola vyrůstal jako syn zchudlé "lepší" rodiny a svůj odpor k vulgaritě moderní doby si tak nesl v genech i výchově. Rozhodně nebyl žádný politik ani vůdce masového hnutí, takže si ničím nezadal s politickou korektností v žádné její formě. Oproti drtivé většině zelených intelektuálů se nikdy netajil svým přesvědčením o ekologické i kulturní ničivosti masové imigrace. Spisovateli Eero Alénovi se kdysi svěřil: "Helsinky jsou černošské město. Ať jdeš kamkoliv, vidíš tam černochy. Takové Helsinky nejsou nic pro mě."
Linkola sice neviděl velkou hodnotu v národě jako takovém, přesto jeho myšlení nebylo prosté jistých prvků nacionalismu. Ve své knize Unelmat paremmasta maailmasta (Sny o lepším světě) z roku 1971 napsal:
Skutečné bratrství mezi lidmi si dle mého žádá téhož prostředí i podmínek, nemluvě pak o shodném náhledu na život. Švédský nebo ruský ekolog jistě bude mít blíže ke mně než k finskému inženýrovi či ekonomovi, ale brazilský ekolog nejspíš nikoliv. Člověk, který nikdy neviděl sníh a mráz, by mi jen sotva  mohl být skutečně blízký.
Jeho pesimismus a hrdinství oslovují každého na pravici na nejzákladnější úrovni. Vždyť každý pravicový disident neustále hledá čisté duše, které vedou boj za svou až do konce, bez ohledu na konečný úspěch. Linkola považoval obrat na cestě lidstva do ekologické propasti za krajně nepravděpodobný a svůj osobní vliv na vývoj událostí za takřka nulový. Přesto nikdy nepřestal bojovat, protože právě boj, byť třeba marný, dodává životu smysl. Kapitulace je činem muže beze cti.
Značné uznání, jemuž se Linkola těšil v mnoha sférách finské společnosti, se vzpírá prostému vysvětlení. Často slýchávám něco v duchu "vážím si ho, protože žije podle svých zásad", což mi však připadne jako klišé. Nikdo nežije dokonale podle svých zásad, protože život je už ze své podstaty do jisté míry kompromisem. Jistě, měli bychom se vyhýbat příliš výraznému nesouladu slov a skutků, ale zvlášť když jde o obživu a přežití, děláme výjimky všichni.
Linkola, který se dobrovolně obešel bez většiny výdobytků k zajištění pohodlí moderního života, nejspíš projevil větší míru důslednosti než většina z nás, rozhodně více než typický zelený poslanec, který opouští Helsinky jen při výpravách na mezinárodní klimatické kongresy. Jak ale podotknul jeho přítel Eero Paloheimo, Linkolu neobdivovali pro jeho důslednost, ale protože trpěl. Ekologické pohromy pro něj nebyly abstraktním administrativním problémem, ale osobní katastrofou. Byl to nadšený biofil a křehké pouto člověka a Země vnímal jako cosi hluboce intimního a tragického. Na rozdíl od tolika ostatních však odmítl vzdát se a opustit nejopravdovější zdroj své radosti, což ho dovedlo na okraj společnosti a proměnilo jeho život v sólovou demonstraci – a Linkolu samého v zajímavější postavu než většina jeho obdivovatelů i nepřátel.
This translation originally appeared at Delian Diver.
* * *
Like all journals of dissident ideas, Counter-Currents depends on the support of readers like you. Help us compete with the censors of the Left and the violent accelerationists of the Right with a donation today. (The easiest way to help is with an e-check donation. All you need is your checkbook.)
For other ways to donate, click here.