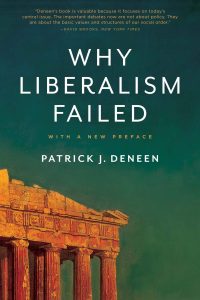 2,657 words
Patrick J. Deneen
Why Liberalism Failed
New Haven, Ct./New York: Yale University Press, 2018
Patrick Deneen, a Professor of Political Science at the University of Notre Dame, wrote the present study in 2016, completing it shortly before Donald Trump's election. In February 2019, a paperbound edition with a few revisions and a new Preface was published.
Why Liberalism Failed is a study comparing the basic assumptions of Lockean liberalism with its historical results as revealed in our own time.
Now, as the author points out, not everything we think of as liberalism originated in early modern times:
Many of the institutional forms of government that we today associate with liberalism were at least initially conceived and developed over long centuries preceding the modern age, including constitutionalism, separation of powers, separate spheres of church and state, rights and protections against arbitrary rule, federalism, rule of law, and limited government. Protection of rights of individuals and the belief in inviolable human dignity, if not always consistently recognized and practiced, were nevertheless philosophical achievements of premodern medieval Europe. Some scholars regard liberalism simply as the natural development, and indeed the culmination, of protoliberal thinking and this long period of development, and not as any sort of radical break from premodernity. (23)
However, there was certainly a significant conceptual break with classical ethico-political thought in the seventeenth century. Previous to this break, the tradition of thought stemming from Plato, Aristotle, Cicero, and their Christian heirs held liberty to be
the condition of self-governance, whether achieved by the individual or by a political community. Because self-rule was achieved only with difficulty – requiring an extensive habituation in virtue, particularly self-command and self-discipline over base but insistent appetites – the achievement of liberty required constraints upon individual choice. This limitation was achieved not primarily through promulgated law – though law had its place – but through extensive social norms in the form of custom. (xiii)
Classical and Christian ethical thought centered on "the duties of one's station," that "station" being the specific manner in which each person was embedded (usually from birth) in the larger social formations of family, economic class, and local community, each with its own preexisting customs and traditions.
This station in society was integral to one's personal identity; one could no more exist outside that context than a tree could live without soil or light. Since desire is infinitely expansible, but the world is finite and must be shared with others, the desires of the individual must be limited by considerations of the common good. Hence, the duty to govern one's appetites. Law stepped in only to deal with cases where self-control and habituation had failed.
The modern break from this tradition had a number of dimensions, but Deneen emphasizes three: first, the rejection of self-control through reason and habituation in favor of a paradigm in which the "pride, selfishness, greed and the quest for glory" of different groups within a society are harnessed to check the same passions in other groups (Machiavelli); second, traditional social, religious, economic, and familial structures, formerly "viewed as essential supports for a training in virtue, and hence preconditions for liberty," came to be reinterpreted as sources of oppression, arbitrariness, and conflict from which individuals were to be liberated through rationally-based positive law (Descartes and Hobbes); and third, the understanding of nature as a cosmos of which man is a part was rejected in favor of a fundamental opposition between man and nature, with the latter serving as raw materials for human activity for "the easing of man's estate" and the increase of his power (Bacon).
The protoliberal philosopher Thomas Hobbes even denied that rational self-control was possible: "Thoughts, are to the Desires, as Scouts, and Spies, to range abroad, and find the way to the things Desired." Consistent with this understanding of man, Hobbes denied that liberty could meaningfully be understood as anything more than an absence of interference with desire: "if a man should talk to me of a free will, or any free, but free from being hindered by opposition, I should not say he were in an error, but that his words were without meaning, that is to say, absurd." As Deneen comments: "liberalism in many cases attained its ends by redefining shared words and concepts and, through that redefinition, colonizing existing institutions with fundamentally different anthropological assumptions."
Of course, Hobbes and his liberal successors understood that desires must be checked for society to function. But they made a conscious choice in favor of external constraints, holding that "the only limitation on liberty should be duly enacted laws consistent with maintaining order of otherwise unfettered individuals" (xiii). Freedom existed wherever the law was silent, and except as limited by law, desire might be satisfied without limit. Wealth, for example, could be safely maximized: "The public stock cannot be too great for the public use," Hobbes wrote.
In a sense, though Deneen does not state this, the modern ethico-political conceptions are more primitive and probably older than those of classical thought. Even today the average child would have no difficulty grasping the concept of freedom as the absence of interference, or that of thought as a tool of desire. Understanding the concept of self-mastery requires greater maturity, and probably came along later in history, just as it does in the life of the average person. Pace Hobbes, however, it is both meaningful and observable: Anyone who has known a person unable to keep a credit card without getting himself deeply into debt can see that the classical concept of bondage to desire – and its corresponding ideal of liberty as self-mastery – is no absurdity. In modern psychology, conscientiousness is one of the five major dimensions of personality. Liberalism is based on an anthropological falsehood.
It has certainly revolutionized the world and produced at least some good effects, however. The most full-throated celebration of liberalism is known as the "Whig interpretation of history" that, in Deneen's words, goes something like this:
The advent of liberalism marks the end of a benighted age, the liberation of humanity from darkness, the overcoming of oppression and arbitrary inequality, the descent of monarchy and aristocracy, the advance of prosperity and modern technology, and the advent of an age of nearly unbroken progress. Liberalism is credited with the cessation of religious war, the opening of an age of tolerance and equality, the expanding spheres of personal opportunity that today culminate in globalization and the ongoing victories over sexism, racism, colonialism, heteronormativity and a host of other prejudices. (27-28)
Of course, the notion that the distinction between men and women is an arbitrary prejudice from which the state must liberate us is a good clue that liberalism has turned into a Frankenstein's monster which is now out to devour its creator.
As Deneen sees it, liberalism has quietly remade the world in its own image, converting human beings into monadic individual wills impatient of restraint, accepting no duties they have not themselves chosen, and looking to the state to "liberate" them from the claims of their fellow man. Referring to Karl Polanyi's The Great Transformation (1944), he writes:
The individual as a disembodied, self-interested economic actor didn't exist in any actual state of nature but rather was the creation of an elaborate intervention by the incipient state in early modernity. Economic arrangements were separated from particular cultural and religious contexts in which those arrangements were understood to serve moral ends [such as] the sustenance of community order and the flourishing of families within that order. The replacement of this economy required a deliberate and often violent reshaping… most often by elite economic and state actors disrupting traditional practices. The "individuation" or people required people's acceptance that their labor and its products were commodities subject to price mechanisms, a transformative way of considering people and nature alike in newly utilitarian and individualistic terms. This process was repeated countless times in the history of modern political economy: in efforts to eradicate the medieval guilds, in the enclosure controversy, in state suppression of "Luddites," in state support for owners over organized labor, and in government efforts to empty the nation's farmlands via mechanized, industrial farming. (51-52)
This emphasis on the ways both state power and market forces have been harnessed by liberalism constitutes one of the great merits of Deneen's book. As he observes, most of today's political debate opposes a "pro-market Right" to a "pro-state Left;" i.e., it occurs within liberalism, so that whichever side wins, the liberal project is advanced.
Liberalism is fundamentally hostile to culture which, properly speaking, consists in precisely the traditional social, religious, economic, and familial structures from which the individual is to be liberated. Culture is a "set of generational customs, practices and rituals that are grounded in local and particular settings" (64). It at once looks past the present generation and binds people to a social and geographical place. Liberalism abstracts from both time and place, fostering "a new experience of time as a pastless present in which the future is a foreign land; and . . . [rendering] place fungible and bereft of definitional meaning" (66).
A healthy culture is akin to healthy agriculture . . . that takes into account local conditions intends to maintain fecundity over generation, and so must work with the facts of given nature, not approach nature as an obstacle to the attainment of one's unbounded appetites. Modern industrialized agriculture works on the liberal model that apparent natural limits are to be overcome through short-term solutions whose consequences will be left for future generations. (70)
Liberalism makes humanity into mayflies, and unsurprisingly, its culmination has led each generation to accumulate scandalous levels of debt to be left for its children, while rapacious exploitation of resources continues in the progressive belief that future generations will devise a way to deal with the depletions. (74)
Deneen mentions that there were once laws "forbidding banks to open branches in communities outside where they were based, premised on a belief that the granting and acceptance of debt rested on trust and local knowledge." He quotes a banker's 1928 characterization of the business he was in: "the community as a whole demands of the banker that he shall be an honest observer of conditions around him, that he shall make constant and careful study of those conditions, financial, economic, social and political, and that he shall have a wide vision over them all." The economic crash of 2008 was in part the result of the elimination of such cultural norms "that existed to regulate and govern the granting and procuring of mortgages" (86). The response to the disaster, predictably, was a call for more governmental regulation, not any renewed reliance on local knowledge and responsibility. Most of us have simply lost any ability to think outside the liberal opposition of state and market forces.
What used to be called the American Dream was roughly a country where every man of normal capacity with a willingness to work could afford to support a wife and family, own a home and car, and take the children to the beach every summer. The realization of such a social vision in the middle of the last century was ascribed at the time (i.e., during the Cold War) largely to America's free enterprise system. Now that this way of life is lost to us, we can better perceive that it also depended on certain limitations to the rule of market forces: viz., legalized discrimination against working women (the reservation of "family wage" jobs to men), restrictions on immigration (especially by the low-skilled), trade unionism and collective bargaining, as well as greater obstacles to foreign "outsourcing." We have liberalism to thank for tearing all these supports away.
In compensation, it has given us the cheapness of the junk at Walmart. Economist Tyler Cowen believes that the rise of the talented few "will make it easier to ignore those who are left behind." He has actually proposed constructing subsidized favelas where the losers of the liberal economic order – the majority of the population – can while away the years between birth and death with distractions such as free internet: "We might even look ahead to a time when the cheap or free fun is so plentiful that it will feel a bit like Karl Marx's communist utopia, albeit brought on by capitalism." He describes this nightmare scenario as "the light at the end of the tunnel" (141).
Deneen notes the irony that an economic system which has sacrificed everything to individual autonomy has come to seem even to the most talented like an impersonal form of bondage, a rat race from which there is no escape. He reports a typical student telling him:
If we do not race to the very top, the only remaining option is a bottomless pit of failure. To spend time in intellectual conversation in moral or philosophical issues or to go on a date all detract from time we could be spending on getting to the top and thus will leave us worse off relative to everyone else. (11-12)
Under our "meritocratic" education system, "elite universities engage in the educational equivalent of strip mining: identifying economically valuable raw materials in every city, town, and hamlet, they strip off that valuable commodity, process it in a different location, and render the products economically useful for productivity elsewhere." But just how long are our economically valuable processed materials going to remain productive for us if they no longer even have time to go on dates? Meanwhile, "the places that supplied the raw materials are left much like depressed coal towns whose mineral wealth has been long since mined and exported" (132).
Education in the service of economic productivity is seen as "practical" but, as Deneen observes, this is to ignore the "more capacious way of understanding 'practical' to include how one lives as a spouse, parent, neighbor, citizen, and human being." The abstract babbling about "social justice" on university campuses encourage functions as a replacement for the genuine social duties students no longer have.
Meanwhile, "conservative" legislatures are gutting the humanities offerings at state-supported schools in the name of cost-cutting. One liberal administrator has perceptively described the mindset: "They've decided that rather than defending Edmund Burke, it's easier just to run Intro to Business online and call it a day."
Deneen is not optimistic about the prospects for a political solution to the crisis of liberalism, warning that "the likely popular reaction to an increasingly oppressive liberal order might be forms of authoritarian illiberalism that would promise citizens power over those forces that no longer seemed under their control: government, economy, and the dissolution of social norms." I believe this is correct. The best near-term political fix would likely be a Caesarism similar to what Donald Trump promised but failed to deliver in America. As Deneen says,
the "limited government" of liberalism today would provoke jealousy and amazement from tyrants of old, who could only dream of such extensive capacities for surveillance and control of movement, finances, and even deeds and thoughts.
Could the "illiberal democracy" endorsed by Viktor Orbán really be any worse?
In the longer term, the answer to our problems is not to be found in politics at all:
There is evidence of growing hunger for an organic alternative to the cold, bureaucratic, and mechanized world liberalism has to offer. While especially evident in the remnants of orthodox religious traditions, . . . the building up of practices of care, patience, humility, reverence, respect, and modesty is also evident among people of no particular religious belief, homesteaders and "radical homemakers" who are seeking within households and local communities to rediscover old practices that foster forms of culture liberalism otherwise seeks to eviscerate. Often called a counterculture, such efforts should better understand themselves as a counter-anticulture. (191-192)
As advanced liberalism throws ever more people into economic and familial instability, and our ever-increasing individual autonomy leaves us (as Tocqueville predicted) both "independent and weak," "such communities of practice will increasingly be seen as lighthouses and field hospitals to those who might once have regarded them as peculiar and suspect" (197).
Enjoyed this article?
Be the first to leave a tip in the jar!