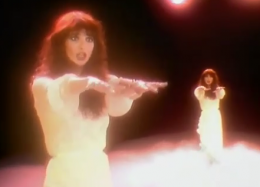 2,285 words
In springing flowre the image of thy day;
Ah see the Virgin Rose, how sweetly shee
Doth first peepe forth with bashfull modestee
— Edmund Spenser (1552-1599)
She came out of the television screen like the goddess Sabrina slipping from a silver stream – an ivy-crowned pre-Raphaelite, all black trestles and curling white fingers, dark eyes framed against the Moon's waxing sheen. Her voice, like a cawing raven, serenaded the final glimmer of the blood-orange sunset. She was a May Queen dancing barefoot between gravestones at twilight, uttering spell-like incantations, and chanting prophecies and portents from the Celtic Other-World.
I was immediately put in mind of folk-tales of the water nymph from Llanidloes, Harven, daughter of Estrildis and Locrine, a sorceress of the River Severn. Or perhaps the Irish goddess Brigit, meaning "Exalted One," the deity whom Lady Augusta Gregory claimed "the poets adored," and who may indeed have given the ethereal creature who was now performing before my very eyes the skills to conjure rhymes reminiscent of the Gaelic Imbolc.
To a naïve young soul like mine, she seemed to be the very incarnation of Hestia, Brigantia, Minerva, and Athena. Her manner projected a splintered self, a triple deity of hearth, healing, and song. My imagination swiftly filled with images of the water sprite from the Breint, born at daybreak, rising into the sky with the Sun and sending rays of fire through the forest boughs, flowers springing from the earth wherever she strode.
For I was fifteen then, and thought I was in love. I collected all of her albums: The Kick Inside (1978), Lionheart (1978), Never For Ever (1980), The Dreaming (1982), The Hounds of Love (1985), The Sensual World (1989), The Red Shoes (1993), Kate Bush Live at Hammersmith (1994), Aerial (2005), Fifty Words for Snow (2011), The Director's Cut (2011), and Before the Dawn (2016). And also all of the books about her: The Secret History of Kate Bush by Fred Vermorel (1983), Kate Bush: The whole Story by Kerry Juby (1988), Homeground (the two-volume Kate Bush fanzine compilation); Kate Bush Inside the Rainbow by her brother John Carder Bush (2015); Kate Bush by Robert Godwin (1995); Kate Bush: The Biography by Rob Jovanovich (2006); Under the Ivy by Graeme Thomson (2015); Waiting for Kate Bush by Jon Mendelsohn (2016); The Kate Inside by Guido Harari (2016); A Book of Dreams – The Book that Inspired Kate Bush's Hit Song "Cloudbusting" by Peter Reich (2015); The Ninth Wave: A Literary Adaption of Kate Bush's Concept by Robert Jopling (2017); Kate Bush by Arthur Miller (2018); and now How to be Invisible (2018), a collection of her lyrics published by Faber and Faber.
The Introduction to the last book is by David Mitchell, who is the author of Cloud Atlas (2004) and Bone Clocks (2014), and he recounts an experience identical to my own mesmeric reaction upon first meeting this other-worldly entity:
Those of us watching [Top of the Pops] one week in January 1978 saw a video of a ghostly young woman with long black hair, kohl-ringed eyes and red fingernails, dancing her way in a flowing white dress through a song called 'Wuthering Heights'. She mimed the words in a stylised mime-artist manner I'd never seen before; and 'mime-sang' in a swooping, delirious, octave straddling voice that I'd never heard. Who was she? What was she? Why did she dance like that? Why were there two, sometimes three of her? What were those lyrics? A pop song about an Emily Brontë novel?
Mitchell's subsequent experiences continued to mirror my own, as well as those of thousands of others like me:
At school the following morning all the girls at my small rural primary school were dancing around the schoolyard like twenty Kate Bushes, irrespective of body-shape or size, trailing half remembered lyrics and clouds of frosted breath. I remember our headmaster watching from the school steps, his jaw open and his thought-bubble reading, 'In thirty-five years of teaching, I've never seen the like of this'. Stories of bishops receiving calls from primary schools asking for a mass exorcism sound far-fetched, but fiction can be truer-than truth. The following week 'Wuthering Heights' knocked ABBA's 'Take a Chance on Me' off the singles number one perch. 'Wuthering Heights' was the first ever song written by a female artist to top the charts; a female artist, in Kate's case, who was only eighteen years old when she wrote it.
And the rest is history, so to speak. From the first time we heard "Out on the wiley, windy moors / We'd roll and fall in green" and "Oh! England, my Lionheart / I'm in your garden, fading fast in your arms" from Lionheart, the second LP, to the moment when we pulled the cellophane wrapper off her third album, the cabinet of curiosities that was Never For Ever – the first studio album by a woman to debut at number one in the United Kingdom – revealing cover art that Mitchell rightly describes as "an illustration of monsters and animals streaming out from under Kate's skirt, and bore a frisson of the profane, the pagan and Sheela na gig carvings," the stage was set for a panoply of magpie-minded theatrical lyrics filled with primordial themes. These were epitomized by the dapple-layered vocals on tracks like "Night Scented Stock" and "Delius," which included lyrics like "To be sung of a summer / Night on the water" and sentiments like "Go into the garden / Go under the ivy / Under the leaves," from the song "Under the Ivy."
Her songs included classic literary references and expressions replete with emblematic English nostalgia, such as "In Search of Peter Pan":
He's got a photo
Of his hero
He keeps under his pillow
But I've got a pin-up
From a newspaper
Of Peter Pan . . .
When, when I am a man
I will be an astronaut
And find Peter Pan
Second Star on the right
Straight on 'til morning
Second Star on the right
Straight on 'til morning . . .
Or the darker notion of a mother standing over her son, a fallen hero, in "Army Dreamers":
Our little Army Boy
Is coming home from B.F.P.O.
I've a bunch of purple flowers
To decorate a mammy's hero
Mourning in the aerodrome
The weather warmer, he is colder
Four men in uniform to carry home
My little soldier
These are themes that strike a chord with a patriot of any hue. And even Kate's feminist stance assumes a Eurocentric mantle in the 2005 song "Joanni" from the platinum double-disc Aerial, about which music critic Rob Chapman, writing in The Times, stated that "its closing triptych, somewhere in between Nocturn and the title track represents the most joyous and euphoric finale to an album that you will hear all year":
All the banners stop waving
And the flags stop flying
And the silence comes over
Thousands of soldiers
Thousands of soldiers
Who is that girl? Do I know her face?
Who is that girl?
Joanni, Joanni wears a golden cross
And she looks so beautiful in her armour
Joanni, Joanni blows a kiss to God
And she never wears a ring on her finger
All the cannon firing
And the swords are clashing
And the horses are charging
And the flags are flying
And the battle is raging
And the bells, the bells are ringing . . .
Elle parle a Dieu et aux anges
Dans ses prieres
Venez Sainte Catherine
Venez Saint Marguerite
Elle a besoin de vous deux
Les voix, les voix de feu
Chantent avec ma petite soeur
Les voix, les voix les voix . . .
Indeed, Ms. Bush's artistic and political choreography has been careful and deft, with only a few missed steps, such as her "coming out" as a pro-Theresa May Conservative; tunes like "Kashka from Baghdad" with the lines "I watch their shadows / Tall and slim / In the window opposite / I long to be with them," which she probably now regrets given the scale and ferociousness of Muslim sex-grooming; the pro-Aboriginal land rights epic "The Dreaming," with "Erase the race that claims the space / And say we dig for ore / Or dangle Devils in a bottle / And push them from the pull of the bush," which now seems quaint given the findings of the Breaking the Silence report of the Aboriginal Sexual Abuse Taskforce, which highlighted the prevalence of incest between children, as well as gang rapes and forced sodomy between clans of indigenous peoples across Anangu, Pintjantatjara, and Yankunytjatara in South Australia; and "Pull Out the Pin," a song that tells the story of a suicide bomber with such lines as, "Who needs radar / We use scent / They stink of the West / Stink of sweat / Stink of cologne and baccy / And their Yankee Hash."
These are blind spots which I feel do detract from her corpus, but never threaten to undermine the core inspirational memes she has made her own, which include folk mysticism, European film and literature, and of course nature. Even a misguided recording like "The Dreaming" is almost saved by breathtaking lines sung enigmatically, such as "See the light ram through the gaps in the land." And this brings us back to the rustic and pastoral grain in her best material, as in "A Sky of Honey":
Mummy . . .
Daddy . . .
The day is full of birds
Sounds like they're saying words
Oh can you hear the birdsong:
The mistle thrush and wood pigeon
The chaffinch and the robin
The blackbird and the siskin
Like golden light dripping the golden bells?
Ding dong, ding dong
Ding dong, ding dong
Or "Tawny Moon," which was written specifically for the Before the Dawn stage shows:
I'll give every cloud a silver lining
Every star will be bright and shining
Tawny owls swoop, the howling wolf
Every swimming pool will shiver with excitement
I've made the wind blow and starry heavens hang
I ache from head to toe, I've got blisters on my hands . . .
Just a touch of glimmer mixed with a glow
I will paint the face that has made oceans roll
Ripe and full, mystical,
Oh, my love, my love, my Luna I hear you call . . .
Can you hear the nightingale sweetly sigh?
She knows precisely why the unrequited poet cries
She comes, she goes, she goes, she comes
Oh, my love, my love, my Luna Queen of Bedlam
Make the woodwind blow and strike up the band
I've got to get it just right, I've got blisters on my hands
Rise and shine, Tawny Moon
I'm gonna paint all night with the Tawny Moon
I'm gonna dance all night with the Tawny Moon
And from "Nocturn":
The stars are caught in our hair
The stars are on our fingers
A veil of diamond dust
Just reach up and touch it
The sky's above our heads
The sea's around our legs
In milky, silky water
We swim further and further
These prove – as per a newspaper headline when she shot to fame – that "she is a country girl," and having been born on the fringes of Kent, the Garden of England, it is fitting that she became a nature-poet par excellence. She has created a unique soundscape that echoes Schubert's Winterreise, with a twist of modernity which pays due deference to '70s progressive rock classics, appropriately intermingled with Georgian chant, traditional Irish folk, and the musings of old-stagers like Robert Wyatt and his "Sea Song."
But Kate's experiments with pathetic fallacy, time, and characterization go one step further. She openly flirts with fascistic vignettes in songs like "Snowed in at Wheeler Street": "Then we met in 'forty-two / But we were on different sides," and more specifically in "Heads We're Dancing":
You talked me into the game of chance
It was 'thirty-nine before the music started
When you walked up to me and you said
'Hey, heads we dance'
Well I didn't know who you were
Until I saw the morning paper
There was a picture of you
A picture of you 'cross the front page
It looked just like you, just like you in every way
But it couldn't be true
You stepped out of a stranger
They say the Devil is a charming man
And just like you I bet he can dance
And he's coming up behind in his
Long-tailed black coat dance
All tails in the air
But the penny landed with its head dancing
A picture of you, a picture of you in uniform
Standing with your head held high
Hot down to the floor
But it couldn't be you
It couldn't be you
It's a picture of Hitler
So here we have a woman artist, well into the fourth decade of her career, the personification of English eccentricity, and part of the literati establishment, who indeed has been invited to scribe a memorial stone to Emily Brontë at Howarth on the Yorkshire Moors, consciously or subconsciously subverting the mainstream narrative by means of arty innuendo. She is someone who, through her medium-like work, which sells in the millions and whose rare live performances sell out in seconds, strives to recall the lost soul of an England that is fast disappearing into William Joyce's much-anticipated twilight. This is perfectly encapsulated in the following eulogy:
Oh! England, my Lionheart 
I'm in your garden, fading fast in your arms
The soldiers soften, the war is over
The air raid shelters are blooming clover
Flapping umbrellas fill the lanes
My London Bridge in rain again
Oh! England, my Lionheart,
Peter Pan steals the kids in Kensington Park
You read me Shakespeare on the rolling Thames
That old river poet that never, ever ends
Our thumping hearts hold the ravens in
And keep the tower from tumbling
Oh! England, my Lionheart
Dropped from my black spitfire to my funeral barge
Give me one kiss in apple-blossom
Give me one wish, and I'd be wassailing
In the orchard, my English rose
Or with my shepherd who'll bring me home