An Interview with Erkenbrand:

Awakening Ethnic Consciousness in The Netherlands
Guillaume Durocher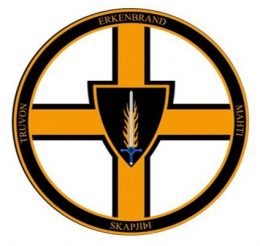 1,835 words
The Dutch identitarian group Erkenbrand will be holding its annual conference on November 3, with a list of speakers including Greg Johnson, Millennial Woes, George Hutcheson, and Fróði Midjord. In anticipation of this event, we have interviewed two of Erkenbrand's organizers below. Tickets to the event may be purchased online here.
Guillaume Durocher: What is Erkenbrand? What do you stand for?
Erkenbrand: Erkenbrand is a Dutch think-tank and social network. We began working in 2016, just a few months before our first conference. Our initial group consisted mostly of students. We aren't a formal group as such, but one can be "in" Erkenbrand, meaning that you can be vetted and trusted, which in turn allows you to come to our events and be invited to events that are not open to the general public. It also means you get access to our network, which can be helpful to you in various ways, whether in terms of employment, playing sports, finding a social circle in your town, or even finding fellow musicians to play with. Through us, you get access to a safe and vetted nationalist community.
We also focus on producing articles and videos on a variety of issues. You'll find everything from videos explaining race, religion, and Traditionalism to a series on classical music, poetry, and book reviews of authors such as Alexander Dugin, as well as reviews of various events we attend and opinion pieces regarding current events in The Netherlands.
Ideologically, we are diverse. The only demand made of people in Erkenbrand is to be racially aware, to follow Traditionalist morality, and to be strongly nationalist. Due to this low barrier for entry, we have people of all ideological backgrounds: Christians – Catholic, Protestant, as well as Orthodox, pagans, anarcho-capitalists, socialists, third positionists, libertarians, Dutch nationalists, and Greater Germanists.
You might think this would cause constant strife, but we are all united by our race and our nation. The differences are paved over with a healthy dose of humor and banter, but are also kept in check by the knowledge that if we do not unite, we will all be defeated in turn. And our overall goal of a return to a traditional-minded society and a homogeneous nation is shared by all. Whether the ancap wants to legalize privately-owned nuclear weapons after that, or the socialist wants to pick a fight with the bourgeoisie, is of later concern.
GD: Having been to many Erkenbrand events, I can say that your audience is younger, more energetic, and more connected to the English-speaking Alt Right than is typical in Europe. What do you think is the explanation for this, given that you're a Dutch movement?
EB: Well, for one, it has to do with the fact that Dutch people are very fluent in English. Ninety-one percent of Dutch people are able to conduct a simple conversation in English. The other nine percent are probably non-Western immigrants. Contrast this with the French, who absolutely refuse to speak English and are therefore in their own bubble, something which few people outside France know about. Most people reading this probably won't know about magazines like Nouvelle École and Synergies Europeénes, or Websites like Démocratie Participative. The same goes for Germany. But these are also countries large enough to sustain diverse nationalist movements. The Dutch fluency in English lends itself to consuming foreign media, especially on mediums like YouTube. Many a redpill story I've heard involves YouTubers leading them down the path. And there is also very little alternative media in the Dutch language. Dutch political YouTubers can be counted on one hand. So the Dutch have to seek out such content elsewhere.
This explains the engagement with the American Alt Right. As for our members being younger and energetic, I think it has to do with the political climate here. Geert Wilders' Party for Freedom (PVV) and Thierry Baudet's Forum for Democracy (FvD) both poll at ten percent of the vote. The PVV says outright that it wants Islam banned, all mosques shut down, the Qur'an made illegal, and all criminal Muslims deported. Wilders even talks about us losing our country to immigrants. The FvD is less radical on Islam, but has been caught in scandals about race and IQ. Twenty percent of the electorate back these parties.
There was an outcry in the media when it was reported that Thierry Baudet had dined with Jared Taylor. Baudet's reaction was remarkable in the sense that he didn't denounce Taylor. He merely stated to the media that he was interested in people with interesting views different from his own. Trump showed us one way to deal with such accusations, Baudet another. Both confirm what our movement has suggested for years to those accused of thought crimes or implied guilt by association: that is, never apologize.
Added to that, there is a climate on Dutch social media which generally tolerates quite radical Right-wing opinions. No one here has ever been arrested or convicted for hate speech. Only Wilders has been convicted for incitement after calling for there to be fewer Moroccans in The Netherlands. So people are fairly free to express themselves. There are also media outlets that have capitalized on this freedom. Online news sites like De Dagelijkse Standaard, Geenstijl, and The Post Online (TPO) have become quite popular on Dutch social media. They make a decent living by bashing Islam, being vaguely nationalist, and attacking the Left. TPO is even willing to discuss replacement migration and Marxist power in institutions, topics that the FvD also brings up frequently. These media outlets all backed Stef Blok, our Minister of the Interior, after statements of his were leaked in which he said that multiculturalism is a failure, that people are tribal by nature and want to be among people who look like them, and that this is probably racially determined.
But as for the real "/ourguys/"? The biggest is probably Fenixx, which gets one hundred thousand visitors a month. They are a news site that reports on the news from a hard-Right perspective, and they occasionally translate pieces from Counter-Currents and repost Erkenbrand articles. They are in fact willing to be more radical even than we are on some points. Then, of course, there is our own site, Erkenbrand, which also has an English-language section, and our YouTube channel. We mainly publish essays, policy ideas, and generally Right-wing cultural and historical material.
Other than these two in the Dutch language, there is mainly Flemish alternative media: Sceptr, React, TeKoS, and some others. There is also a host of Zionist counterjihad blogs and sites in Dutch, but they really aren't worth mentioning. This is an affliction of the Dutch Right in general. Though the Dutch Right is becoming increasingly racially aware and chauvinistic, this seems to always go hand in hand with diehard Zionism. It's not uncommon to see Dutch tweets calling for revolution and closed borders, from an account with both a Dutch and an Israeli flag in its username. We call these bitterbalnationalistenl, emotional people who aren't very ideologically educated, who are prone to violent outbursts, and who operate merely on an "Islam = bad" level.
So, yes, there are parties and media outlets which have talking points which resemble those of the Alt Right. But we also have academics here who have taken anti-immigration and anti-Marxist positions. Dr. Paul Cliteur derides Cultural Marxism in several of his books. Dr. Jan te Nyenhuis discusses race and IQ (and gets published on TPO), and Dr. Jan van de Beek talks about demographics and how immigration is replacing the native population.
In this political climate, Erkenbrand doesn't really look out of place. Many talking points we have are already being spread by people far more mainstream than us. Political parties, academics, media institutions, and government ministers spread them. And the people who hear these, as well as the more international Rightist YouTubers and Websites, become convinced that we are correct and want to do something. And so they come to Erkenbrand.
GD: You came under a lot of pressure last year as a result of massive media scrutiny and attacks, yet you have pulled through. What explains your success?
EB: Again, the political climate helps. There are too many talking heads and two popular parties that would take serious umbrage to British-style repression of nationalists. Recently, Schild & Vrienden, who are from Flanders, our southern neighbor, received similar treatment in the form of a media hit piece. With us, it was just that: a media hit piece that doxxed several people. S&V in Flanders are under investigation as a supposed terrorist group – a ridiculous claim – and have been the subject of weeks of media spin in the Flemish press. You can compare it to what happened to National Action in the UK. That is unlikely to happen here, because a substantial section of the public would find it heavy-handed and excessive.
Erkenbrand also prevails because we operate very carefully. We thoroughly vet every applicant, we don't announce most of our events publicly, and most of our activities are only known to members. This is necessary, because there are still social consequences – if not legal ones – for having hardline nationalist and Traditionalist opinions. Several of our members were doxxed by antifa in collaboration with the Left-wing media last year, and they got into a lot of trouble socially and professionally. Several were unfortunately forced to quit the movement entirely.
We all realize the risk involved in being a nationalist activist. But someone must bite the bullet and be the vanguard. And we can't just merely stand on the sidelines as we lose our country to foreigners, perverse Marxists, and corrupt elites. So what explains our success? Determination and a sense of duty among our members, I would say.
GD: We have seen a lot of progress in Europe in recent years, from the Visegrád countries' rebellion against the European Union to nationalists coming to power in Austria and Italy. Do you think we could also see a breakthrough in The Netherlands?
EB: No. Though there is growth, certainly. Twenty percent of the vote for quite radical parties is substantial, and our ruling Liberal Party (which is very similar to the GOP in outlook) has been forced to move to the right on immigration. But there is no chance of a real Right-wing government à la Salvini. Everything here is dependent on coalitions. There are a dozen parties in Parliament, and the biggest party, the Liberals, have thirty-three seats out of one hundred fifty; the second-biggest, the PVV, has twenty. Other parties have even fewer seats. It's very divided, and getting more and more so. A coalition takes three to four parties at minimum, and no one will work with Geert Wilders. So it's impossible for there to be a Right-wing government for the foreseeable future.
What we do have is growing grassroots support for the Right, and in particular the Alt Right. Slow and steady wins the race, really. The Overton window is shifting rapidly here.