Stane se Charlottesville Altamontem alternativní pravice?
Greg Johnson
1,424 slov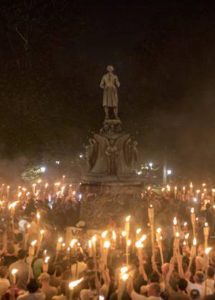 English original here
"Ti, kdo stojí v cestě poklidné revoluci, činí násilnou revoluci nevyhnutelnou" – John Fitzgerald Kennedy
6. prosince 1969 se v severní Kalifornii konal festival Altamont Free Concert, kde mezi dalšími slavnými jmény vystoupili Santana, The Jefferson Airplane, Crosby, Stills, Nash & Young, a The Rolling Stones. Pořadatelé měli ambice udělat z něj něco jako Woodstock (ten se konal o čtyři měsíce dřív ve venkovské oblasti státu New York) západního pobřeží. Altamont však skončil v záplavě násilí a chaosu, když se stal scénou jedné vraždy, tří smrtelných nehod a nespočtu rvaček a méně závažných zločinů. Spolu s případem Tate-La Bianca (vraždy spáchané "Rodinou" Charlese Mansona) o několik měsíců dřív bývají události na Altamontu všeobecně považovány za umíráček kontrakultury šedesátých let.
Mám neblahé tušení, že události manifestace Unite the Right ve virginském městě Charlottesville ze soboty 12. srpna se do dějin zapíší jako Altamont alternativní pravice – ale samozřejmě jen tehdy, pokud s tím něco neuděláme.
Jistě, není to fér – to ale nebylo ani v případě Altamontu. Zaprvé nejde vybrat několik negativních činů a událostí a prohlásit, že nějakým způsobem odhalují "podstatu" daného kulturního hnutí. Zadruhé "oběť vraždy" Meredith Hunter obětí vlastně vůbec nebyl. V drogovém rauši vytáhl zbraň a začal s ní mířit na lidi. Tehdy se na něj Alan Passaro, příslušník motorkářského gangu Hells Angels, který na Altamontu zajišťoval bezpečnost, vrhl a ubodal ho. Passaro byl zatčen a obviněn z vraždy, protože byl ale celý incident zachycen na kameře, byl osvobozen s tím, že jednal v sebeobraně. V té době však už nic nemohlo změnit narativ mainstreamových médií, který dávno přešel do veřejného povědomí.
Naštěstí pro nás je dnes mediální kontrola establishmentu podstatně slabší, než bývala kdysi. Pravda se tak může dostat ven – pokud se budeme skutečně snažit.
Jaká tedy je pravda o Charlottesvillu?
Zaprvé nesmíme nikdy ztrácet ze zřetele "větší", obecnější pravdu: tou pravou příčinou rasové nenávisti a násilí je samozřejmě právě ona rozmanitost, kterou naši protivníci označují za naši největší sílu a nejvyšší politickou hodnotu, jež přebíjí i svobodu myšlení, slova či shromažďování. Bělošský nacionalismus je hnutí pro mír, protože jako jediné nabízí uskutečnitelné řešení problému rasového a etnického násilí – konkrétně tedy vytvoření rasově a etnicky homogenních vlastí pro každou skupinu. Dokud nedosáhneme svého, budou rasová a etnická nenávist a násilí jen a jen růst, což se bude následně levice ze všech sil snažit skrývat a také z toho vinit bělochy.
Etnické násilí bývá nedílnou součástí všech rozmanitých společností. Čím pestřejší společnost, tím horší násilnosti bývají. My běloši se máme naučit milovat stav, kdy nás muslimové a další etničtí Neevropané znásilňují, vyhazují do vzduchu nebo vraždí mačetami. Opravdu levice věřila, že se běloši nezačnou bránit? "Diverzita" jednoduše znamená méně bělochů. Skutečně levice nepředpokládala, že nakonec řekneme ne? S postupujícím přílivem alogenních do našich společností se bude stále víc bělochů stavět na odpor a nevyhnutelným výsledkem bude nenávist a násilí. My ale takový svět nechtěli – chtěla (a dostala) jej levice. Proto by se jej raději měla naučit milovat – nebo se zachovat rozumně a umožnit nám vytvořit svět samostatných domovin pro každou skupinu. Než k tomu ale dojde, nese politický establishment 100% zodpovědnost za nevyhnutelné a předvídatelné následky své politiky, tedy nenávist a násilí.
Zadruhé, přestože se lháři v médiích ze všech sil snaží vytvořit zdání, že s násilnostmi začali účastníci Unite the Right, vina leží výhradně na bedrech policie, radnice a státu Virginie. Unite the Right se vždy v plném rozsahu řídila zákonem. Když levičáci na radnici zrušili platnost povolení k demonstraci, napadli organizátoři svévoli radnice u soudu a město muselo nařídit umožnění akce. Tehdy se ale vedení města zjevně rozhodlo, že když nemůže shromáždění zastavit, tak jej "aspoň" nebude chránit před levicovými násilníky – Antifou, Black Lives Matter atd. – což zcela podle očekávání vedlo k násilným útokům na účastníky Unite the Right. Když se konečně dostali do parku generála Leeho, policie je nejen že neoddělila od levičáků, ale přinutila je projít uličkou křičících a agresivních demonstrantů. Když pak na účastníky akce se začaly snášet spršky pepřového spreje, moči, exkrementů i potenciálně vražedných zbraní jako cihly, kyselina či podomácku vyrobené plamenomety, policie nezasáhla. A aby ještě přisypal sůl do ran, označil guvernér stát Virginie Unite the Right za nezákonné shromáždění – přestože všichni zapojení postupovali podle předpisů – ale zároveň umožnili anarchickému davu levičáků pokračovat ve svém bezbožném díle. Následně policie účastníky Unite the Right rozprášila a nahnala je – opět, bez policejní ochrany – do náruče davu levičáků.
Kolem tři čtvrtě na dvě toho dne se stal dvacetiletý James Fields, který do Charlottesvillu přijel kvůi Unite the Right, účastníkem srážky aut, při níž zemřela žena, a 19 dalších lidí bylo zraněno. Podle dostupných videozáznamů události Fields projížděl ulicemi města normální rychlostí, když na jeho auto podle všeho zaútočili levicoví demonstranti. Zřejmě ze strachu o svou bezpečnost šlápl Fields na plyn a narazil do auta před sebou. Další video pak jasně ukazuje, jak se na jeho vůz zezadu řítí vlna násilníků, Fields řadí zpátečku a z místa ujíždí. Fields byl obžalován z vraždy druhého stupně. Levicový i pravicový lynčující dav zástupců establishmentu samozřejmě zcela odvrhl zásadu presumpce neviny a Fields byl tak označen za "teroristu", o němž se mluví jako o "Jamesi Alexi Fieldsovi" – jako by to byl druhý Lee Harvey Oswald.
Doufám, že Fields mlčel a vyžádal si obhájce – pokud tak totiž učinil, může myslím velice věrohodně bránit své konání jako sebeobranu. Bílí nacionalisté by měli udělat vše pro jeho účinnou právní obranu. Co se obětí týče, byly součástí agresivního davu, a jestliže skutečně Fieldse napadli, není nevinný nikdo z nich. V konečném účtování ale i v tomto případě padá vina na radní města Charlottesville.
Představme si ale ten nejhorší možný scénář: James Fields skutečně je vrah. I zde musíme klást vinu na radnici města Charlottesville, která jej dala v plen rozzuřenému davu levičáků. Jejich záměrem ostatně nebylo jen umožnit jim zaútočit na bílé nacionalisty, ale také je vyprovokovat k sebeobraně, aby je tak média mohla vykreslit jako agresory. I pokud je James Fields vrah, celé to bylo součástí plánu levice. Navíc – i kdyby byl Fields skutečně vrah, "ne všichni bělošští nacionalisté" jsou vrazi. Žádný jeho čin nemůže jakkoliv umenšit či vymazat oprávněnost a nutnost naší věci. I kdyby James Fields byl vrah, neplyne z toho, že naše rasa musí zemřít.
Bezpráví se přelilo i do dalšího dne, když se v neděli 13. srpna hlavní organizátor akce Jason Kessler pokusil uspořádat tiskovou konferenci. Zatímco byl napaden a umlčen shromážděným davem, policie – znovu – nezasáhla.
Kdyby město Charlottesville splnilo svou povinnost, tj. respektovalo a ochránilo ústavní právo účastníků Unite the Right shromáždit se a vyjádřit své politické přesvědčení, nedošlo by k úmrtím, zraněním ani násilnostem. Všichni zúčastnění by měli město Charlottesville za jeho podíl na tomto fiasku žalovat. (Ani na moment nepochybujme, že zranění levičáci se budou hlasitě dožadovat odškodnění). Musíme dostat vedení radnice i policejního sboru pod přísahu, najít vůdce spiknutí a pohnat je k trestní zodpovědnosti.
O Unite the Right se mluví jako o ohavném výbuchu pravicového násilí, což je naprostý opak pravdy. Problémem Unite the Right bylo levicové násilí, cenzura a umlčování.
Žádáme konec levicového násilí, cenzury a umlčování.
Požadujeme prohlášení Antify a Black Lives Matter za teroristické organizace.
Požadujeme, aby byly Air B&B, Facebook, Twitter, Amazon.com, YouTube, a Google regulovány jako veřejné služby, a nemohly tak odepřít služby platícím zákazníkům z ideologických důvodů.
Požadujeme přijetí zákonů, které by americkým společnostem znemožňovaly zavádět politicky korektní obchodní a pracovněprávní podmínky. Všechny soukromé společnosti musejí ze zákona uznávat svobodu slova i myšlení.
Toto je volání do zbraně. Rád bych, aby v následujících dnech a týdnech všichni mí čtenáři mluvili o tom, co se skutečně odehrálo v Charlottesville a také tamní události využili k napadení důvěryhodnosti mainstreamových médií a politického establishmentu. Mluvte o tom se svými přáteli i rodinnými příslušníky. Zapojte se do diskusí na sociálních sítích. Vpadněte do diskusí pod články na webu. Volejte do rozhlasových pořadů. Pilujte své argumenty a sdílejte je se svými druhy a spojenci. A připravte se na dlouhou a tvrdou bitvu, protože nepřítel nikdy nespí, nebere si dovolenou a nepřetržitě krmí masy snůškou svých lží. Budete z toho mít dobrý pocit – protože nám to vrátí kus oné jednoty, vědomí účelu a kamarádství z časů Trumpovy prezidentské kampaně.
Charlottesville pro nás bude ranou jedině tehdy, když to dopustíme. Musíme se chopit této příležitosti k odhalení lží a pokrytectví levice a znovu a znovu ukazovat na spravedlivost naší věci. Pro naše hnutí se tak může Charlottesville stát jakýmsi übermenschovským okamžikem: narazili jsme na překážku, již musíme překonat. Stojí před námi krize, již musíme proměnit v příležitost.
Tak na co ještě čekáte?
Překladatel: Tomáš Kupka
Source: https://deliandiver.org/2017/08/stane-se-charlottesville-altamontem-alternativni-pravice.html
Enjoyed this article?
Be the first to leave a tip in the jar!