Úryvky z Finis Germania Rolfa Petera Sieferleho,

část 4: Jaká poučení si odnést z Osvětimi?
Rolf Peter Sieferle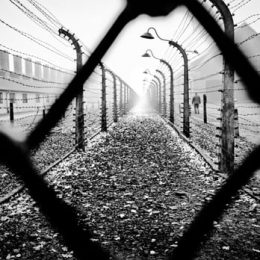 1.157 slov
English original here
Jak vlastně zní poučení z Osvětimi? Že člověk je schopen toho nejhoršího, dostane-li k tomu příležitost? Pokud někdo k tomuto poznání potřebuje Osvětim, ať ji k tomu využije. Nebo že lze v prostředí technologické moderny využít moderní techniku k masové vraždě? Pokud je tím někdo překvapen, ať mu tedy Osvětim poslouží jako memento. Nebo jím snad má být ohromný počet obětí, oněch neblahých šest milionů? Tedy jinými slovy něco pro Guinnesovu knihu světových rekordů? Ale pozor: rekordy jsou přece od toho, aby se překonávaly!
Nebo je snad tou opravdovou osvětimskou lekcí očividné zhroucení víry v pokrok, tj. poznání, že se něco podobného "může stát i ve 20. století"? Konečné vystřízlivění, po 1. světové válce a gulazích nezvratné: "projekt moderny" se jednou a provždy zhroutil? Co se dělo odjakživa, stane se znovu. V oblasti morálky totiž nedochází k žádnému nezvratnému vývoji a pokroku, jen věčnému pohybu po sinusoidě, Jediným skutečným dědictvím osvícenství je technologie – která se postupně uvolňuje ze svého ukotvení v přirozeném. Dějiny projektu 18. a 19. století se tak jeví jako přehlídka naprostého selhání, odhaleného 20. stoletím v plné nahotě: morálně Velkou válkou a Osvětimí, technicky a ekologicky pak ekologickou krizí sklonku 20. století.
Odlišné to snad může v tom, že u "Osvětimi" (na rozdíl od ekologické krize) lze určit "pachatele", který nesplývá s lidstvem jako takovým: Němce. Jeho identifikace pomáhá skutečnému překonání této hrůzné zkušenosti. Stačí ex post být dostatečně dobrým antifašistou – a zlí duchové poloviny 20. století jsou morálně vypuzeni.
K logice antifašismu
Každá interpretace dějin bývá dílem současného okamžiku. Sleduje jím podmíněné ideologické cíle a hledá smysl nebo se pokouší určit konkrétní vztah přítel-nepřítel. V případě dnes tolik populárního osvětimského komplexu se zjevně jedná o snahu ustavit ve zcela zrelativizovaném světě negativní absolutní hodnotu a z ní pak dovodit nové jistoty. "Osvětim" se stává mýtem v tom ohledu, že jde o pravdu napříště vyňatou z veškeré diskuse. Jde však o mýtus s už z podstaty negativním charakterem, protože coby singularita je v něm předloženo něco, co být nemělo a nemá. Proto nese negativní pojmenování i politické hnutí vyrostlé kolem tohoto komplexu: antifašismus.
Antifašismus kdysi býval programovým minimem, nálepkou sdružující širokou paletu politických tendencí: revolucionáře s reakcionáři, stalinisty s trockisty, pacifisty s imperialisty, plutokraty se socialisty, sionisty s antikolonialisty, demokraty s monarchisty, křesťany s ateisty, liberály s totalitáři – ti všichni se mohli seřadit pod společným praporem, nutně dosti neurčitým – vyjma definice "fašistického" protivníka. Pro ty nejpevnější antifašisty, tedy komunisty, však antifašismus posloužil jako švindl a klam, kterým úspěšně využívali tažné síly užitečných idiotů. Mohli si to ale dovolit jen díky tomu, že kromě antifašismu věřili i v podstatně silnější a specifičtější pravdy, tak jak je učí "vědecký socialismus".
Tyto pravdy jsou dnes pryč, zmizely. Z mnoha ideologií, jež vládly a mobilizovaly 20. století, zůstal jen zplihlý prapor antifašismu. Proto k němu lidé s takovým zoufalstvím tíhnou a pokoušejí se z něj udělat státní kvazináboženství. Současně s tím jako by antifašismus nabýval nový programový obsah, se specifickou a paradoxní strukturou.
"Osvětim" nebo "nacisté" představují v tomto ideologickém schématu absolutní negaci "člověka", která byla historicky uskutečněna pouze jedinkrát. V osobě Hitlera a jeho nohsledů se na zemi zhmotnil sekulární ďábel a osazenstvo pekla. Dopustil se mimořádného ohavného skutku, masového vyvraždění Židů, který nabývá následující význam: nejednalo se o nic menšího než o praktickou negaci humanitárního univerzalismu. Hitler ovšem nezničil "Člověka" jako takového, ale opak této univerzálie – Židy. Samotný pokus o likvidaci (národně-rasové) partikulárie ve jménu jiné (národně-rasové) partikulárie ovšem je tím nejkrajnějším popřením humanitárního univerzalismu, tedy ideje lidstva a jeho nezcizitelných práv. Ve fašismu se tak vykrystalizoval antičlověk, proto se antifašismus logicky mohl stát náboženstvím člověka, jež nalezlo svůj symbol právě v této negaci člověka.
To vysvětluje zápal, s nímž je třeba bojovat s každou "historizací", "relativizací" a snahou poukázat na "porovnatelnost" Osvětimi. Každý relativizátor Osvětimi relativizuje absolutní nelidskost a tím i integritu člověka. Došlo by tak k relativizaci i té poslední zbývající absoluty moderní společnosti, naleptávané nejrůznějšími formami relativismu a perspektivismu. Vytvoření osvětimského mýtu lze proto chápat jako pokus o znovunabytí jistoty ve skeptickém světě. Jistě – i tyto jistoty jsou dnes pouze historické, tj. faktické, nikoliv racionální nebo spirituální. Sestávají z toho, čemu právo říká "prokázaná fakta", tedy pravdy jasné bez dalšího dokazování. Jde o skutečně nečekaný zvrat evropských intelektuálních dějin: tři sta let epistemologie vyvráceno historickým zjevením!
Co z toho ale plyne? Formující se nové náboženství lidství (které se za celou dobu, jež uplynula od osvícenství, nedočkalo racionálního zformulování) se může opřít o pevné základy historického faktu a vyvodit z něj přímé politické následky. Jeden z jeho zásadních programových pilířů volá po "multikulturní společnosti". Tento koncept je však už z podstaty ambivalentní: lze snadno ukázat, že jej lze současně vykládat ve smyslu dvou vzájemně se vylučujících podob univerzalismu a relativismu/partikularismu.
Univerzalisticky chápaný multikulturalismus označuje redukci konkrétních lidských bytostí na abstraktní jednotlivce, kteří musejí následně projít dekulturací a asimilací podle stanoveného civilizačního programu. Cílem tohoto projektu, v němž poznáváme obrysy staršího "moderního projektu", je kulturní i materiální homogenizace lidstva.
Relativisticky pojatá multikulturalita znamená zachování národně-kulturní partikularity. Jednotlivé národy se nově nacházejí jeden uvnitř dalšího a žijí spolu v té nejtěsnější blízkosti. Jelikož tento proces souvisí s masovou migrací do oblastí průmyslem poháněné prosperity, vystává na jednu kulturní formaci – původní obyvatelstvo – paradoxní požadavek, aby se vzdalo své vlastní identity ve prospěch ostatních národních skupin.
V obou případech jsou však oponenty multikulturního programu původní obyvatelé průmyslových zemí, jejichž odpor k imigraci a "přenárodňování" (Überfremdung) je nutné zlomit systematickým ztotožňováním s fašismem, rasismem a krajně pravicovým radikalismem. Hitlerův pokus o zničení jedné národně-rasové partikularity ve jménu jiné se tak stává standardním výchozím bodem všech snah o trvání na své partikularitě – alespoň pokud jde o snahy původního obyvatelstva průmyslových zemí. Jiné skupiny ale tímto odsudkem zatíženy nejsou: protievropská xenofobie protikoloniálních a osvobozeneckých hnutí je v pořádku a některé národy jako Kurdové nebo Židé mohou trvat na své etnické partikularitě, aniž by se to obrátilo v obvinění proti nim.
Pozoruhodná nesouměrnost celého konceptu je nasnadě: antifašismus je do značné míry antiněmectvím, což však popírá jeho univerzální vnímání sebe sama, a tak odhaluje národní jádro, jehož důsledky nelze zcela předvídat, ale přinejmenším lze vysvětlit jeho původ.
Hitler zničil Židy ve jménu Němců, takže od abstraktního a nediferenciovaného "lidstva" oddělil dva národy, odlišné od profánního zbytku lidstva svým komplementárně absolutním charakterem: absolutní pachatelé a absolutní oběti. Toto rozlišení nakonec nabývá význam pro univerzalistický program vytvoření jednolitého lidstva, které si uchovává dvě partikularity, zcela cizí svým zásadám: negativní vyvolený lid – Němce – a pozitivně vyvolený národ, Židy. Hitler tak uspěl pro něj zřejmě zcela nepředpokládatelným způsobem: navždy určil Němcům i Židům zvláštní komplementární úlohu, která z lidské paměti nevymizí, dokud budou tyto národy existovat.
Zde však narážíme na poslední paradox. Projekt jednolitého lidstva zůstane nedovršený, dokud nedojde ke zdárné asimilaci a tedy i eliminaci tohoto nejzatvrzelejšího páru pozůstatků národní partikularity. A proti možnosti této asimilace Němců i Židů a jejich rozpuštění v moři "lidských jednotlivců" bez přívlastku stojí struktura osvětimského mýtu, jehož jádrem je právě ona vzpoura partikulárního proti obecnému.
This translation originally appeared at Delian Diver.
* * *
Like all journals of dissident ideas, Counter-Currents depends on the support of readers like you. Help us compete with the censors of the Left and the violent accelerationists of the Right with a donation today. (The easiest way to help is with an e-check donation. All you need is your checkbook.)
For other ways to donate, click here.