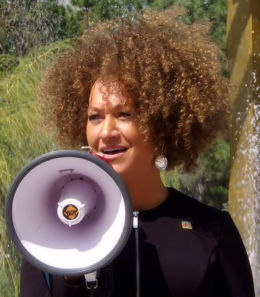 1,574 words
Ever since Rachel Dolezal became famous for pretending to be black in 2015, her story has fascinated me. On the one hand, she is a traitor to her people and an unstable basket case. On the other, she is a talented white person who has been failed by modern Western society. She has an artist's temperament and, like the proverbial "canary in the coal mine," is acutely sensitive to the rootlessness that plagues white people today. She is a good example of why it is necessary for White Nationalists to provide a vision that will attract creative people and prevent them from falling into the hands of the enemy.
Rachel was born and raised in a small town of a thousand people in northwestern Montana. She was a precocious child who excelled in academics, art, and athletics. Her parents are fundamentalist Christians. When she was a teenager, the Dolezals adopted four black children (three African-Americans and one Haitian). This was a turning point in Rachel's life and catalyzed her gradual transformation.
Upon graduating from high school, Rachel studied art at Belhaven College and Howard University. Her art, which mostly depicts black people, has been shown in 14 states. Beginning in 2010, Rachel taught Africana Studies at Eastern Washington University. From 2014 to 2015, she served as President of the Spokane chapter of the National Association for the Advancement of Colored People (NAACP). Since she was exposed as a race-faker in 2015, she has been unemployable and has made a living braiding black women's hair and posting pictures on OnlyFans.
When she was with the NAACP, Rachel staged a number of "hate crimes" against herself. Now that she is known to be white, she has been the target of harassment and intimidation, which she never was when she was perceived as black. Funny how life works.
The conventional explanation for the phenomenon of race-fakers is that they are conniving status-seekers who want to benefit from the perks that come with being non-white in academic and professional circles. This is generally true, but Rachel's situation is more complicated. She did not decide to portray herself as black on a whim; her transformation unfolded over several years. When she was exposed as a white woman, she conspicuously refrained from placating the mob and issuing a trite, cookie-cutter apology on social media. Instead of dropping the act, she legally changed her name to the West African "Nkechi Amare Diallo" and gave an interview with a map of Africa in the background. She sees her fidelity to her black identity as a matter of artistic integrity and authenticity and refuses to back down from it. Her resolve is admirable; if only she defended her actual racial heritage with the same gusto.
Rachel claims that she always identified as black and that as a young child, she drew herself with a brown crayon. According to her parents, however, Rachel showed no signs of identifying as black as a child, though her fascination with other peoples and cultures was evident from a young age.
In my article "Is Xenophilia A Mental Illness?" I noted that xenophilia is linked to various maladaptive conditions and argued that in its most extreme and pathological form, it could be considered a mental disorder in its own right. I also noted that high openness, which is correlated with some degree of xenophilia, in itself is not pathological and in fact contributes to our flourishing as a race. Generally speaking, mental illnesses are simply extreme forms of otherwise adaptive traits. In a family affected by schizophrenia, some members will be institutionalized for life, while others will exhibit a mild, subclinical manifestation of the condition that involves elevated creativity. For instance, David Bowie had schizophrenic relatives. Some people straddle the line between mental pathologies and their more adaptive forms: Rachel is an example of this, as her extreme xenophilia and fabulism coexist with artistic talent.
It is possible that Rachel's black persona is in part an attempt to dissociate herself from her parents, whose religious fanaticism and use of corporal punishment are corroborated by her siblings (see The Rachel Divide). But I suspect that Rachel's artistic nature played a greater role in her embrace of black culture and identity than family drama.
When Rachel claims that she "always" felt black, what she really means is that she always felt different from those around her on account of being naturally creative and artistically inclined. She probably identified with her black siblings because they were also outsiders in their all-white small town. A similar dynamic can be observed in a subset of young people who identify as transgender nowadays. They invariably claim that they were "always" transgender, even though relatives report that they seemed comfortable with their biological sex as children. In reality, they feel different because of their natural gifts and latch onto transgenderism because it provides a convenient explanation for their alienation and promises a cure.
Artistic types are also particularly preoccupied with identity. A defining theme of their lives, and often of their work, is the search for the self. They prize individuality, authenticity, and self-expression; at the same time, they have a weaker and more fluid sense of self due to their high openness. In the past, creative white people were instilled with pride in their heritage and were steeped in their culture and traditions, but today they are rootless and adrift, making them doubly susceptible to identity issues. It's no wonder that transgenderism, with its promise of self-discovery and "hero's journey" narrative, is appealing to them. Rachel had the misfortune of identifying as black instead of transgender, but the underlying psychology is exactly the same.
Most LGBT-identifying young people today are trend-hopping social climbers or dysgenic losers who are naturally heterosexual but cosplay as "queer" for social approval. But some of them are creative young white people experiencing genuine identity confusion. Like Rachel, many of them occupy the grey area between mental illness and heightened openness and creativity. The high rates of mental illness and suicidal ideation among LGBT-identifying young people (which are supposedly due to "bigotry" but seemingly increase every year despite widespread tolerance) are partly due to the fact that troubled teens who would have merely been goth or punk in the past increasingly identify as LGBT.
In addition to being an outlet for adolescent rebellion, LGBT identity, particularly transgenderism, functions as a surrogate ethnic identity that offers young white people the meaning and collective purpose that they are forbidden to derive from their heritage as white Americans. Blackness serves a similar function for Rachel. As a teenager, she read widely about black history and culture in an effort to learn about her siblings' background. She was probably drawn to the cohesiveness and vitality of black culture. Creative types are also highly idealistic and are drawn to political causes. They are natural seekers and crave an artistic mission and a higher purpose in life. Rachel found this in social justice activism.
Rachel has claimed that "nothing about being white" describes her. What she really means is that she believes that white people have no culture, no future, and no purpose. This sentiment is common among many white Americans, but she feels it more strongly than most.
Rachel's story speaks to the failure of mainstream conservatism to give young white people a sense of identity and meaning. Her parents are colorblind Christian conservatives and supported her anti-racist activism (this phenomenon is, of course, typical, even though liberals would find it shocking). They are bewildered by Rachel's black persona, but their colorblind outlook bears some of the blame for how she turned out.
Rachel's story recalls the story of Bruno Dössekker, a Swiss man who falsely claimed to be a Holocaust survivor named "Binjamin Wilkomirski" in Fragments: Memories of a Wartime Childhood. His graphic "memoir" of Nazi persecution was celebrated by the Jewish community and won the National Jewish Book Award. It was exposed as a fraud three years after its publication. Like Rachel, Dössekker was deeply committed to his fake Jewish identity even after he was exposed. He also was a creative type; he was a professional musician and obviously had an active imagination. This would have exacerbated the identity issues he experienced both at the personal level, having been abandoned by his mother, and as a consequence of having grown up in post-war Europe. Dössekker had an uneasy relationship with his Swiss heritage; Fragments portrays Swiss folk hero William Tell as a Nazi officer.
There are also parallels between Rachel and Sylvia Plath. Plath, who was of German and Austrian descent, was a talented but disturbed woman who came of age in an era when anti-German sentiment was widespread. She identified with Jews and envied their rootedness. Her artistic temperament made her particularly sensitive to anti-German hatred, even though she lacked a framework through which to understand it.
Given that she is already a social outcast, Rachel has nothing to lose by embracing white identity. But given that she is a single mother with three black sons and has been an anti-racist activist for most of her life, she is probably too far gone. Her story should be seen as a cautionary tale. Artists can either be purveyors of decadence and confusion or myth-makers who elevate their people, depending on the environment in which they are cultivated. Identifying young people with creative inclinations and instilling them with a sense of identity and pride is crucial to any society's health.
* * *
Like all journals of dissident ideas, Counter-Currents depends on the support of readers like you. Help us compete with the censors of the Left and the violent accelerationists of the Right with a donation today. (The easiest way to help is with an e-check donation. All you need is your checkbook.)
For other ways to donate, click here.