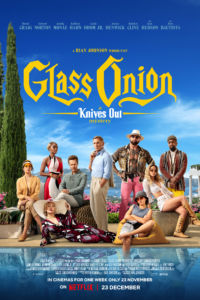 1,350 words
Glass Onion: A Knives Out Mystery, which was released on Netflix on Friday, is the sequel to Rian Johnson's 2019 mystery film Knives Out (reviewed by the author here). It is even worse than its overhyped predecessor: predictable, unfunny, and not nearly as clever as Johnson wants it to be.
The film is set on the private island of tech billionaire Miles Bron, who co-founded the company Alpha. Miles invites five friends to a murder mystery-themed party: Lionel Toussaint, Alpha's head scientist; Claire Debella, an aspiring senator; Birdie Jay, a celebrity and fashion designer; Duke Cody, a Joe Rogan-like YouTuber; and Andi, a black woman who founded Alpha with Miles. Detective Benoit Blanc is also present.
Miles is an insufferable faux hippie who refers to his mansion (the "Glass Onion") as a "commune" and name-drops his famous friends (a running gag that quickly becomes tiresome). He calls himself and his guests "disruptors": radical visionaries who "tell it like it is" and want to "break the system." This is a jab at the Alt Right, as Duke is involved with men's rights activism and Birdie Jay flirts with political incorrectness (her assistant confiscated her phone because of her repeated gaffes). In reality, the guests are grifters riding on Miles' coattails: Miles bankrolled Claire's campaign, promoted Duke's YouTube channel, backed Birdie's sweatpants company, and is Lionel's employer.
The outsider in the group is Andi. She used to be one of them, but when she refused to sign off on launching Klear, a risky hydrogen-based fuel, over safety concerns, Miles ousted her from Alpha. Andi sued him on the basis that she was the one who came up with the idea for the company, which she scribbled on a napkin one night at a local bar. The other guests falsely testified that the idea had originated with Miles in a bid to secure his continued financial support.
As soon as Lionel informed Blanc that Miles "Social Network'd" Andi — before the guests had even set foot on the island — it became clear that Miles, a white man profiting from a black woman's idea, had to be the bad guy. Another clue present from the beginning is that Miles is played by Edward Norton, who is best known for playing Derek in American History X.
In Knives Out, the culprit was a white man who sought to murder his grandfather after it was revealed that the sole beneficiary of his will was his Hispanic nurse. It was inevitable that he would turn out to be the villain because he was the black sheep of his obnoxious family and the only tolerable white character in the film. In this respect it resembled Jordan Peele's Get Out, whose protagonist's seemingly friendly white girlfriend ends up being a psychotic villain, just like the rest of her wealthy WASP family. Glass Onion is different in that Miles is never portrayed as an ally of Andi's, but it is equally predictable.
Halfway through, we learn that "Andi" is actually Andi's identical twin sister, Helen, who is an elementary school teacher from Alabama (an unrealistic detail given that identical twins are highly similar in their abilities and career paths, but I suppose Johnson wanted to make the character relatable to ordinary blacks). Andi found the napkin after the trial and promptly e-mailed her peers; shortly thereafter, the napkin went missing and she was murdered. Helen saw that Andi had been invited to Miles' party and consults Blanc, who suggests that she attend disguised as Andi in order to investigate her sister's death. By this point, it is blindingly obvious that Miles killed Andi.
In the Poirot-style dénouement, Blanc smugly points out that Miles' frequent malapropisms (e.g., "predefinite") betrayed his lack of intelligence and the fact that Andi was the true brain behind Alpha. It is always instructive when Leftists cast aside their egalitarian pretensions and accuse their enemies of being stupid. They pounce on their every flaw; when it suits them, they can be more ruthless and petty than even the most hardened "racist." By contrast, I am inclined to give people the benefit of the doubt when they make trivial errors, which are often just flukes. Either way, it is best to be magnanimous. But one can't help but notice that, contrary to what the film suggests, blacks are disproportionately prone to making bizarre verbal faux pas (like when Mos Def accused Christopher Hitchens of casting "[his] thought process into dispersion").
After Helen successfully retrieves Andi's napkin, Miles burns it and brags that the police and courts will side with him. In response, Helen starts smashing things and ignites a Klear-fueled explosion that engulfs his mansion in flames, which is an obvious homage to the Black Lives Matter riots. Johnson is keenly aware of current trends; the film is set in 2020 and is peppered with allusions to COVID and pop culture.
The only noteworthy casualty of the explosion is the Mona Lisa, which Miles was able to borrow from the Louvre because of the pandemic. Earlier in the film, Miles wistfully reminisces about seeing the Mona Lisa as a child. It is the only moment when he does not come across as a punchable hipster. As Helen pushes the button that removes the Mona Lisa's protective glass covering, exposing it to the flames, Miles reacts with horror. The message here is that objecting to the destruction wrought by BLM riots, even if it involves the destruction of one of the world's greatest paintings, is an act of villainy.
As political commentary, Glass Onion is vacuous and self-consciously topical. The white male perpetrator is a flaky megalomaniac and a fraud; the black female victim is an infallible genius. Its commentary on class boils down to a one-dimensional satire of the rich, which is hardly original or interesting. It's also rather ironic given Glass Onion's lavish production and endless stream of self-congratulatory celebrity cameos. The hype around Knives Out clearly got to Johnson's head. The whole thing brings to mind the montage of celebrities singing "Imagine" at the onset of the pandemic.
The depiction of Miles and his friends as both politically incorrect (in the case of Duke and Birdie) and ultra-rich feeds Leftists' delusion that they are besieged outsiders oppressed by the rich and powerful. The insinuation is that the "disruptors" are phony radicals (this actually is true of Alt Lite and "Intellectual Dark Web" types, though not for the reasons Johnson would posit), while the destruction of the "Glass Onion" and the Mona Lisa represents true rebellion. The ending invites viewers to congratulate themselves on opposing "the system" and having seen through Miles' grift. Leftists genuinely believe that America is run by a coalition of White Nationalists, conservative Christians, and evil tech bros. This is a complete inversion of reality. Sure, there are figures like Peter Thiel and Elon Musk, and the pro-life movement is fairly powerful, but Leftists still dominate every sphere of influence.
Blanc muses that the "Glass Onion" is an apt name for Miles' mansion because the case appears multi-layered and inscrutable, but the solution is actually as clear as glass. The onion metaphor is a self-conscious attempt to be clever (like when Blanc compare the case in Knives Out to a "doughnut hole with a hole in the center") that falls flat because the story is really not all that complex (especially from Blanc's point of view, as he is aware of Andi's murder from the beginning). At least Knives Out had some interesting twists.
Great murder mysteries wrestle with the complexity and ambiguity of human nature. Glass Onion instead opts for cheap political pandering, which drains the story of suspense and drama. The suspects are unlikable caricatures who lack compelling backstories and motives (especially Claire and Lionel). One couldn't care less who the murderer is.
All of the high-profile murder mystery movies of the past few years have been mediocre at best, and Glass Onion is the worst of the bunch. Unsurprisingly, it has received accolades and critical acclaim. But once the politics of 2020 fall out of fashion, it will quickly be forgotten.
* * *
Like all journals of dissident ideas, Counter-Currents depends on the support of readers like you. Help us compete with the censors of the Left and the violent accelerationists of the Right with a donation today. (The easiest way to help is with an e-check donation. All you need is your checkbook.)
For other ways to donate, click here.