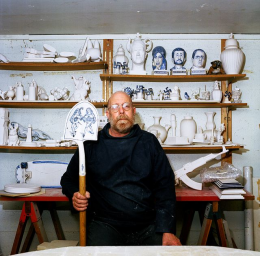 1,037 words
I took to Charles Krafft right away. Our introduction came the week before I was due to set off for the second Counter-Currents retreat. The phone rang and I was asked if on my way down through Seattle I could pick up a stranded attendee.
While I readily agreed — anything to help out, you know — I had reservations, as patriotic conferences can attract ahem, "eccentrics," and I was not wanting the long pleasant drive down the coast into the warmth of the California sun to be spoiled by some "eccentric!" However, when I knocked on the front door of the little house behind the laurel hedge, this large, jovial, bearded man invited me in for a cup of tea and immediately set me at ease. I not only drove Charles to the retreat, but did so for the following fall retreats that he attended.
On one occasion, he brought his very liberal-minded girlfriend who was pleasantly surprised at the civility of the retreat (which she found boring) and I think she was mildly disappointed that there were no, ahem, "eccentrics" for use as a later conversation piece. Her inquisitive mind was a match for Charles. She was great company and proved a Godsend to him. On one trip back north, I dropped Charles off at the San Jose airport for a dental appointment in Thailand, and I enjoyed his couch for a week while I explored Seattle.
On the long drives down the 101, I learned how he left his childhood home under a cloud and lodged with his cousin, who unlike Charlie, went on to fame and fortune. (Then again, she was Grace Slick.) After his sojourn as a San Francisco beatnik he moved up to Fishtown to work on his artistic gift and the rest is history!
From the outside looking in on America, I saw in Charlie a character from the lamentation "American Pie." Charles reminded me of an old liberal friend from Monterey, who like him, grew up "before the music died" and become part of that "generation lost in time and space." Charles' life adventures drew him to "the marching band that refused to yield," but before he fully saw through the jester who spoke "in a coat he borrowed from James Dean, and a voice that came from you and I," his years of breathing in fumes from his oven where he baked his creations took its toll. However, a favorite saying of his — "the world is upside down and back to front" — indicated that if he had been granted a few more years he would have been out there with his boyish grin shouting that the emperor had no clothes.
We finally reached the Counter-Currents retreat where I enjoyed watching Charles drift through the attendees like a duck taking to water. He was curious about everything, had the knack of being able to talk to anyone, and was tickled pink that our host was a genuine Sinophile. His disarming manner was such that we would walk into a convenience store at any highway gas station and, while stocking up on goodies, chat amiably with whoever was behind the counter. He rather reminded me of a line from Margaret Irwin's biography of Sir Walter Raleigh. She wrote of him while in Guiana that he possessed "no suggestion that he felt himself of a superior race." But that was Charlie. I remain convinced that he only stuck swastikas on his magnificent artworks merely to enable him to carve out a niche market so he could earn a living. He did have a cheeky streak!
On the return journey north, I was invited to stay on his couch for a rest and usually ended up staying for a week. But I like to think that I deserved it! Charles didn't have a driver's license, so after coming off shift work and picking him up, the driving was left to me. Thankfully, he was pleasant company, and his prodigious memory enthralled me with tales of life nearer to the center of power than I will ever reach. I never was able to return the favor as my couch is occupied by a displaced neighbor — such are the times we live in. Charles died leaving me feeling I was in his debt. His little house from the 50s was modest but clean, and big-hearted Charlie even made room for the neighborhood stray cat who took full advantage of the old softie.
I read books too, but Charles had this gift of remembering what he had read and being able to articulate it. He never swore or used shortcuts but talked about issues in an informed manner. He did have a knack for finding obscure books to keep him on the edge. MacLean's book store in Vancouver, BC was one source for his library. I shall always be grateful to him for taking me on a tour of the basement which was closed to the public as a safety hazard — too many books, you know. Charles slowly sifted through the piles and found a few pearls. He also took me on a tour of San Francisco for which I shall be forever grateful. However, I did leave feeling a little disappointed that he didn't introduce me to Charlie Chan; for I just know that when Charlie was a beatnik he used to hang out with him!
It's in turbulent times like these that I could really appreciate Charles and his penetrating mind. He would have been able to shed some light on the lockdowns, the riots, the vaccines, and the intel drops. His radar would make some sense of it all, and like a cake baked in his oven, he would serve it out with a nice cup of tea and a smile.
I miss him.
If you want to support Counter-Currents, please send us a donation by going to our Entropy page and selecting "send paid chat." Entropy allows you to donate any amount from $3 and up. All comments will be read and discussed in the next episode of Counter-Currents Radio, which airs every weekend on DLive.

Don't forget to sign up for the twice-monthly email Counter-Currents Newsletter for exclusive content, offers, and news.