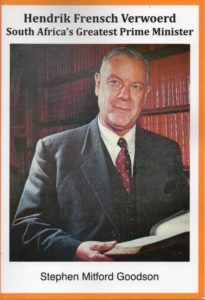 1.385 slov
English original here
Stephen Mitford Goodson
Hendrik Frensch Verwoerd: South Africa's Greatest Prime Minister
Jedná se o citacemi důsledně vybavený a přesvědčivý životopis "muže ze žuly", jehož bych si troufl označit nejen za "největšího premiéra" Jižní Afriky, ale dokonce za jednoho z největších státníků naší doby.
Nedávno jsem na tomto webu recenzoval další Goodsonovu knihy A History of Central Banking (Dějiny centrálních bank) a Inside the South African Reserve Bank (Uvnitř jihoafrické centrální banky), v nichž autor bohatě čerpá ze svých zkušeností profesionálního finančního poradce a někdejšího šéfa Jihoafrické rezervní banky, který se za kroky v jejím čele ve své době stal terčem cílené kampaně za svou hlasitou kritiky machinací v této instituci. Goodson je jedním z hlavních představitelů tažení proti systému financování na dluh v Jižní Africe. Jisté rebelantství ostatně naznačuje už jeho prostřední jméno: Mitford.
Kniha je profesionálním počinem, plným zajímavých fotografií, včetně té S. E. D. Browna, jemuž je také věnovaná. Starší čtenáři si možná vzpomenou, že tento muž v letech 1955-1990 redigoval The South African Observer. Brown spolu s Ivorem Bensonem patří mezi nejvýznamnější anglicky hovořící zastánce Afrikánců a apologety apartheidu.
Goodsonův portrét Verwoerda je zvlášť hodnotný v tom, že se nebojí zajít za standardní životopisné detaily a zasadit ho do širšího dějinného kontextu. Vysvětluje také překroucenou image "apartheidu", který se na jihu Afriky vyvíjel tři století a který Verwoerd kodifikoval jako životní filozofii. Jen před pár lety tak mohl (novozélandský) poslanec za Maorskou stranu dr. Pita Sharples bez jakékoliv negativní odezvy v televizním rozhovoru klidně mluvit o "apart-hateu" (hříčka ve smyslu nenávist-oddělenost. Pozn. red.). V Jižní Africe měla však tato politika nedostižný úspěch při snaze o zachování a pokrok nespočtu odlišných identit v této zemi přítomných a jako státní doktrína se těšil podpoře většiny černochů i míšenců (tzv. coloreds). Mezi ty nejméně nakloněné soužití s černochy patřil třeba mladý indický právník jménem Gándhí.
Brilantní student sociologie a psychologie dr. Verwoerd si byl velmi dobře vědom komplexity lidské přirozenosti, včetně vzdáleností psýché a kultur různých rasových skupin – "etnická psychologie" totiž patřila mezi předměty, které roku 1926 studoval. Jeho vynikající akademická dráha mu zajistila reputaci uznávaného odborníka v obou těchto oborech.
Do politiky Verwoerd vstoupil v roce 1934 jako profesor aplikované psychologie, sociologie a společenských věd na univerzitě ve Stellenboschi. Jeho ústředním tématem byla pomoc chudým bělochům. Několik let strávil jako jeden z ředitelů bloku sociálního bydlení v Kapském Městě. Roku 1936 byl předsedou Národní strany dr. Malanem jmenován šéfredaktorem publikace Die Transvaaler. O dva roky později ho zvolili do vysoké funkce Národní strany, v roce 1948 do senátu a roku 1950 se stal ministrem pro záležitosti domorodců, kde své akademické zkušenosti a přístup využil ke studiu Bantuů – a totéž očekával i od svých podřízených. Od roku 1948 docházelo za vlády nacionalistů ke kodifikaci apartheidu, jak ale Goodson ukazuje, probíhal tento proces organicky už za vlády britské správy. Patřilo sem i zavedení průkazů totožnosti, o nichž bylo napsáno a řečeno spousta nesmyslů – jejich skutečným smyslem ale bylo ochránit pracovní místa původních Afričanů v Jižní Africe před černošskými imigranty z ciziny, kteří v apartheidové zemi hledali lepší život.
Za Verwoerdovy vlády bylo zavedeno štědré přidělování země samosprávný domovinám (pro nebělošské etnické skupiny), analogicky ke švýcarským kantonům, což upřímně otevřeně podporoval třeba také Verwoerdův přítel, polní maršál B. L. Montgomery a dokonce i generální tajemník OSN Dag Hammarskjöld. Přestože volavka Harryho Oppenheimera a jeho zájmů Helen Suzamanová prohlásila, že 80% obyvatelstva bylo přiděleno jen minimum země, půda byla ve skutečnosti rozdělena velkoryse, protože Verwoerd si nepřál, aby bylo blahobytné bělošské obyvatelstvo obklopeno mořem černošských bezzemků.
Nemocnice, školy, slušné bydlení nebo kanalizace byly financovány především z bělošských daní. Goodson to dokládá jasnými čísly. Vláda podporovala rozvoj průmyslu poblíž, ale ne přímo v samosprávných oblastech, díky čemuž mohli černošští dělníci být zaměstnaní a přitom zůstat bydlet se svými rodinami. Apartheid a s ním spojené hospodářské plánování tak pomáhal udržovat stabilní rodiny, což Africký národní kongres se svou "řádně marxisticko-leninskou volnotržní cestou" mezitím stihl zničit. Goodson ukazuje, že Oppenheimer a další plutokraté chtěli soustředit industrializaci do velkých měst, a tak rozbít samosprávná území a vyvolat tak žízeň po pracovní síle černých migrantů. Mentor Nelsona Mandely Oppenheimer však černochy nikdy nepovažoval za nic jiného než primitivní ekonomický kanónenfutr.
Když se roku 1958 Verwoerd ujal premiérského úřadu, bylo mu velice dobře jasné, kdo jsou jeho nepřátelé, a tak se snažil vrhnout světlo na Oppenheimerovo ekonomické impérium, jeho globální konexe s Rothschildy a jim podobnými, nemluvě pak o domácích plutokratech vedených Antonem Rupertem. "Síly nadnárodního kapitálu", jak je Verwoerd nazval, spustily proti Jižní Africe celosvětovou očerňovací kampaň s cílem dosáhnout konce apartheidu, aby – jak ostatně Oppenheimer otevřeně deklaroval – mohla být plněji využita černošská práce i kupní síla jejich spotřeby. Navzdory působivému hospodářskému růstu plutokraté tvrdili, že apartheid zpomaluje ekonomický progres země, a že zatvrzelý Verwoerd proto musí odejít.
Z Ameriky působící plutokratické zájmy podkopávaly Jižní Afriky zejména prostřednictvím Afrického amerického institutu. Nepokoje z Sharpeville v roce 1960 tak byly na Západě vykresleny jako masakr mírumilovných černochů bělošskými policisty, i když ve skutečnosti šlo o vražedné řádění dvaceti tisíc, mačetami vyzbrojených, černochů, směřující proti předsunutému policejnímu stanovišti. Goodson přináší obrazovou dokumentaci hromad zbraní, které u sebe černoši měli – přesto je liberální média bezostyšně vykreslila jako mnohem menší (čtyřtisícové) shromáždění mírumilovných černošských protestujících. Zanedlouho poté došlo k prvnímu pokusu o atentát na Verwoerda, který podnikl šílený multimilionář David Pratt.
Celosvětová kampaň směřující k izolaci Jižní Afriky mezitím nabírala na obrátkách a roku 1961 země vystoupila ze společenství Commonwealth. Mezi Verwoerdovými odpůrci byl i Izrael, který v orgánech OSN vytrvale hlasoval proti Jižní Africe, přestože ta židovskou identitu v Palestině podporovala. Tato dvojakost se Verwoerdovi postupně začala značně zajídat. (Za zmínku jistě stojí i tehdejší izraelské ambice vyplnit v Africe mocenské vakuum zanechané tam evropskými koloniálními mocnostmi – proto také podpora Idiho Amina a rebelie Mau Mau.)
Proces Rivonia, při němž bylo v roce 1963 rozkryto teroristické spiknutí Komunistické strany, dodal další munici Verwoerdovým odpůrcům. Stíhání této komunistické buňky, k níž patřil i Nelson Mandela a která plánovala bombové atentáty proti civilním cílům, bývá vždy nazýváno ohromnou nespravedlností. Škarohlídi by ale možná namítli, že ke skutečné nespravedlnosti došlo tím, že tito nepřátelé lidstva neskončili na oprátce. Několik z nich našlo útočiště v Izraeli, kde se jim dostalo hrdinského přijetí.
Jednou z nejzajímavějších částí Goodsonovy knihy je reprodukce Hoekovy zprávy z roku 1964, jejímž autorem byl profesor ekonomie Piet Hoek. Dokument se zabývá plutokraty, jejich spojením s nadnárodním kapitálem a najdeme zde i ideologickou debatu o protinárodní povaze kapitalismu. V čele celé struktury stálo Oppenheimerovo impérium, které platilo ze svých příjmů daň ve výši pouhých 5,4%. Hoek doporučoval dalekosáhlé změny v přístupu k těmto korporacím a státní zásahy do strategických oblastí ovládaných plutokraty. Verwoerd beztak usiloval o soběstačnost své země a Jižní Afrika navíc nedlužila peníze subjektům mezinárodního finančního světa. Právě v tom osobně spatřuji hlavní důvod všeobecného nepřátelství k této zemi: hospodářská politika současné ANC-komunisticko koalice velí v typicky socialistickém duchu tyto někdejší "parastataly" (kvazi-státní organizace a podniky) znárodnit.
V roce 1966 dosáhla Jižní Afrika vrcholu své prosperity. Plutokraté i přesto dlouhá léta opakovali, že "Verwoerd musí jít". Dost mi to připomíná situaci v USA za velké hospodářské krize, kdy příslušníci společenské elity při každé příležitosti nenuceně poznamenávali, že někdo by měl "zabít" Hueyho Longa – a nejasnosti spojené s jeho vraždou se velice podobají Verwoerdovu případu.
Volba nástroje, který zasadí smrtící ránu, padla na vykořeněného míšence Michaelatose Tsafendakise. Goodson sleduje nitky vedoucí k Antonu Rupertovi, které naznačují vinu a podíl Verwoerdova nástupce Johannese Vorstera, CIA, MI6 a dalších. Čerpá při tom i z důkazů snesených jihoafrickým neurologem dr. A. Birdem, mentorem komunistického předáka dr. Sollyho Jacobsona. Ten byl v kontaktu jak s Prattem, tak Tsafendakisem a podle některých oběma vymyl mozek. Tsafendakisovi, který přes svou pochybnou minulost získal práci poslíčka v parlamentu, se tedy povedlo zasadit Verwoerdovi smrtelnou ránou nožem, zatímco Vorster přihlížel a ronil četné, ale málo věrohodné slzy. Vraha prohlásili za nepříčetného a poslali na 28 let za mříže, skončil však v psychiatrické léčebně. Vorster zajistil, že vyšetřování Verwoerdovy smrti proběhlo za zavřenými dveřmi a velice rychle.
Vorster potají otevřel dveře k dekonstrukci apartheidu, zcela v rozporu s pečlivě vyživovanou image tvrďáka. Hoekova doporučení zmizela na dně archivů. Mandela poslušně předložil Jižní Afriku k privatizaci a globalizaci, po níž Oppenheimer, Rupert i další tak prahli. Jak ale Goodson ukazuje, stalo se dnes Oppenheimerovo impérium paradoxně jen stínem své někdejší slávy, zatímco Jižní Afrika se zcela podle očekávání nezvratně propadla do chaosu.
This translation originally appeared at Delian Diver.
*  *  *
Counter-Currents has extended special privileges to those who donate $120 or more per year.
First, donor comments will appear immediately instead of waiting in a moderation queue. (People who abuse this privilege will lose it.)
Second, donors will have immediate access to all Counter-Currents posts. Non-donors will find that one post a day, five posts a week will be behind a "Paywall" and will be available to the general public after 30 days.
Third, Paywall members have the ability to edit their comments. 
Fourth, Paywall members can "commission" a yearly article from Counter-Currents. Just send a question that you'd like to have discussed to

[email protected]

. (Obviously, the topics must be suitable to Counter-Currents and its broader project, as well as the interests and expertise of our writers.)
To get full access to all content behind the paywall, sign up here:
Paywall Gift Subscriptions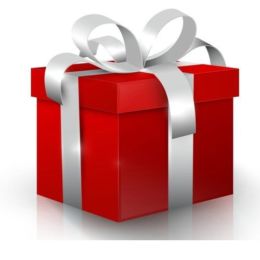 If you are already behind the paywall and want to share the benefits, Counter-Currents also offers paywall gift subscriptions. We need just five things from you:
your payment
the recipient's name
the recipient's email address
your name
your email address
To register, just fill out this form and we will walk you through the payment and registration process. There are a number of different payment options.
Enjoyed this article?
Be the first to leave a tip in the jar!